We're Getting A New Karate Kid Movie That Will Bring Together The Original Franchise And The Reboot, But What About Cobra Kai?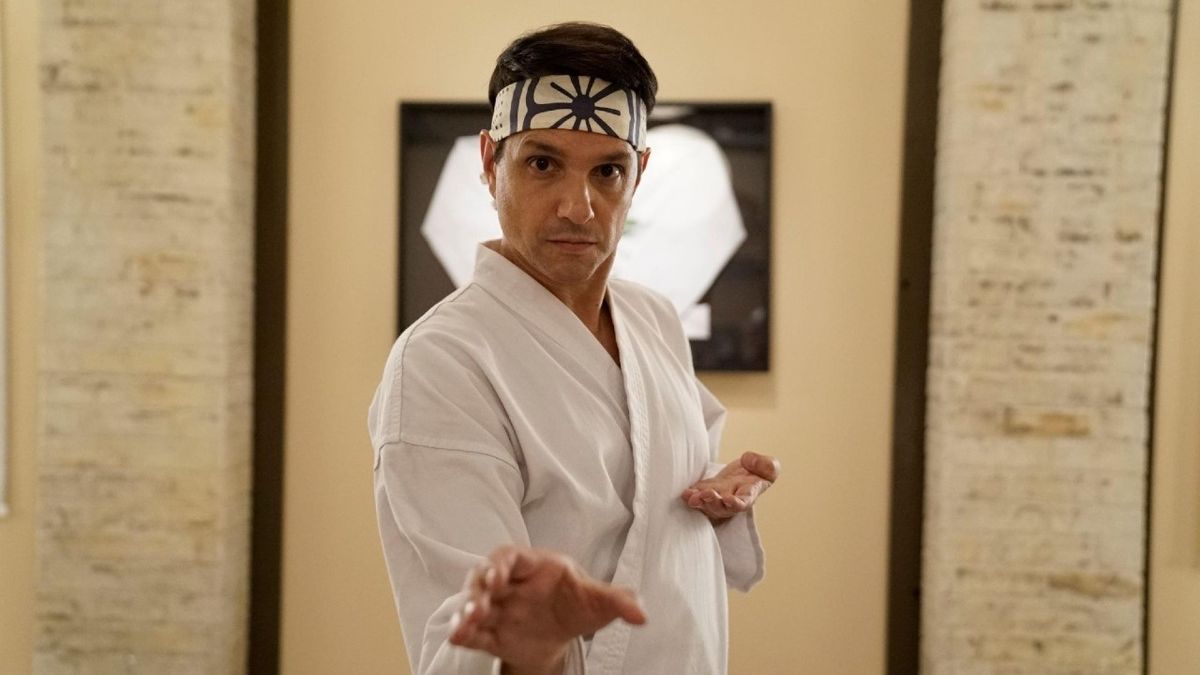 Over the last five years, the Karate Kid franchise has thrived thanks to Cobra Kai, the TV show that originally started out as a YouTube Red/YouTube Premium offering, and has been exclusive to Netflix subscribers since Season 3. However, remember that in 2010, a remake/reboot of the original Karate Kid movie was released starring Jackie Chan, but we never followed up on that corner of the franchise. Well, that's now changed, as it's been announced that these two corners will come together in the upcoming Karate Kid movie, but what does this mean for Cobra Kai?
Let's get what we know for sure out of the way first. Jackie Chan and Ralph Macchio are set to respectively reprise Mr. Han and Daniel LaRusso in this 2024 movie release from Sony Pictures that has previously been described as "the return of the original Karate Kid franchise." Jonathan Entwistle is directing the feature, Rob Lieberman is writing the script and Karen Rosenfelt is producing. Chan and Macchio also got together to announce a global casting search for who will play the young title protagonist in the new Karate Kid movie, as seen below (more details can be found at the Karate Kid casting website):
So that's the big secret behind this movie: 2010's The Karate Kid resides in the same universe as the original film series rather than in a separate continuity. Now I can't wait to see how Daniel reacts when he learns that Mr. Han's training techniques are awfully similar to the ones used by his late master, Pat Morita's Mr. Miyagi. Shortly after this new Karate Kid movie was announced, Macchio said he had no information to share about the project, and by the following November, he still had a lot of questions about what this next Karate Kid chapter would entail. A year later, now we know he worked out a deal to star opposite Jackie Chan in this next movie, and according to THR, their paths will cross as part of the story chronicling a teen from China on the East Coast "who finds strength and direction via martial arts and a tough but wise mentor."
It's nice to have a clearer picture about what to expect from the new Karate Kid movie, but what does all this mean for Cobra Kai? Well, in the time since the movie was announced, the Netflix show was renewed for Season 6, but this will also be the final batch of episodes. So whether another Karate Kid movie was happening or not, the Cobra Kai saga was going to be wrapping up. 
Still, I can't help but wonder if Cobra Kai's final episodes will somehow lay the groundwork for this cinematic tale. If that's the case, hopefully it's not done in too cliffhanger-y a way, as no doubt the show's fans would still live Cobra Kai's ending to feel conclusive enough rather than simply as a tease for what's coming to theaters. Furthermore, are Jackie Chan and Ralph Macchio the only familiar Karate Kid franchise faces who will appear in this movie? Could people like William Zabka, Jaden Smith and even Hilary Swank show up too?
It may be a while until these questions and more are answered, but for now, just remember that the new Karate Kid movie opens on December 13, 2024, the same date that The Lord of the Rings: The War of Rohirrim comes out. You should also look over everything we know about Cobra Kai Season 6 so far.
Denial of responsibility!
Gamers Greade is an automatic aggregator of the all world's media. In each content, the hyperlink to the primary source is specified. All trademarks belong to their rightful owners, all materials to their authors. If you are the owner of the content and do not want us to publish your materials, please contact us by email –
[email protected]
. The content will be deleted within 24 hours.