System: Switch
Release date: March 25, 2022
Developer: HAL Laboratory
Publisher: Nintendo
---
Since 1992, Kirby has brought along a multitude of adventures on just about every generation of Nintendo hardware with many planets, worlds, and creative levels. Despite the series' lengthy history and popularity, however, it never really seemed to get proper recognition until entries on Wii and 3DS where an installed base of millions were finally able and willing to try out just what franchise had to offer. Now in 2022, Kirby is back on his biggest and most beautiful adventure yet with Kirby and the Forgotten Land, and it's exceeded all expectations with incredibly deep levels, fluid gameplay, an evolving hub, tons of replayability, and a joyful, memorable time from beginning to end.
Kirby and the Forgotten land sees Kirby take on a new adventure almost accidentally. One day on Planet Popstar, a massive vortex akin to a black hole sucks in the character and everything in its path, transporting it all to a place called the New World. After saving a new lone friend, Elfilin, Kirby agrees to help save Waddle Dees that have been captured while also restoring the town that they've settled in.
Throughout the adventure you'll experience a wonderful 3D take on Kirby levels that are reminiscent in detail and depth to the likes of Super Mario 3D World, and each stands out just as much as the last. Stages never feel like they were rushed, unpolished, or designed without care. One thing that's always made Kirby so great outside of just being such a charismatic character and always having fantastic levels, however, is that the games always had a tendency to be just the right length while giving plenty to do and feel like you're constantly accomplishing something while playing, no matter how long or short your gameplay sessions may be. Kirby and the Forgotten Land is no different, as from the start you'll have plenty to do within each vibrant and expansive stage, and as you grow accustomed to the different abilities that continue to grow and become stronger via obtaining blueprints, you'll be able to use those abilities to not only destroy bigger and stronger foes, but utilize them in clever ways in and out of levels to access other rewards and content.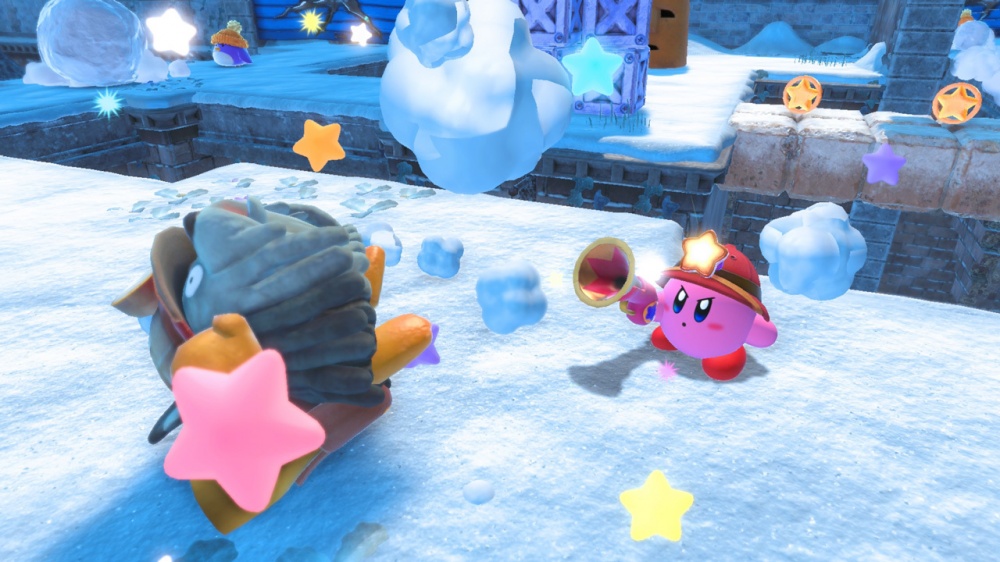 A big complementary aspect of Kirby and the Forgotten Land outside of the levels yet still in the overworld are the treasure hunt sections that serve as sort of side-quests and mini games to occupy your time when you want something different yet quick (and in some cases competitive) to jump into. These were, to me, hands down just as much as fun as the levels themselves despite being significantly smaller and bite-sized challenges and time trials in which you'd have to complete a specific task – typically with a certain ability – within a certain time frame, obtaining a rare stone by the end that would then help in the upgrade of an ability you have a blueprint for to make bigger and better powers during your playthrough. Everything you find within levels both mainline and through treasure quests will always have some impact on the newly founded Waddle Dee Town, so everything within the game constantly feels connected and important in this regard, with nothing feeling like an afterthought.
While Kirby entries have had hubs before, they've usually just served as a sort of interactive menu or extremely small compartment to a game that otherwise has players go through a basic level selection process. In comparison, Waddle Dee Town doesn't just feel like a true hub to take a breather at, but a genuinely important and integral part of the overall picture that you're incentivized to come back to time and time again for upgrades and many more. It's a great place to be if you want to relax, sure, but watching the constant expansions to the town that you wouldn't think gets any bigger until it surprisingly does – and does again and again – as the Waddle Dees you've saved return home is equally as exciting as the main game itself since these expansions also give more things to do, serving as mini-games, boss rushes, upgrades, and more. As it grows, Waddle Dees will help you with the development of Waddle Dee Town, and every new vendor, building, or piece of construction will need a certain allotment of Waddle Dees saved in order to continue growing.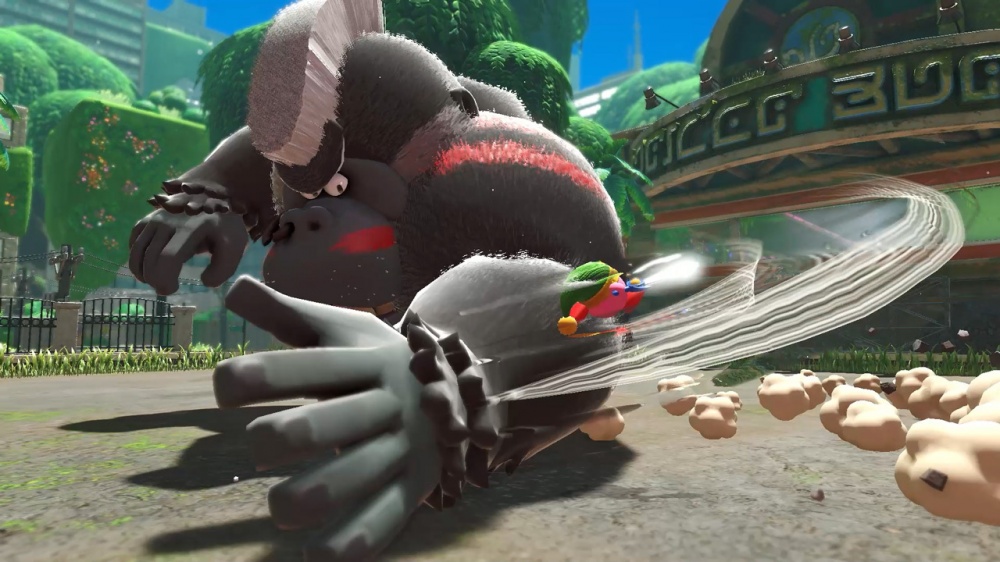 It's not just a place for your Waddle Dees to congregate, however, but also a place for Kirby to make a new home in the New World. In your own house, you can view fun little things like past adventures in a book which displays prior games in the Kirby series, sleep to regain health if you're not feeling spending star coins on food (which are plentiful, so there's very rarely a need to worry about running low), and even do some slight decoration by choosing a few collectables you've obtained through your adventures and the gacha capsule machines in the corner of town to display in Kirby's home. Even though it's unnecessary, I couldn't help but feel that it still would have been nice to have a bit more customization options for Kirby's home, and not just in terms of palette swaps but actually choosing where to place certain furniture. It'd just be a nice little bonus to an already feature-filled game to make things a little more personalized and give another layer of things to unlock and work towards, but again this was more of a feeling of "it'd be cool if…" rather than anything that would enhance the experience of an already stellar and wonderful title.
One thing that constantly sticks out within Kirby and the Forgotten land though is the sheer graphical beauty the game bestows in both handheld and docked modes that's also incorporated into the level design which is without a doubt some of the best we've seen from Nintendo in a very long time, all containing a vibrant and welcoming palette of colors that equal parts accentuates and captivates, all throughout a wide variety of biomes, themes, and scenarios that make each level and world just as memorable as the last. No level ever feels like filler or a boring little side-op, and instead feels like an exciting bonus to an already meaty game that is without a doubt Kirby's biggest adventure yet. While a lot would still consider it short compared to other AAA games, Kirby is an absolute pleasure through and through to play, and each level or treasure hunt exudes joy no matter how creepy the atmosphere tends to get in some of the darker levels and areas. Even boss fights themselves all feel like such a clever and challenging way to test everything you and Kirby have learned up until that point, while introducing new ideas, moves, and methods of traversal to utilize in future stages. Each boss also stands out much like the levels their worlds associate with, and every single one never outdoes the other and instead feels like an all-star cast of bosses that bring forth some of the best arenas and fights I've seen in years.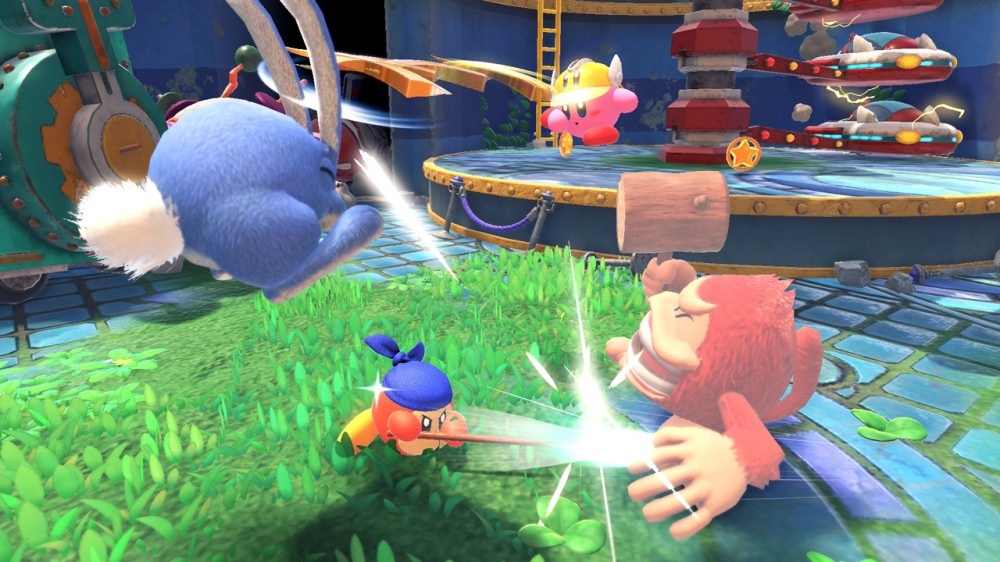 Kirby and the Forgotten Land in a lot of ways feels like an amalgam of some of the character's best adventures and moments all compiled into one, while simultaneously bringing forth a refreshing experience that makes the most of the 3D space. Starting off in the luscious greenery of the first world before making your way into the tropics, carnivals, deserts, and more, it's clear that every aspect was developed with sheer passion and excitement for what they could do with Kirby's first truly 3D outing and wanting to make the most of it. As if the levels themselves weren't detailed enough, however, they're further enrichened thanks to the slew of unlockables and hidden paths within each that reward going off course. Every level is so compelling that you can't help but dig through what each has to offer, which will almost always naturally cause you to complete objectives within a level without even trying or paying attention to them. I found myself having to repeat a few stages despite my obsession of sifting through them in a thorough manner, so this goes to show that even a keen eye could miss some of the more clever ways Kirby hides certain things and areas for certain tasks, collectibles, and unlockables.
Overall, Kirby and the Forgotten Land from start to finish is without a doubt one of the best platformers in years, and is such a memorable and joyful time that exudes further happiness through its vibrant levels that are both visually and feature rich. Whether a longtime fan or jumping in for the first time, there's something here for everyone to enjoy regardless if you're playing solo or in co-op with a friend or loved one. It's without a doubt Kirby's most expansive adventure yet, and though you could run through the game in roughly ten hours, this is still far longer than what a typical entry in the series would take. Those looking to unlock every single thing will likely be looking at double that time. Kirby and the Forgotten Land will no doubt be remembered for years to come and will hopefully set the series' consistently fun series in a brand new and exciting direction that will see everyone's favorite pink morphing ball take on even bigger and better adventures that will likely catapult him further to the top of one of Nintendo's most successful and widely recognizable characters around the world.
---
The Verdict

---
Kirby's new adventure in Kirby and the Forgotten Land shows a growth as big as the character's Mouthful Mode and pushes the series forward in one of the most refreshing ways while respecting the series' past. Kirby has always been a character with a consistently fun franchise alongside him, and though he's stumbled a few times, the new Switch game shows a willingness to evolve. This in turn has given Kirby arguably his greatest outing yet. With gorgeous graphics, sleek gameplay, vibrant, memorable, elaborate levels, and a catchy soundtrack, you can't help but smile all the way through while playing Kirby and the Forgotten Land. The elegance of design and a willingness to squeeze every part of content out of the game without much pressure to do so also delivers itself as one of the most refined, fulfilling, and arguably greatest platformers in quite some time.
---
Kirby and the Forgotten Land copy provided by the publisher for the purposes of this review.
Related
Denial of responsibility!
Gamers Greade is an automatic aggregator of the all world's media. In each content, the hyperlink to the primary source is specified. All trademarks belong to their rightful owners, all materials to their authors. If you are the owner of the content and do not want us to publish your materials, please contact us by email –
[email protected]
. The content will be deleted within 24 hours.