At the midway point of Season 3, The Mandalorian finally brings into focus a plotline that it has been teasing since the premiere, but in order to reach it — the path is lined with comically ill-equipped pirates. With Episode 5, "The Pirate," Jon Favreau breaks from one of his scriptwriting conventions and presents a story with numerous points of view, which interweave across the 40-minute runtime. It's a welcome relief for a series that often gets stuck focusing on a single character's viewpoint, to the detriment of the larger plot.
Following Episode 1 of this season, it was quite clear that Greef Karaga's (Carl Weathers) piracy problems were far from over, and "The Pirate" wastes little time pitting the High Magistrate against Captain Shard (Nonso Anozie) and his dreadful band of pirates. Still put out by the fact that they couldn't carouse in the cantina-turned-school, they return to Nevarro to enact revenge for their fellow brothers who were killed in the previous encounter. To his credit, Greef does try to bluff his way out of the situation by claiming that Nevarro is one of the many planets under the New Republic's protection, but Captain Shard knows that isn't true. There is no one to protect the planet from falling into the hands of pirates.
But there is at least one member of the New Republic which Greef can call upon in his time of need: Captain Carson Teva (Paul Sun-Hyung). While Nevarro's fate hangs in the balance, the New Republic's officers are yucking it up in some backwater cantina at their staging outpost in the Adelphi station, which is where Teva receives Greef's message. The scene adds some depth to the New Republic's complacency issue, but this location seems largely designed to reunite the Rebels audience with a familiar face—Zeb Orrelios (Steve Blum). The brief scene between Teva and Zeb feels like a tease for either a continuing storyline in The Mandalorian, or a taste of what's to come in Ahsoka. With Greef's plea weighing upon him, Teva heads straight to Coruscant to get permission and backup to render aid.
RELATED: 'The Mandalorian' Season 3: Bo-Katan Was Right to Not Tell Din Djarin About the Mythosaur
It should come as no surprise that, on the heels of such a triumphant victory against the Empire, the New Republic has become largely apathetic to the idea that their win may not have been so final. On Coruscant, Teva meets with an affable colonel (Tim Meadows) who makes it clear that Teva's presence is not only an inconvenience but that his determination to assist Nevarro is misplaced. Teva is convinced that Nevarro is just the beginning of more Imperial activity in the Outer Rim, noting that the planet has seen stormtroopers and TIE fighters in recent months, but the colonel just brushes all of it aside. Teva's case erodes further when the devious Elia Kane (Katy M. O'Brian), still masquerading as a newly reformed member of the New Republic, points out that Nevarro was one of the planets that refused to sign the charter to join the New Republic. She goes on to allude to the fact that letting Nevarro face the pirates alone—and suffer for it—will make them see the worth of joining the New Republic. Teva attempts to point out that this seems like an Imperial line of thinking, but his judgment is shut down as simply prejudice against her for her history. With his hands tied, Teva makes it clear once again that he believes something is happening in the Outer Rim and that once the New Republic sees it, it'll be too late.
With the New Republic turning a blind eye to Nevarro's plight, Teva jets off to the one place he knows that Greef Karga has an ally. The Mandalorian is quick to point out that it's rather odd that Teva would know where the super-secret Mandalorian covert is, by revealing that R5 is the one that revealed their location to Teva. It's a relatively easy fix to link up the plotlines, though it does raise further questions about whether R5 is that easily tracked or just blabbing to his old war buddies about the crazy Mandalorians he's stuck with. Unsurprisingly, Paz's (Tati Fletcher) first instinct is to kill Teva for discovering them, but Din (Pedro Pascal/Brendan Wayne/Lateef Crowder) is willing to cut him a break since he cut him one before. Teva reveals that Greef Karga and Nevarro are in trouble and explains that he sought out Din because he knows that he is one of Greef's few friends.
Later that evening, Din petitions the rest of the covert to assist him in saving Nevarro before it is too late. Din shares that before he reunited with the covert, Greef Karga had offered him a tract of land to settle on, which he now believes to be prime real estate for the Mandalorians to rebuild on. After all, it wasn't so long ago that their covert was living on Nevarro. Din thinks it is time for the Mandalorians to step back into the light and live openly, for the sake of their children. He is, however, cognizant of the fact that there is some bad blood between Greef and the covert, after what happened in Season 1. When the Armorer (Emily Swallow) asks if anyone else would like to speak for or against the cause, Paz steps up, and, at first, it appears that he is still dwelling on that bad blood. However, following the events of last week's episode, Paz has turned a new leaf. Instead of shutting down Din's plan to save Nevarro, he agrees to fight on their side, citing Din and Bo-Katan's (Katee Sackhoff) rescue of his son as his motivation.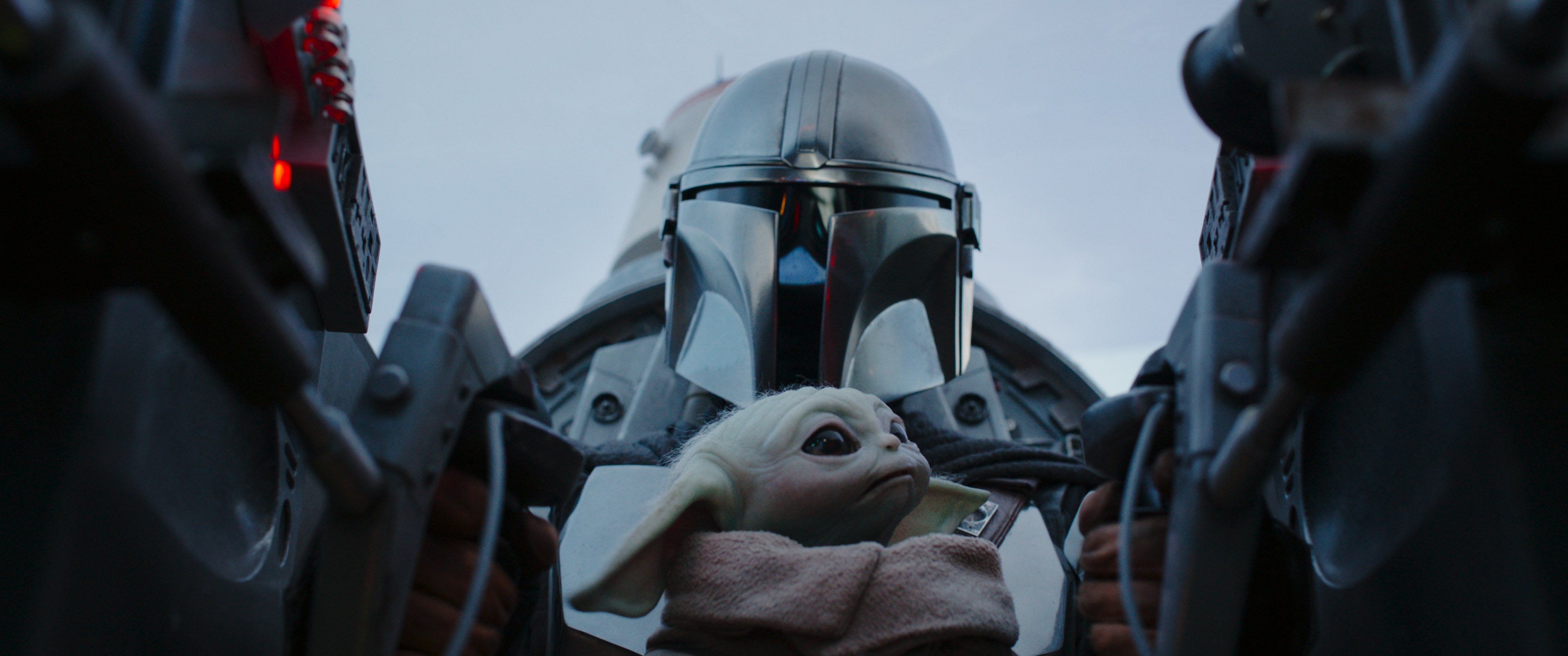 The covert once again leans on Bo-Katan to develop their tactical plan for rescuing Nevarro and beating the pirates once and for all. While she provides them with an overview of her plan, which includes aerial and ground attacks, she notes that Nevarro's independence from the New Republic makes it an appealing place for the Mandalorains to settle—providing them with even more motivation to fight. Though several of the Mandalorians are injured in their firefight, they come out victorious—taking out Captain Shard and most of his crew.
Following their victory, Greef expresses his gratitude towards Nevarro's Mandalorian liberators, telling them that the planet will forever be in their debt. He goes on to present them with the tract of land he had promised Din, which stretches from the lava flats out to the Bulloch Caves, which will act as a home for the covert. As Bo-Katan listens to Greef's speech, Paz approaches and tells her that The Armorer wishes to speak with her.
Down beneath Nevarro, where the covert once lived, The Armorer waits for Bo-Katan at the remnants of her old forge. They exchange a few words about the forge that once stood on Mandalore, before The Armorer cuts straight to the chase and tells Bo-Katan to remove her helmet. She's clearly hesitant about breaking the creed that this covert is so strict about, but Bo-Katan does ultimately remove her helmet. Now that they have a new home, The Armorer's attitude seems to have shifted, and she speaks at length about how the Mandalorians must walk the Way together — no matter how they adhere to it. With Bo-Katan's claims that she saw a real, living Mythosaur, The Armorer believes that it was a sign that a new age is upon them and that, as legends allude to, it is Bo-Katan who can unite each and every Mandalorian.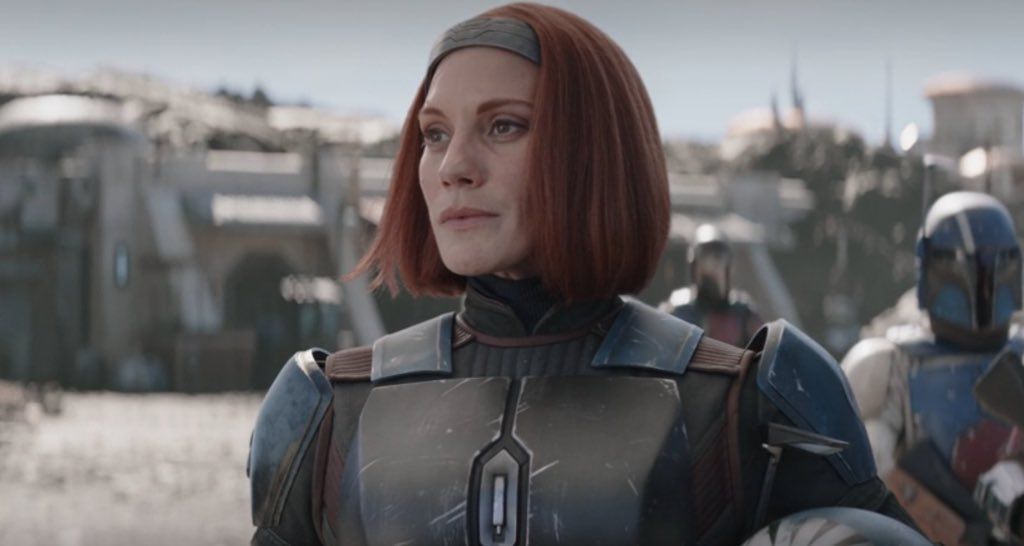 As one may expect, the Mandalorians are surprised to see Bo-Katan walking alongside The Armorer without her helmet on. The Armorer reveals to them that Bo-Katan will be leaving the Nevarro to find more Mandalorians in exile, and she points out that Bo-Katan is uniquely suited for the task because she is a Mandalorian who walks in both worlds, Now is the time for the Mandalorians to retake Mandalore—which is something that has been telegraphed across the series since they reintroduced the Darksaber. It's a shame that Din's face is hidden beneath a helmet because one can only assume the annoyance he must be feeling in this moment. He was ostracized out and exiled for removing his helmet to save his child, and forced to take dangerous risks to be accepted back into the fold, only for The Armorer to show Bo-Katan this kind of favor.
The bright hope of Mandalore's future is cut down in the final moments of "The Pirate," as Captain Teva comes across a Lambda-class shuttle out in space that has sustained some significant damage. After a brief examination of the wreckage, it is revealed that this vessel was being used as a New Republic prison transport to transport Moff Gideon (Giancarlo Esposito). Earlier in the episode, he had pointed out that Gideon had failed to make it to his trial, which had emboldened his theories that something is amiss out in the Outer Rim. But the extraction doesn't appear to have been orchestrated by an Imperial hold-out; all signs point to it being Mandalorians that killed the crew and liberated Moff Gideon.
Now that The Mandalorian's third season has reached the halfway point, it appears that audiences have finally been met with a concrete plan for where the season is headed. While many viewers had theorized that Din Djarin would be the one to unite the Mandalorians it appears that it is Bo-Katan Kryze who is stepping into her rightful role. If it is Bo-Katan that will eventually be the ruler of Mandalore, hopefully, the series is cognizant that a large swath of their audience has never seen, nor will they ever see Star Wars: The Clone Wars. In order to make Bo-Katan's rule work, they'll need to fill in the blanks for who she is, the mistakes she has made, and why she's worthy of that title—especially when Din was previously presented as a new type of potential ruler, one without a stake in the history, and had evolved beyond relying solely on other Mandalorians to be happy.
Rating: B
New episodes of The Mandalorian Season 3 are available to stream exclusively on Disney+.
Denial of responsibility!
Gamers Greade is an automatic aggregator of the all world's media. In each content, the hyperlink to the primary source is specified. All trademarks belong to their rightful owners, all materials to their authors. If you are the owner of the content and do not want us to publish your materials, please contact us by email –
[email protected]
. The content will be deleted within 24 hours.