FromSoftware is arguably one of the best video game developers when it comes to challenging and rewarding games. The company has made four Game Of The Year awardees, and one of them is the critically-acclaimed Sekiro: Shadows Die Twice. Sekiro has reinvented FromSoftware's Soulslike formula and garnered various criticisms for its difficult yet satisfying combat.
RELATED: Bloodborne: Hardest Bosses, Ranked By Difficulty
Veterans and avid fans of the Dark Souls series are not unfamiliar with how challenging these games can be, but Sekiro has definitely given them a run for their money — especially when it comes to boss fights. Sekiro's biggest strength is its combat, and it is amazing how FromSoftware was able to make each boss as intimidating as possible.
10
Divine Dragon
The Divine Dragon is less of a challenging encounter and more of a cinematic boss fight full of incredible, spectacular moments. The boss only has one Deathblow Marker and isn't entirely mobile, so you can take your time fighting it without worrying about its next attack. The Divine Dragon has two phases and is a fairly easy fight, where it only involves your Lightning Reversal ability and some quick dodges against some well-telegraphed ranged attacks.
During the first phase, all you need to do is defeat all the Old Dragons Of The Tree by performing a Plunging Deathblow from the tree that will spawn in the area. Be careful not to stay too close to these enemies, as they cough poisonous gas and will inflict the Poison status should you stay too long near them. Once you defeat the enemies, you'll move into the last phase where you just need to dodge or deflect the Divine Dragon's shockwave attacks while grappling into one of the trees to deflect lightning into the boss. An incredible and fantastical fight, but not too high on the challenge scale.
9
Gyoubu Oniwa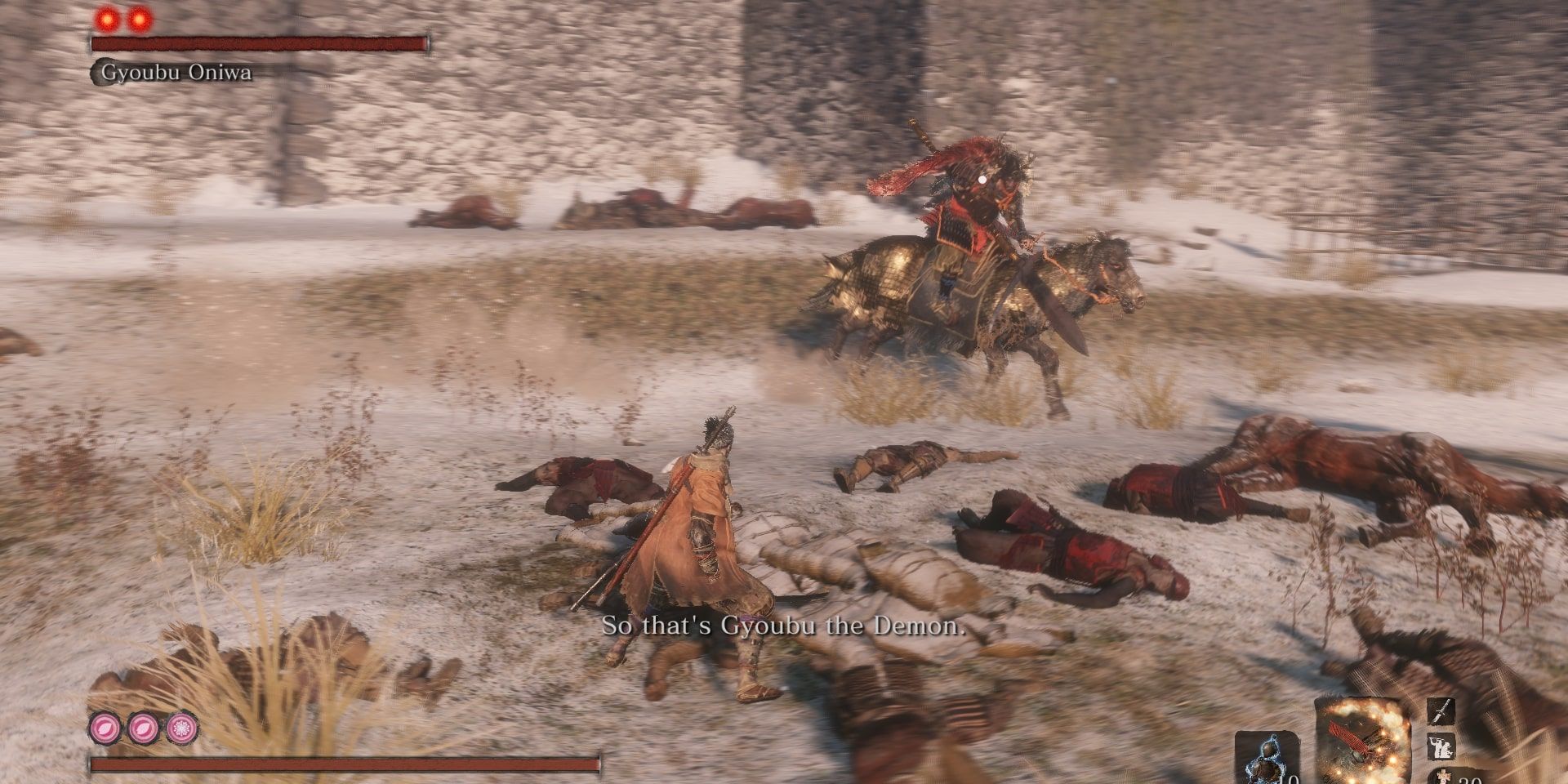 Gyoubu is one of the very first bosses you'll encounter throughout your quest in Ashina. He is very aggressive, can be easily punished with timely deflects, and is vulnerable to the Shinobi Firecracker prosthetic. You can obtain the prosthetic by buying Robert's Firecrackers from the Crow's Bed Memorial Mob and giving it to the Sculptor.
Gyoubu is enormous, but don't let him intimidate you. His attacks can be easily deflected, and every time he gallops away from you, you can grapple back to him and hit him right before you land. He can be cheesed by climbing the tower near the gate where he enters and then jumping onto the roof of that gate. Position yourself near the roof's ledge where you can see the edge of the cliff, and he'll follow your position and fall to his death. While this may seem the most un-shinobi way to deal with your first Sekiro boss, it still provides a bit of hilarity.
8
True Corrupted Monk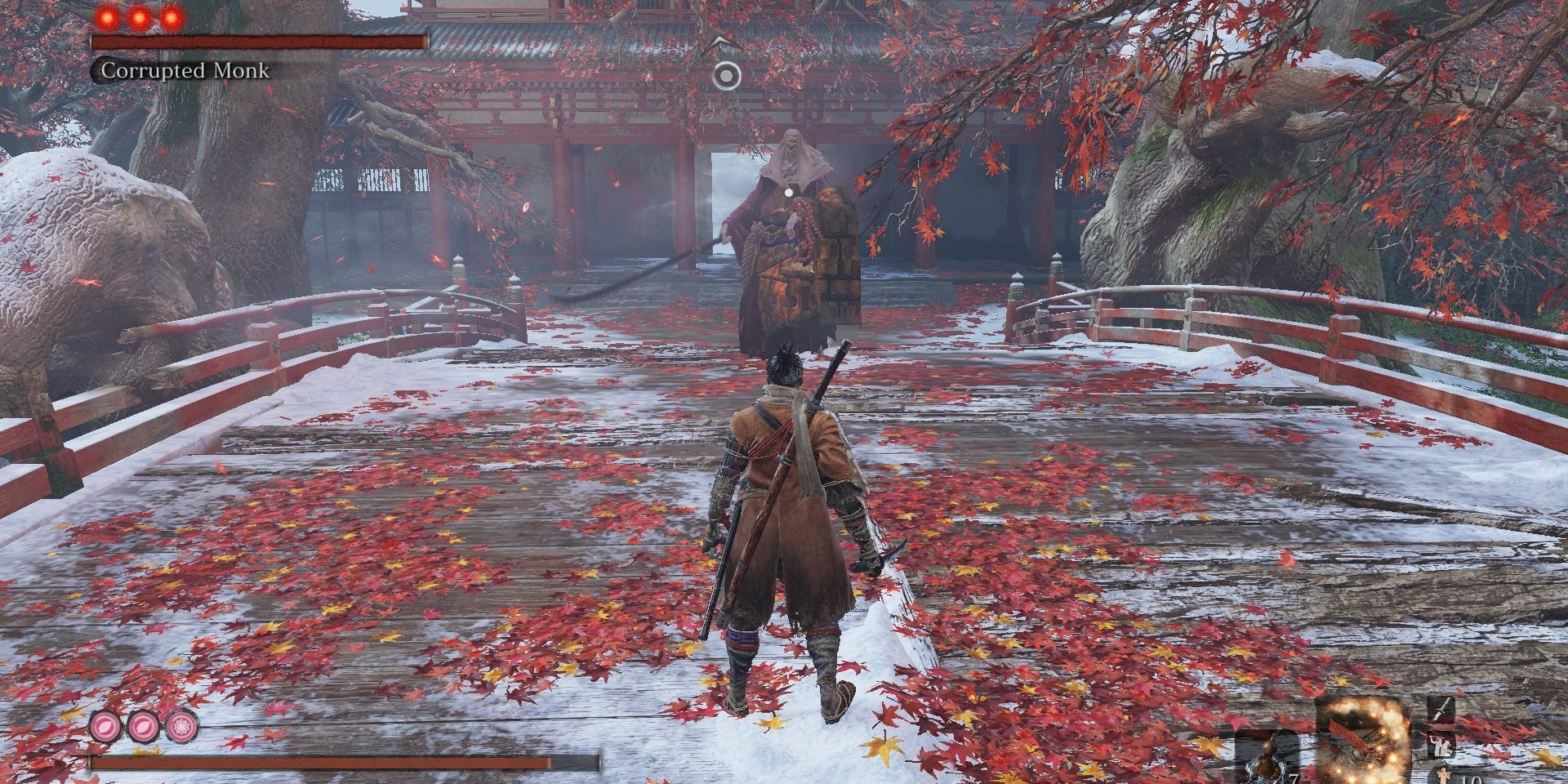 The Corrupted Monk has two versions, bringing its total Deathblow counters to 4. The illusion version of this boss is fought in Mibu Village, while the true version of the monk is encountered in Fountainhead Palace. The illusion version can quickly regain its Posture even after deflecting multiple attacks, which prompts you to be patient and deal damage directly to its Vitality instead.
Its true form has three Deathblows markers, but it can be easily defeated through different Deathblow attacks. While its first and second phases can be skipped by grappling into the trees and getting some lucky Deathblows, the third phase brings a bit more challenge as it can instantly kill you with its snake attack that applies the Terror debuff. Unlike the illusion version, the true version will sustain huge posture damage if you deflect its attacks, making the battle much easier. By no means a walk in the park, however.
7
Lady Butterfly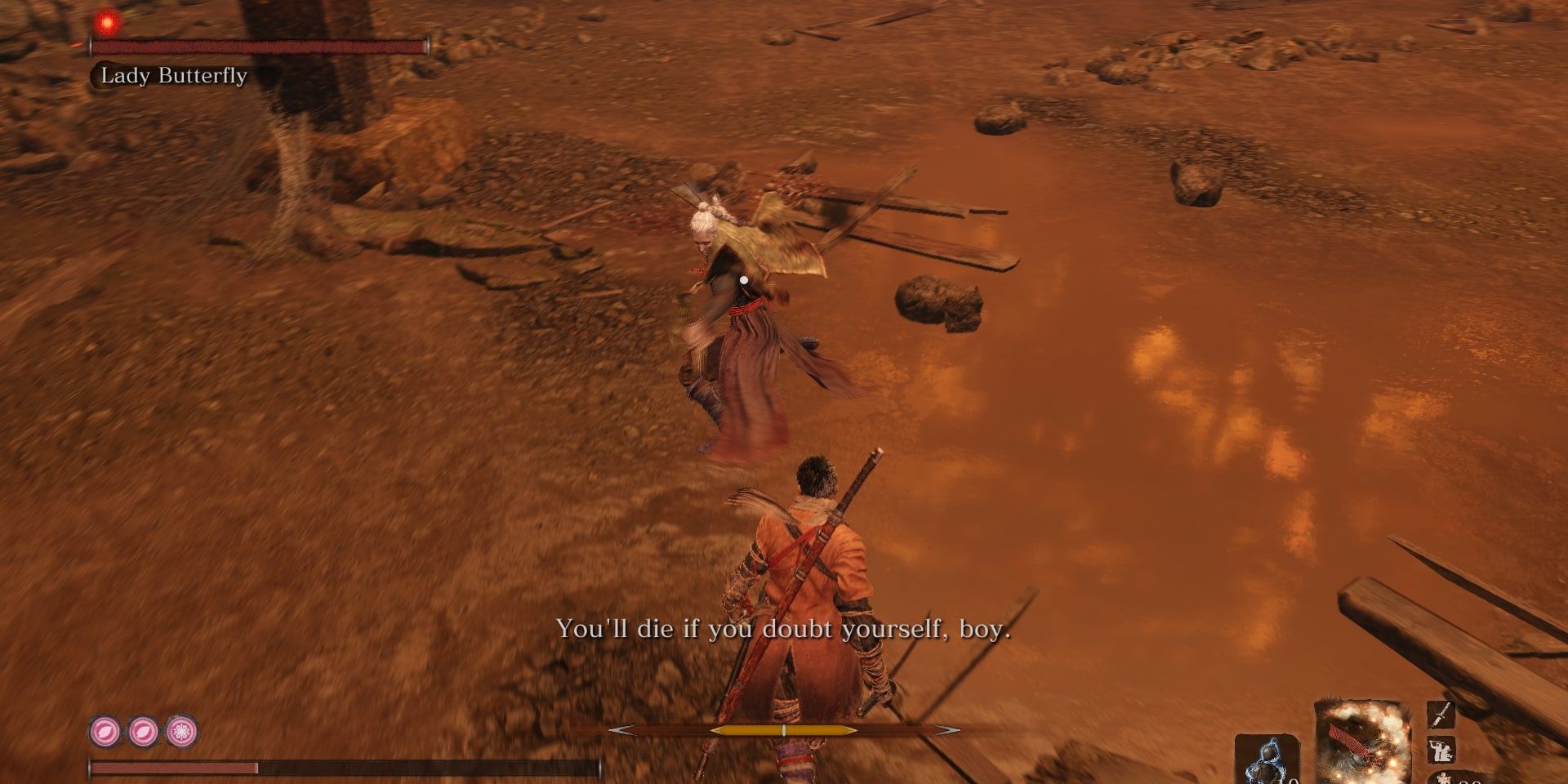 Lady Butterfly is a boss that can be found in Hirata Estate, an area in the game that you can access anytime once you obtain the Young Lord's Bell Charm fairly early on. She is extremely agile, and her move set involves kunai and illusions. You can make this fight easier by defeating Gyoubu first to increase your attack and collecting enough Snap Seeds before you begin this fight.
Mastering deflecting is key to winning this fight. Lady Butterfly deflects most of your attacks, and she perfectly guards your third strike, so it is better to wait for her attacks, deflect, and then wait for an opening to strike back. Throw a shuriken at her as soon as she tries to jump into the rafters to open up a window to strike. You can also pressure her by dodge-attacking, dealing direct damage to her health, and helping her Posture fill up. Her second phase involves a lot of illusions, but the Snap Seeds will instantly dispel them, removing a major obstacle in the latter part of the fight. If you do not have enough Snap Seeds, you can run around the outside of the arena to kite the illusions into a corner and wait for them to turn into butterflies before hiding in a pillar to block the damage. Continue deflecting and dodge-attacking to finish and win this fight.
6
Genichiro Ashina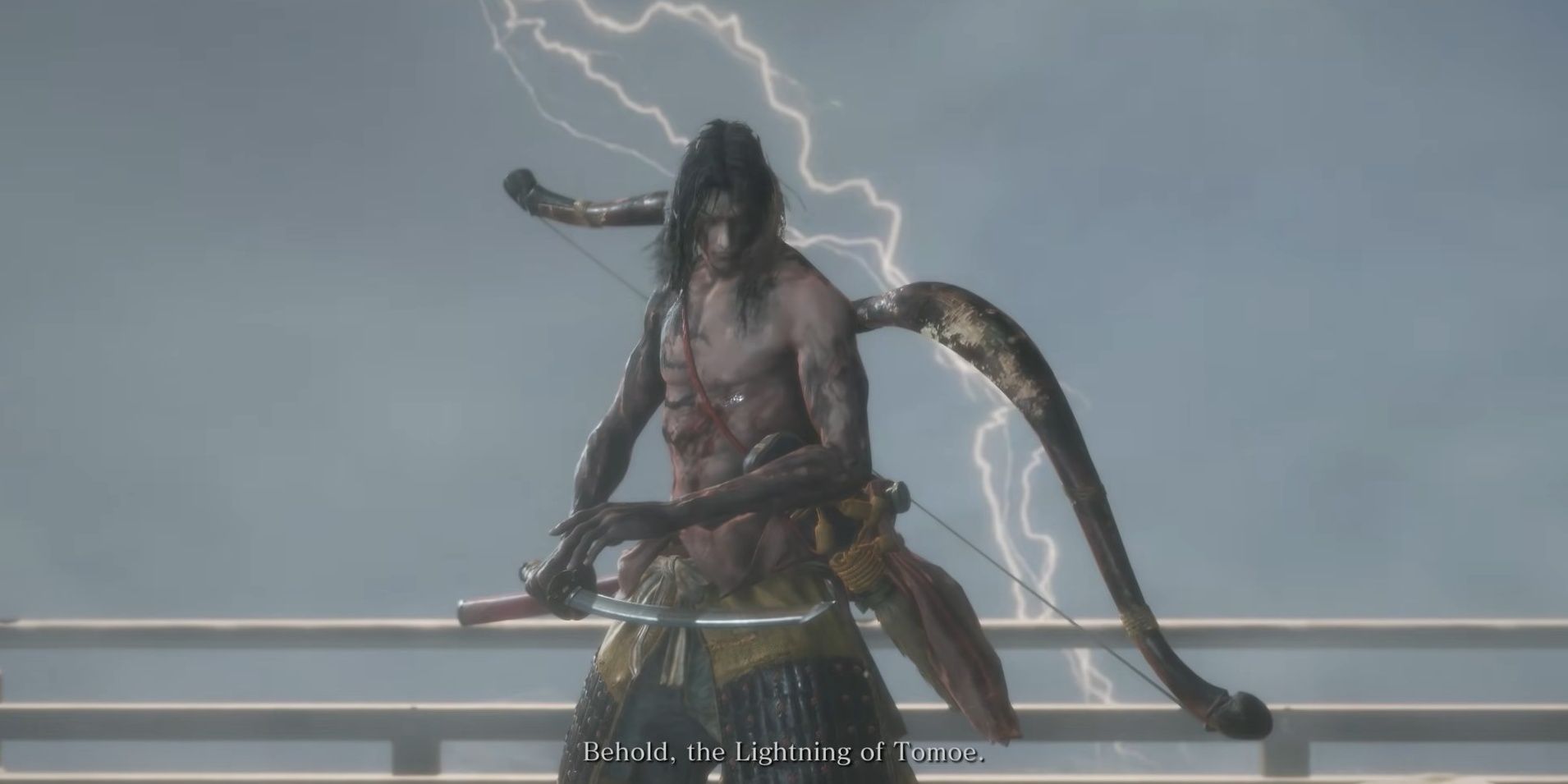 Genichiro's boss fight introduces the Lighting Reversal mechanic, and successfully parrying the lightning back deals huge Vitality damage to him. What makes him challenging is the massive list of attacks and his move set which includes leap attacks, thrusts, and long-range bow attacks. Genichiro rewards your aggression by responding to your attacks, therefore giving you the opportunity to showcase your deflecting skills, which in turn, will fill up his Posture gauge much faster.
RELATED: Dark Souls 3: Hardest Bosses, Ranked By Difficulty
Sekiro Shadows Die Twice reinvented the classic FromSoftware combat, and while most Souls game boss fights work with the classic "dodge-roll-hit" combo, Genichiro's tracking punishes you for sticking to that Souls formula. This boss fight acts as the game's skill check and forces you to master its Posture and Deflect mechanics. You should have a good grasp of almost every Sekiro combat mechanic before you face Genichiro; he will test them all.
5
Guardian Ape/Headless Ape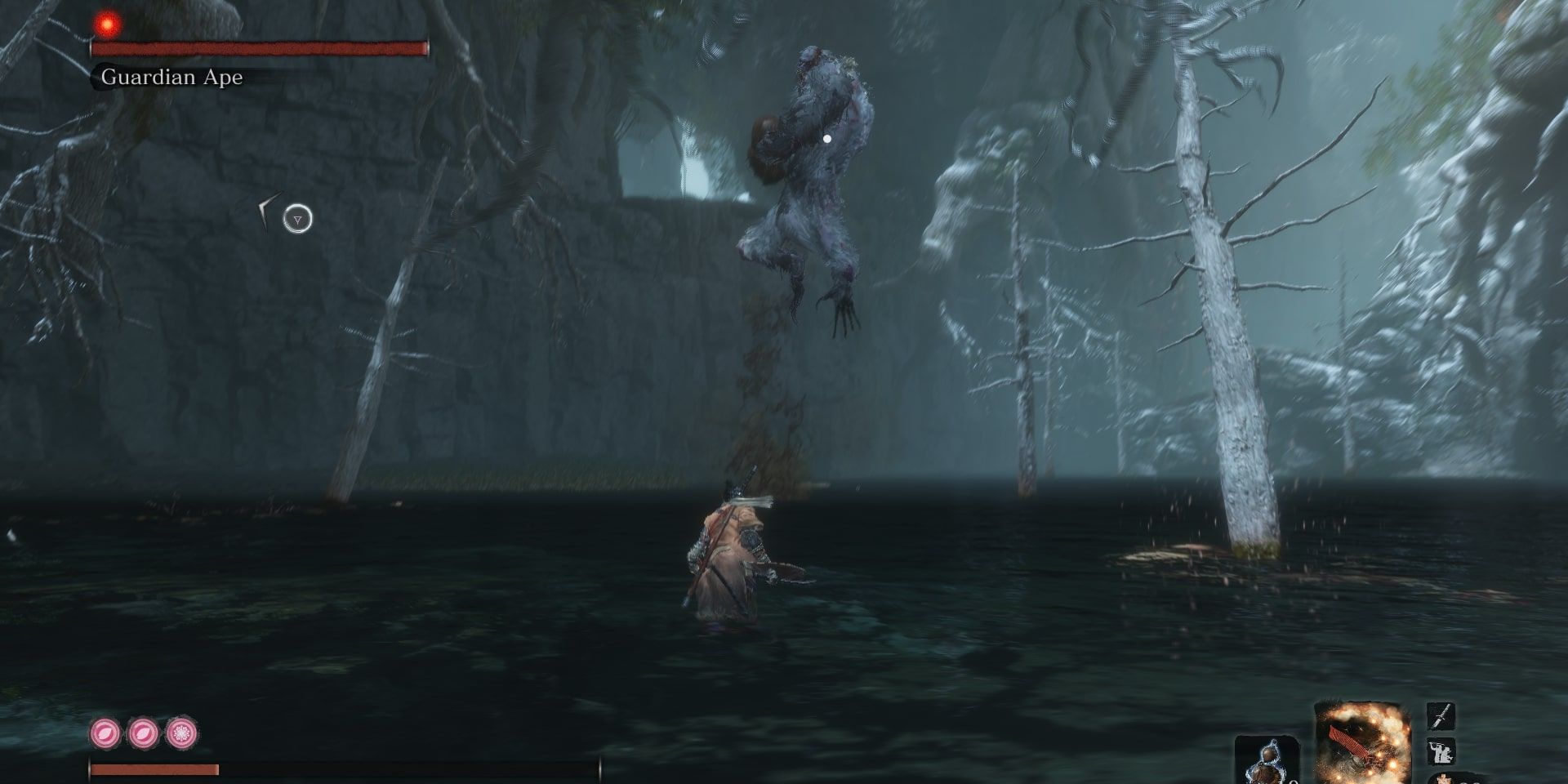 FromSoftware's boss fights can range from simple and easy hit-and-runs to ridiculously difficult boss fights, and the Guardian Ape boss leans toward the latter. Its grab attacks are unavoidable, and fighting it for the first time may catch you off-guard if you are not prepared to face its Phase 2. What makes this boss fight memorable — aside from the extremely long combos — is its lore and story. Having to fight a terribly lonely and heartbroken ape trapped with immortality is almost similar to the Great Grey Wolf Sif boss fight from the original Dark Souls.
The Headless Ape is an optional boss, but it is the same ape boss that guarded the Lotus of the Palace. It has two Deathblow markers but is also accompanied by a brown ape which makes things more difficult. Both the Guardian Ape and Headless Ape bosses have Terror attacks that can instantly kill you if you are not careful.
4
Great Shinobi Owl/Owl (Father)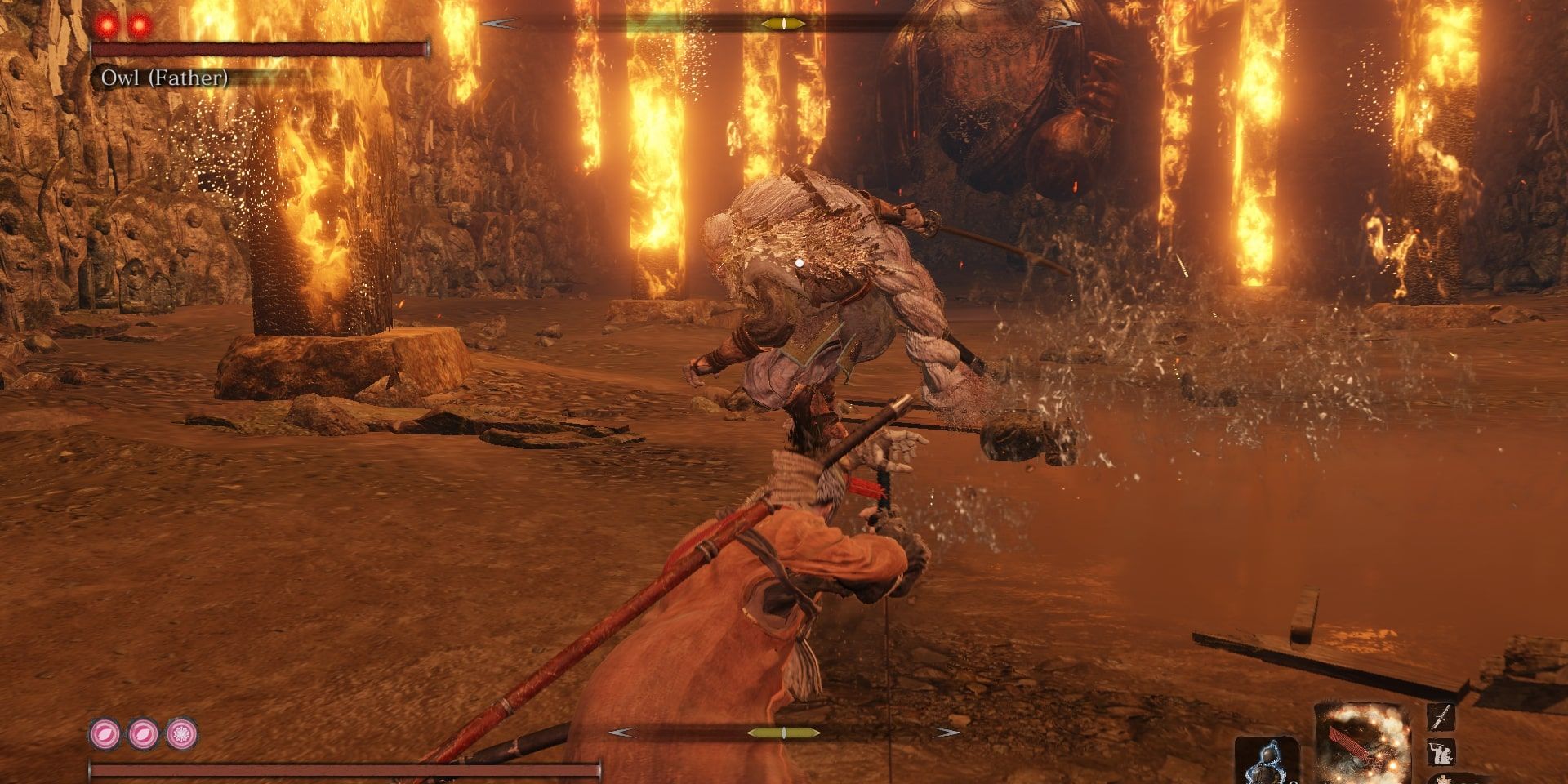 Sekiro: Shadows Die Twice is full of beautiful boss fights, and the fights against Owl feel more like a dance rather than a usual boss fight. He has an incredible list of attacks, and his move set is strikingly similar to Sekiro's. He will use shurikens and firecrackers to make things difficult, and he'll even Mikiri Counter your own thrust attacks. But, what makes him stand out among the rest of these fights is his ability to prevent you from healing yourself.
Great Shinobi Owl and Owl (Father) have similar moves and attacks, except the latter is quicker, hits harder, and is much more aggressive. Owl's posture recovers quickly and pressing the attack too much will punish you for being too aggressive.
3
Emma & Isshin Ashina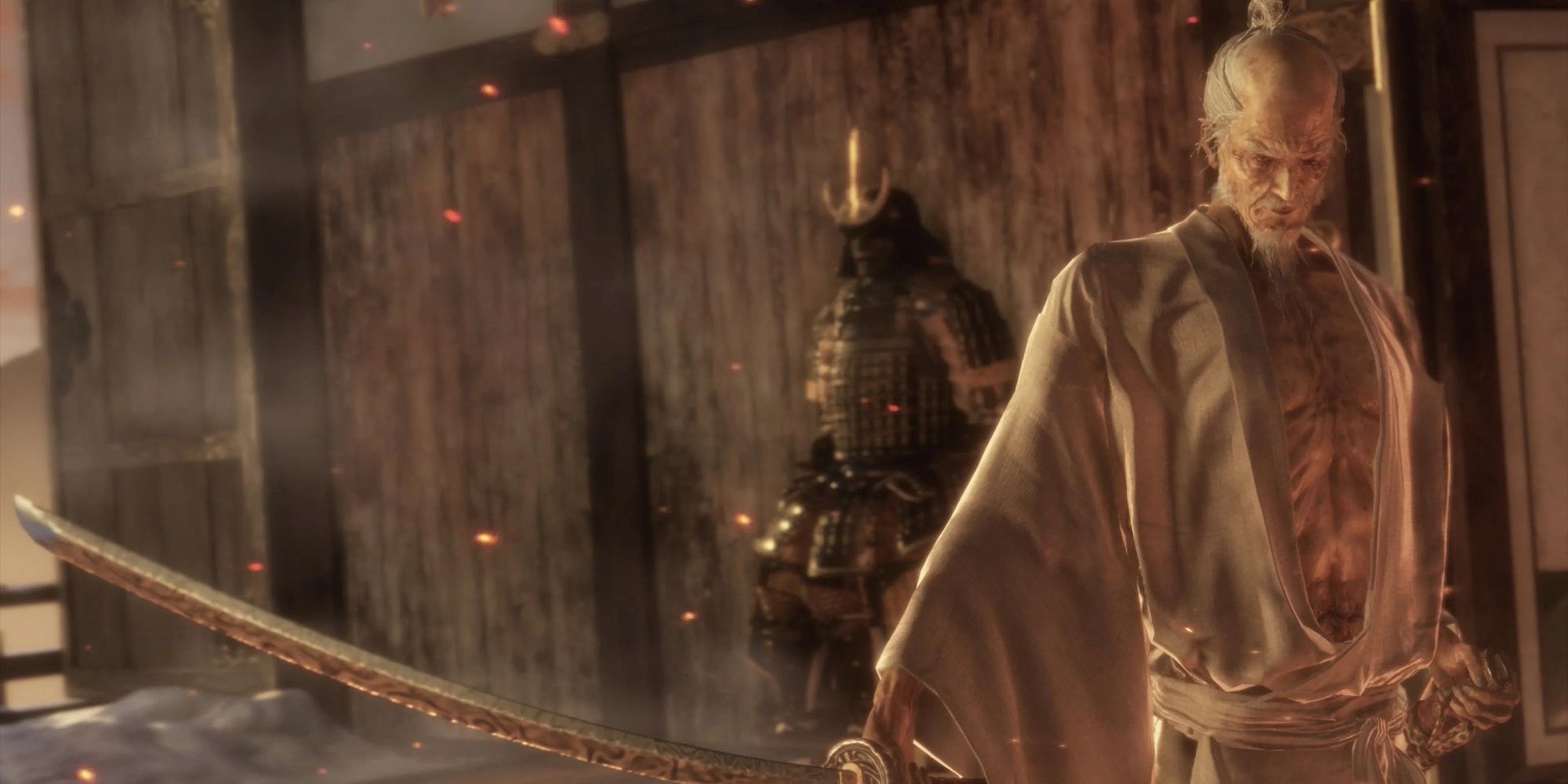 When you betray Kuro to get the Shura ending, you will encounter Emma and Isshin Ashina. Emma has one Deathblow marker, and her moves are easily punishable with proper deflects and dodges. The bulk of this fight is with Isshin, and he is the final boss for this ending. Isshin has a Combat Art called One Mind, which deals massive damage if you are in range. Furthermore, he will always dodge your initial attacks which forces you to either dodge back or follow through.
RELATED: Elden Ring: Hardest Bosses In The Game, Ranked
Compared to other boss fights in this game, this version of Isshin is calm and composed, which makes you feel like you are fighting against someone who knows he will win. Aside from his Combat Art, he uses plenty of fire attacks and combines these with his sword techniques to great effect. Once you beat him though, you'll get the One Mind Combat Art, one of the strongest Combat Art in the game.
2
Demon Of Hatred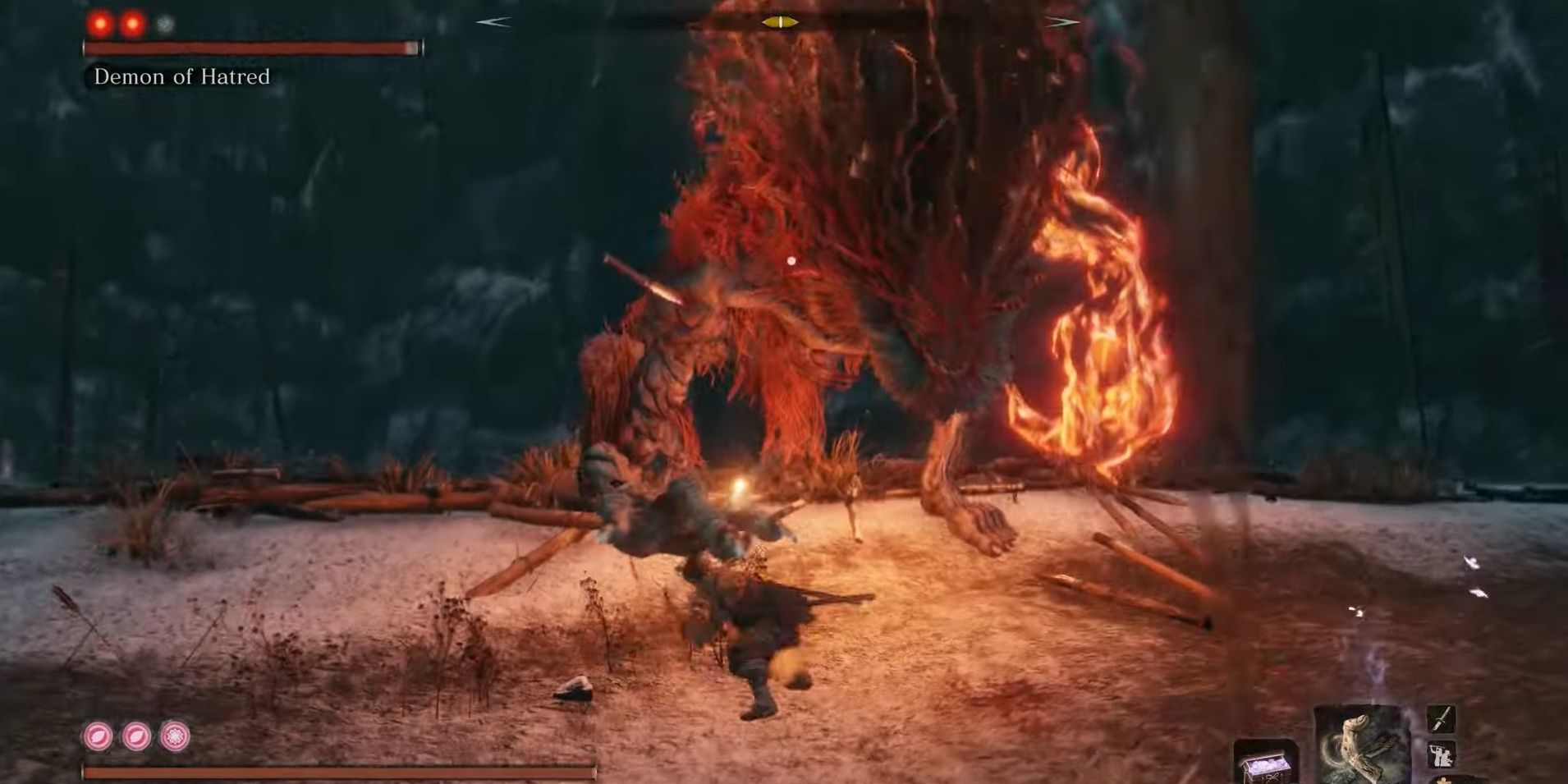 The Demon Of Hatred has three Deathblow markers and is an extremely challenging fight, albeit a bit of a secret boss fight. Its Posture Meter is as big as its Vitality meter, making this fight tremendously long. It feels almost more like a brutal Dark Souls boss fight, rewarding patience, rather than unchecked aggression. Chances are you'll go through most of its phases without dealing a Posture Break.
The lore behind this boss is wonderfully crafted and is foreshadowed throughout the game. Each phase shows the boss' intense emotions and feels like a homage to the NPC that has been with you since the beginning.
1
Isshin, The Sword Saint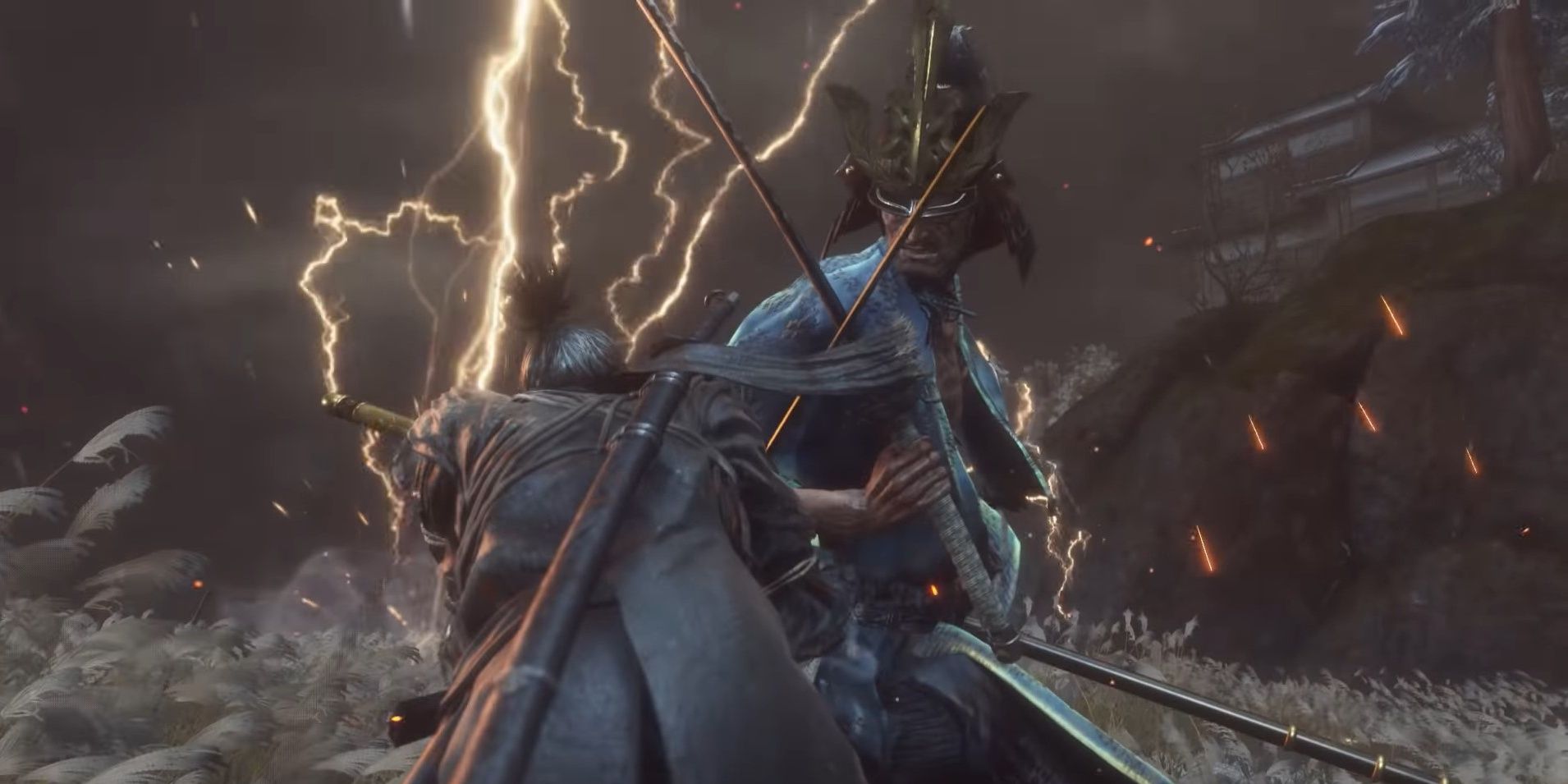 As the final boss in Sekiro: Shadows Die Twice, Sword Saint Isshin will test everything you've learned all throughout the game. He is complex, has multiple varying attacks, and is quite unpredictable. Starting as Genichiro, there are a total of 4 phases in this fight, and each one demands mastery of every combat mechanic. This fight evolves from a standard boss encounter to a beautifully choreographed battle as you go through the varied phases.
Everything about the fight, from the battlefield and music to the changing atmosphere and lightning strikes, speaks volumes about how FromSoftware carefully creates memorable yet challenging games. While this boss fight requires a high skill ceiling and an immense number of game hours, your skills are rewarded once you defeat one of the hardest and most beautifully designed bosses in all the FromSoftware games.
NEXT: Hardest Boss Fights In Gaming, Ranked
Denial of responsibility!
Gamers Greade is an automatic aggregator of the all world's media. In each content, the hyperlink to the primary source is specified. All trademarks belong to their rightful owners, all materials to their authors. If you are the owner of the content and do not want us to publish your materials, please contact us by email –
[email protected]
. The content will be deleted within 24 hours.