Nicole Maine, who played the superhero character Dreamer on The CW's Supergirl TV series, is now writing a new Dreamer graphic novel with artist Rye Hickman.
---
Nicole Maine, who played the superhero character Dreamer on The CW's Supergirl TV series, has written a number of Dreamer short stories for DC Comics, She is now writing a new Dreamer graphic novel with artist Rye Hickman of Lonely Receiver for a full-length graphic novel called Bad Dream: A Dreamer Story and will tell Dreamer's origin story.
Nicole Maine tells IGN, "I had an idea for solo comic and I went to DC to pitch it and I was like, 'Hey, I don't know what the plans are. I don't know what we want to do with this character. This is a character who's really, really special and this is a character that's really necessary right now. This is my idea. I don't know how this process works. Here's my idea. I think you guys should do it. I don't know if you're going to find a writer and do something, but I just think this is something you could do.' And they said, 'Well, why don't you write it?' And I don't know why I didn't see that coming, but I was like, "I think you guys have misunderstood what it is I do. I dress up and I say the words that other people write. I'm not the writer." And they said, 'No, do it, You'll be great.'"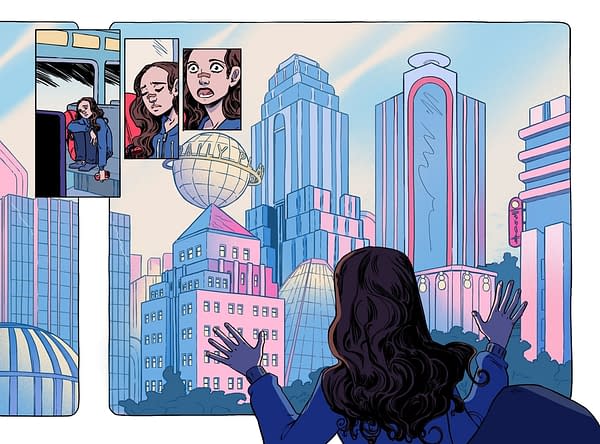 She also credits Tom Taylor for helping her, as she was also writing Dreamer stories for Superman: Son of Kal-El, DC Pride 2021 and Lazarus Planet. "The best piece of advice he's given me was use your best ideas now. You will have other ideas, but there's no use in having a great idea and sitting on it. It's not doing anyone any good if you're sitting on your best ideas, so use them. You'll come up with more stuff to use later, but that has been really, really helpful and that's been great. If I have a good idea, I'm using it. I'm not going to second guess it. If I like it, it's going in."
Bad Dream: A Dreamer Story is also intended to be part ofd DC Comics Universe continuity and her definitive origin.  "We've never seen her backstory before. This is the first anybody's hearing of it. So for all intents and purposes, that is her origin story. Because there hasn't ever been an issue stating otherwise, and so now we're going to have upwards of 200 pages detailishly chronicling how she came to possess these powers and what she did in the immediate aftermath. The whole story takes place over three days, so it's just this intense fight or flight response from her in response to her awakening."
And Nicole draws an allegory around the emergence of Dreamer's psychic powers. "Without revealing too much, there is a direct link between the alien communities and the queer communities, especially in Metropolis. They're both groups that people make unjust presumptions about and make assumptions. And as queer people are being legislated against, as are aliens in this universe, and so they find commonality in that. But where Nia comes from, it's starkly different. It's a situation of, 'I've grown up in this very, very diverse place, where everyone is so different and everyone has their own stuff going on. Why am I the odd one out?' For me, it feels very much directly linked to the real world in the way that marginalized groups and even other members of the queer community find time in their own suffering and in their own struggle to say, 'But we're still better than these people. We don't like it when we're discriminated against, but I believe it is completely justified if this group of people is discriminated against.' And that lack of self-awareness in their own situation drove some of the inspiration behind building Parthas because, of course, in the show it was this very utopian, very idyllic place to grow up, but I think it's more possibly realistic if in this diversity, they still find time to put someone at the bottom of the food chain and that person being Nia, which is another driving factor in why she is so ready to leave."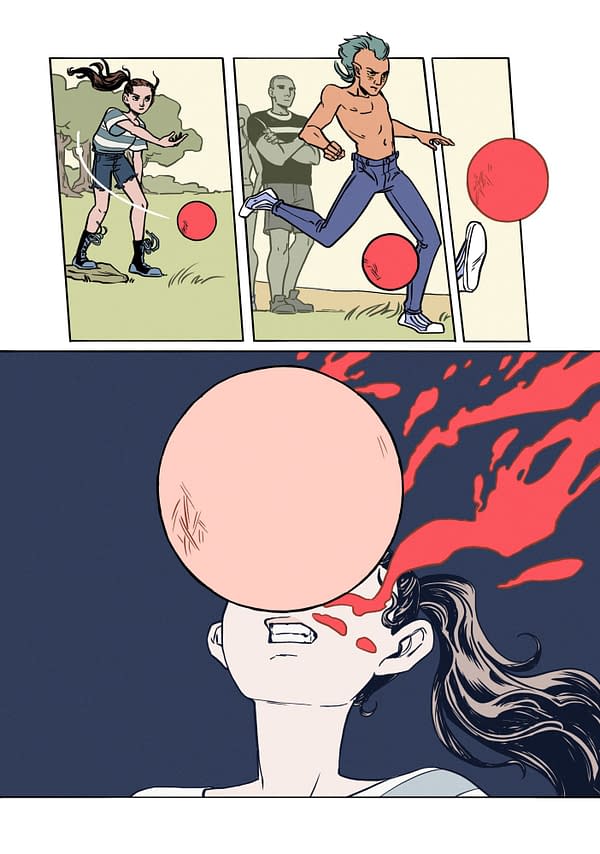 Dreamer will also be appearing in lie action one final time in The CW, in The Flash: Season 9. "This is the thing: I will always say yes to Dreamer. Sometimes that results in me having way too much work to do, working on the graphic novel and Lazarus Planet and filming The Flash all at the same time while doing Yellowjackets. I had a moment where I was like, 'Why do I think feel like I'm dying? Oh, maybe because you need to stop saying yes so much,' but I can't. I can't stop saying yes to Dreamer because I'm so excited about her and I'm so excited to see her appearing in all the places that she's been appearing. DC's willingness to rally behind this character and to push her forward has been really rewarding and makes me really, really happy because, I mean, I'm this character's biggest fan and I want to see her everywhere. When she's coming back, she's coming back as Nia, less Dreamer," Maines says. "It's not crime fighting. It's not, 'Let's go out in the super suits and let's kick some butt.' This is Iris and Dreamer trapped in a vision, trying to put the pieces together, and racing against the clock. The focus on Iris and Nia's friendship was really great because I love Candice so much, and so her and I getting to run around together in the dream realm was a blast. Getting to lean into the comedy where we could and lean into the terror where we could was really fun."
The Flash: Wildest Dreams airs on The CW on the 29th of March and Bad Dream: A Dreamer Story will be published in April 2024.
Denial of responsibility!
Gamers Greade is an automatic aggregator of the all world's media. In each content, the hyperlink to the primary source is specified. All trademarks belong to their rightful owners, all materials to their authors. If you are the owner of the content and do not want us to publish your materials, please contact us by email –
[email protected]
. The content will be deleted within 24 hours.