Editor's note: The following contains spoilers for Agent Elvis.Netflix's hotly anticipated Agent Elvis premiered Friday on the streaming platform and the 10-episode series concluded its first season with a surprising twist that will no doubt leave fans wondering what's ahead for the beloved music icon's animated persona. In the Priscilla Presley and John Eddie-created series from Sony Pictures Animation starring the voice talent of Matthew McConaughey as Elvis Presley, the last two episodes of Season 1 opened up ideas for a sophomore return as it culminated into a startling finale that saw the King of Rock and Roll enlist the help of his stoned chimp as they try and stop the mind-control weapon from ruining his "Aloha From Hawaii Via Satellite" concert.
The action-comedy series, which is a quick 30-minute episode binge, follows our generation's most influential performer trading in his signature sequined jumpsuit for a jetpack when he's recruited into a secret government spy program. Helping battle nefarious forces that threaten the U.S. with the likes of Dean Martin and Marilyn Monroe, Elvis proves he can do it all while tending to his musical career and balancing a family with Priscilla and their infant daughter, Lisa Marie. But can he have it all? As Episodes 9 ("Swollen Desire") and 10 ("Godspeed, Drunk Monkey") prove, Elvis can certainly try, but there are always forces beyond his control puppeteering his next move.
Related: 'Agent Elvis' Cast and Character Guide: Who's Playing Who in the Netflix Animated Series?
What Was Project Tupelo?
After Elvis breaks into The Central Bureau's Sub-Level 7 in Episode 9's "Swollen Desire" with TCB's CeCe Ryder (Kaitlin Olson), the singer-turned-secret-agent discovers the truth about his recruitment, running a major dent in his esteem. All season long, Elvis has been plagued by flashbacks reminiscent of Jason Bourne's experiences in The Bourne Ultimatum, strapped into place and unable to get away. Unsure of what it all means, Sub-Level 7 is Elvis' answer. Getting Bobby Ray (Johnny Knoxville) to help him create a penis mold to unlock a glory hole at an unsuspecting stall in TCB's restroom, Elvis breaks into TCB's mainframe and heads to an "Ultra Classified Area" with CeCe. The two come across a top-secret assignment called "Project Tupelo," which includes a tribute wall to Elvis Presley and features all his best, most cherishable items like the famous first guitar, his old U.S. Army uniform, and a photo from his first concert at Overton Park Shell in 1954.
After Elvis and CeCe narrowly escape from crazed robots featuring the faces of U.S. presidents like John F. Kennedy, the TCB superspy confronts The Commander (Don Cheadle) at Bertie's (Niecy Nash) home and asks him for further details about Project Tupelo. It's here that The Commander reveals his obsession with Elvis' power and control over an audience. Boasting about the legions of fans at Elvis' command and the hypnotism that followed him as a cultural phenomenon, The Commander notes the performer started a revolution that left J. Edgar Hoover and the FBI "shitting themselves." With The Commander seeing that force as more of an opportunity to weaponize rock and roll, he used Elvis as a device to reproduce that power and control. With the help of psychedelic drugs advocate, Timothy Leary, TCB created a prototype from Elvis' DNA that found the scientist using the singer's own essence as a chemical to make spies and killing machines.
But as the ingredients that made Elvis so appealing to the masses caused too much chaos in test samples and the radical dose turned out to be too unstable, The Commander shut the whole thing down. However, he notes it wasn't until Elvis' 1968 Comeback Special that the TCB boss decided to rev it up again and create "Agent King." Disappointed and angry over being used, Elvis reveals he wanted to make a "better tomorrow" for everyone, not become some "rock and roll terror weapon." With that, he quits TCB and chooses to remain a singer, while going back to his wife Priscilla.
Did Elvis Just Die in "Godspeed, Drunk Monkey"?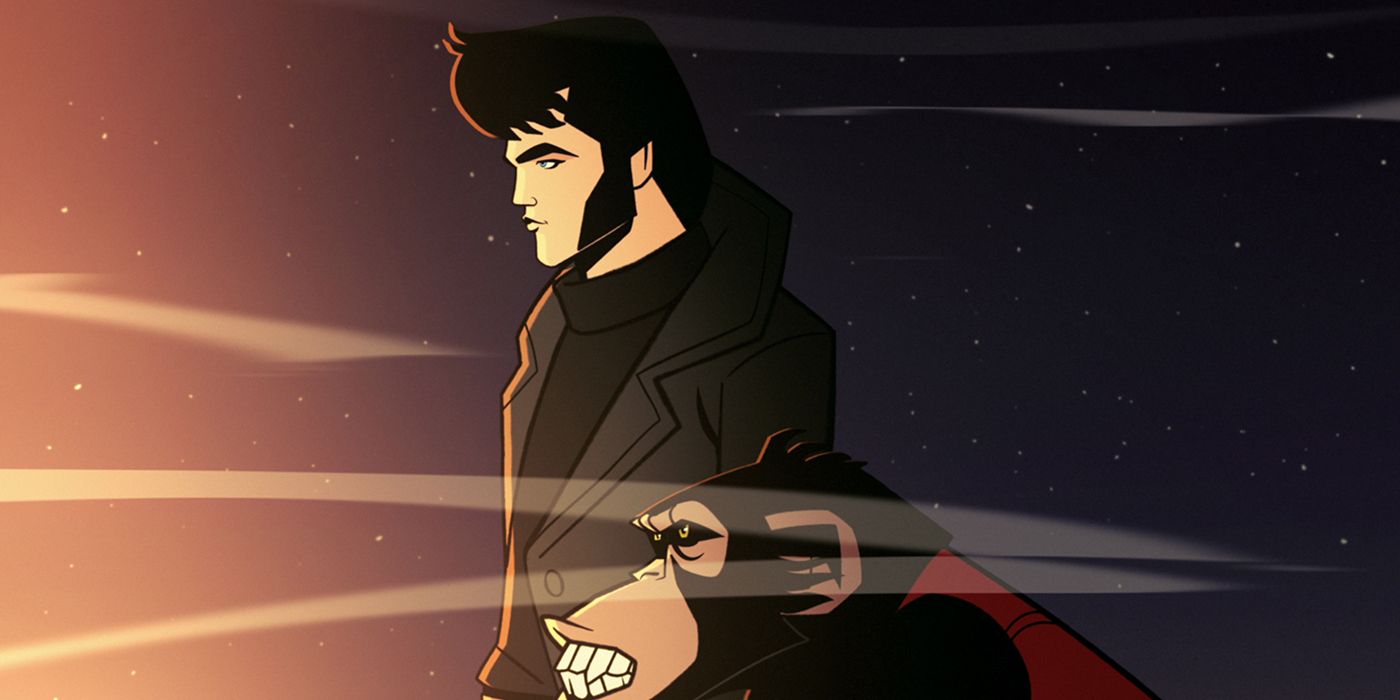 When the season finale opens up, we're introduced to a young Elvis fan named Gabriel, dancing and singing along to the singer's track "Money Honey" in 1956. But when his father, a religious fanatic, walks in and chastises the boy for listening to the devil's music, he takes the record out of the house to burn it up in the backyard. Unfortunately, the flames catch onto his father's polyester suit, killing him while also drowning, as he fell into the pool. It is at this moment that the young boy vows to avenge his father's death. Cut to Elvis living his best life on a Hawaiian beach with Priscilla in 1973, sipping tropical drinks. But that relaxation is cut short when the head of Wolf World Communications, Gabriel Wolf (Kieran Culkin) makes his presence known. Though he's not threatening, audiences will recognize the signature W (or M) symbol left behind at various locations Elvis and CeCe infiltrated this past season following their search for the sonic weapon threatening humankind. Elvis is unbothered by the man and asks him to leave, so he can spend time with his wife. However, that time is cut short as well when fans begin to hound Elvis for autographs and photos, and CeCe appears with a suggestive plea for Elvis to return to TCB. This causes a frustrated Priscilla to tell Bertie she will be heading back to Memphis.
The next day, Elvis continues to exhibit affection for the superspy life after hearing a police siren go off, causing Bertie to stress how he needs to back off of it by any means necessary. But with The Commander and his crew, including CeCe with Hervé Villechaize (Fantasy Island) and Jack Lord (Hawaii 5-O), getting intel on the W organization, they now know they have to disable a satellite from a Hawaiian volcano and in space. However, Bobby Ray and his terrible driving somehow run over Jack and Hervé, killing them instantly and throwing a major wrench in TCB's operations. With The Commander having no choice left but to ask Elvis, who is busy preparing for the "biggest concert of his life," for help, he approaches the singer and informs him that there's a problem attached to the concert. As it turns out, the particles emitted by the sonic weapon they had been looking for were coming from outer space. The Commander reveals that attached to the satellite broadcasting his concert is the mind control device made from Elvis' DNA that will infect people around the world, turning them into bloodthirsty lunatics. Calling it a "global bloodbath," The Commander reveals he needs Elvis after Bobby Ray killed his two other agents and can't trust anyone else as TCB has a mole, admitting the stolen sonic tech was an inside job.
As Gabriel is ready to bring destruction to the masses and make Elvis the most unloved performer of all time, we learn that Robert Goulet (Ed Helms) has been TCB's traitor all along. Meanwhile, Elvis tries to make sense of his return to TCB but gets gifted a jetpack from The Commander, making his decision to "save the world" an easy one. Meeting up with CeCe, the two connect with Scatter and decide the chimp is the only one who will fit the capsule formerly assigned to Hervé to fly up to the satellite and disarm the sonic weapon.
In her tracking of Scatter, CeCe discovers there's a signal station somewhere on the island connecting to the satellite, which prompts the TCB agent and Elvis to head into the eye of a volcano to break it apart. As they attempt to shoot at it, Wolf's henchmen attack the pair, but they are saved by Goulet, who suggests he get back to the concert, but Elvis says it won't happen before taking out the dish while suddenly noticing the M symbol on his rocket launcher. The two engage in a battle royale inside the dish with a very jealous Goulet admitting he was The Commander's right-hand man and was present at Elvis' Tupelo Project experiment that should have killed him. Angered by Elvis replacing him in TCB, Goulet makes his final attempt at killing Elvis but is thwarted safely by CeCe, who believes the "Tony Award-winning pompous prick" is her dad.
As Gabriel tracks his weapons, Scatter's attempts at disarming the space satellite have proven successful though he is low on oxygen and near death. But to disconnect the two, Elvis and CeCe must destroy the dish, ultimately putting an end to the evil villain's plans. When the agents report back to The Commander, they hand off Goulet and Elvis learns Scatter was on a suicide mission. Not happy with leaving behind his chimpanzee, Elvis decides to head to space with Bobby Ray and a reluctant CeCe on his Lisa Marie plane-turned-spaceship, to rescue the monkey with the help of Neil Armstrong's stolen spacesuit. When heading back, Bobby Ray informs the two that he never installed the heat shield, which means the ship will burn up on re-entry. With Elvis understanding the situation, he decides to sacrifice himself by acting as a human heat shield, protecting the three of them. As he radios in one last time, he admits he never got a chance to check in with Priscilla.
Is Elvis a Clone?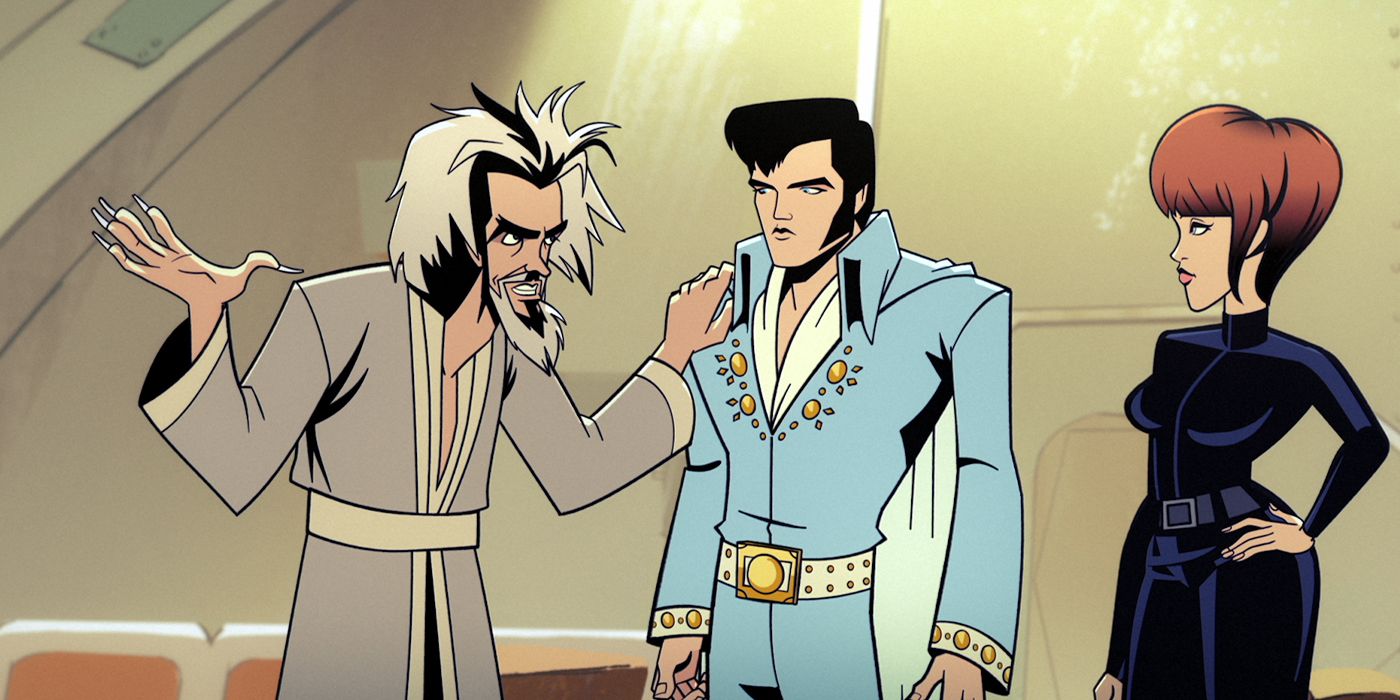 The final moments of the episode see the nose of Elvis' Lisa Marie burning up and rocketing back to earth as a fireball. With The Commander watching from his hotel room, he calls up TCB's inventor Howard Hughes (Jason Mantzoukas), asking him to resume his "cloning research" because "we're probably gonna need a new Elvis." The last scene, set to "See See Rider" sees Elvis' space helmet cracking up as flames surround him and a faint smirk fades into a bright white light.
While it isn't certain that Agent Elvis will return to Netflix for a Season 2, the finale definitely sets up a possibility — and one that ties to the lasting brand surrounding Presley's influence and how he has continuously reinvented himself through popular culture, even after his death. Will Elvis return as a clone or has Elvis been a clone this whole time? After all, The Commander did say "new." During the first nine episodes, the writers have managed to highlight elements that could suggest Elvis died during testing, with The Commander advising to "shut it down" or how Goulet stated all that stuff he was pumped with should have killed him, but it didn't. Even Bertie alluded to his life being ruined in a confession to The Commander. But while we can't be too sure, it's no secret how the show plays to a larger commentary about the pervasive culture of celebrity obsessions and its enduring branding through influence. But even with all that, the biggest thing we could wish for with Season 2 is that the animated Elvis and Priscilla can have one final moment again.
Agent Elvis is now streaming on Netflix.
Denial of responsibility!
Gamers Greade is an automatic aggregator of the all world's media. In each content, the hyperlink to the primary source is specified. All trademarks belong to their rightful owners, all materials to their authors. If you are the owner of the content and do not want us to publish your materials, please contact us by email –
[email protected]
. The content will be deleted within 24 hours.