The Devil of Hell's Kitchen has made countless appearances across page and screen, and the character's look has morphed at nearly every turn. In the comics, just like the Netflix series, the first suit Matt Murdock adorns is known as his Prototype Suit, a simple all-black getup meant for stealth and anonymity over superhero identity. However, with his first "official" suit, the Netflix series strayed from the comics, giving him an all red and black look reminiscent of later iterations. Now that Daredevil has begun his introduction into the Marvel Cinematic Universe, we've seen our hero in yet another new outfit. Appearing brighter and more saturated than any live-action depiction before, The Man Without Fear (Charlie Cox) showed up in She-Hulk: Attorney at Law sporting bright yellow elements to accompany his devilish red. This wasn't a departure from his roots, however. It's actually a leap back to his truer origins; this devil isn't always dark.
Variants Across the Screen
Aside from a lesser-known spot in a TV movie of The Incredible Hulk, our first major live-action encounter with Matt Murdock came in the form of 2003's Daredevil starring Ben Affleck. Before this, the character's most widely known depiction was likely his appearances in Spider-Man: The Animated Series, where he'd team up with Spidey to take down Kingpin. In the cartoon, Daredevil wore an entirely red and black suit, and Affleck's portrayal dawned a similar garb. Consequentially, this version of the character's style became the look most ingrained in the public's minds. On Netflix, once the hero acquired his red suit, he kept it throughout all three seasons and The Defenders. It wasn't until Disney took the reins that his original pallet appeared.
RELATED: 'Daredevil: Born Again': Cast, Release Window, and Everything We Know So Far
Beyond a Brighter Tone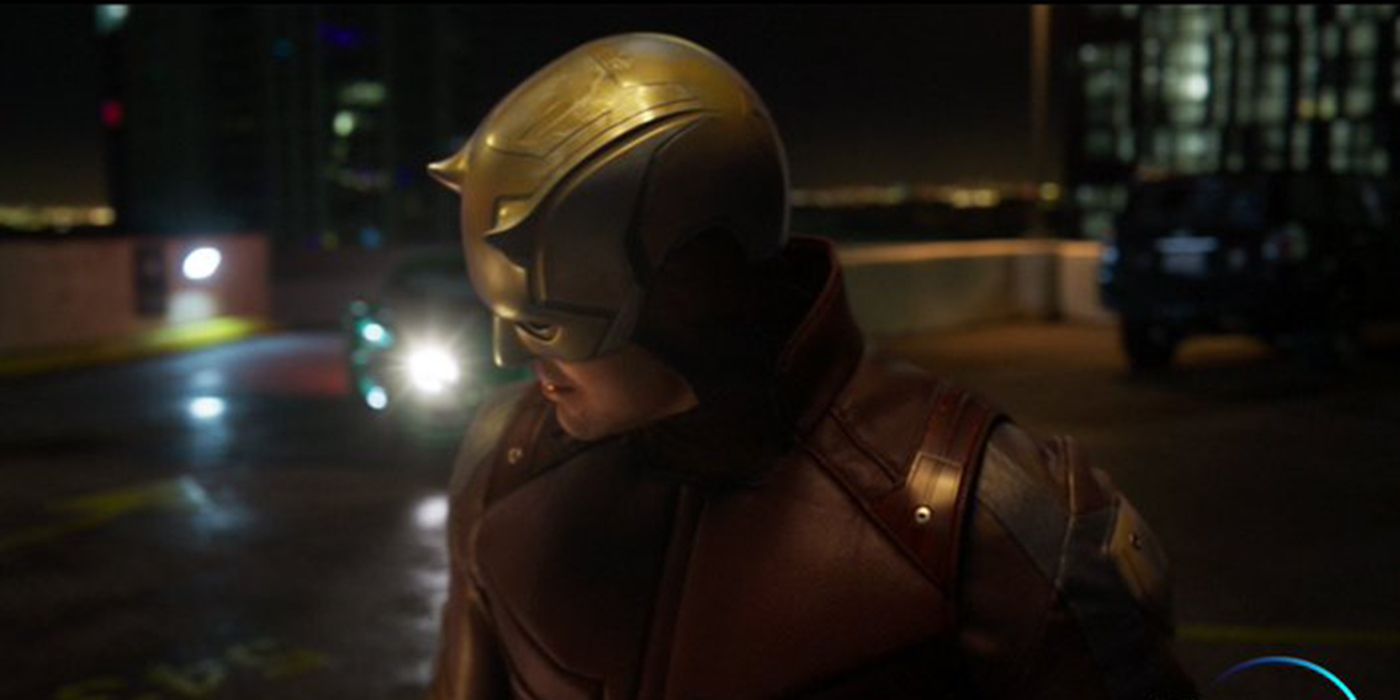 Stan Lee and artist Bill Everett introduced Daredevil to the world in 1964. His original costume, plastered in red and a vibrant yellow, was splashed across the cover. In this initial issue, the story went straight into the origin of Daredevil, centering his pursuit of justice as his prime motivation. As a young boy, Matt intervenes to save a stranger from being struck by a vehicle. As a result of the crash, Matt is exposed to a radioactive substance the truck was carrying, blinding him. His father, Jack Murdock, returned to underground boxing to care for his son. Things quickly go sour, and Jack is killed for refusing to throw a fight. When Matt's older and he adopts his secret persona and begins to seek vengeance, he creates his suit from the boxing robes his father once wore. That's where the yellow color began.
The Netflix series stayed fairly true to this origin. Matt's father, doomed to the same fate, used the same yellow in his outfit when boxing. His demise still set Matt off on his path, but when it came time to commission his superhero suit, the series left yellow out of the picture. While it's true that She-Hulk: Attorney at Law conveys a much lighter sensibility than the Daredevil series, the brightening of the character's look is more than simply a tone adjustment. Acknowledging the bridge from Netflix to Disney, Daredevil has finally been adorned in his original colors. Luke Jacobson, the Marvel world's iconic tailor, creates an upgraded suit for Matt, incorporating the bright yellow hue throughout. While Matt isn't repurposing his father's actual garments, the homage to Jack Murdock lives on.
Denial of responsibility!
Gamers Greade is an automatic aggregator of the all world's media. In each content, the hyperlink to the primary source is specified. All trademarks belong to their rightful owners, all materials to their authors. If you are the owner of the content and do not want us to publish your materials, please contact us by email –
[email protected]
. The content will be deleted within 24 hours.