WWE 2K23
Building from its successful return with WWE 2K22, the wrestling series is back with even more modes, features, and match types. An incredibly expansive roster will let players step into the boots of superstars dating all the way back to Bruno Sammartino's heyday.DualShockers was provided with a copy of the game for review purposes
Pros
A roster of somewhere around 200 superstars from the past and present.
All-new separate MyRise story modes for your male and female Create-A-Superstars
Returning Universe and MyGM modes provide immersive sandbox control.
John Cena Showcase is captivating … and I'm not even part of Cenation.
Cons
A few minor audio quality recordings.
Molly Holly's wooden acting (I'm so sorry, Molly. I still love you.)
Announcer confusion when using the WCW brand.
It's a bit hyperbolic, but I'll say it anyway: WWE 2K23 is the best wrestling game I've ever played. And I've played a lot of them.
My electronic wrestling experience was 1989's Wrestlemania for the Nintendo Entertainment System, which hosted a narrow roster of Hulk Hogan, Randy Savage, Ted DiBiase, Andre the Giant, Bam Bam Bigelow, and The Honky Tonk Man, all with movesets that consisted of little more than punch, kick, and scoop slam. WWE 2K23 takes the first four out of six of those superstars, adds around 200 more (accounting for variants that I've found so far), and gives you so many ways to play that you may not have found them all by the time WWE 2K24 inevitably releases.
Is it a rehash of WWE 2K22? Well … kinda. But last year's entry fixed so much of what had been wrong with the previous installment, and WWE 2K23 uses its predecessor as a solid foundation to build an even stronger wrestling empire In Your House. Controls are smooth and easy to pick up, but there are a variety of game modes to nudge you along in a "this isn't really a tutorial but why don't you learn how to do this cool thing too" moments. Graphically, it looks beautiful and authentic. Other than a few minor gripes, like referees knocking aside tables and ring steps like they were made of cardboard and belts not resting quite right on smaller wrestlers' shoulders, all the movements flow oh-so naturally, and big entrances like Xavier Woods' trombone, Matt Riddle's scooter, and Robert Roode's "Glorious Domination" choral direction have kept me from hitting the skip button no matter how many times they play through.
Put simply, there's very little to criticize about this game, and I'll apologize in advance if this review too full of hype, but let's go through the modes and features one by one, because this game has a ton of good stuff to offer.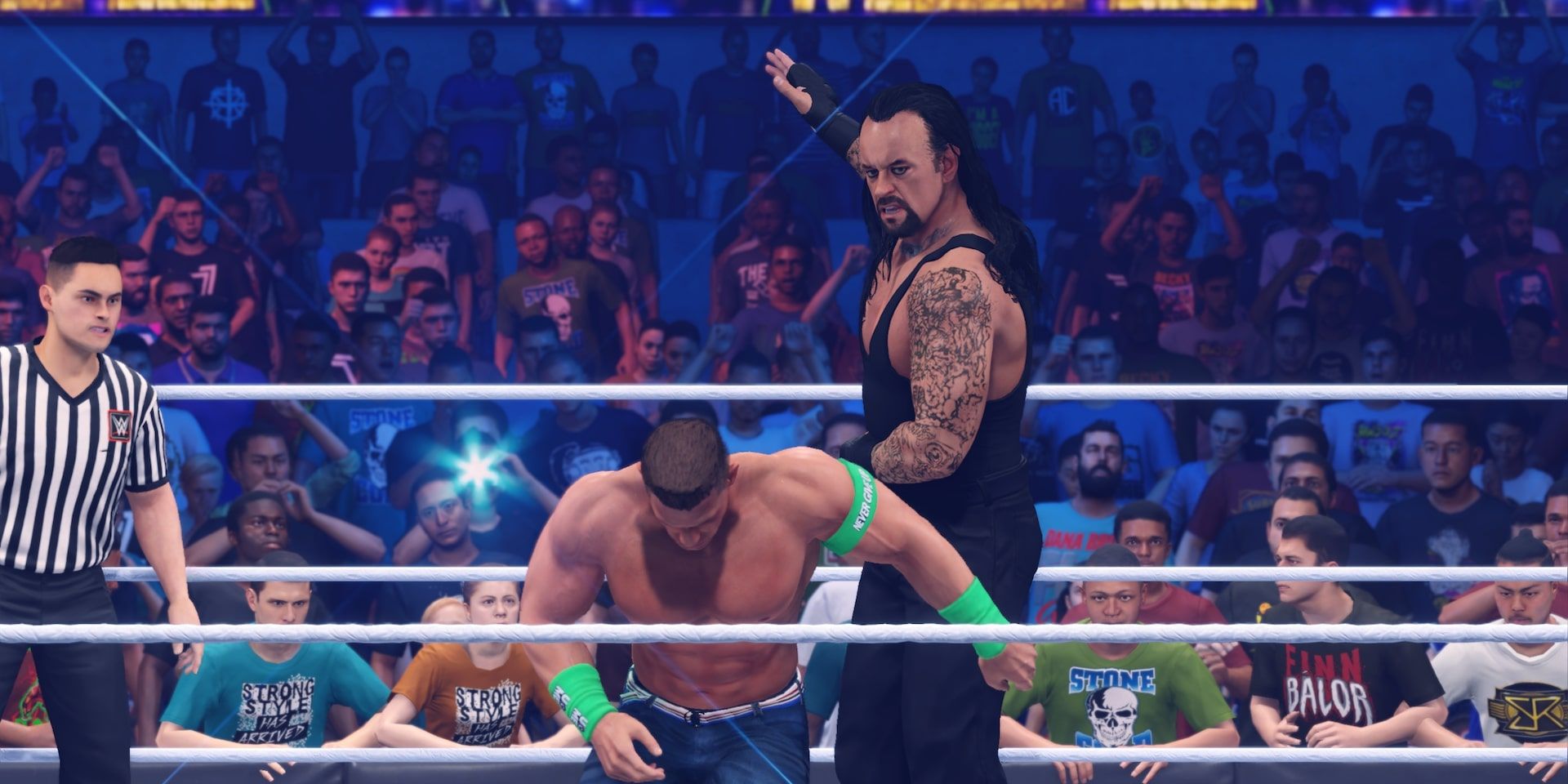 The obvious place to start seems to be with the cover model himself, John Cena, who gets his own Showcase mode this time around, similar to the one Rey Mysterio received in last year's installment. I'll admit to having not been overly excited to dive into this playable list of Big Match John's biggest matches — I've always been more of a midcard fan — but it's actually a moving experience.
This year's theme follows one of Cena's mantras, "Never Give Up," and instead of stepping into his pumped-up sneakers, you actually play this mode against him using a variety of other wrestlers. It's a much more engaging experience than the last go-around, as you're constantly adjusting to your new wrestler's movesets. You can go through just playing however you want, but fulfilling the storyline by performing the moves indicating in the corner of the screen unlocks rewards and treats you with the cinematic experience of the game action seamlessly shifting in and out of footage from old WWE matches. The transitions are executed flawlessly, and the presentation made it so easy for me to lose myself in the experience of taking Cena to school.
RELATED: WWE 2K23 Reveals Full Roster Of Wrestlers
WWE 2K23 contains just about as many match types as I could conceive (no First Blood or Judy Bagwell on a Pole matches, sadly), and the newest is War Games. In a preview event, the developers seemed incredibly excited for this one, which has up to eight wrestlers inside two connected rings inside an inescapable cage. Whether in a three-on-three or four-on-four format, it does provide a lot of chaotic fun, but as you start with only two wrestlers in the cage and have to wait for the rest to be filtered in — after which War Games officially "begins" — the match can be ended almost immediately, as the starters are usually beat to hell by the time the eighth competitor gets there, so you've got to watch your teammates backs, and it really provides a new level of team defense unlike anything else I've witnessed in a wrestling game.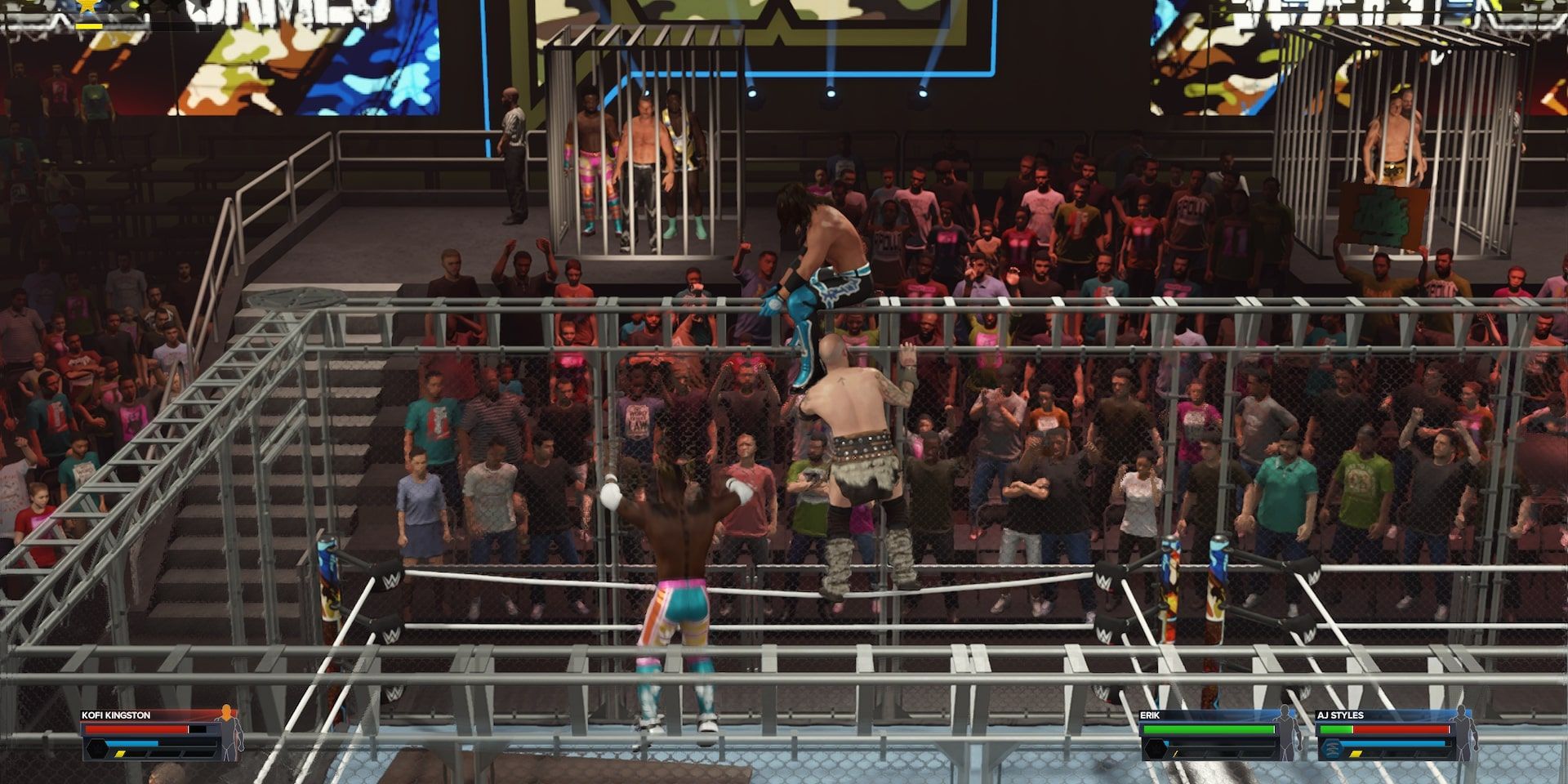 Next up, we've got MyRISE, a story mode in which you design a superstar making their debut in the WWE. It's actually split into two different modes, The Legacy and The Lock. The game doesn't really tell you this, but The Legacy will have you competing in the women's division on Smackdown, while The Legacy places you on the RAW men's roster. It's a nice touch that they're added in separate story modes for each, and each takes a fresh new angle to the "next big thing" story archetype.
The Legacy places you in the boots of a second-generation superstar, as your aunt is a former champ, and the first match you play is actually a flashback to her big title win. As soon as you're in control of your own character, you get the ability to design your own wrestler, from the face and hair to the ring gear, using a vast catalog of options. But almost as soon as you've done that, the brass tells you they'd prefer you wearing a lime green getup inspired by your aunt's classic look. It's the first major decision in the story, and I haven't had time to dive into everything this game has to offer, because there's an awful lot. Suffice to say, I towed the company line and even tried to adopt my famous relative's finisher, which led me to a scripted, but no less humiliating, loss.
Since that first failure, I've started dressing my own way, but my early decisions have led the locker room's reactions to me to range from piteous disgust to downright hatred. MyRISE has several such branching story points, and the depth adds not only replayability, but a sense of heart to a game that could have just been about picking people up and putting them back down really hard.
The Lock doesn't have quite the same heart, but it does have a dry, self-critical wit that really appeals to my sense of humor. Instead of coming up through training camp or having a famous relative, you come in as an internationally acclaimed wrestler who the WWE management has picked up and immediately decided to hand the Intercontinental Championship. Here's the thing, though — you've got to give up your persona and ring gear (again) and become The Lock, a guy who comes out of a giant safe and wears one of Cena's old Thuganomics padlocks on a chain around his neck. Yes, there's a joke made that "The Lock" sounds too much like "The Rock," and I made my international superstar Japanese before I realized what was going on, so it turned out a little bit cringy and accidentally racist in my playthrough.
The self-awareness of the story is spectacular, though. I got an in-game text from The Hurricane, Shane Helms, listing off all the things he had to give up when he came to the WWE, including his Cruiserweight Championship, his image, and his name, and it really made me connect with my character, because I'm a good way through my first playthrough of the story, and people seem to like me a lot better than they did in The Legacy, but I'm still in those shiny black trunks I didn't choose.
RELATED: WWE 2K23 DLC Revealed, Scott Steiner And A LOT of NXT Wrestlers Feature
In a rare bit of criticism for this review, I'll say I preferred The Lock to The Legacy for one simple reason: voice acting. The Lock places you under the tutelage of Shawn Michaels, and his gruff, raspy San Antonio tones really bring me back to his glory days. In The Legacy, you're working under Molly Holly, and while she's among my favorite stars of the Attitude Era (Mount Rushmore of the women's division alongside Trish, Lita, and Chyna), taking the nostalgia goggles off reveals to me that I was a fan of her ring work and not her skills on the mic. She plays such a major role in the story, and her wooden performance just doesn't hold up against the rest of the modern-day female roster's delivery. Also, it seemed like lines from a few others were a little tinny, almost like they weren't recording with the same microphone as everyone else. It's a nitpick, but this is supposed to be a critique, and this game isn't giving me much to complain about.
Beyond the story-centric modes, there's also two very sandboxy options. MyGM Mode returns, allowing you to take control of RAW, Smackdown, WCW, NXT, or NXT 2.0, setting up rivalries and booking cards in an attempt to earn more fans and money than your rivals (of whom several more options have been added). It's always been a controversial mode among fans, but having lived through the GM modes of the Smackdown vs RAW days, this style is easily still the best I've seen so far, and the additions tweak it enough to keep things fresh.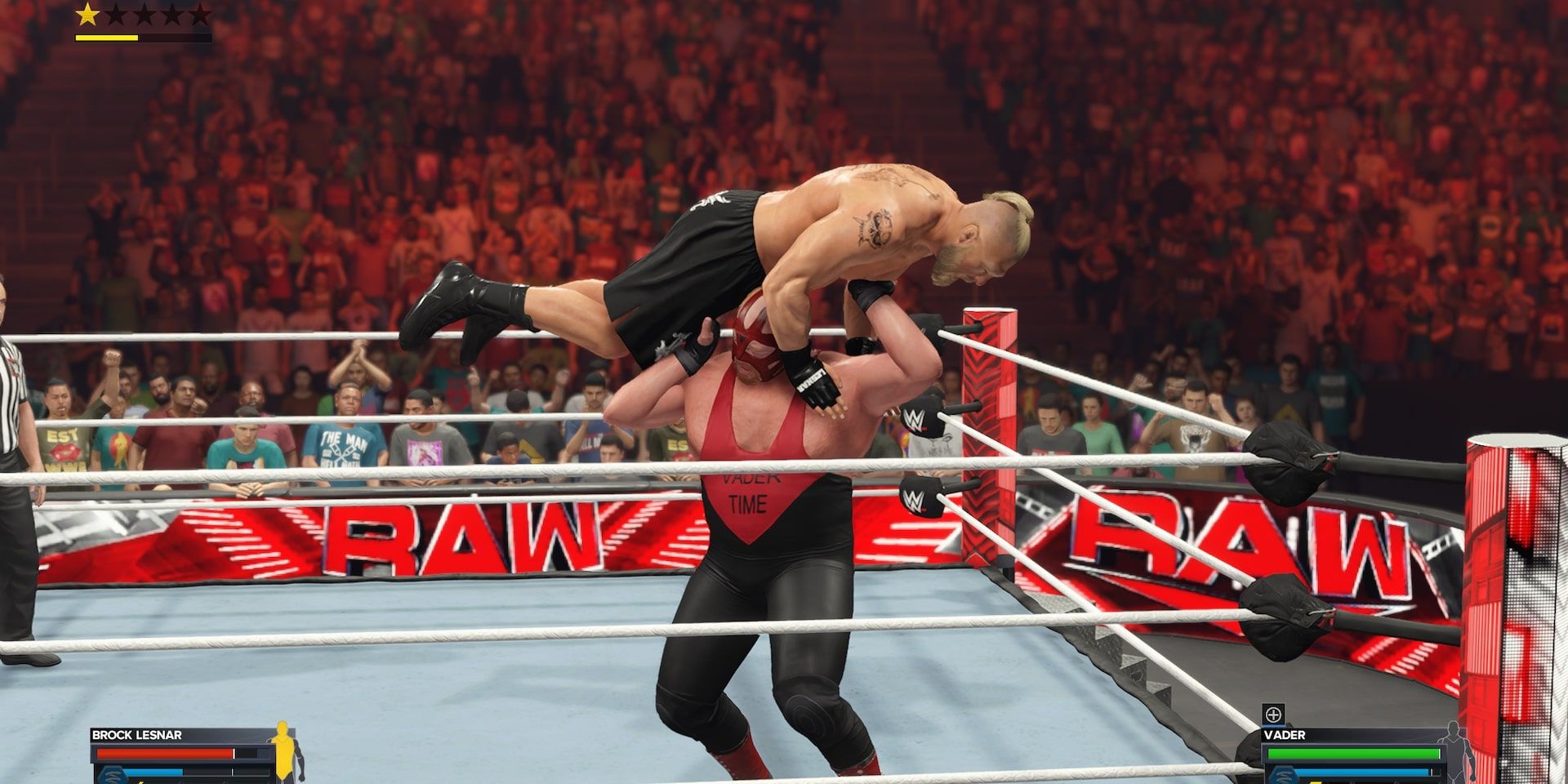 Even more expansive, but with less of a clear goal, is Universe mode, which lets you schedule up to six shows an in-game week, tracking progress, title changes, and power rankings for you. If you'd prefer to take on the world as a specific wrestler, you can choose to do that here too. I personally had a great time seeing The Mastodon, Vader, tearing through the current generation, and I was able to unlock him from the Legends store using in-game currency, because pretty much everything you do in this game leads to you gradually unlocking more and more of it.
Finally, there's MyFaction, an odd mix of gatcha-based card pulls that lets you build and upgrade your own stable of up to eight wresters (and a manager) at a time and play against daily, weekly, and seasonal challenges to earn rewards. It's a bit of an odd bird, feeling like a fusion of console and mobile gaming, kind of like if Genshin Impact took place in the squared circle. It's not my favorite mode, but I'm sure it appeals to somebody, and with so many other game modes packed together, I can't complain that I don't "get" this one.
All in all, WWE2K23 is a great game with something to offer to every WWE fan past and present, no matter what your playstyle. With branching storylines and multiple sandbox modes that let you book and play whatever the hell kind of cards you can come up with, the replayability factor is off the charts. If anything 2K and Visual Concepts have shot themselves in the foot, because it's not going to be easy to top this entry in the series once the next installment rolls around.
But for now, for me at least, it's Vader Time.
NEXT: Fernbus Simulator PS5 Review – Don't Run For This Bus
Denial of responsibility!
Gamers Greade is an automatic aggregator of the all world's media. In each content, the hyperlink to the primary source is specified. All trademarks belong to their rightful owners, all materials to their authors. If you are the owner of the content and do not want us to publish your materials, please contact us by email –
[email protected]
. The content will be deleted within 24 hours.