The WWE 2K series has certainly had its ups and downs since 2K took over the series nearly a decade ago. Once thought almost irredeemable after the release of the highly disappointing WWE 2K20, the series bounced back dramatically with last year's 2K22. While it still had some faults, 2K22 provided a solid foundation to build upon with this year's iteration titled WWE 2K23, which I recently got to try hands-on while also interviewing a some of the developers involved with the game.
RELATED: The Best Wrestling Games Ranked
For this preview, I was limited to a few different options, including One-on-One, the Royal Rumble, the all-new WarGames option, as well as getting a glimpse at the all-new John Cena Showcase mode. To get my feet wet with the new game, I chose to start with One-on-One and jumped right into a match as Kofi Kingston against his New Day teammate Xavier Woods. This included the full intros for each wrestler and all the hoopla that happens before a match.
One-on-One was a great way to see how fluid the gameplay felt and if there were any major changes. As I found myself in a tense back-and-forth match against Xavier Woods, the controls felt very responsive as I doled out a mix of light and heavy attacks to build up the Signature and Finisher meters. The only thing that I struggled with occasionally was the counter system, where you have to hit Y at just the right time, but this seems like something that comes with more practice in the ring.
Outside of a few issues likely due to being an unfinished build, everything ran as smoothly as we saw in last year's game. This was a major part of the development team's focus going into the game as we learned from WWE 2K23 Game Design Supervisor Bryan Williams. I asked Williams what the team's number one priority was when transitioning from development on 2K22 onto 2K23, to which he said, "For 2K23, in addition to implementing the best Showcase Mode that we've ever done with John Cena, and WarGames matches for the first time in franchise history – all brand-new firsts – the big ticket item was to maintain that level of polish and refinement that started with 2K22, carrying that on into 2K23 to really elevate this franchise into the prestige AAA franchise that the fans want and deserve. And obviously, our partners at WWE, we want to give them the cleanest, most polished experience that we can."
The one major gameplay change that I was able to try out here was the new pinning system, which now uses a moving cursor and target zone. According to Williams, this was done to make these moments much tenser for players. He discussed how the timed mini-game for pins has its origins in the WWE Legends of Wrestlemania game for 2009, but has also evolved over the years since. Williams said, "The whole team is seeking areas of improvement, not to just settle for anything within the game. If there's a mechanic, a mini-game, anything – is there anything we can do to improve it? To make it more engaging? And that's the mindset we went into with the pin mini-game."
Williams went further to explain that the old system was something that excellent players could essentially master and take the fun out of the game over time, but now aims to be more frenetic. The moving cursor and target zone "Ups the ante, especially in critical situations where you just got hit with an Attitude Adjustment, or you get Pedigreed into the mat," according to Williams.
RELATED: WWE 2K22 Review
After my One-on-One match, I decided to jump into Royal Rumble mode, as it was a Royal Rumble weekend after all. I also chose to go with who would later become the winner of the 2023 Men's Royal Rumble, Cody Rhodes, as the #1 entrant. I wanted to see if I could make it all the way to the end. I aimed to stress test how well the game ran with so many wrestlers entering the ring at one time, but it performed very well, for the most part. There were a few sporadic hiccups, but nothing out of the ordinary for a beta build.
Like a real Royal Rumble, my wrestler was knocked down and seemingly down for the count, but somehow managed to avoid getting sent over the top rope long enough to get down to the final three against Roman Reigns and Brock Lesnar. What I really enjoyed is how the matches actually feel fair, with the opponents who are rarely a pushovers. The final bout between Cody Rhodes and the other two lasted for a few minutes, and it felt all the more rewarding when I was able to send Roman over the top ropes to clinch my victory in the gauntlet after being the first entry.
Next up was the all-new WarGames mode, which is something fans have been wanting to see in the game after NXT has used them so regularly in recent years. This mode will eventually allow two players to face off against one another with a team of four wrestlers each. However, this preview limited us to a 3v3 match rather than the 4v4 that will be in the game at release. I was able to play multiple matches in WarGames during my time, with my most exciting matches featuring Charlotte Flair, Bianca Belair, and Liv Morgan on my team vs. Becky Lynch, Rhea Ripley, and Asuka.
In WarGames, there are two rings set side by side with a steel cage surrounding both. The match starts as a 1v1 match, but gradually adds wrestlers from each team until it's a full team vs. team brawl. At that time, you can begin to try to pin the opponent to end the match for your team. While the Royal Rumble felt very hectic, WarGames managed to up the ante even more due to the inclusion of different weapons like hammers and tables that the wrestlers can throw into the ring before entering. That moment where it ends up being 2v1 until a second teammate enters is harrowing, where your only goal is to try and stay afloat. My first WarGames match actually had one of my teammates pin an opponent to give us the win, while I was able to get the winning pin for the others.
It's easily the most ambitious mode in the game, which also meant it had some bugs that will need to be worked out. One time Kofi Kingston got stuck in a running animation towards the ropes for a bit before the game fixed itself, while some other small issues also popped up. This is still a work in progress though, so hopefully, these issues will be fully ironed out by the launch of the game. Williams also confirmed that WarGames is going to be included in all versions of the game, so we will have to see how well the last-generation consoles will be able to handle what will definitely be a major selling point for the game.
The last part of WWE 2K23 that I was able to preview was the John Cena-focused Showcase Mode, specifically two of the included matches. Showcase Mode is nothing new to the series, but the unique aspect here is that rather than playing as Cena, you will be playing as his opponent through some of the biggest losses of his career that really exemplify his mantra of "Never Give Up."
For the first match, we were able to play as Rob Van Dam in the classic June 11, 2006 match where he beat Cena. Just like in past Showcase Modes, there are objectives that you can complete that will trigger real-life cutscenes from the original match and help push the narrative of the match along. You can just skip all of that and win the match outright, but it is nowhere near as fun that way, and you don't get the special unlockables either. There was nothing outright new in the Showcase mode as a whole, but there really didn't need to be any major changes done here other than give the player fun matches to play as the game weaves in the documentary clips.
RELATED: The Weirdest Guest Characters In Wrestling Games
I really did appreciate how this match went for full authenticity by having the ECW ref and everything included, which WWE 2K23 Showcase Lead Designer Dino Zucconi said was very important. Zucconi elaborated that "it's the biggest thing. I think Showcase needs that authenticity. Because you can basically just play these matches in an exhibition arena if you like, but if we can get that real ECW arena, with the actual ref looking right, where attires are right, it puts you back in that timeframe of the match." He went further to explain that the arenas are usually not a problem to get for the game, but rather the sponsors that they have to change from that time to fit the game's existing sponsors.
Even more fun than the Rob Van Dam match was the other one included against Kurt Angle in the infamous Gold Medal Debut match from June 27, 2022. If there was any complaint I had about the first match, it was that there were too many objectives to logically have to complete, but this one was right in the sweet spot with nine objectives including using Angle's signature Ankle Lock Finisher.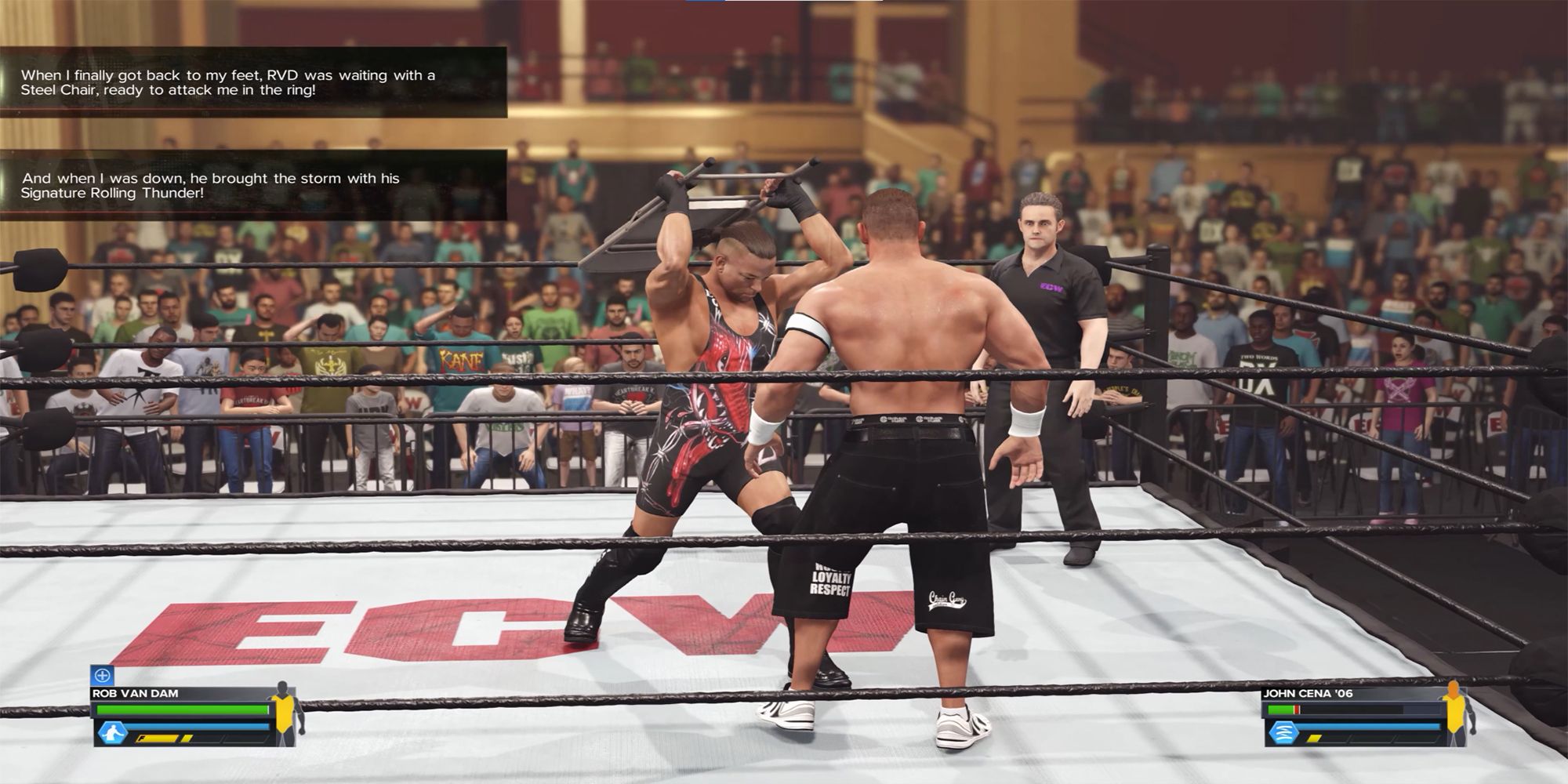 I was very curious about how this idea came about and whether the choice of Cena came first or the choice to have the Showcase focused on the opponent instead, which Zucconi was happy to explain. He confirmed that he was the one to pitch the idea originally after the team had decided upon Cena as the focus for the Showcase mode. According to Zucconi, the team "just wanted to kind of kick a little refresher into the mode. 2K15 had a — it wasn't a full career, but it was a John Cena Showcase. And especially coming after the Rey Mysterio [Showcase] in 22, a lot of things that we heard is that it gets a little repetitive. Playing as one person can just get a little tiring after a while, so I thought maybe we'll flip it this year. Getting a win over John Cena is huge."
I asked Zucconi how long the planning process took behind mapping out Showcase Mode's matches before they even started development, which he confirmed took a couple of months. "I start big and ask for way too much. I know we have a list this big, and we're going to make it this big," said Zucconi. He mentioned that a lot of it involves finding out if they can get a certain opponent or get a certain match to work, and then they just go from there.
After my limited time with WWE 2K23, I am definitely excited to play more of the game and see how the final product turns out when it releases next month. This preview helped to show how the development team is building upon last year's solid base while also introducing new concepts like WarGames into the mix. The switcheroo with Showcase Mode is very intriguing and should be a refreshing take on the game mode that will keep players very interested whether they like John Cena or not. WWE 2K23 will release for PS5, Xbox Series X/S, PS4, Xbox One, and PC on March 17, 2023.
NEXT: NBA 2K23 Fashion Trivia Answers
Denial of responsibility!
Gamers Greade is an automatic aggregator of the all world's media. In each content, the hyperlink to the primary source is specified. All trademarks belong to their rightful owners, all materials to their authors. If you are the owner of the content and do not want us to publish your materials, please contact us by email –
[email protected]
. The content will be deleted within 24 hours.