Beginning in 2007, the Assassin's Creed franchise let us leap into our storied past. What was originally planned to be only three games expanded into 12 main titles and counting, sprawling five continents, and 78 distinctive places, and covering more than 2,400 years of human history.
Of course, with how expansive the franchise has been, there are multiple ways to approach it. To catch up with the entire series and the overarching narrative, you'll have to first understand how they're set.
In Assassin's Creed, you're not actually playing as a Renaissance playboy or a Viking rapper. You're merely reliving their memories via the Animus, and the person streaming it—the real playable character—is someone living in the present day. As such, within each Assassin's Creed game, there are two timelines to follow in terms of chronology: the modern day and the past.
The modern-day is the thread that connects most of Assassin's Creed, but 98% of the gameplay is set in ancient times and realistically that's what players are here for, so we won't be advising you to play the games in order of the modern-day timeline.
Keeping all that in mind, we divided all 12 mainline Assassin's Creed games into arcs, based on their modern-day importance. Really, you can play any of the arcs first, just try to maintain the order within each arc (not that we can stop you jumping straight into Valhalla if you so wish!).
RELATED: What Order Should You Play The Resident Evil Games?
RPG Trilogy/Layla Arc
Assassin's Creed Odyssey – 431–422 BC, Ancient Greece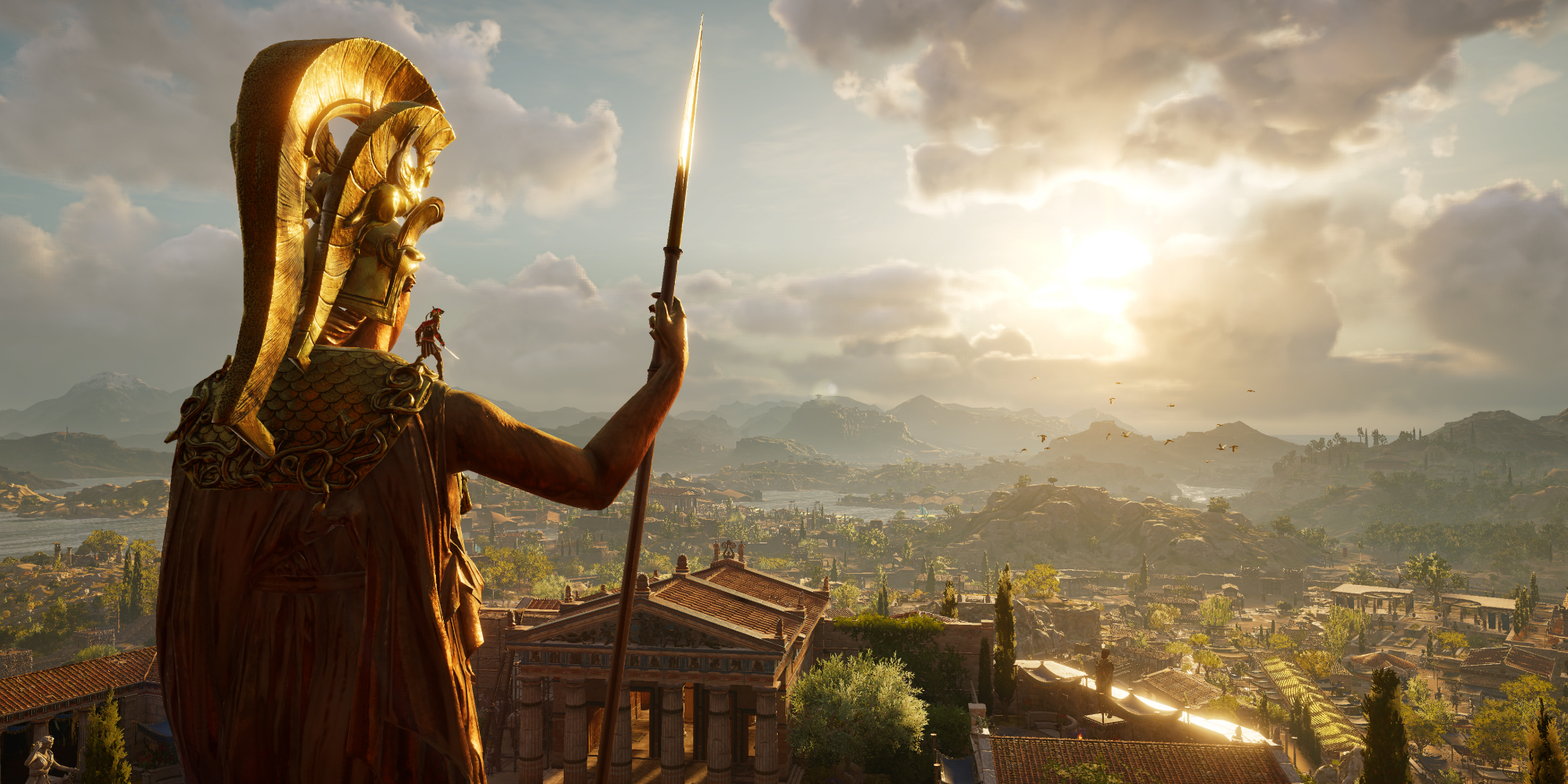 Release year: 2018
In Odyssey, you get to explore one of the most beautiful renditions of ancient Greece, where you can have dalliances with Hellenic high-rollers, and roll your eyes over Socrates' philosophical gymnastics. The protagonist—who can be male or female—is a grandchild of King Leonidas, who has plenty of screentime himself.
Being one of the more recent entries and part of the "reboot" RPG trilogy (that includes Origins, Odyssey, and Valhalla), Assassin's Creed Odyssey is antithetical to the tenets set by the franchise. It predates the formation of the Brotherhood, and you play as a Mercenary instead of an Assassin. The game can get a bit silly too, plunging into Greek myths, like fighting Medusa and venturing into Atlantis—territory previously unfamiliar to the franchise.
The modern-day bits in Odyssey are optional. We do recommend you play through these parts, as the next release, Assassin's Creed Valhalla, picks up directly after the events. Even more essential if you also wish to stay updated with the "meta" story.
Assassin's Creed Origins – 49-43 BC, Ancient Egypt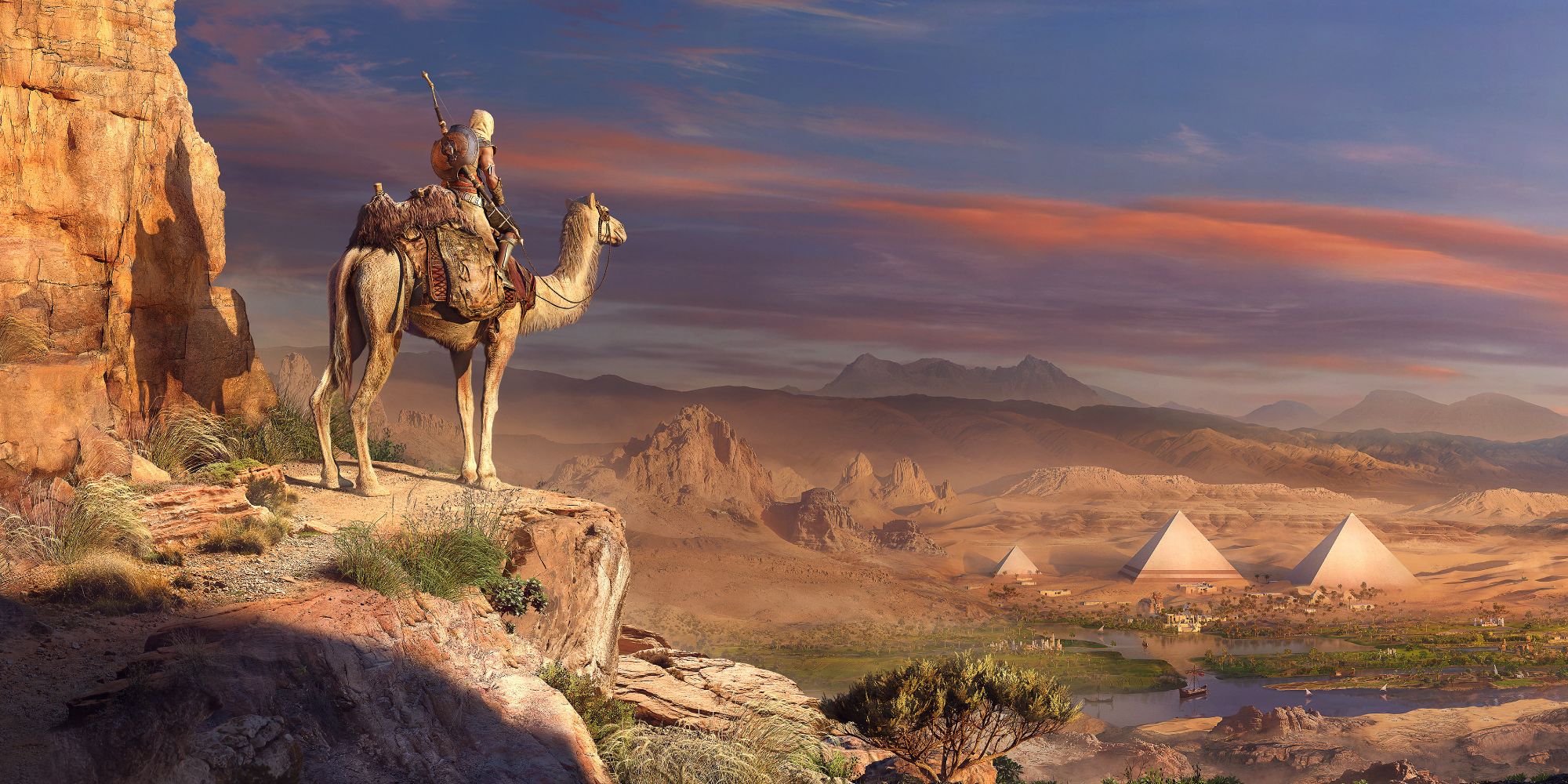 Release year: 2017
The synopsis for the game is in the title itself: Origins. This one is about the events that led to the formation of the Brotherhood, a vital part of the series' story. The Brotherhood is a secretive undercover organization that tries to shield common people from injustice and oppression.
In Origins, you play as Bayek, who hails from Siwa and is the forefather of the Brotherhood, along with his wife, Aya, who endure all kinds of tragedies and hardships throughout the story. The pyramids and desert will quickly make your jaw drop.
Assassin's Creed Origins marked a new era for Assassin's Creed and introduced a new modern-day main character, Layla, who is featured for very little time. She is on the hunt for an artifact, but her own story doesn't stand out particularly, unlike Bayek and Aya's.
Assassin's Creed Valhalla – 872–878, 9th Century England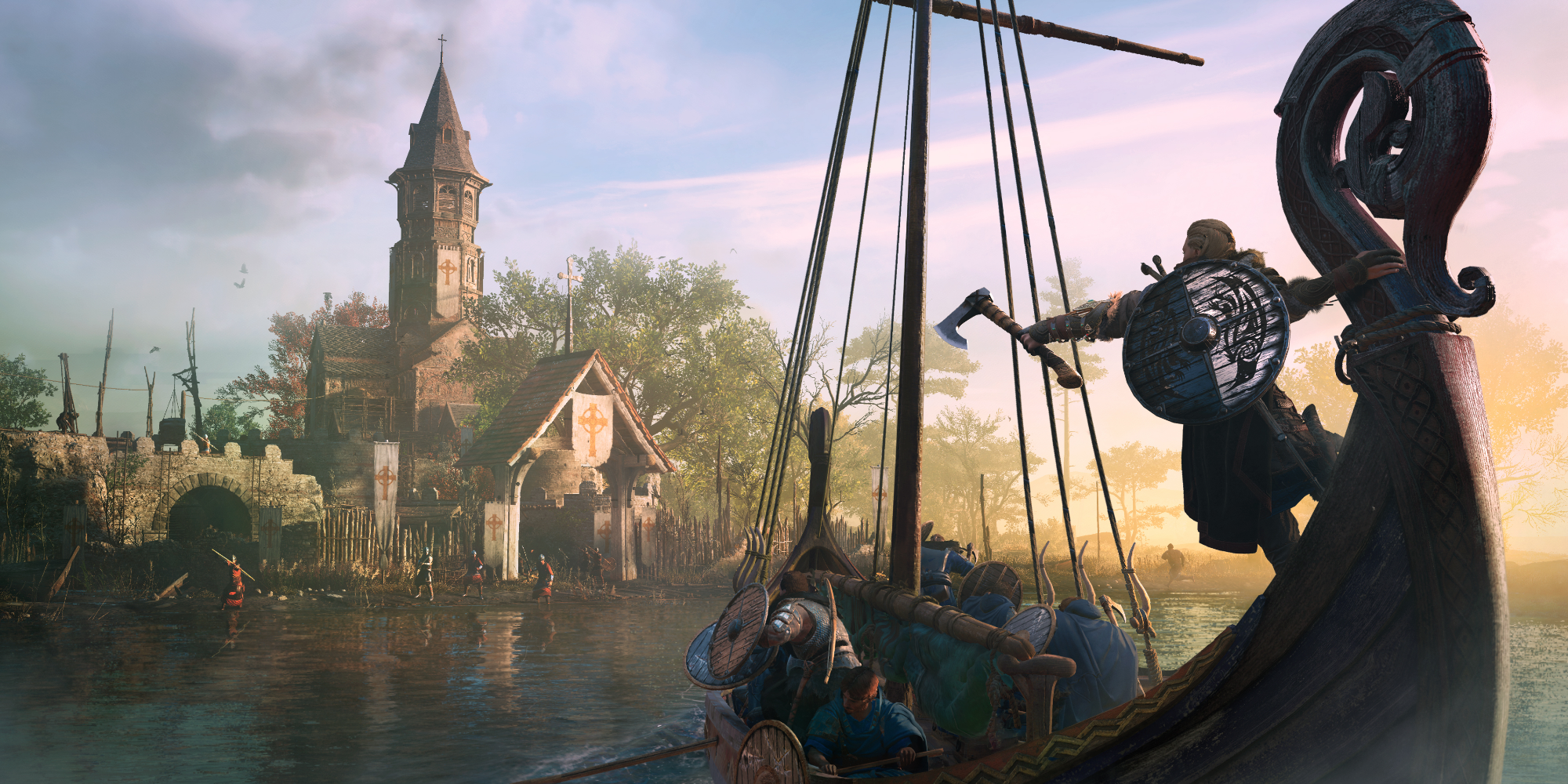 Release year: 2019
Assassin's Creed Valhalla's main protagonist isn't an Assassin, but the game does feature the conflict between Assassins and Templars. You play as Eivor, a Viking who shares common interests with the Hidden Ones. Like Odyssey, Valhalla likes to mix up its history and mythology to fun effect.
Valhalla is the end of the "RPG trilogy" and concludes the Layla arc. The modern-day story is very much a strength of Valhalla's narrative, so don't blink! There is also a crossover with Odyssey, which is available for free. Valhalla also has little throwbacks and mentions for older legacy titles, but they aren't anything to make or break your experience. The game is a nice farewell to the new direction of the series.
Desmond Arc
Assassin's Creed 1 – 12th Century, Holy Land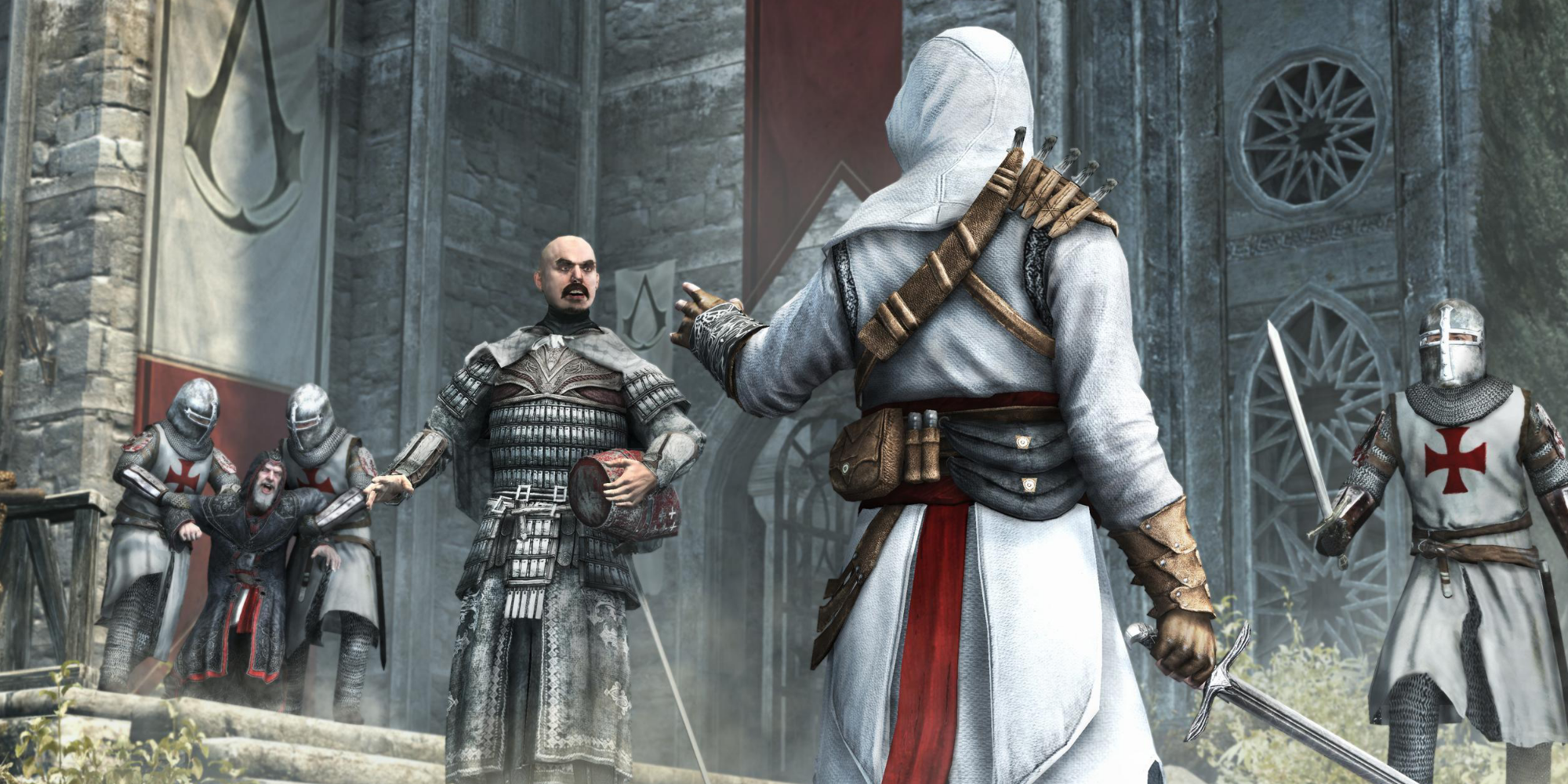 Release year: 2007
If you're following this chronology, this is when you play some real Assassin's Creed stuff. Though, it won't be without any issues. The first major problem is availability, as the original Assassin's Creed isn't available on modern consoles. Recently there were whispers in the wind about a remake in development but they were quickly debunked by Ubisoft.
Another issue that has been expressed by a lot of players is the game being outdated. If you weren't around in 2007, when playing Assassin's Creed felt so cool, and play modern games most of the time, you may find that a little jarring.
Being the very first installment of the game, Assassin's Creed will introduce you to everything that makes the franchise unique. You play as Altair Ibn La-Ahad, who is hunting for Templars. The memory of Altair is streamed by Desmond Miles, one of the most beloved characters of the franchise. As for why he is loved, come on, you want us to write everything or play it and see for yourself?
Assassin's Creed II, Assassin's Creed: Brotherhood, and Assassin's Creed: Revelations (Ezio Trilogy)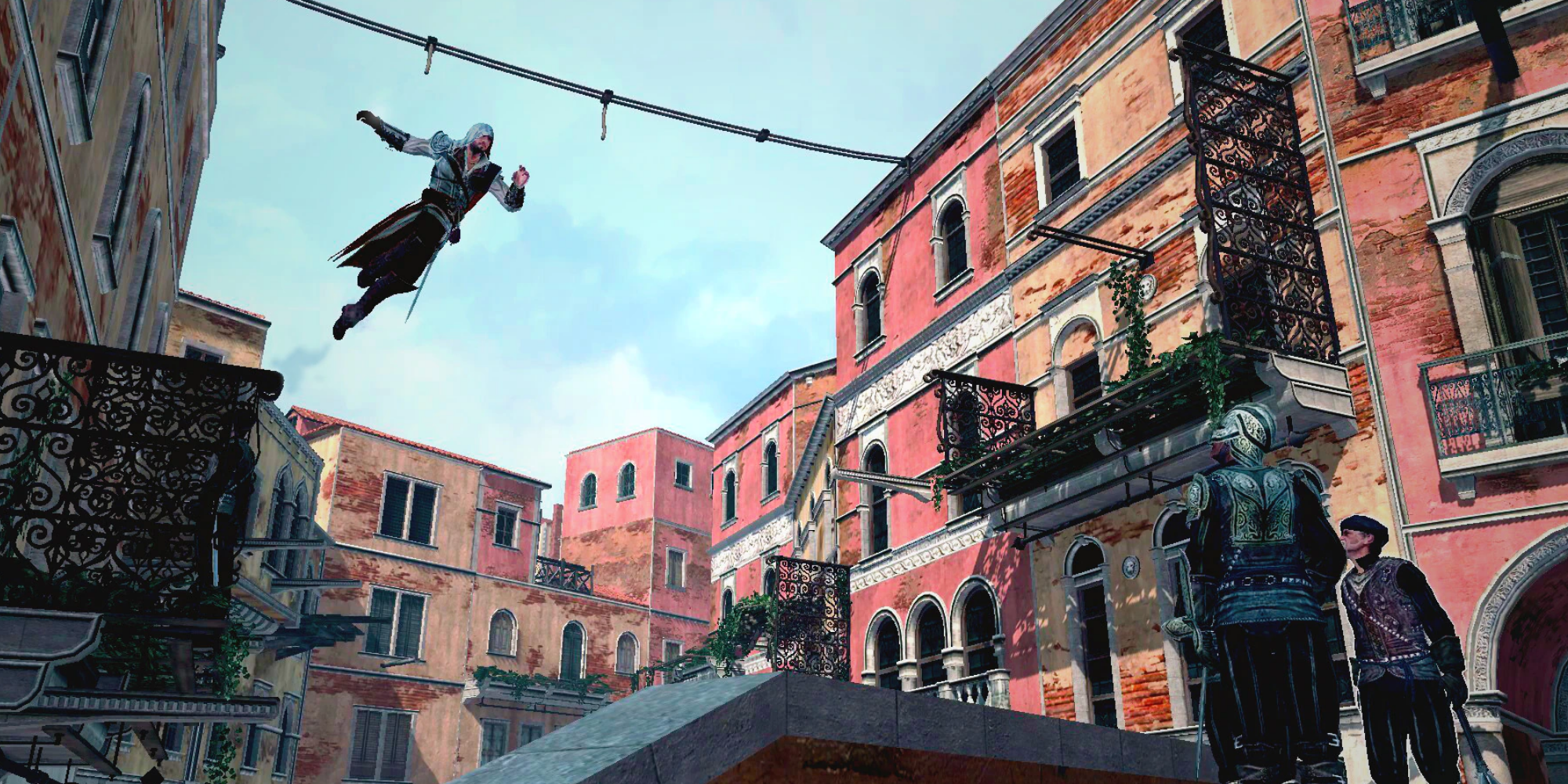 Release years: 2009, 2010, 2011
Yes, yes, Assassin's Creed II, Assassin's Creed: Brotherhood, and Assassin's Creed: Revelations are three different titles and should be played in that order. The reason we clubbed them together is because they feature the same protagonist, Ezio, and also continue the Desmond saga.
Ubisoft themselves combined all three games into one package, Assassin's Creed: The Ezio Collection, available on all platforms, including the Nintendo Switch. It is both the cheapest and most updated version of the games, and the best way to play them.
In Assassin's Creed 2, set during 15th Century Italy, our most-beloved assassin, Ezio Auditore da Firenze, seeks revenge for a personal tragedy. As per tradition, during his hunt, our playboy comes across something that needs fixing—a wider conspiracy that he must quell for the sake of mankind.
Assassin's Creed: Brotherhood is a direct sequel and follows the events of 2, and Ezio embarks on a similar revenge quest and to restore the Brotherhood. Revelations, meanwhile, has Ezio, now an older man, sail to Constantinople in search of Altair's hidden library. This might well have been the peak of the series in terms of storytelling.
Assassin's Creed III – 1754–1783, Colonial America
Release year: 2012
In Assassin's Creed III, you revolt against the British colonists, while your father himself is a British. The main character of III is Ratonhnhaké:ton. Yeah, that's a tough name to pronounce, so you can just stick with 'Connor.' He seeks to protect the heritage of the Assassins against the Templars during the American Revolution (so expect appearances from well-known historical figures, like Benjamin Franklin and George Washington).
The modern-day arc is an important part of Assassin's Creed III, and while most people have mixed feelings about the story, it nevertheless contains some important moments.
Unknown Subjects Arc
Assassin's Creed IV: Black Flag – 18th Century Caribbean Island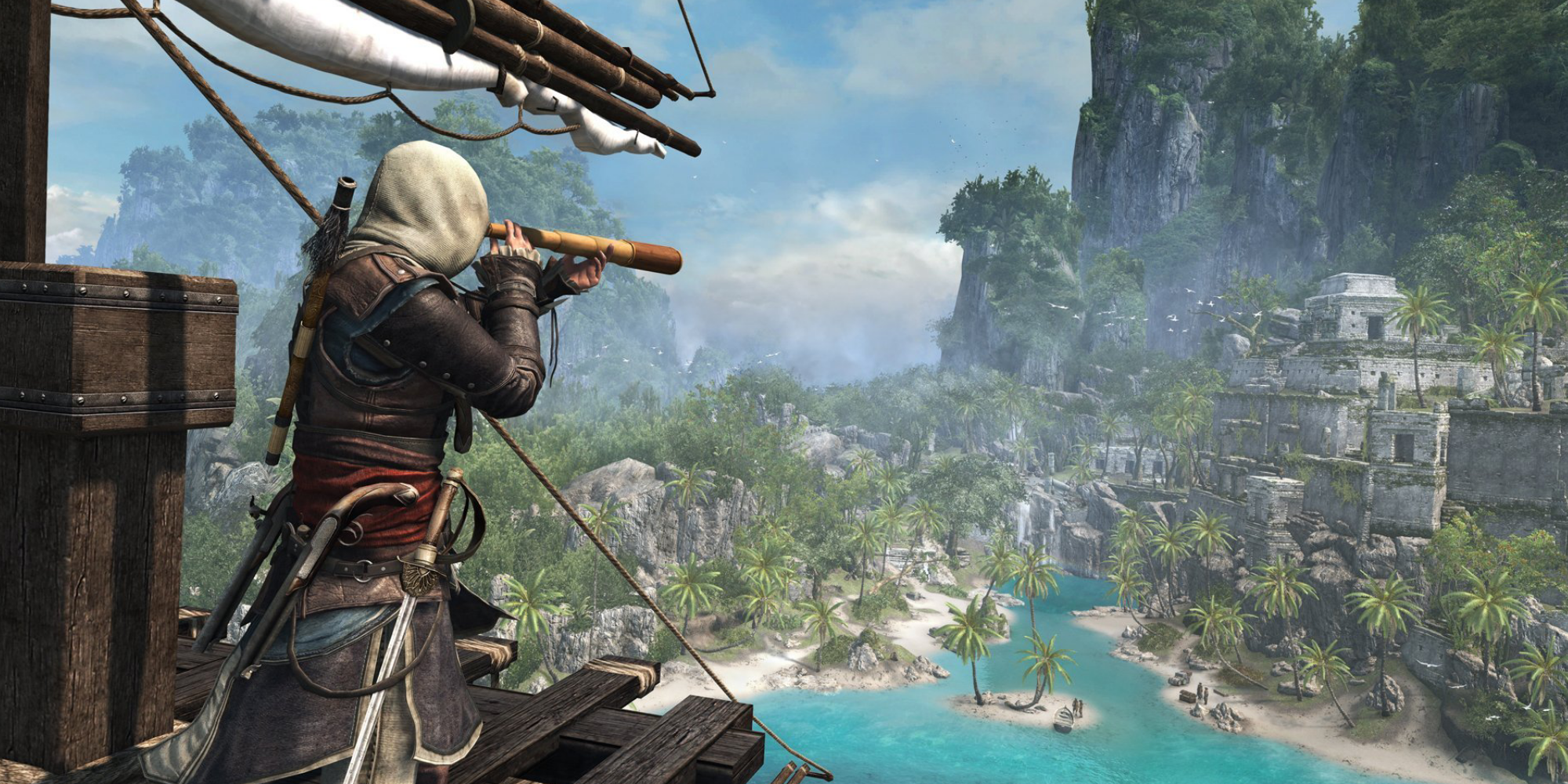 ​​Release year: 2013
Despite being an Assassin's Creed game, Black Flag is best known for naval gameplay. The game is largely about pirates and their pirate-y lives. Edward Kenway (who is, of course, a pirate) finds himself drawn into the conflict between Assassins and Templars, even though he isn't the slightest bit interested in it. Black Flag has notable historical pirate figures, like Edward "Blackbeard" Thatch.
The modern-day parts are insignificant, and while they're linked, everything can be easily understood even if you've never played an Assassin's Creed game before. The modern-day protagonist is an employee tasked with reliving memories.
(Optional) Assassin's Creed Rogue – 1752 – 1760, North America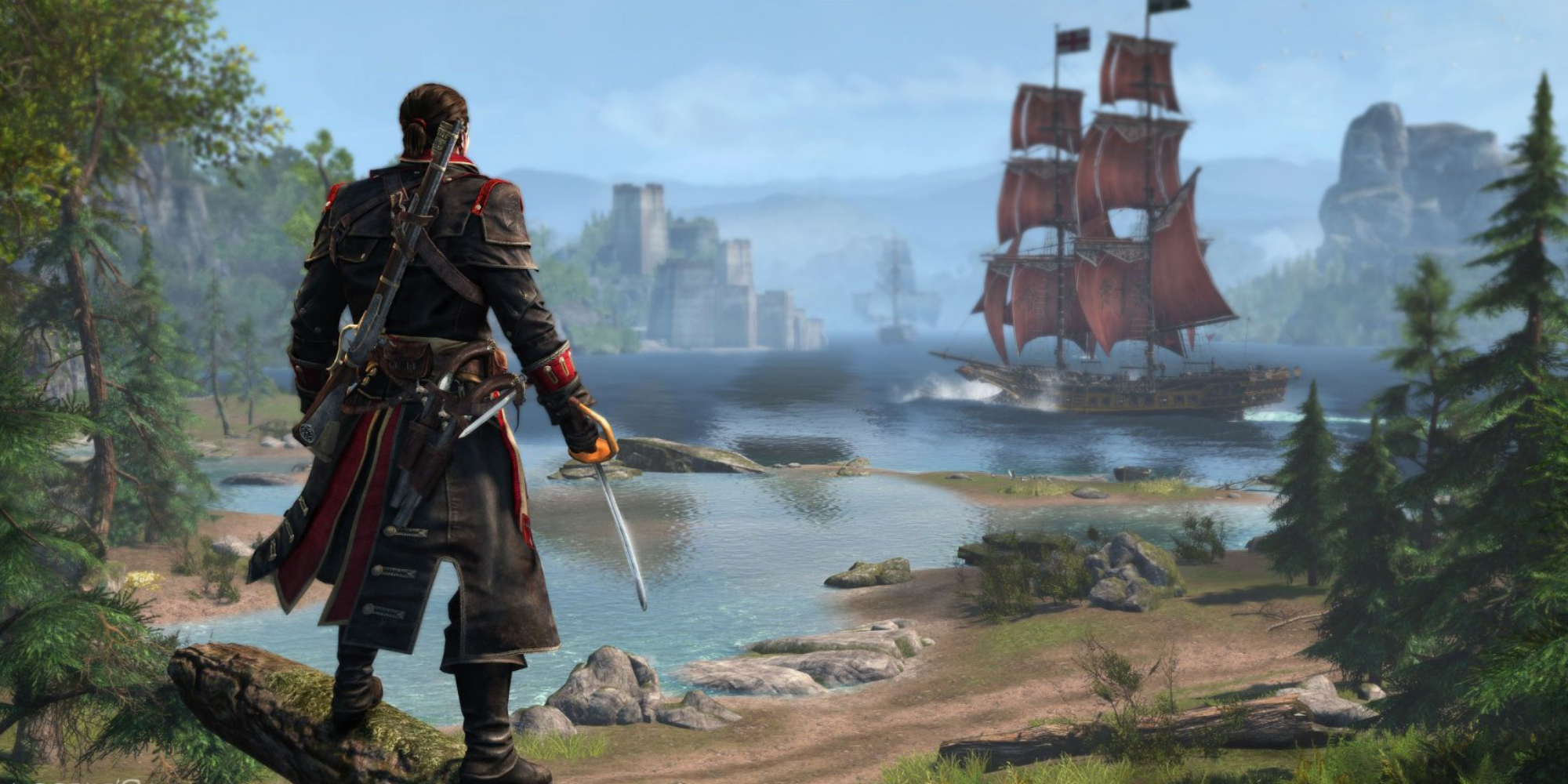 Release year: 2014
Unless you wish to play every major Assassin's Creed game there is, Rogue isn't a must-play. A quick follow-up to Black Flag, Rogue is unique only in the fact that you get to play as 'the other side,' the Templar. Rogue is a bridge between Assassin's Creed: Black Flag and III and is a direct sequel to Black Flag. You'll come across some familiar faces from Black Flag.
Assassin's Creed Unity – 18th Century, French Revolution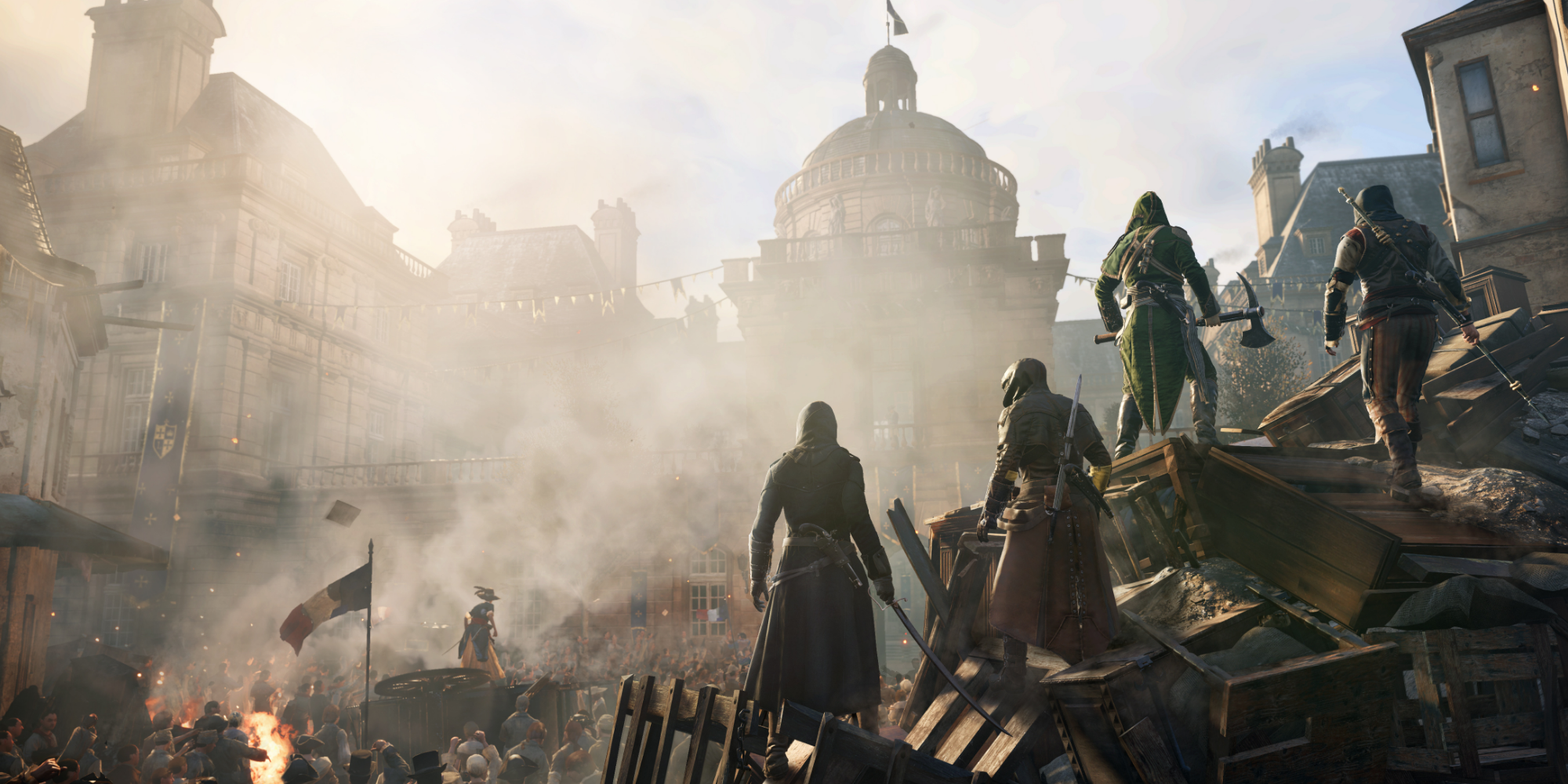 Release year: 2014
For all its flaws and being one of the buggiest Ubisoft releases, Assassin's Creed Unity is the most modern Assassin's Creed game that'll give you that "hiding in the shadows" feel. The game holds up incredibly well and looks even better than some of the latest releases. While the digital version is locked at 30 fps for next-gen consoles, you can buy the disc version for immersive 60 fps parkour without downloading a single patch.
Our Assassin is embarking on yet another quest for vengeance. Meanwhile, in the modern-day, you play as a gamer who buys a console and plays a game, which is about some dude in France. It's not exactly Nobel-winning storytelling here, even by the series' own standards. On the plus side, you get to goof around with notable historical figures, like King Louis XVI and Napoléon.
Assassin's Creed Syndicate – 1868, Victorian London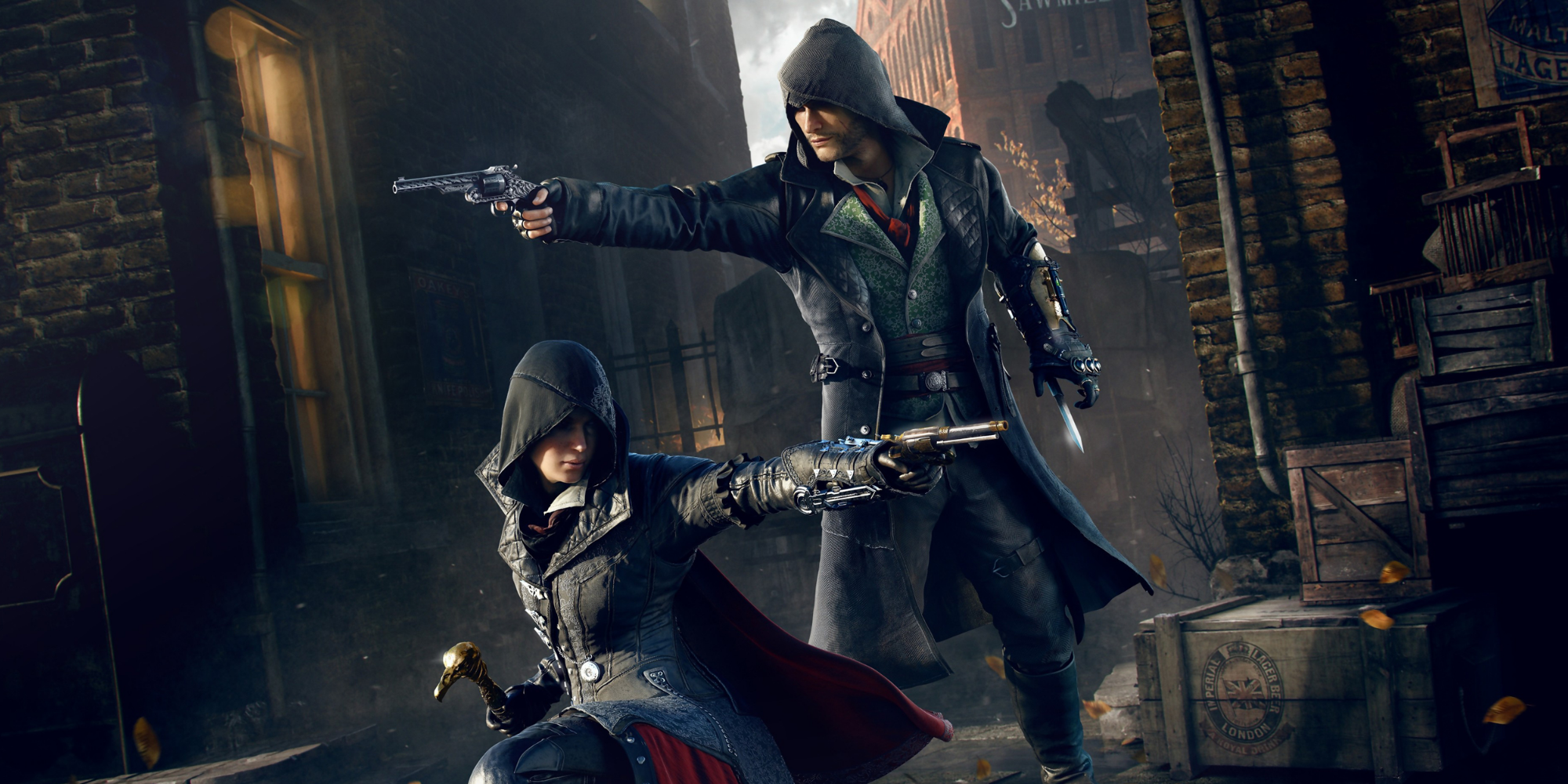 Release year: 2015
Launched a year after Unity, Syndicate improved a lot from Unity while simultaneously regressing a lot too. In Syndicate, instead of a single protagonist, the game has dual main characters who are twins, Jacob and Evie Frye. The twin dynamics brought a unique charm and playfulness to a so-so narrative. Like Unity, Syndicate relegated the modern-day to the Helix player, a gamer, and added nothing gameplay-wise that we hadn't seen in past titles.
Syndicate was the final 'old-style' Assassin's Creed game before Ubisoft went back to the drawing board and returned with a complete gameplay overhaul and a new direction – 2017's Assassin's Creed Origins.
There are plenty of spin-off Assassin's Creed games too, such as Freedom Cry, Liberation, Chronicles, which aren't essential to the main story and can be played in any order you like.
KEEP READING: Deus Ex: Mankind Divided's Ending Works, Actually
Denial of responsibility!
Gamers Greade is an automatic aggregator of the all world's media. In each content, the hyperlink to the primary source is specified. All trademarks belong to their rightful owners, all materials to their authors. If you are the owner of the content and do not want us to publish your materials, please contact us by email –
[email protected]
. The content will be deleted within 24 hours.