Entertainment
WandaVision Merchandise Reveals Agatha & Wanda Episode 8 Scene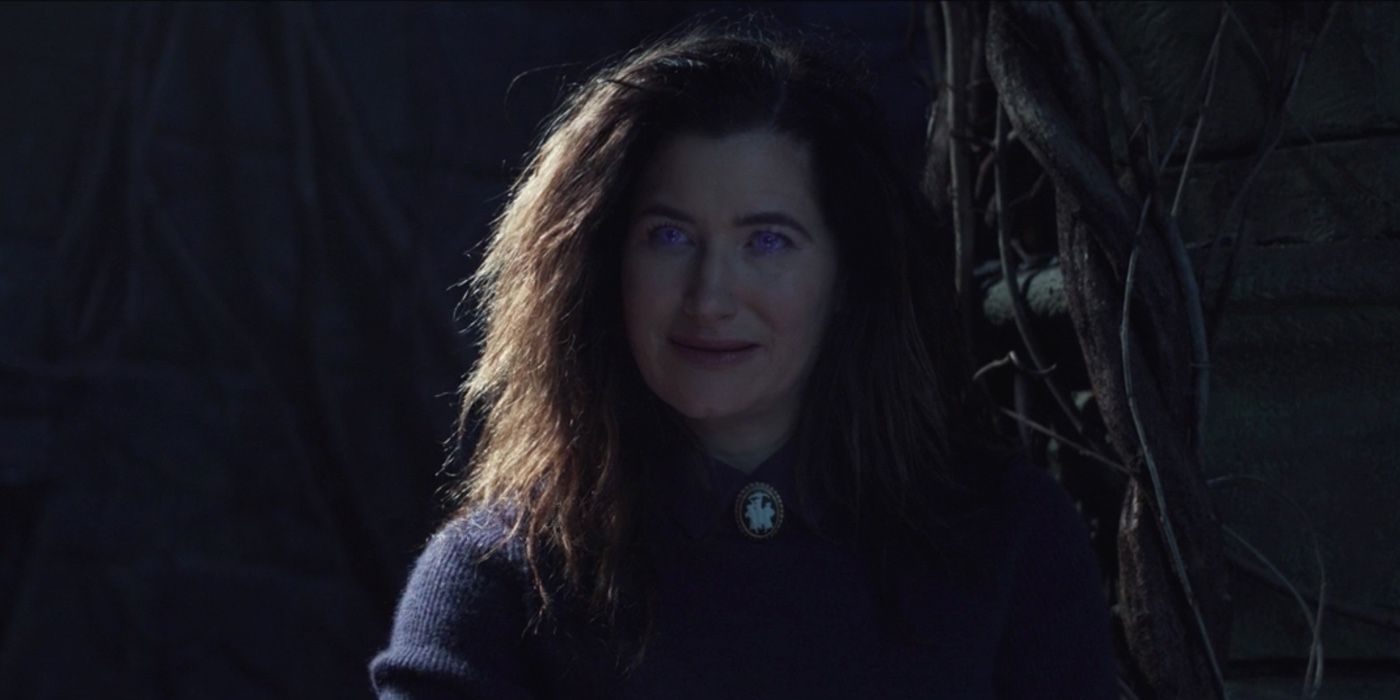 New WandaVision merchandise provides a look at the upcoming standoff between Wanda Maximoff and powerful witch Agatha Harkness in episode 8.
New WandaVision merchandise provides a sneak peek of the ensuing standoff between Wanda Maximoff and Agatha Harkness in episode 8. This comes after the exciting final moments of WandaVision episode 7 "Breaking the Fourth Wall," in which Elizabeth Olsen's Wanda discovers a secret lair in Agnes' basement filled with magical artifacts. After trapping Wanda in the mysterious lair, Kathryn Hahn's Agnes reveals she has been masquerading as Wanda's friendly neighbor throughout the series and is actually a powerful sorceress named Agatha Harkness.
In typical sitcom-inspired WandaVison fashion, this twist regarding Agnes is revealed through a musical rendition called "Agatha All Along," which reveals that Agatha has not been under Wanda's control and has actually been behind numerous events in Westview, such as Sparky's death and Pietro's arrival at the end of episode 5. In a mid-credits scene from WandaVison's last episode, Monica Rambeau is about to discover Agatha's evil lair beneath Westview, but is stopped by Pietro who declares, "Snooper's gonna snoop."
Continue scrolling to keep reading
Click the button below to start this article in quick view.
Related: Agatha's Magical Gateway Explained
Now, courtesy of Marvel Entertainment, new WandaVision merchandise provides a preview of Wanda and Agatha's confrontation in episode 8. A new image, which will seemingly be printed on t-shirts, shows the two characters inside Agatha's underground lair as the evil witch stands over Wanda. This intriguing promotional image released by Marvel suggests that Agatha may reveal her evil plot to Wanda sooner than many expected. Check out the new merch below:
Since episode 7's revelation, anticipation has been mounting for the showdown between Wanda and Agatha, and this new promotional image hints at how it may go down. It appears Agatha may incapacitate Wanda with some sort of spell, or she has not yet recovered from her game-changing realization at the end of the last episode. Considering the secrecy that Marvel treats its projects with, this new image is likely taken from the very early moments of episode 8, suggesting the showdown will happen immediately on the next episode of WandaVision.
This will also likely include an explanation of how Agatha has been controlling the events of Westview, why she conjured up Pietro, and perhaps her larger role in shaping the idyllic town of Westview. While WandaVision's characters are not always loyal to their comic book counterparts, Agatha actually served as a trusted confidant for Wanda in Marvel's comics. The penultimate episode may dive into these two characters' connected backstory, which may set up more surprising twists later on. With only two episodes of WandaVision remaining, Agatha's motives will soon be revealed in full.
Next: WandaVision: Every MCU Easter Egg In Episode 7
Source: Marvel Entertainment
Black Widow (2021)Release date: May 07, 2021
Shang-Chi and the Legend of the Ten Rings (2021)Release date: Jul 09, 2021
Eternals (2021)Release date: Nov 05, 2021
Spider-Man: Homecoming 3 (2021)Release date: Dec 17, 2021
Doctor Strange in the Multiverse of Madness (2022)Release date: Mar 25, 2022
Thor: Love and Thunder (2022)Release date: May 06, 2022
Black Panther 2 (2022)Release date: Jul 08, 2022
Captain Marvel 2 (2022)Release date: Nov 11, 2022
90 Day Fiancé: Julia Explains Background Information About Her Son
About The Author
Follow us on Google News
Read original article here