I can look a pretty long way past a game's aesthetic if it does something for me that precious few games manage to do: to fill me with a sense of mystery and wonderment like I used to get when playing Morrowind, and I'm yours. See, Morrowind did things that latter-day Elder Scrolls games didn't–its map wasn't readily available to you, you had to follow actual directions and roadsigns to find people and places, and you could totally screw up critical quests in all manner of bizarre ways, then somehow solve them in even more bizarre ways. Aesthetically, with its dust storms, marshlands, and towering mushrooms, Morrowind's island of Vvardenfell felt like an alien land, and the way you engaged with it made you feel like an alien, or outsider, in it.
Now, for the first time since The Witcher 3 (which I initially played eight years ago, but admittedly only really am powering through properly as of last week), I've found a game that evokes in me that 'Morrowind circa 2002' feeling. Dread Delusion, made by a small indie team at Lovely Hellplace, is about six months through Early Access, and even though it's clearly incomplete, it's already enthralling.
RELATED: Returning To What Remains Of Edith Finch
It's set in a world where floating islands orbit around a pink sun-thing called a Neuron Star, which looms large wherever you are, and gives the skies a violent pinky-purple hue. Adding to this psychedelic quality are the low-poly graphics, which are doing that fashionable thing of warbling and warping to give it the feel of a PS1 game (which, fun fact, was originally a technical limitation of the original PlayStation, which lacked subpixel precision and perspective correction). It's a striking look for sure, even though it might make you feel woozy in that 'I've just dropped some mescaline, I'm starting to trip, and I need to throw up before trip really takes hold' kind of way.'
Point is, the visuals are an acquired taste, but the play experience itself feels wonderful, simplifying various RPG elements to their most distilled possible form and focusing instead on your exploration of this strange and distinctive land.
The vistas really have that Elden Ring sense of awe, with seemingly endless lines of sight and everything within those lines being explorable (or at least it will be in the final game). Watch closely, and you'll see distant floating islands slowly shifting in the sky, galleons sailing the clouds, and formidable dragons fluttering amidst the tendrils of that neon sun.
I'm still getting to grips with the deceptively deep cosmology and mythos of this world, but it goes a little something like this: in the aftermath of a God War (yep, a war between gods), a zealously atheistic group known as the Apostatic Union took control of the Oneiric Isles–an archipelago of airbound islands floating high above the 'Underlands' below, which have been rendered inhabitable by the preceding war. You are a prisoner who's been offered freedom in exchange for hunting down the leader of an outlaw faction known as the Dark Star Mercenaries.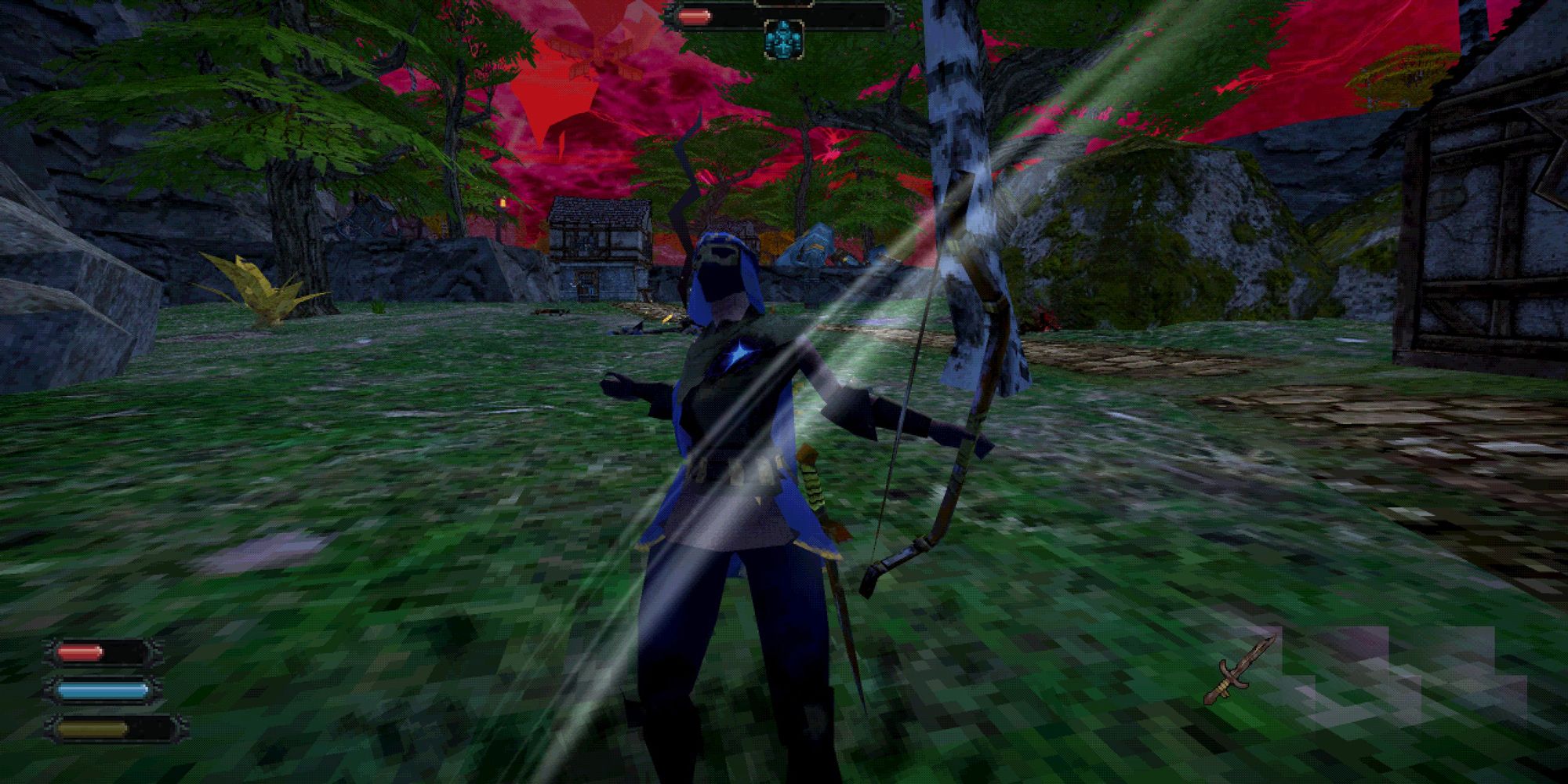 In my four or so hours with the game, I've already been offered some kind of anti-death pact with an shackled Eldritch god, I've been invited into the service of another god in exchange for an offering of mushroom wine, and I've become a sworn enemy of the goblin faction (in fairness, they always attacked me on sight despite by sincerest desires to just get along and be friends with them). Like so many of the great open-world games, Dread Delusion beckons you to just pick a direction or distant landmark, and head off on your way. It's on a much smaller scale than a Witcher 3 or a Breath of the Wild, and yet the layout and sheer alienness of its world means that it doesn't feel small at all. I also appreciate how you start with no map, and actually help the local cartographers draw up the map by scribbling down key landmarks in the world.
While there's tons to learn about this world–revealed through in-world books and well-written dialogue, there's remarkably little to 'get' in terms of RPG mechanics. There are just four attributes for you to think about–Might, Guile, Wisdom, and Persona–which govern eight of yer classic RPG skills. Upgrading sword and armour entails chucking 'three of a thing' at your current equipment, while alchemy is just a case of chucking two ingredients together and seeing what happens.
Like so many great open-world games, Dread Delusion beckons you to just pick a distant landmark, and head off on your way.
It's really quite refreshing to play an RPG (especially after Elden Ring), where I don't need to neurotically obsess each level over whether I'm creating some kind of 'optimal build' or even one capable of actually completing the game. There's a beautiful simplicity to its whole equipment management and progression, as well as the combat itself, which has a bit of that Souls-like stamina management but is altogether more forgiving.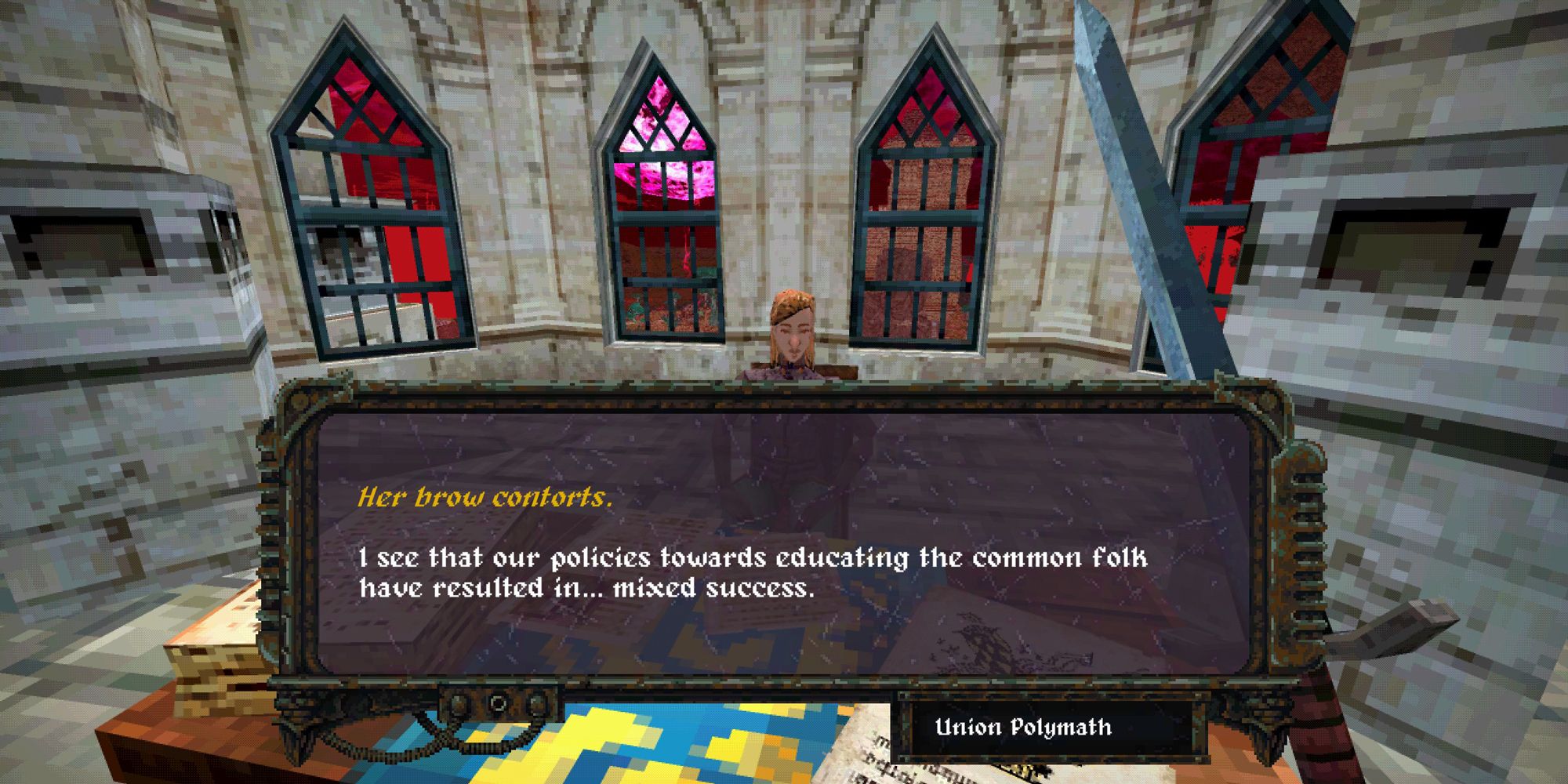 I'd love to chat to the devs (and who knows? Maybe I will) about ways in which they plan to build the world out. While the scale already feels plentiful, developer James Wragg's inspiration from games like Morrowind would feel more profound if Dread Delusion was a bit more systemic. Currently, the game distinguishes between enemies and regular NPCS like merchants, so you can't just attack anyone in the game and deal with the consequences–it al feels a little bit clean-cut for now. I'd love to see the lines here get a bit more blurry here, because there was nothing more distinctly Morrowindian than killing a quest-critical NPC then having to find another way to complete it.
But that's to take nothing away from how impressive this game is, particularly for an indie project. In its own weird stripped back way, Dread Delusion manages to evoke the sense of adventure of the RPGs of yore. It's kind of special, and I want to savour it, so I think I've got one more session in me before I put it down and hold off until the full release.
NEXT: Dragon's Dogma 2 Could Be The Perfect Elden Ring/Monster Hunter Mashup
Denial of responsibility!
Gamers Greade is an automatic aggregator of the all world's media. In each content, the hyperlink to the primary source is specified. All trademarks belong to their rightful owners, all materials to their authors. If you are the owner of the content and do not want us to publish your materials, please contact us by email –
[email protected]
. The content will be deleted within 24 hours.