I have a bit of a ritual when I go visit my parents at my childhood home. Lacking my hardcore gaming gear, and every now and then needing some respite from familial interactions lest I relapse into a moody adolescent teenager again, I like to blow the dust off some of the old gaming hardware kicking around my old bedroom and taking a wander down memory lane.
During my most recent visit, I decided to boot the ol' PlayStation 3 up for a spin, and it really put something into perspective for me: the PS3 was packed with weird, wonderful, and largely forgotten indie games. Xbox 360's Live Arcade may have had the more eye-catching, commercially successful, titles during those early years of the indie gaming revolution–Castle Crashers, Braid, Spelunky, Super Meat Boy, to name a few–but in hindsight the PS3 was an absolute indie-gaming behemoth packed with great titles–some of which anticipated much bigger games to come, others which have long been forgotten, and deserve to be remembered.
For example, the PS3 had some absolute bangers when it came to single-screen local multiplayer games. There was the delightfully bouncy speedy RTS game Mushroom Wars, which saw you amassing armies of little fungal folks before marching them to take over buildings owned by other teams. It was cute, snappy, and had a great soundtrack (it actually came out on Steam several years later too, should you be curious, and I still recommend it today, as its weird RTS-lite stylings are kind of ageless).
Fat Princess was one a wildly fun and weird online capture-the-flag/strategy hybrid game.
ALSO READ: Is Multiversus Dying Already?
Hoard and Comet Crash are another pair of games that fit that single-screen-strategy multiplayer mold. Hoard allowed up to five players to take control of differently-coloured dragons, flying around a board-game-style map and doing what dragons do–burning down villages, plundering gold, and occasionally getting into scuffles with each other to try and be the one with the most gold at the end of the game.
Comet Crash, meanwhile, was a four-player tower defence-and-attack game where you controlled a little spacecraft, built up a base on some piece of cosmic rock, and built a stalwart defence while building up an army of cosmic vehicles that charged at your enemies' bases like little mechanical ants. This one actually got a sequel on PS4 which I never got round to playing, but I can say that the original was a deceptively deep slice of strategy gaming, with tons of tactical possibilities as you and other players could build things literally anywhere on the single-screen map.
The PS3 was also the birthplace of thatgamecompany, which delivered us the meditative Flower and Journey, and it's quite possible that most people have forgotten that it's actually where Rocket League was born too. Yep, before it became the unstoppable eSports phenomenon that it is today, Rocket League existed on the PS3 (and still exists on my hard drive) as the cumbersomely titled Supersonic Acrobatic Rocket-Powered Battle Cars.
Naturally, Battle Cars is a complete wasteland today, but what's interesting is that I remember even when it first came out, it was never particularly popular. It quite simply wasn't on the radar, and the community around it was small enough that I'd frequently run into the same players over and over again, forming little rivalries–completely oblivious to the fact that the sequel to this obscure little 'Football in Micro Machines' game would became a global sensation. Sure, Battle Cars wasn't as polished as its follow-up Rocket League, but just look at that trailer–it's basically the same game, just several years earlier and with no one playing it!
Then, lest we forget, there was Fat Princess, the bizarre yet compelling 16-vs-16 online, errr, kidnapping and medieval warfare arena? Here, you had to retrieve your princess from the opposing team's castle while keeping your captive princess all stodged up on cake to make her harder for the enemy to carry back to their base. The game was part Capture the Flag, part strategy game, with multiple distinct classes, including–as I recall–a Worker who could gather resources to repair and upgrade your base. To this day, I don't think there's a game quite like it, and the fun was amplified that you and up to three friends locally could bandy up together for online matches. The game really embodied the beauty of hybrid offline-online play, and the unique weirdness of the PS3 indie scene.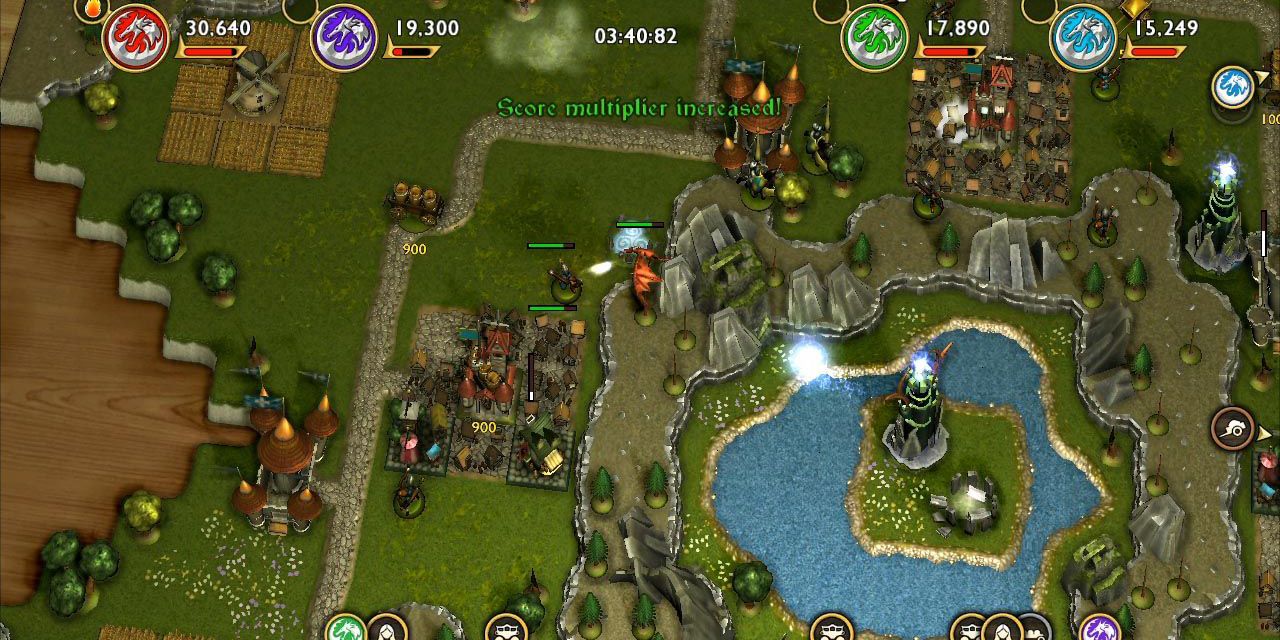 Dragon battle Hoard was one of several excellent single-screen strategy games you could play with several friends on the couch.
There was plenty more; the gorgeous hand-drawn point-and-click adventure Machinarium is still one of the most aesthetically pleasing games I've seen; The Unfinished Swan was the first game from Giant Sparrow, who went on to make What Remains Of Edith Finch; then there was the surreal walking sim Datura, which was made in a collaboration between Santa Monica Studio and Polish developer Plastic Studios. Not all of these games were fantastic, but the PS3 felt like a hotbed of many great gaming ideas, and the first step for many indie studios who'd go on to do wonderful things.
Where today indie games tend to go multiplatform where possible, there was a period in the late 2000s when the PS3 and Xbox 360 had impressively distinct indie games libraries that kind of encapsulated what both consoles were about at the time. The Xbox 360, for a while at least, was the 'mainstream' choice, while the PS3 was a strange and arcane machine with an appropriately strange and experimental lineup of indie titles. Many of those games made their way over to other platforms sooner or later, and you can still play them if you look in the right places, while others marked the first tentative efforts by indie developers to flex their creativity at a time when the scene was still in its infancy.
NEXT: Why Do Most Games Still Get Climbing So Wrong?
Denial of responsibility!
Gamers Greade is an automatic aggregator of the all world's media. In each content, the hyperlink to the primary source is specified. All trademarks belong to their rightful owners, all materials to their authors. If you are the owner of the content and do not want us to publish your materials, please contact us by email –
[email protected]
. The content will be deleted within 24 hours.