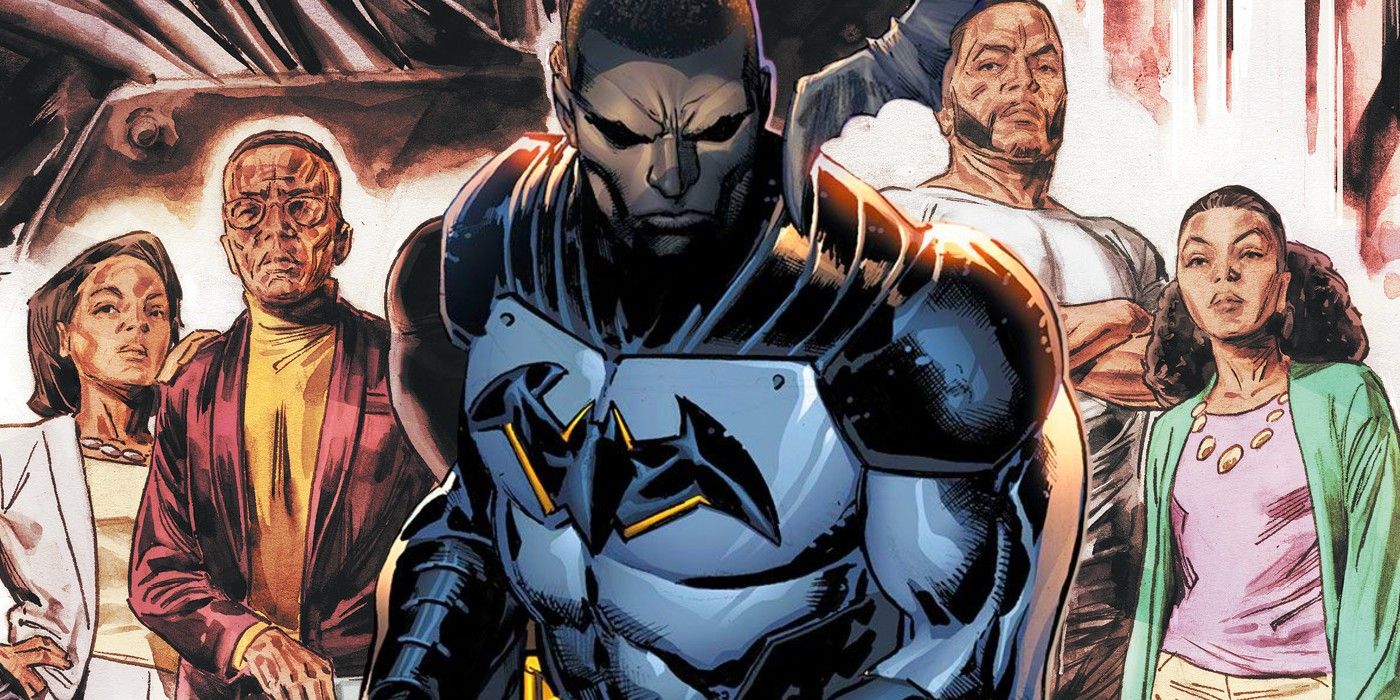 The Next Batman's adventures will continue after DC's Future State in a new series, Second Son, and a new preview shows him honing his skills.
DC just premiered a first look at its new series The Next Batman: Second Son, written by John Ridley with art by Tony Atkins, Ryan Benjamin and Mark Morales. The series will chronicle the life of Bruce Wayne's successor Tim Fox prior to his donning the famous cape and cowl and becoming the next Dark Knight. The first issue is set to release February 23.
In the dark, uncertain world of DC's Future State, Gotham has come under new management. A totalitarian government has taken control of the city, and the Big Brother-esque Magistrate rules at the top. With Bruce Wayne legally dead, someone else must step up as the next Batman. That someone is Tim Fox, son of Batman's longtime ally Lucius Fox. This new series, along with Future State: The Next Batman (also penned by John Ridley), is the first time a black character will assume the role of Batman.
Continue scrolling to keep reading
Click the button below to start this article in quick view.
Related: Batman's War On Crime Means He Can't Have True Friends
The first look released by DC shows the new cover, on which Tim Fox stands determinedly in the center, flanked by Lucius Fox, his mother Tanya, and others. Preview pages show Fox on a mission not in Gotham City, but in Vietnam, infiltrating a guarded facility and hacking into a computer terminal. He isn't in his Batman attire, but is nevertheless quite capable of evading security. "We can't tell you what he's doing there and why he seems to have it out for the billionaires of the world," reads the preview from DC. "But we can give you your first enticing glimpse of the man in action."
Tim "Jace" Fox has a strained relationship with his family, especially his father Lucius. Unlike Bruce, Tim's family is very much alive, but their relationship is distant. Also unlike Bruce, he has siblings: Luke and Tam Fox, the latter of whom was romantically involved with Tim Drake, AKA Red Robin. At some point in his life, Tim was sent to a military academy to straighten up, but didn't return home when his time at the school ended, much to the consternation of his brother.
In recent years, Bruce Wayne has passed down the mantle of Batman to others – usually his Robin protégés, but occasionally to other allies such as Azrael and Terry McGinnis of Batman Beyond fame. Seeing as Bruce and Tim have already met in Future State: Dark Detective #3, there's a chance Bruce may hang up his cowl for good and pass it to Tim Fox. But most who fill Bruce's shoes have had their lives shaped by tragedy as his had. This new series has the potential to show a Batman that readers have never seen before: a Batman with a large family. Readers will find out more in the pages of The Next Batman: Second Son #1, available for digital download February 23 and in print on April 6.
Next: Batman Was Just Dethroned As DC's King of Gadgets
Source: DCcomics.com
Darth Vader Uncovers Emperor Palpatine's Secret Weapon
Follow us on Google News
Read original article here