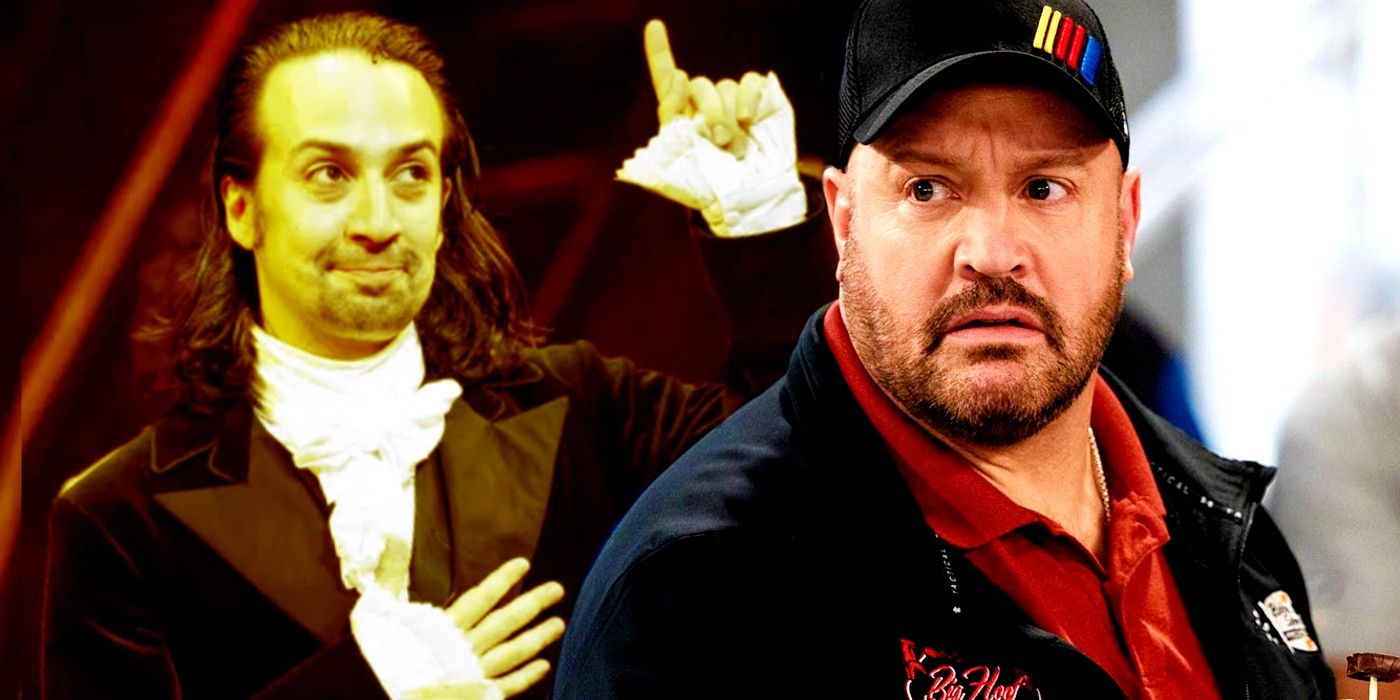 The Crew makes a joke about Hamilton within five minutes of the first episode. Why does it fall flat when it might have been fine before 2020?
Netflix's The Crew doesn't take long to establish a sitcom style of humor, but within five minutes of the first episode, a joke about Hamilton flounders. The remark might have worked prior to 2020, but in 2021, it proves to be entirely out of touch with the times, seemingly ignoring the fact that Hamilton was hugely successful – and continues to be – a cultural phenomenon far beyond typical musical theater successes.
Kevin James stars in Netflix's half-hour comedy about life in a NASCAR garage as a crew chief who finds his workplace shaken up by team owner Bobby Spencer's retirement and Spencer's Stanford-educated daughter taking over. The ingredients for an old-school vs. new-school comedy are there, but the Hamilton joke doesn't land. It comes when the crew gets together to celebrate owner Bobby Spencer's birthday and begins bragging about what present they got their boss. Chief engineer Amir Lajani announces that thanks to him, the owner will have two tickets to the hottest show in town, Hamilton. Kevin Gibson, the crew chief, replies, "Wow. That is two too many." This statement is followed up by Amir asking why can't gift giving be about making someone happy. Gibson's reply, "It is. Yours won't." 
Continue scrolling to keep reading
Click the button below to start this article in quick view.
Related: What To Expect From The Crew Season 2
If the latter remarks were the only element of the exchange between Gibson and Lajani, it could be chalked up as a simple ribbing between co-workers. Hamilton may have been nominated for Golden Globes, but clearly, not everyone is required to like it and the boss might be one of those people, however, the setup and overall tone still leave the joke hollow. It ignorantly dismisses the musical while completely ignoring its cultural and historical relevance today. While it might have been passable to relegate Hamilton to just another musical before 2020, its significance at the turn of the decade makes it hard for the joke to come off as anything other than illogical.
Hamilton was already a successful musical when a recorded performance was released on Disney+ in 2020. The film came out in a year where the death of George Floyd and the Black Lives Matter movement were brought to national attention. It broke streaming records for the platform and became a phenomenon. Hamilton's mostly non-white cast was a crucial element in painting a picture of a diverse nation whose history belongs to everyone. The joke made in Netflix's The Crew belittles the musical's importance and perpetuates an obtuse perspective.
Before the events of 2020, The Crew's joke could have come off as a quip at musicals being considered a "hot ticket." The setup of the lowbrow vs. highbrow humor is evident in the show's introduction of Jillian Mueller's Catherine Spencer as the new CEO. Still, it doesn't give any leeway for a put down of Hamilton. The joke completely misses its mark and falls flat given the context of recent times. It also toes the line of glorifying an ignorant point of view. The massive significance of Hamilton and how BIG it became in 2020 thanks to its release on Disney+ makes it an ill-advised attempt of humor at best.
More: Why Hamilton Was Disney+'s Biggest Release of 2020
90 Day Fiance: Paul & Karine Had Son's DNA Tested & The Results Are In
About The Author
Follow us on Google News
Read original article here