We may earn a commission if you make a purchase from the links on this page.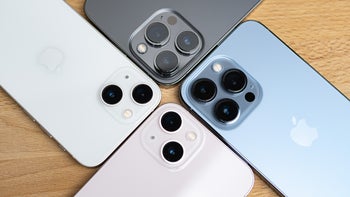 The long-awaited iPhone 13 phones are here, bringing Apple's new ultrafast A15 Bionic chip, a smaller notch, sensor-shift for the cameras, larger batteries, and most importantly – bigger base storage.
Carriers and retailers are now gearing up with great iPhone 13 pre-order discounts so you can get your new phone without sacrificing an arm and a leg for it. The pre-order deals we have in this article come from the major carriers Verizon, AT&T, and T-Mobile. If you want an unlocked iPhone 13, pre-order deals on Apple's website are also listed here, so you can make the most informed purchase.
So now, without further ado, let's see what the carriers and retailers offer in terms of iPhone 13 pre-order deals today:
Jump to section:
iPhone 13, iPhone 13 Mini, iPhone 13 Pro, and iPhone 13 Pro Max prices
Pre-orders start on Friday, September 17. Here are all the iPhone 13 models storage capacity, colors, and their respective prices:
| Model: | iPhone 13 Mini | iPhone 13 | iPhone 13 Pro | iPhone 13 Pro Max |
| --- | --- | --- | --- | --- |
| Colors: | Pink, Blue, Midnight, Starlight, Product RED | Pink, Blue, Midnight, Starlight, Product RED | Sierra Blue, Silver, Gold, Graphite | Sierra Blue, Silver, Gold, Graphite |
| 128GB  | $699 | $799 | $999 | $1099 |
| 256GB | $799 | $899 | $1099 | $1199 |
| 512GB | $999 | $1099 | $1299 | $1399 |
| 1TB | N/A | N/A | $1499 | $1599 |
The best iPhone 13 pre-order deals
Let's look at the major carriers, retailers, and Apple.com and what they have to offer in time for pre-orders of the iPhone 13. Pre-orders start September 17 with the phones hitting the shelves on September 24.
An important thing to mention is T-Mobile's Forever Upgrade program. If you buy an iPhone 13 from the carrier, you will get up to $800 trade-in credit the next time you decide you want to upgrade thanks to this new program. You need to be on a Magenta Max or T-Mobile One plan to take advantage of that offer.
iPhone 13 Pro Max pre-order deals
We start with the biggest and the baddest of the iPhone 13 family, the iPhone 13 Pro Max. Like the other phones from the series, the phone is available for pre-order starting September 17 and is available on all major carriers and on Apple's website.
Now, let's look at the pre-order deals. Verizon is offering up to $800 off (in bill credits) across the iPhone 13 lineup, of course with eligible trade-in and select Unlimited plans. If you're willing to switch to Verizon from another carrier, you are also able to get an additional $500 off. This way, the deal means that with trade-in, Unlimited plan, and switching to the carrier the iPhone 13 pre-order discount will amount to $1300.
Over at AT&T, early iPhone 13 adopters are also getting a sweet pre-order discount. You can get up to $1000 off for the iPhone 13 Pro Max, of course, with an eligible trade-in and installment plan with the carrier. The discount is applied in bill credits.
T-Mobile is offering $800 off with trade-in on any phone from the iPhone 13 series, including the iPhone 13 Pro Max. On Best Buy, you can get it with $100 off (no trade-in required) on T-Mobile as well.
You are able to get it unlocked via Apple's website when pre-orders open.
iPhone 13 Pro pre-order deals
The situation with the iPhone 13 Pro pre-order deals is the same as with the Pro Max, and so are the carrier offers. Verizon gives you up to $800 off, and $500 more if you switch, AT&T presents you with the option to get a free iPhone 13 Pro (both offers with eligible devices you should trade in), and T-Mobile is offering an $800 off with trade-in pre-order deal.
On Best Buy, you can get it with $100 off (no trade-in required) for T-Mo.
iPhone 13 pre-order deals
Verizon's sweet deal of up to $800 off with trade-in is applicable here as well, but here it means you will be getting a free iPhone 13. Of course, you need to have an installment contract with the carrier. AT&T's pre-order deals on the iPhone 13 make it possible for you to get a $700 off deal. T-Mobile is giving a trade-in discount of up to $800 in bill credits here again.
And Best Buy's offer for the T-Mobile variant is also present here, you can get it with $100 off (no trade-in required).
iPhone 13 mini pre-order deals
Verizon, AT&T, and T-Mobile all offer you the smallest phone of the bunch, the iPhone 13 mini, for free, of course with eligible trade and installment plan on an eligible Unlimited plan.
Best Buy offers $100 off on the mini on T-Mobile as well.
From retailers, Walmart is expected to shave $100 off all models with whatever carrier you decide to go for.
However, as you can see, the carrier-tied deals are not just plain discounts. They come with conditions, trade-in being one of them. Trading in a smartphone with your carrier is not too complicated if you've decided to upgrade; however, it can be tricky if your phone is too old or damaged. Usually, the advertised discount amount is the one you would get if you trade in a relatively recent model in good working condition.
What retailers sell the iPhone 13?
As the iPhones are very popular phones, almost all major US retailers and carriers have them. The iPhone 13 is available on carriers Verizon, AT&T, T-Mobile, and on retailers Amazon, Best Buy, Target, and others.
Of course, the iPhone 13 phones are available first on the Apple Store.
Will there be iPhone 13 deals without a contract?
As you may know, the deals we see on iPhones are linked with a contract to a carrier, usually with an installment plan. Retailers such as Best Buy or Amazon don't even sell these 5G phones unlocked. Therefore, your best bet when you want to get the iPhone 13 unlocked is the Apple Store. The cool thing with the Apple Store is that Apple has its own trade-in program and can have good discounts even for the unlocked models.
What about iPhone 13 pre-order freebies?
Unlike many Android vendors such as Samsung, Apple rarely gives freebie bonuses with pre-orders for the iPhones. The situation is the same for iPhone 13 preorder freebies: most likely we will not see such offers.
However, many carriers would sometimes do deal bundles for Apple devices, for example, a discount towards an iPad with the purchase of an iPhone. Keep in mind those won't be pre-order bonuses anyway, they are more like deals that sometimes come up on retailer or carrier websites and they are not directly related with the iPhone 13 release or pre-order. Of course, if such deals appear, we will make sure to include them here.
Will the iPhone 12 go down in price?
It's understandable to expect a drop in price for previous models when a new model comes up. And with the iPhone 13, that's more or less the case. However, Apple's website won't sell the iPhone 12 series anymore, now that the iPhone 13 is here. On retailers we expect the iPhone 12 to remain at its retail price for quite some time,  as it is still mighty and powerful, as well as popular.
Down the line though, in a couple of months after the iPhone 13 release, we might see more prominent discounts on older iPhone models.
You may also like:
Denial of responsibility!
Gamers Greade is an automatic aggregator of the all world's media. In each content, the hyperlink to the primary source is specified. All trademarks belong to their rightful owners, all materials to their authors. If you are the owner of the content and do not want us to publish your materials, please contact us by email –
[email protected]
. The content will be deleted within 24 hours.