Quick Links
The Palace Of The Dead is Tactics Ogre: Reborn's biggest endgame challenge. A 100-level Dungeon that can take as long to clear as the rest of the game.
Related: Tactics Ogre: Reborn – How To Play the Law, Chaos, And Neutral Routes
The Palace is packed with incredible treasures and secrets, and this guide will help you unlock and begin exploring this foreboding domain.
Unlocking The Talk Topic
The first step is to complete the early battles of Chapter 4, up to the Phidoch Castle cutscene, after rescuing Abuna Mreuva. The Talk Topic you are looking for and need to read is "Mysterious Blast on Exeter." Once you have read this, four new areas will open up on the North-West part of the map.
Battling To The Palace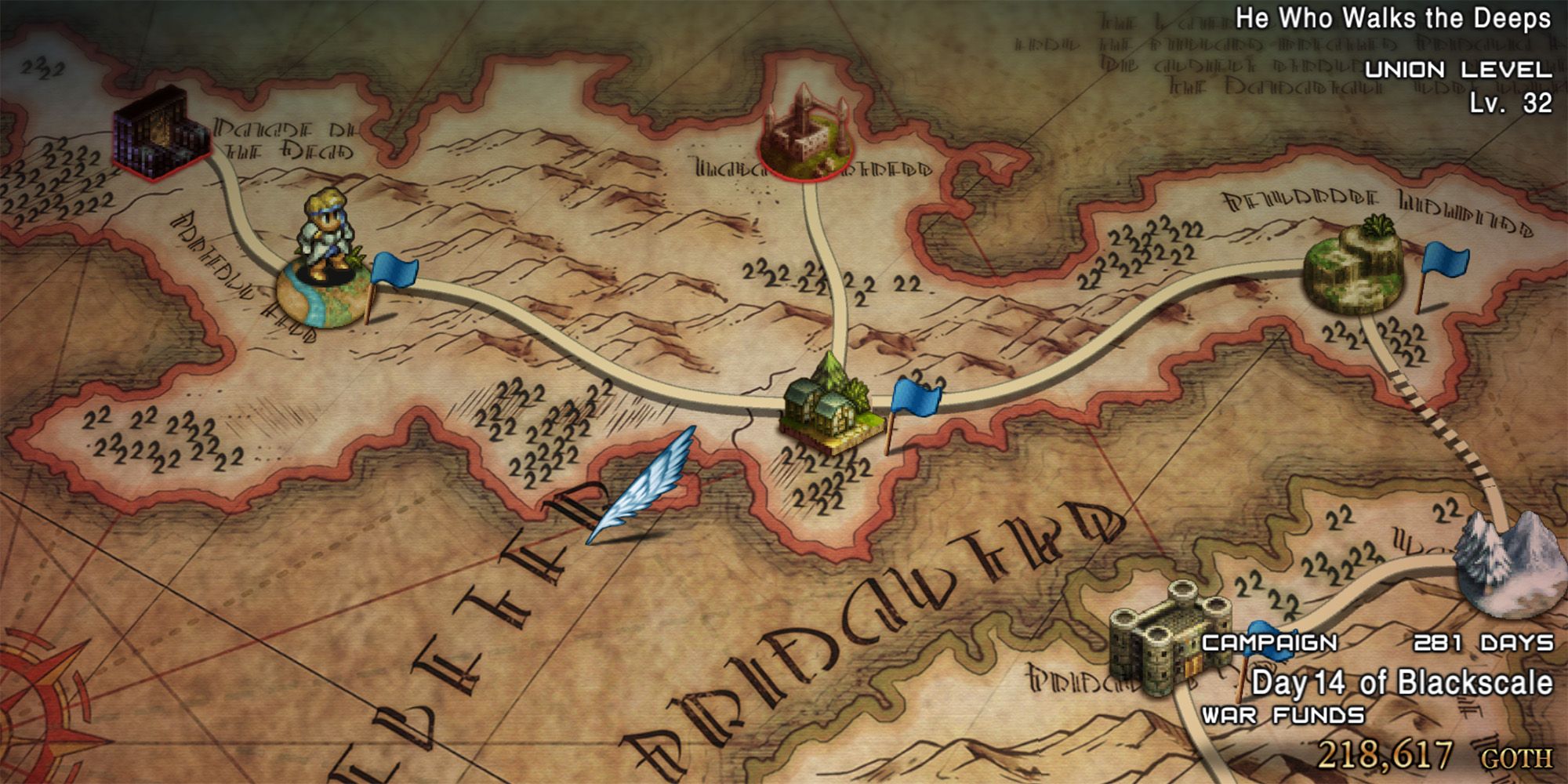 You have to complete four battles to reach the Palace itself.
Madura Drift
This is a Defeat All Enemies mission with one notable exception. There will be a neutral level 50 Dragon on this mission. Avoid it, and the dragon will not attack you. You do not need to defeat it to win the battle.
Belmorose Highwilds
This is a story mission pitting you against a Bakram Cleric and her accompanying force. You only need to defeat her to win the battle. She can be focused down quite quickly but make sure you do your damage in a short time frame, or her fellow Clerics will heal her back to full health.
Vasque
When you enter Vasque, you will see a short cutscene. This is the beginning of a small story quest that continues into Lhazan Fortress after you complete this battle. You do not need to complete this or other battles in Lhazan to unlock the Palace of the Dead. However, you will definitely want to come back to this at some point as it opens one of the Shrine Dungeons, which are also great for treasure and rewards.
Bortegun Fens
This is an unpleasant location covered in a foul fluid that has seeped from the Palace Of the Dead and in which you must defeat all enemies to advance. You will find a mix of Reptilians, Umbra, and Dragons here. Once this battle is won, you can move on to the Palace itself.
Related: Tactics Ogre: Reborn – How To Recruit Cistina
Unlocking The Lower Levels Of The Palace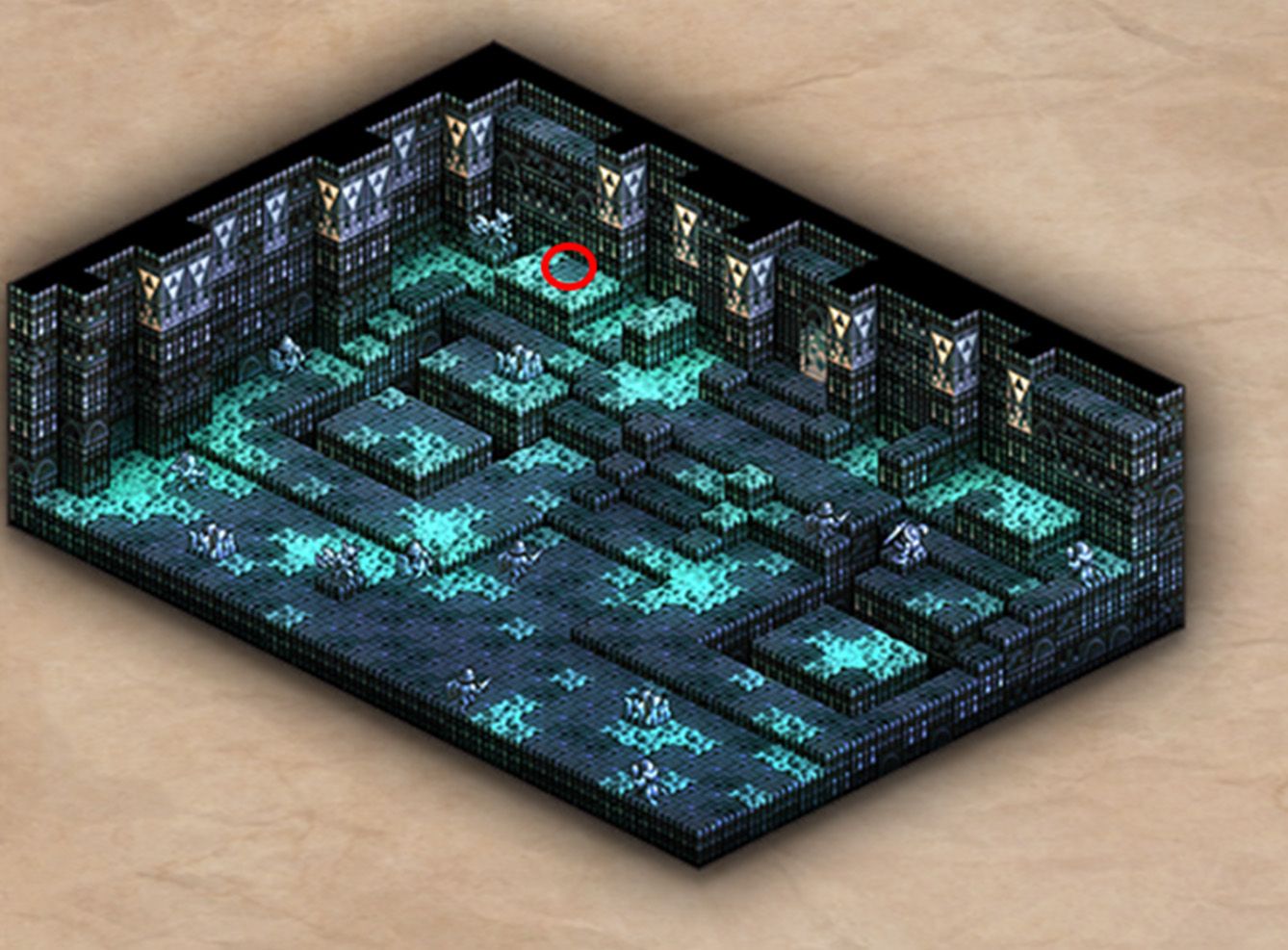 There is one more extremely important step to complete before you can fully begin to explore the Palace. When you initially enter, only the first three levels will be open to exploring. At Level 3, you will encounter a story battle, and a secret door must be opened if you wish to explore further.
Opening the door is achieved by having one of your characters stand in the specified spot (circled in red in the image above) at any point in the battle. The spot is most easily reached by a flying character, monster, or any other character who can ascend high elevations easily, like a Ninja. Once this door is open and the battle is won, you are free to continue your descent into the depths.
Next: Tactics Ogre: Reborn – How To Recruit Sherri
Denial of responsibility!
Gamers Greade is an automatic aggregator of the all world's media. In each content, the hyperlink to the primary source is specified. All trademarks belong to their rightful owners, all materials to their authors. If you are the owner of the content and do not want us to publish your materials, please contact us by email –
[email protected]
. The content will be deleted within 24 hours.