| | |
| --- | --- |
| Our Score | 5.5/10 – Mediocre |
| The Good | Faithful to the source material with authentic voice acting and gameplay easy enough for younger players to follow |
| The Bad | A bit too easy and basic for older players and it's all over within just a few short hours. |
| Release Date | January 31st, 2023 |
| Developed By | Purple Lamp Games |
| Available On | PS4, Xbox One, Nintendo Switch, PC |
| Reviewed On | PS4 (using PS5) |
Review disclaimer: A copy of the game was provided by the publisher for the purpose of this review.
Give me a colorful 3D platformer and watch me waste hours of my life. Honestly, even as a grown man who can buy R-rated games and movies, you'll often find me deeply involved in a Disney animation or a family-friendly platformer. I just like things to be lovely, is all.
SpongeBob SquarePants: The Cosmic Shake fits very squarely into my preferred genre of games then. It ticks all the boxes: bright colors, a friendly, goofy cast of characters, and simple collectathon gameplay that reminds me of a simpler time, the 90s. Man, they really were the days. No responsibilities and a seemingly endless swathe of feel-good games. It was good while it lasted, which was until around the mid-2000s when everything got a layer of vaseline and a depressing brown color palette.
Not much has changed since, sadly, and the industry is still stuck in a kind of rut where gritty realism and stat-chasing has replaced the good old-fashioned values of fun. There are still a few bastions of hope holding on to those dying ideals, and SpongeBob SquarePants: The Cosmic Shake is one such example. So, if you're also a hopeless romantic who pines for the good old days, you'll want to give SpongeBob's latest outing a look. Though be warned, it's clearly aimed at younger players, and we older folks should just be happy that we're being invited along for a ride.
RELATED: Toy Soldiers HD Review: The Best Tower Defense Game On ConsoleSpongeBob SquarePants: The Cosmic Shake sees our socially inept burger flipper getting his hands on some magic mermaid tears that grant the holder magic wishes. Standard stuff in the SpongeBob universe, and the little yellow fellow doesn't disappoint. He instantly sets about making wishes for himself and his friends, though not all is as it seems. Those magic tears were given to SpongeBob by the less-than-honest Kassandra who has her own nefarious goals. SpongeBob's wishes soon turn fanciful dreams into nightmares as his friends are sucked away into alternate realities. With Bikini Bottom in chaos with floods, turned-over homes, the iconic Krusty Krab destroyed, and Patrick being turned into an actual airhead – he spends the majority of the game as a balloon – it's up to SpongeBob to set everything straight.
Under the guidance of the mischievous Kassandra, SpongeBob sets out to bring everybody back to Bikini Bottom and collect as much cosmic jelly as possible for his ill-intentioned advisor. It's a simple plot that gives SpongeBob the chance to go on adventures outside the familiar setting from the TV show. SpongeBob, accompanied by the floating balloon version of Patrick, travels to strange and exotic places by way of portals scattered around Bikini Bottom. The dopey duo turn up in the Old West, a movie set, a pirate's cove, and more. It's a clever way of taking SpongeBob to new places and giving players a nice variety of locations to explore. Sadly, those locations are fairly limited, and after just six hours, I'd seen them all.
It's important to remember who SpongeBob SquarePants: The Cosmic Shake is aimed at. This is a game for younger players, without a doubt, and it shows in just how easy it is to play. Making my way through the levels, I rarely felt challenged in the combat or the platforming, though there were a few tricky moments that had me stumped and struggling. These were few and far between, mind you, so smaller players shouldn't get too frustrated with a bit of trial and error.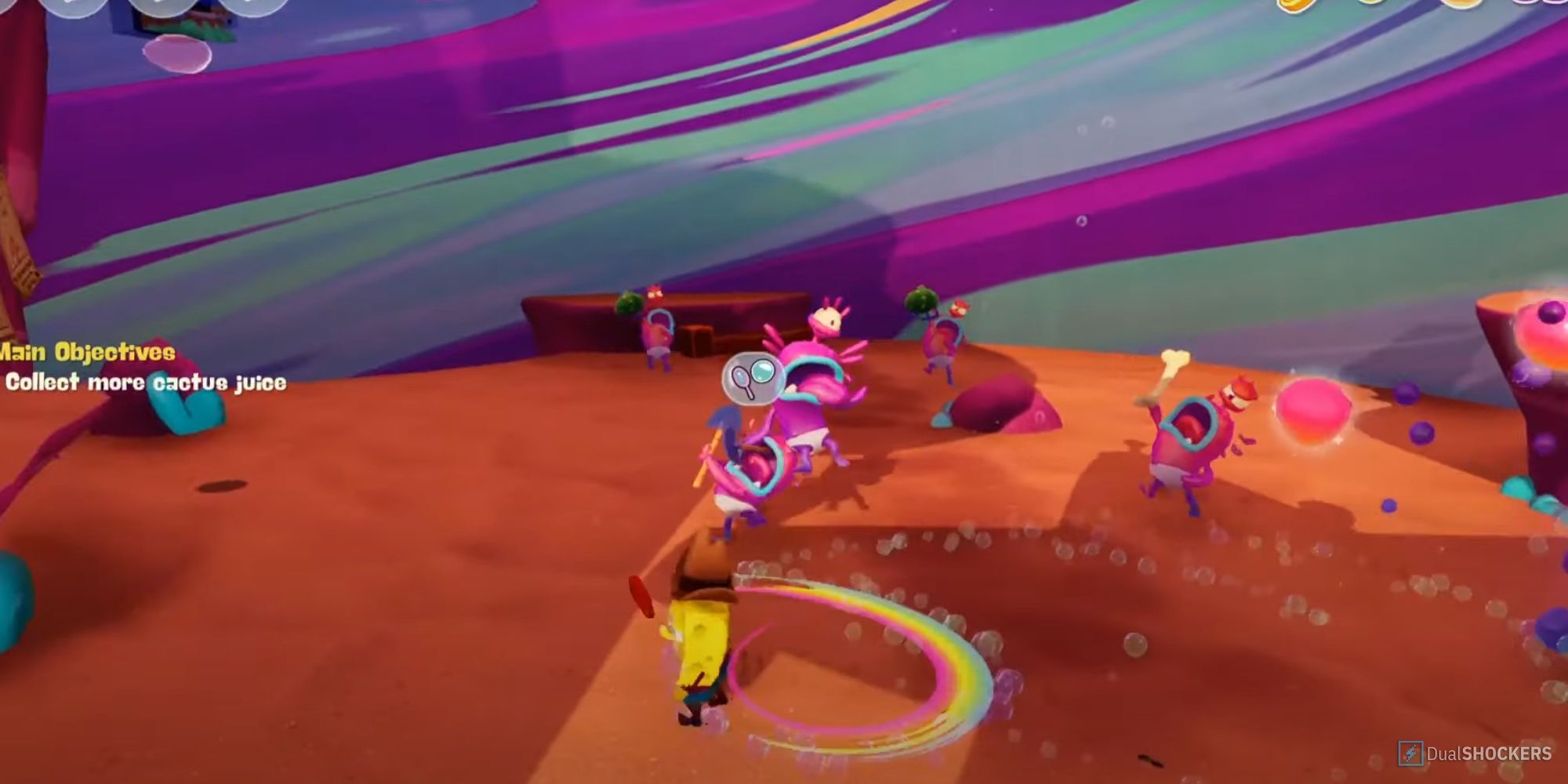 there wasn't anything that really caught my attention or made me look forward to the next encounter.
Another clue that this is geared towards the younger audience is in the navigation. Level goals are clearly marked and the cosmic jelly that litters each level serves as a guide from one waypoint to the other. While it might make exploration a little easy, I actually appreciated being told "go here! Do this!" rather than wandering around aimlessly. Still, it was a bit too far on the easy side for me, but I can understand the reasoning behind it and how it would aid younger players. I'm grateful for it, actually. No parent wants to go through the stress of buying another controller because their kid has launched the gamepad in a hissy fit.
Mind you, I guess the hissy fits may not be confined to the playdough munchers. At times the combat annoyed me with its simplicity. The game would often lock me down in a small area and throw a bunch of enemies my way, some of whom would take multiple hits to defeat, while others had the ability to push me out of the play area, resulting in some cheap deaths. It wasn't particularly challenging and I never really felt like I was achieving anything with SpongeBob's very limited move set. Granted, you do get a couple more ways to take out the jelly monsters as you make your way through the story, but there wasn't anything that really caught my attention or made me look forward to the next encounter. It's a missed opportunity and more could have been done to make the game's simple combat just a bit more interesting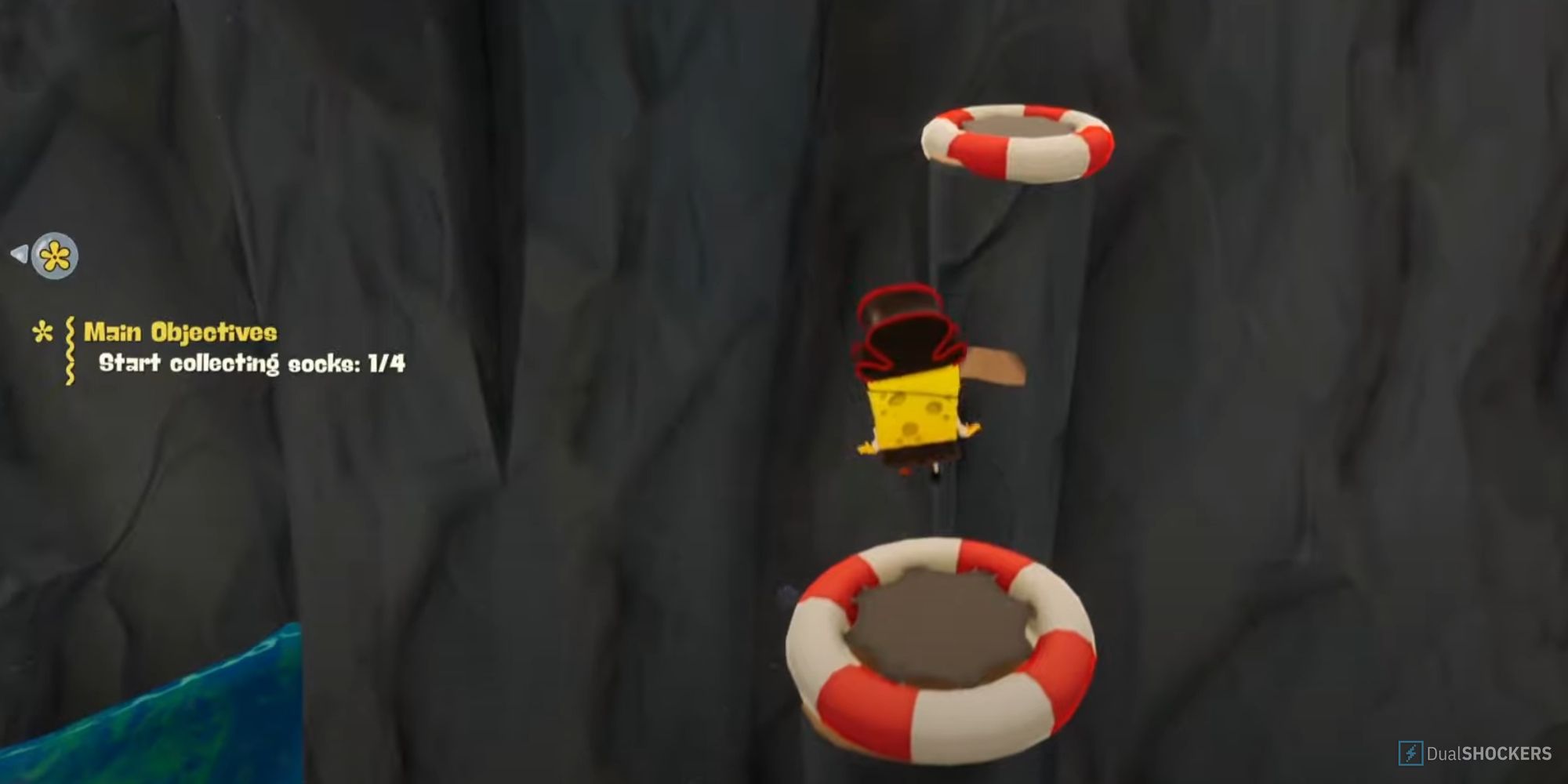 SpongeBob SquarePants nails the feeling of the source material and it does a great job of replicating the free and fancy fun of those old-school platformers. That being said, it's not a great game, at least if you're over the age of 12. It's lacking in challenge, it's rather short, and there's very little replay value. For the younger players who haven't been jaded by this wonderful and wicked industry, it's a serviceable platformer with authentic voice acting that gives players a chance to be part of their favorite show. For everybody else, it's a short distraction that had the potential to be so much more.
NEXT: Age of Empires 2: Definitive Edition Xbox Review – Conquering Consoles
Denial of responsibility!
Gamers Greade is an automatic aggregator of the all world's media. In each content, the hyperlink to the primary source is specified. All trademarks belong to their rightful owners, all materials to their authors. If you are the owner of the content and do not want us to publish your materials, please contact us by email –
[email protected]
. The content will be deleted within 24 hours.