Splitgate is a phenomenal arena-based FPS created by 1047 Games. It is an online multiplayer game reminiscent of the good old times of Halo 3's multiplayer battles. The matches are quick, frantic, and keep you at the edge of your seat as you work with your team, or sometimes solo, to punish your opponents.
RELATED: Most Interesting Weapons In Gaming
There are many maps to battle on and a bounty of weapons you can use to complete your task in each match. The game will spawn you at the start of each life with a random selection of two weapons, or a predetermined weapon if the game mode calls for it. For example, in the Pistol SWAT mode, you will only have access to the game's pistol. When every kill counts, it's important to know which weapon will finish the job efficiently.
11
Pistol
The pistol is a staple to any shooter game, ever. They tend to be quick and snappy but don't often pack a large enough punch when you come face-to-face with an opponent with a bigger gun. Splitgate's pistol has a quicker rate of fire than some other weapons you can choose, as well as some very cool skins for customizing your look.
When it comes down to it, Splitgate's pistol just isn't strong enough to finish an opponent off unless you really catch them by surprise. You can't even zoom in with this weapon, making any amount of distance very difficult to contend with. The weapon's overall ineffectiveness gives it the bottom spot on this list.
10
Sniper Rifle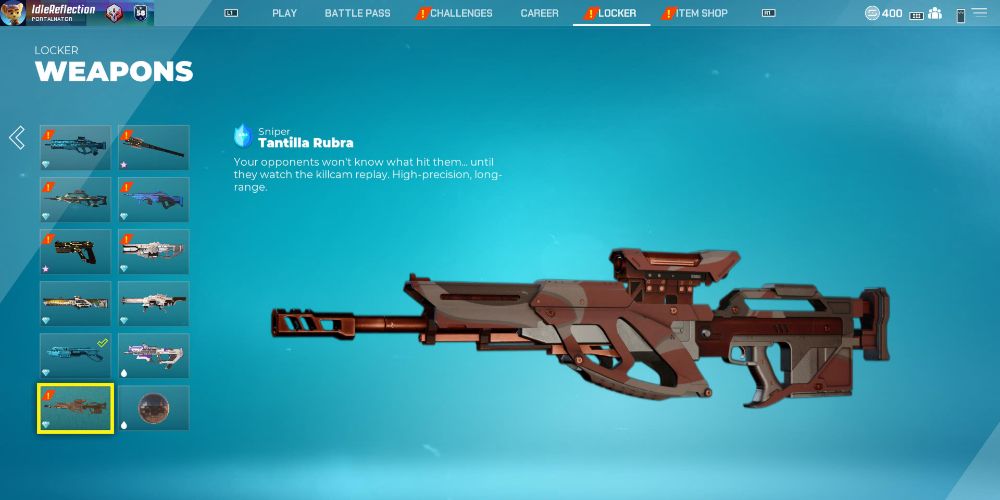 The sniper rifle is absolutely a decent weapon in its very limited situations, but most of the time you will need something a bit more versatile to accomplish your objective. There are only a couple of maps in Splitgate that really give you much need to use a sniper over other scoped weapons.
In all other situations, anything else with a scope will suffice. A lot of the game's maps are designed with tight corners, multiple rooms, and varied levels. There are some sniper-limited game modes, though, that are fun when everyone else has one. That being said, it does have decent power that can take out your target with two pulls of the trigger — when you can find them.
9
Railgun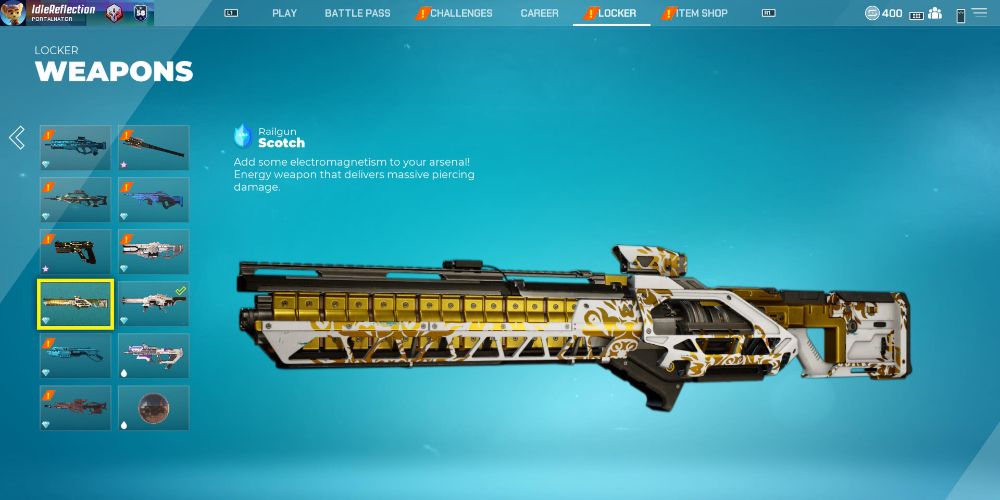 The railgun is a laser beam with some fun skins and next-gen sound effects that really amp up your vaporizing efforts. While the game does not have vehicles that really require this kind of damage output, it's still satisfying running around with this in your hands.
A great tactic to manipulate this gun's charge time is to continue charging it up halfway until you find a target, then finish the charge and let loose. An enemy can down you with a pistol before this charges up if you come face-to-face unprepared, though. All that aside, Splitgate's Instagib game mode is very fun with no-charge railguns dominating the skies.
8
Rocket Launcher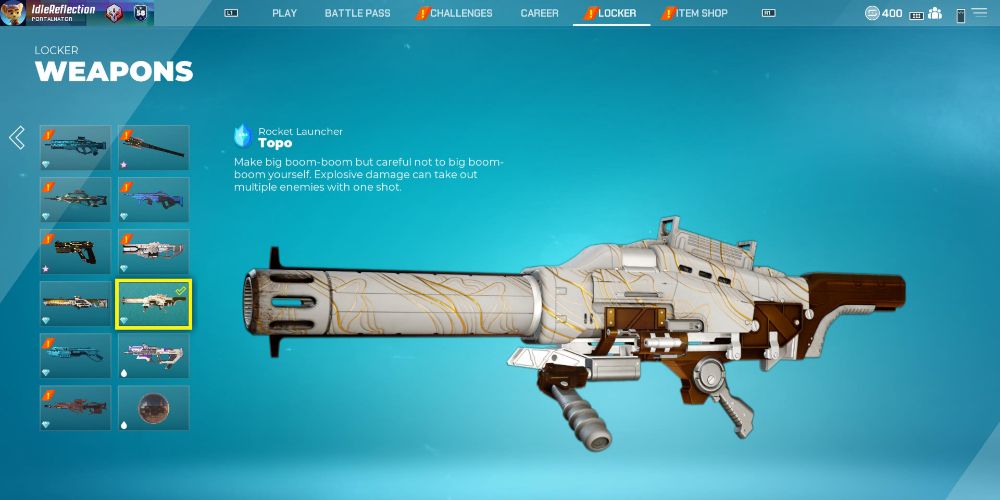 Each of these weapons performs well in CERTAIN situations. If you take the rocket launcher into consideration, it is the perfect complement to your arsenal in a game that doesn't have grenades. Grenades and explosives are quite common in other modern first-person shooters, such as Call of Duty or Battlefield, but Splitgate doesn't include that familiar explosive.
RELATED: Best Weapons In Grand Theft Auto Online
In Splitgate, the rocket launcher packs a heavy punch with each hit. You need to be more accurate with your shots compared to other games, as it just doesn't carry the same hit radius. With a direct hit, though, your opponent will be done for. You only get a few shots with this one, so make them count.
7
SMG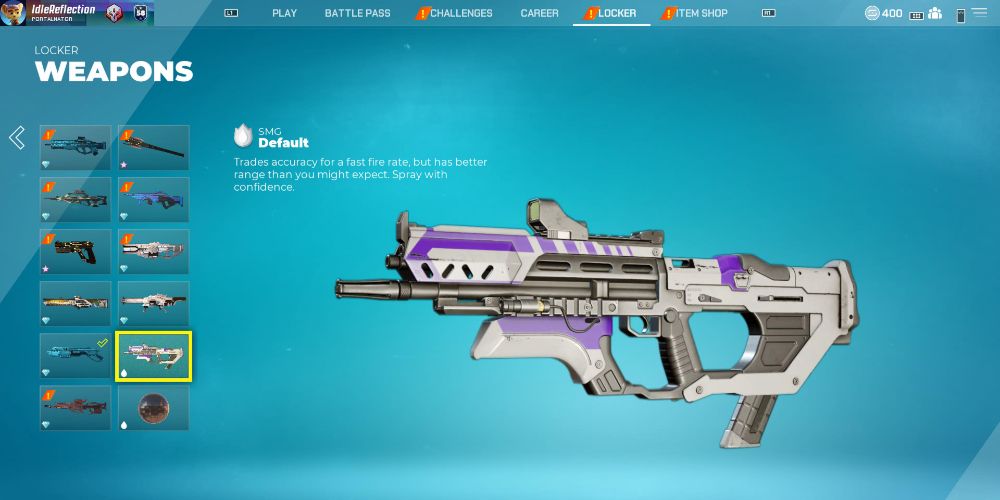 The SMG sits somewhere in the middle. It is more effective than specific-use weapons, but it lacks any ability to aim down the sights, leaving it fairly inaccurate. It is difficult to gauge when you're going to take out your enemy and at what range.
The best time to use this weapon would be when you are frequently coming face-to-face with your opponents. That could be during Capture the Flag or on one of the smaller map. This gun can be strong, but the lack of precision really brings the weight of this weapon down with so many better options available.
6
Carbine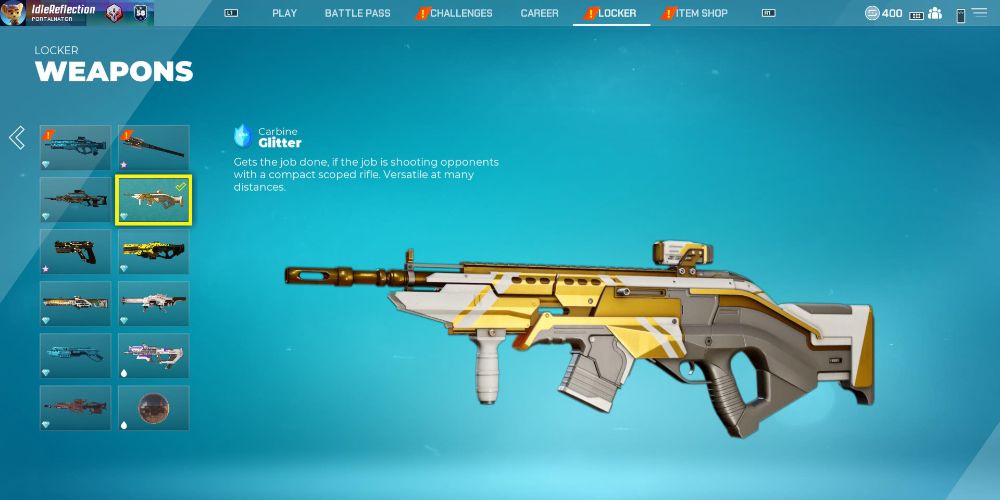 The carbine is effective, but it doesn't have as much power and isn't as useful in all scenarios compared to other weapons on this list. You will want to use a carbine when you can keep some distance between you and your enemies. It's a single-shot weapon, so each pull of the trigger will deliver full power — provided you hit your target.
The downside to this is that the rate of fire is quite slow, and you have to follow your enemy with the scope before downing them. In close-range situations, you will be the most vulnerable. Most of the time, your enemy will have a faster-firing gun, and you will not be able to compete. When you need precision and have time, this gun will do the trick.
5
Assault Rifle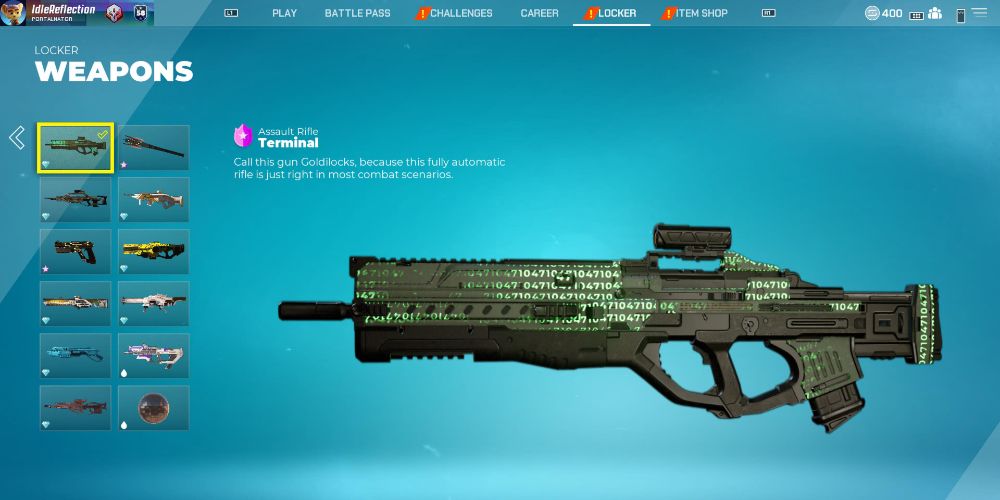 You'll find the assault rifle in this game is pretty well-balanced. You have a great rate of fire and moderate accuracy with some zoom capabilities. There is some recoil associated with the gun as expected, but as long as you can anticipate where your target is moving, you'll take them out if you got the drop on them. It also works well in close-range!
The assault rifle's overall firepower isn't high per bullet, though, so kills take a bit of work. If there are obstacles nearby to hide behind, shields can be recharged before too long, and you'll be back at square one with your opponent.
4
Battle Rifle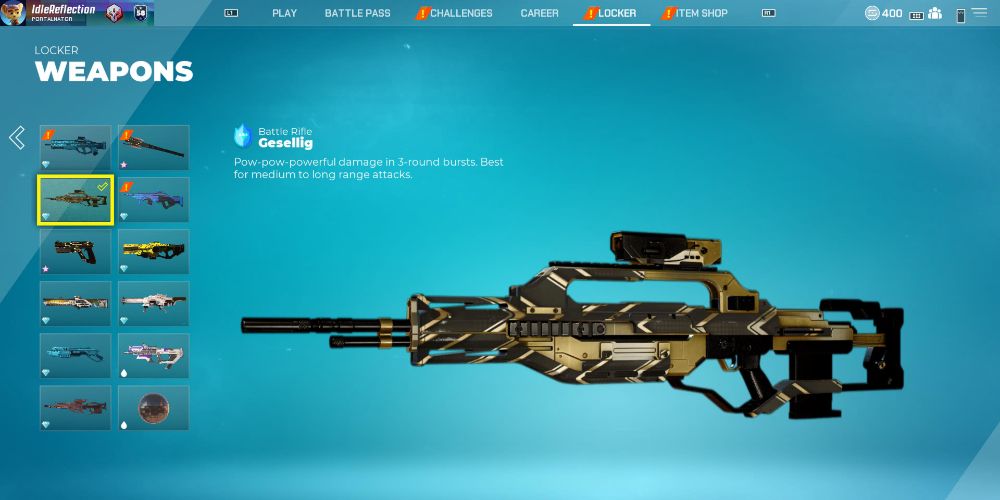 The tried and true of beginners in every good FPS game. This gun shoots in a burst-fire mode which gives you precision AND power. It has a good, reliable zoom on it, and it can kill quickly in skilled hands. It's not the perfect option in close-quarters combat, as anything from an assault rifle to a pistol will continue laying bullets on you while you get through the burst rounds, but from a distance, you are unstoppable.
RELATED: Resident Evil 4: Every Weapon, Ranked
Aim for the head, steady your hands, follow your target, and they will be taken out quickly with this weapon in your arsenal. If you happen to be in a close-quarters situation, just give them a good melee hit to finish the job.
3
Plasma Rifle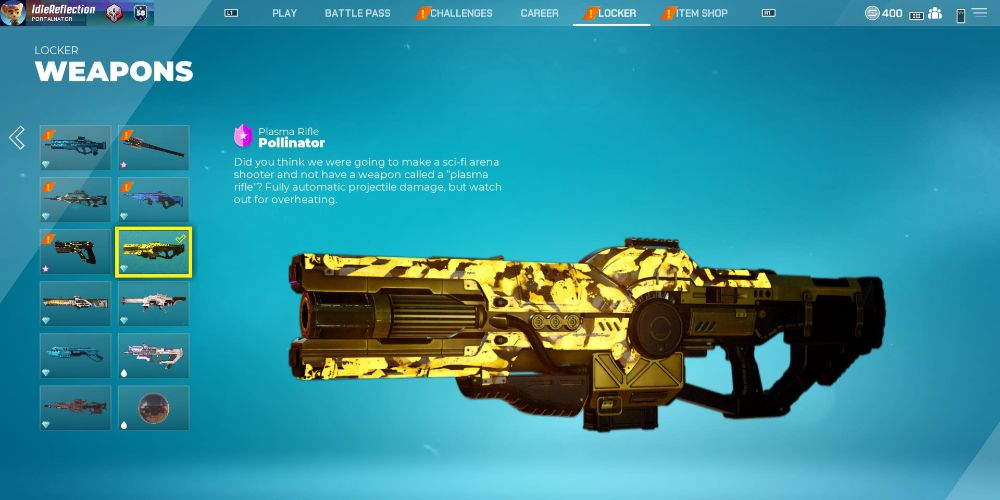 The plasma rifle is a very effective weapon. One thing that is great about picking this up on the battlefield is it has an insane rate of fire. Holding down the trigger for only a couple of seconds sends a hefty barrage of plasma energy toward your opponent.
Once an energy ball hits, the rest tend to follow in quick succession until your target is eliminated before they even know what hit them. A downside is that the energy runs out fast due to its very effective rate of fire. This is best used when you have an alternate weapon to switch to in case you run out of energy mid-battle.
2
BFB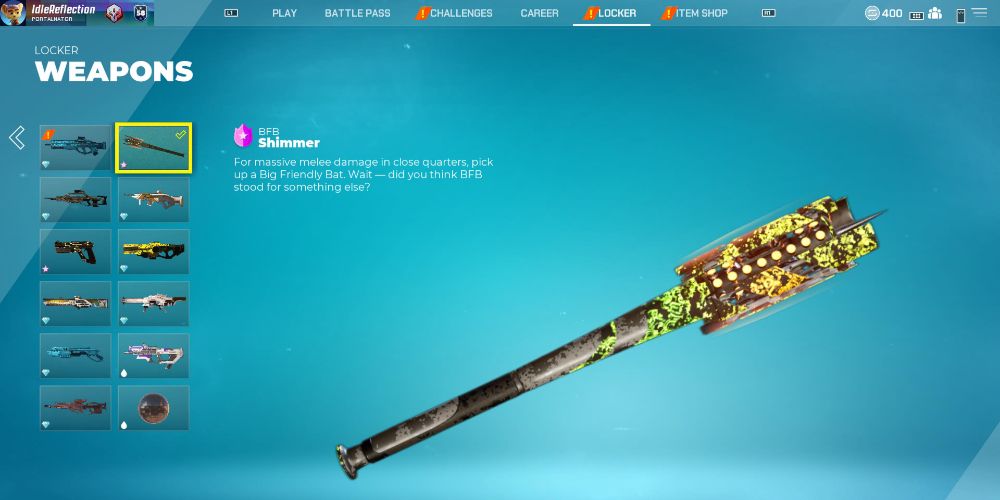 The BFB is a hard-hitting futuristic bat. This weapon whollops no matter how you swing it. You will also notice that even if you are not DIRECTLY in front of an enemy, it does propel you forward a bit with each swing, giving you a bit of grace for early swings.
The only real downsides to this weapon are that it doesn't come equipped to handle many swings, and it's purely for close-range situations. It is powerful, though, so once it's out of energy, you need to find a shotgun to carry on with the carnage.
1
Shotgun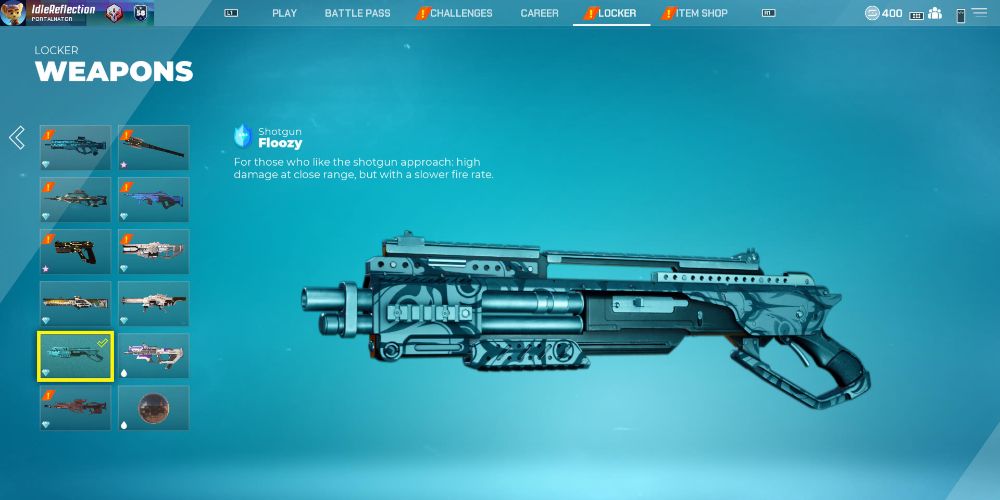 You may call it your best friend or handy partner in crime. You might also call it the best weapon in Splitgate. This shotgun packs a huge punch with just one pull of the trigger. Even though shotguns are known for their short range, this one can handle a bit more distance than the average.
It fares well in most skirmishes because of that, its quick rate of fire, and it's even crazier firepower. It might be a close match-up against the BFB, but if you have some accuracy, you'll win every time. You also get more shots, as well as some surprising range.
NEXT: Hardest FPS Games Ever Made, Ranked
Denial of responsibility!
Gamers Greade is an automatic aggregator of the all world's media. In each content, the hyperlink to the primary source is specified. All trademarks belong to their rightful owners, all materials to their authors. If you are the owner of the content and do not want us to publish your materials, please contact us by email –
[email protected]
. The content will be deleted within 24 hours.