Entertainment
Spider-Man and Hawkeye Will Team Up With Marvel's Multiverse-Hopping Hero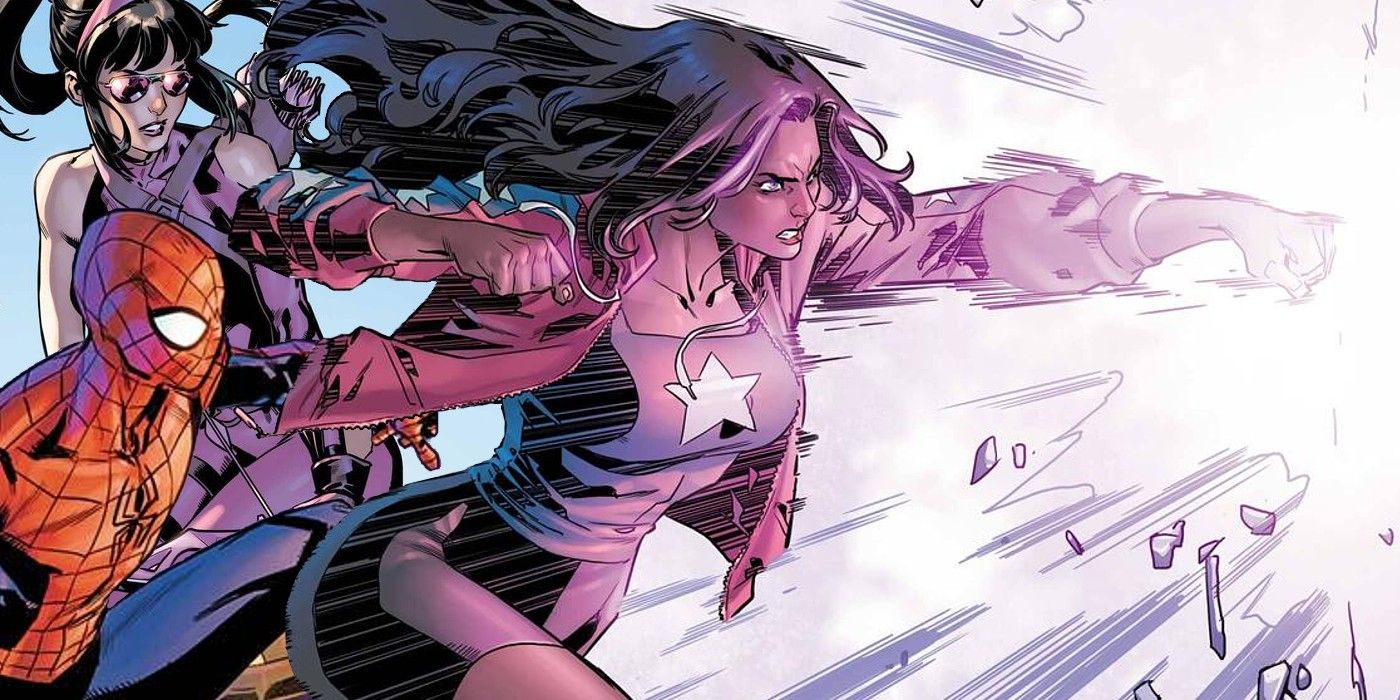 Spider-Man and Hawkeye will join multiversal protector Miss America in America Chavez: Made in the USA, launching this March from Marvel Comics.
The Marvel Multiverse is becoming a hot topic among fans, as it looks set to make its film and television debut in Phase 4 of the Marvel Cinematic Universe. The ways it may affect Wanda in WandaVision and how it affects the larger universe with the upcoming Doctor Strange sequel will be at the forefront of fans' attention. Fans should also be sure to pay attention to an upcoming comic series about a Marvel hero from the Young Avengers with the ability to travel through the multiverse: America Chavez.
America Chavez – known by her superhero name, Miss America – is a Latin-American lesbian superhero, created by Joe Casey and Nick Dragotta. She debuted in Vengeance #1 in 2011. She has some typical superhero abilities – superhuman strength, speed, durability, and flight – along with some not-so-typical powers. America can travel into the Multiverse by creating star-shaped holes that cut through reality. She comes from a universe known as the Utopian Parallel which exists separate from the currently known Multiverse. America Chavez is expected to make her film debut in the upcoming Doctor Strange sequel, Doctor Strange in the Multiverse of Madness, portrayed by Xochitl Gomez.
Continue scrolling to keep reading
Click the button below to start this article in quick view.
Related: Doctor Strange 2 Can Replace Captain America (And Kick Off Young Avengers)
This March, America Chavez will have some super-help telling her story. She will star in the five-issue miniseries, America Chavez: Made in the USA, which will reveal more of her origin story – sharing aspects of her past – before she faces her future. Both Spider-Man and Hawkeye will be jumping into action with her, as seen in new preview pages from Marvel. Enjoy the summary and preview pages below:
WHO IS AMERICA? America Chavez is incredible – her origins, her strength, her dimension-shattering star portals! But when the foundation of everything she believes is shaken, America will stand up and face the parts of herself she's been running from. From writer Kalinda Vazquez (Marvel's Runaways) and artist Carlos Gomez (Amazing Mary Jane) comes an explosive, brand-new story all about what made America Chavez who she is – and what she'll do to protect the ones she loves.
America Chavez has been part of multiple teenage superhero initiatives, including the West Coast Avengers, the Young Avengers, and as part of the team of heroes in the Marvel animated series, Marvel Rising. She has worked with Kamala Khan, Kid Omega, and Gwenpool, as well as Ghost Spider, Patriot, Squirrel Girl, and Quake. Often, she works alongside her best friend, Kate Bishop, the younger Hawkeye. The upcoming series includes Kate Bishop donning her Hawkeye outfit in the previews. Additionally, Spider-Man can be seen helping America direct citizens through a star-portal and away from a burning building. The preview also shows that America might be having some strains in her relationship with her girlfriend, Ramone Watts. Ramone is a vibranium-infused superhuman who goes by the name Alloy.
It is clear that America is going to have a lot of struggles to face in the upcoming series, compounded by the fact she has to deal with threats from multiple realities. The good thing is that it appears as though she will also have a super-support group to help her as she figures out who she is, in relation to learning where she came from. Kate Bishop and America have been working together for a long time, becoming an iconic duo. They have had each other's backs when handling mentors, forming new super teams, and dealing with family issues, so seeing them in action together in the previews is very exciting. America Chavez may have a lot on her plate, but most likely, she'll shine like the star she is and end up even stronger with the help of Spider-Man, Alloy, and Hawkeye. America Chavez: Made in the USA #1 releases March 3, 2021.
More: Hawkeye Gets Fan Poster In The Style Of Fan-Favorite Marvel Comics Run
See Apology Gift Drew Barrymore Sent Steven Spielberg After Her Playboy Shoot
About The Author
Follow us on Google News
Read original article here