Entertainment
Rachel Lindsay Fears Replacing Chris Harrison Would 'Muzzle' Voice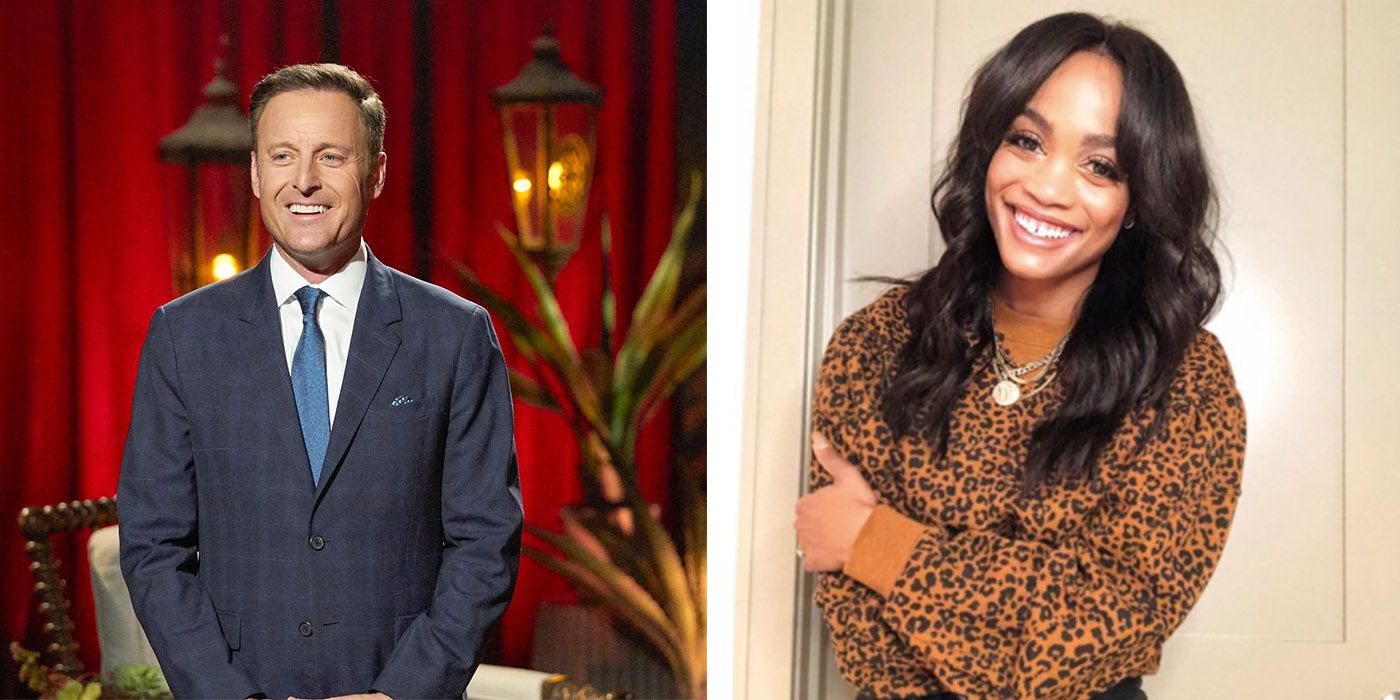 Although fans have been calling for a host who encourages more diversity on the show, Rachel Lindsay doesn't want to be the new host of The Bachelor.
Rachel Lindsay does not want to host The Bachelor. Fans have been calling for a host who can encourage more diversity on the show, but Rachel isn't keen for the job. Chris Harrison, who has hosted all of the franchise's shows since 2002, recently announced he is stepping down. He has been under fire for a few weeks since his interview with Rachel on Extra. 
When asked about the racist behavior of contestant Rachael Kirkconnell, Chris defended her and said people were judging her too harshly. After outrage from fans and Bachelor stars, Chris apologized for his words and subsequently announced he would be taking some time away from the hosting position. While it's unclear what exactly "stepping aside" means, producers have confirmed that Chris' on-screen presence will be limited for the rest of the current season of The Bachelor, and he will not be hosting the After The Final Rose special.
Continue scrolling to keep reading
Click the button below to start this article in quick view.
Related: Bachelor: Women's Tell-All May Not Air Due To Chris Harrison's Presence
Rachel was asked to comment on the rumors that she will be taking over as host of the show in an interview on the Black Girls Texting podcast. "It's hard for me to even think about being the host," she said, "Bachelor Nation has changed my life in the best way possible. But at the same time, it's really toxic…and I don't know if I want to subject myself to that." Rachel also noted Chris was only stepping aside, and that a new host may not be needed at all. "I could see them not [replacing him]. I mean, pre-quarantine he was barely in the show anyway," she explained. She also put an end to any rumors that she was trying to discredit Chris in order to take his job. "How would I even think like that? But that's the kind of stuff people say about me," Rachel remarked.
Rachel's biggest concern about hosting the show isn't any of those reasons, however. Rachel is most opposed to working for the franchise because she wants to be able to speak out about issues with the show. "I don't want to be muzzled. That freedom to say how I feel and to demand change and speak out, I couldn't do that the same way if I was the host," she explained. Rachel often addresses the lack of diversity and need for change in the franchise on her two podcasts and in the press. "More than having a host replacement, you've got to have somebody in power who is a person of color who gets it, who understands," she insisted, "As we're seeing time and time again, even with the lead [of color], you're still not getting it." Rachel was the first Black lead of the show, followed by Tayshia Adams and Matt James.
Even with three Black leads, the show continues to cast racist and problematic contestants and has issues with a lack of diversity in producers and other staff. Chris Harrison's recent interview shined an even brighter light on the ignorance that exists within The Bachelor franchise. Rachel's assertion that there needs to be more people of color behind the scenes and not just in front of the camera is well warranted. ABC is undoubtedly under pressure from fans and the media to fix these issues, and hopefully, there will be some changes coming soon.
Next: Bachelor: Why Rachel Lindsay Doesn't Accept Chris Harrison's Apology
The Bachelor airs Mondays at 8 pm ET on ABC.
Source: Black Girls Texting
90 Day Fiancé: Rose Vega Unrecognizable After Supermodel Makeover
About The Author
Follow us on Google News
Read original article here