SPOILER WARNING: This feature will reveal details about the endings of Persona 5 and Personal 5 Royal
Persona 5 Royal, the enhanced edition of Persona 5, expands greatly on the story of the original game, but to say it only provided more time with the characters, or just gave everyone a better send-off, would be underselling it. The new content in the Royal version fixes a significant flaw in how the base story dealt with each character's individual healing following their traumatic story arcs, directly tackling the primary reasons for these traumas in a way the original never really did.
One of the hooks of Persona 5 is its integration of social interaction elements with dungeon exploration. We gained a deeper understanding of the characters in the main story through a variety of side activities and character scenarios called confidants. These scenarios eventually lead to personalized conclusions for each character's individual struggles and dilemmas by tying up loose ends from the major story arcs.
Most of these struggles usually revolve around typical issues facing adolescents such as bullying, societal expectations, family grief, identity, and personal freedom. The game suggests that the road to resolving these issues is — as inspired by the psychologist Carl Jung — by facing the true self, or more accurately by coming to terms with the unconscious part of the self. Once the conscious and unconscious of the self unify, the person can become whole…
…or, at least that's how it should be.
The main cast try to reach this state of wholeness by unlocking the mythical power of the Persona–a fantastical representation of the self in the image of gods and other powerful beings from legends–that they use to fight adversaries and let go of their weaknesses. The thing is, by the time the original story of Persona 5 concludes, they never really faced up to the issues that drove them to a corner in the first place. Rather, they chose a new reality to replace the one they lost, and never looked back at the primary reasons for their insecurities and doubts.
The confidant side stories in Persona 5 didn't do much to resolve that. Ryuji Sakamoto, the former track team star who got his leg broken and his team disbanded in a fit of anger with the teaching staff, never got back to his old passion; Ann Takamaki, who felt guilty for not intervening in her friend Shiho's attempted suicide, never addressed the topic again in a meaningful way, with her confidant focusing mostly on her career; Makoto Niijima, Haru Okumura, and Futaba Sakura never resolved their issues regarding their parental figures; the list goes on…
Instead, most of the cast indulged in new-found support systems revolving around the main protagonist, and their mutual endeavors as Phantom Thieves or Persona users to fight evil and save other weaker souls in need. If you complete their confidant scenarios, their Persona also end up pretty different from the ones they started with, like Morgana's Zorro awakening to Mercurius, a Greek god, or Ryuji's Captain Kidd transforming into Seiten Taisei, a homage to the Chinese Monkey King. The different mythological origins between their base persona (designed around fictional outlaws) and their awakened forms show how their inner selves changed by casting off their old shells.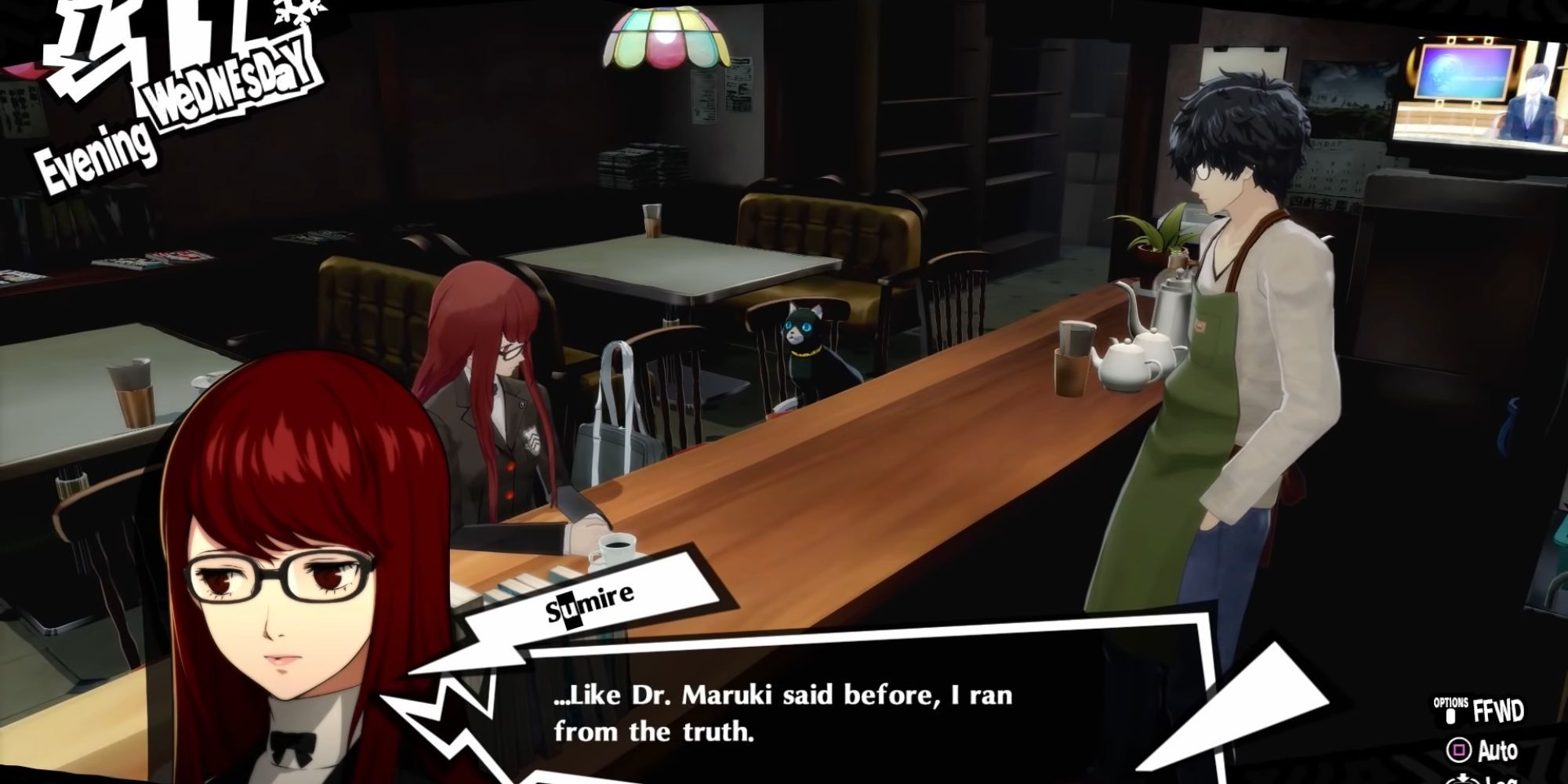 Ludonarrative dissonance, a term coined by game designer Clint Hocking in 2007, describes the conflict between the narrative told through the story and the gameplay, and pretty much describes what was happening throughout the original Persona 5. The game was asking the characters to be their true selves, while their actions were typified by constant avoidance. The characters never really resolved their regrets with the past versions of their lives, only deemed them as unnecessary baggage weighing them down.
The new story arc in Royal, occurring right after the original Persona 5's final chapter, brings this issue to light. It utilizes the power of the antagonist and Persona user Takuto Maruki to ensnare the characters in a dream world where their innermost desires are realized. The whole thing is a thought experiment from Maruki to prove that the world would be better if people never experience sadness, hardships, or any form of change, and he intends to subjugate all of humanity to his fake heaven.
RELATED: Persona 5 Royal: True Ending, Explained
Maruki's dream exposes that each and every one of the main characters is not entirely happy with their waking lives. In the dream, Ryuji is playing happily with the track team; Ann gets to hang out with her friend Shiho, despite the latter dropping out of school in the real world; Makoto and Haru are enjoying the company of their deceased fathers, and Futaba is living with her late mother. None of them were aware of how their reality is being tampered with by Maruki's power.
They want nothing more than to live happily with their friends and families, without experiencing any loss and regrets, or having to conform to their real-life circumstances. But along the way, after the protagonist makes them aware of Maruki's brainwashing, they are given a choice by Maruki: to stay in the dream, or escape it. This choice brings up the doubts they never knew they had inside them, and they become conflicted on whether to accept or refuse his offer.
Through this, the game actually addresses the topic of the true self, asking the characters to reflect on their whole journeys, not just select parts. As the player, you get the choice to live in Maruki's dream world, free from all worries, or face up to reality with all its hardships. Maruki's actions inadvertently make the cast aware of their aversion to confronting their pasts, which in turn encourages them to reflect on their growth.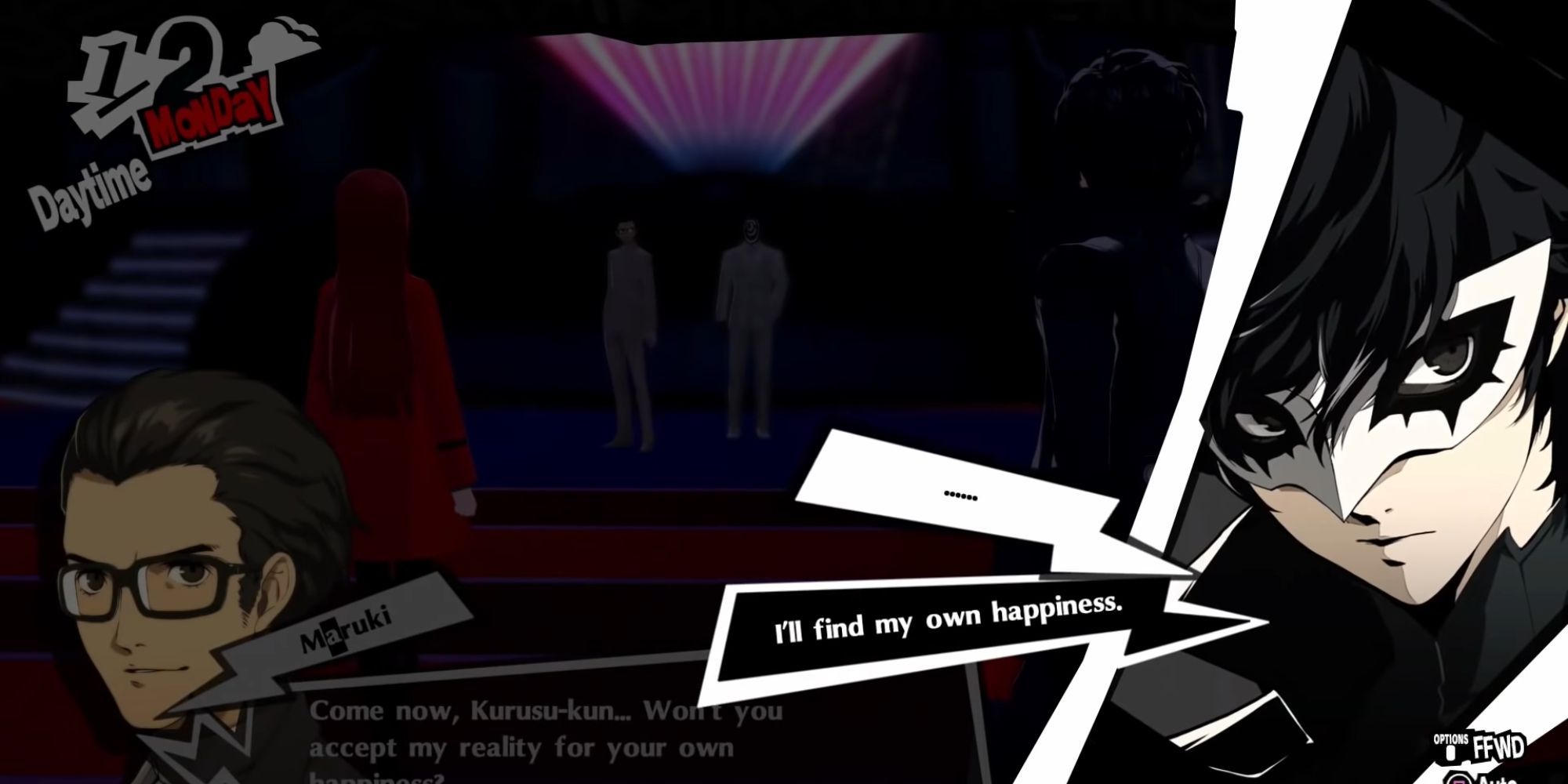 If the characters choose to face reality, they will do so without ignoring the underlying regrets they left unattended in their past. At this point, all their original Persona and the Persona they developed later combine into new ones — called Third Awakening — finally merging their conscious and unconscious into one. The new Persona forms are actually closer in theme and character to the starting Persona, like Morgana's Diego who is very similar to Zorro in both name and design, or Ryuji's William, which is an alternate name for Captain Kidd, albeit with a completely new design.
After they quell Maruki's goal to create a worldwide fake reality, and convince him it's nothing more than a temporary reprieve from the way people should lead their lives, they adopt new goals and life paths different from the ones at the end of the base game, and more closely aligned with their original lifestyles.
Ryuji decides to pursue physical therapy for his broken leg and actually sets himself a goal to get back on the track team once again. Futaba wants to grow up and complete the research her mother left behind. Others travel abroad or live independently after discovering in Maruki's dream that they are still overly dependent on their parents and friends, which was stopping them from pursuing their original goals and careers, or wrapping up their secret regrets in a decisive way.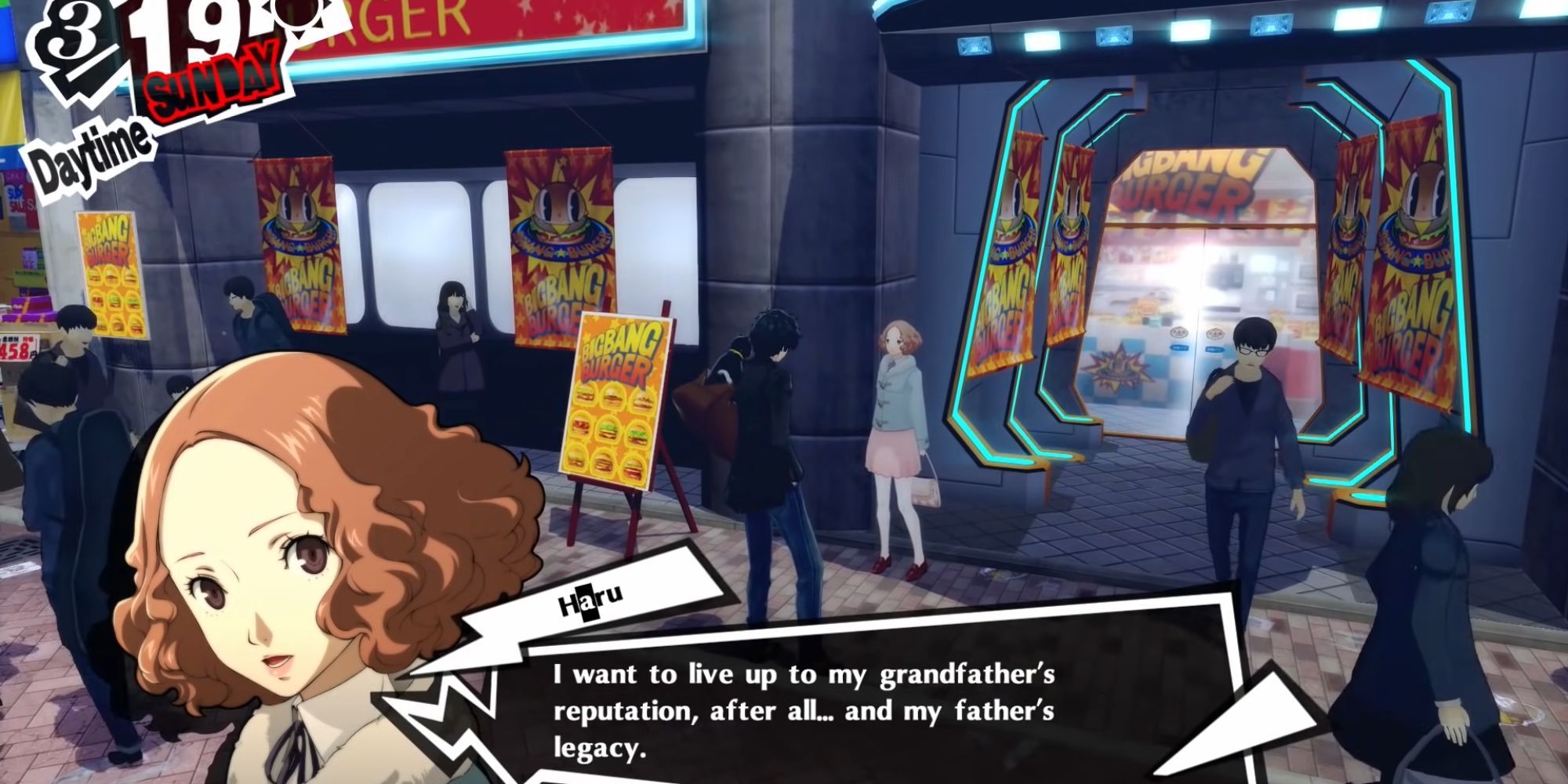 Persona 5 Royal's new ending gives a cathartic conclusion to every character. It resolves all their plot threads, acknowledges their past insecurities, and forces them not only to change in spite of their challenging life circumstances, but to lead purposeful lives by themselves without any emotional baggage or alternate yet temporary support systems.
NEXT: Persona 5 Royal: How To Unlock The Third Semester
Denial of responsibility!
Gamers Greade is an automatic aggregator of the all world's media. In each content, the hyperlink to the primary source is specified. All trademarks belong to their rightful owners, all materials to their authors. If you are the owner of the content and do not want us to publish your materials, please contact us by email –
[email protected]
. The content will be deleted within 24 hours.