Margaret is the secret boss players can find near the end of a New Game Plus playthrough, here's how to unlock and battle her.
Quick Links
In Persona 4 Golden, players can battle Margaret as a secret boss in the last month in New Game Plus. She is the most challenging boss in the game, with additional gimmicks to make the fight more complex than a usual all-out brawl. You can challenge this boss with the rest of your team, and it is recommended that everyone be at least level 85 before attempting this battle and close to max level to make it easier.
Related: Persona 4 Golden: How To Get The Accomplice Ending
Margaret does not have as many rules in battle as her sister Elizabeth, but there is a countdown on this battle. While it may seem like a lot, players will only have 25 turns to complete this battle. Otherwise, Margaret will hit the entire team with a massive attack that can one-shoot your entire team.
How To Unlock Margaret's Boss Fight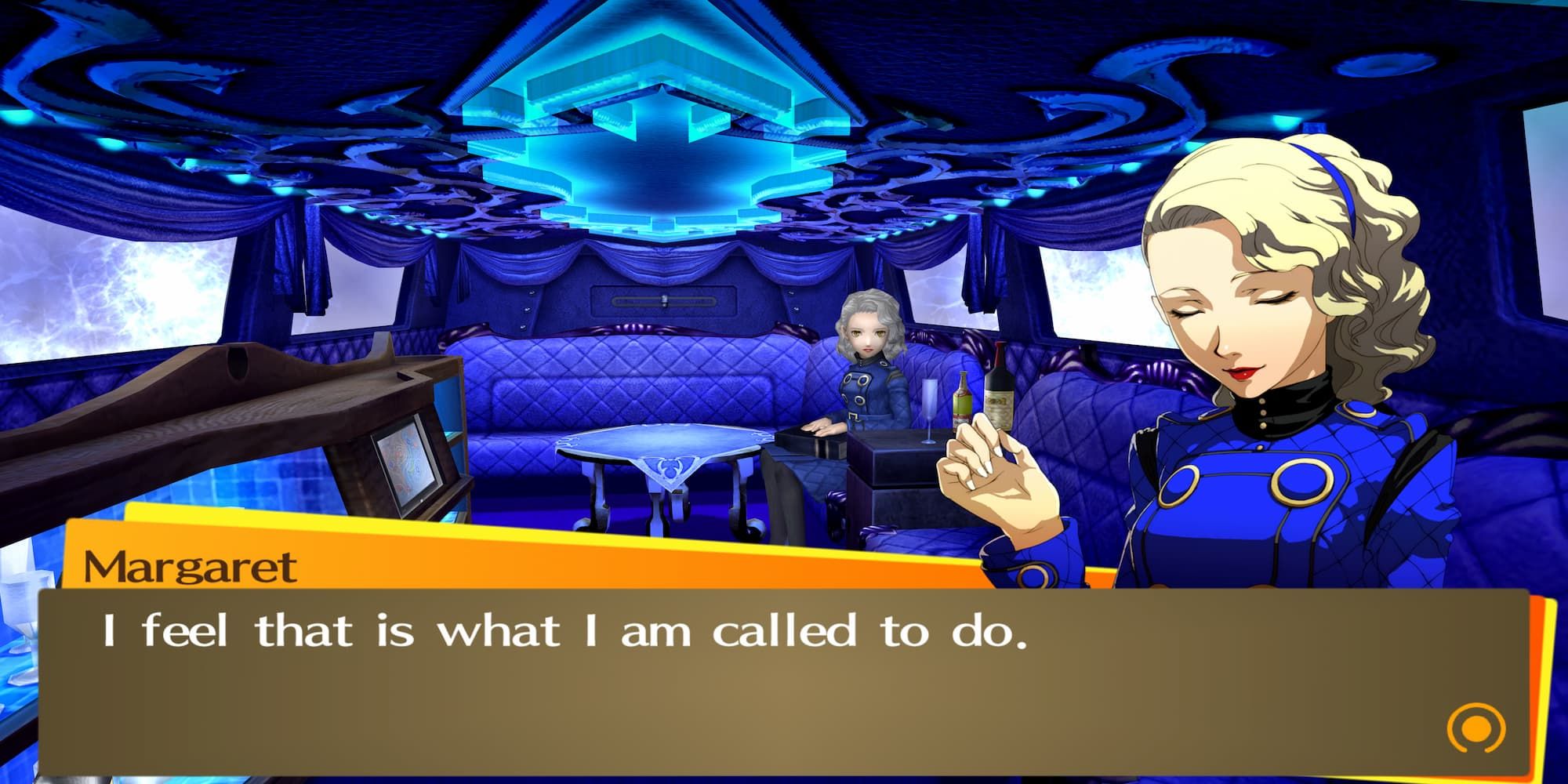 To unlock Margaret's boss fight, players will first need to complete the game and begin a New Game Plus. In this new playthrough, players must defeat each dungeon's secret boss. About a week after each dungeon's deadline, a new secret boss will spawn in the dungeon, offering players a goal to complete upon revisiting older dungeons. These secret bosses must all be killed by the end of January. You will also need to complete the Empress social link, Margaret's, by fusing the required personas.
After completing these tasks, continue to pursue the true ending to the game and wait for Igor to give you the Ord Of Sight. After receiving this item, leave the velvet room and walk back in to find Margaret alone, where she will give you a note and tell you to meet her at the end of Heaven. Head to the final floor of Heaven, and Margaret will be waiting for you, as you should be close to the max level for this fight — the dungeon should be trivial at this point.
Related: Persona 4 Golden: How To Raise Social Stats
How To Beat Margaret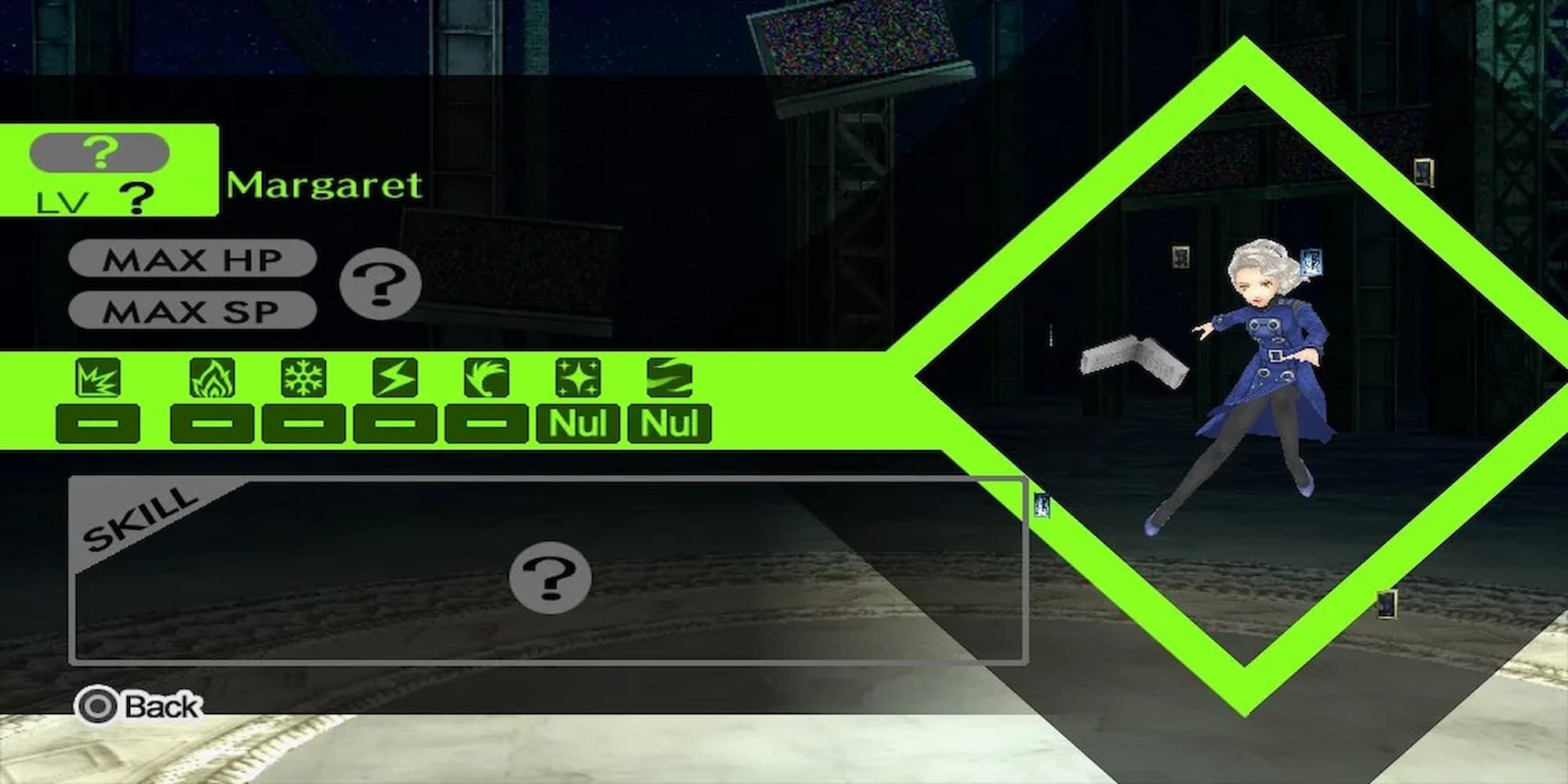 Margaret will use two actions per turn, and on the 25th turn, she will use a max damage attack on your entire party. Margaret comes with 15,000 HP, and when her HP drops below 50%, she will fully heal herself and use a powerful almighty attack on your entire party. Margaret is neutral to all attacks and is null to Light and Dark. Margaret has multiple personas and access to the best attacks of each element and will switch between them randomly.
Margaret will change her persona to use a massive elemental attack. Each of her personas can absorb the corresponding element. Make sure you watch which element was last used, and be sure not to use that element until she changes her persona. For her Personas that heal or use almighty attacks, they are resistant to all attacks, and seeing these personas offers the best time to heal and buff your team, as attacks will be mostly useless. Every 25 battle rounds, Margaret will use an almighty attack that deals 9,999 damage to your entire party. If you have a persona ability that will revive you, you can survive this attack and try to make a comeback, but your best odds come from trying to beat Margaret before the 25th turn.
Next: Persona 4 Golden: How To Get The True Ending
Denial of responsibility!
Gamers Greade is an automatic aggregator of the all world's media. In each content, the hyperlink to the primary source is specified. All trademarks belong to their rightful owners, all materials to their authors. If you are the owner of the content and do not want us to publish your materials, please contact us by email –
[email protected]
. The content will be deleted within 24 hours.