SPOILER WARNING: This feature indirectly alludes to certain key plot events in Pentiment.
For two full acts, I was fully absorbed in the murder, intrigue, and sometimes straining my eyes to read the beautiful yet semi-legible writing that represents characters talking in Obsidian's medieval manuscript murder-mystery Pentiment. I can't say I enjoyed it quite as much as our reviewer Jack Coleman, but with a score like that that's not saying much. It was still a wonderful and wholly unique journey through a slice of central European history–a game that managed to be slow-paced and relaxing while covering some pretty heavy topics, as it turned out.
But by the time Act 3 rolled around, casting me as an all-new protagonist years after the events of the previous act, I knew I was done. If you're not quite sure whether you're done with a game, or perhaps in denial about it, then you can usually identify it by the little ways in which you interact with it; always running instead of walking, knowing the map off by heart (and feeling like traversing it is merely getting in the way of completing your objectives), speeding through dialogue instead of soaking it all in, avoiding non-critical conversations. All this had begun happening to me by the third act.
For a game that feels much like a visual novel, with zero action, minimal puzzling, and maximum talking, Pentiment is a pretty long game at 15 or so hours, and I've really started to feel that.
RELATED: Pentiment's Soundscape Is Absolute ASMR Bliss
The thing is, Obsidian (Josh Sawyer specifically, in this case) are really good writers, and the writing actually seems to account for the possibility that the player might be a little manuscripted out by the third act. In this chapter, you take control of Magdalene Drucker, a young woman (maybe even a teenager, though they had to grow up fast back in medieval Bavaria) who in unfortunate circumstances finds herself tasked with completing a giant mural of the town's history for the town hall.
Magda is smart, sassy, and apparently talented enough to paint a humongous mural despite having no track record of having done this kind of work before (bit of a plot contrivance, but we'll let it pass). This being an Obsidian game, you have plenty of dialogue choices that help you shape her personality, but broadly speaking they fit into those fit into the categories of 'wants to stay in town,' 'wants to get married,' and 'wants to get the hell out of Dodge because she's had bored out of her mind.'
That final one? Yep, that was me. Just like Magda, I (at the risk of incurring Jack Coleman's wrath) had grown tired of the small town of Tassing, which feels particularly small and quiet after the seismic events of Act 2. I'd spent hours talking to the good, hard-working simple folk of Tassing about their trades, about the coming winter, about how much of a dickhead the abbott was, about who slept with who at that year's harvest festival, and now I've had enough. Pentiment's depiction of small-town life is painstakingly honest, acknowledging that even as the world all around changes, wars rage, and powers shift, the day-to-day rigours and rituals and mundanity of regular people stay much as they were, year after year.
Without spoiling too much, the action in Tassing really comes to a head in Act 2, after which the town loses something–a part of its identity, for better or worse. While there's always hope for a new beginning and for the town to find a new identity, Tassing definitely feels like a sadder, emptier place than it was in Acts 1 and 2. Winter is coming in Act 3, and it's coming early, emphasising the feeling (for me, at least) that despite the gentle advances of the handsome young councilman, and the pressure to take over my ailing father's print shop, it's time to leave this place.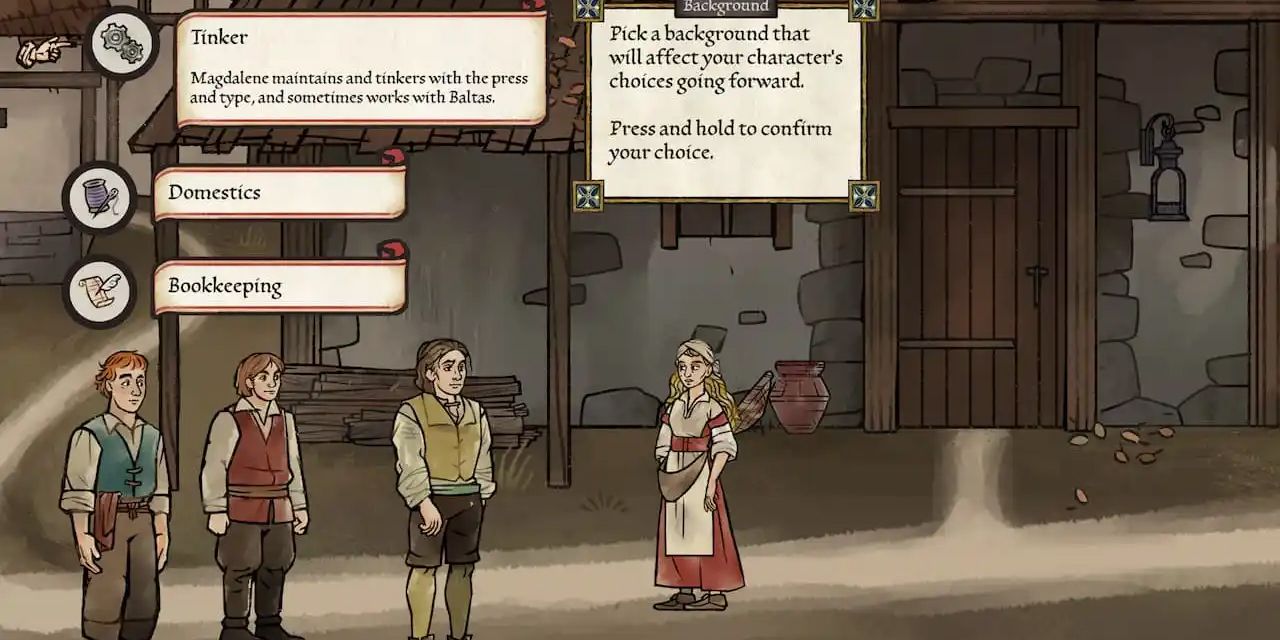 And there's definitely a beauty to that. Perhaps some people will gravitate towards the safety and security of settling Magda down in Tassing, especially when you apply a bit of historical roleplaying and remember that running off to the big city to be an independent woman in your twenties wasn't as easy in religiously restrictive medieval Europe as it is today (to put it extremely mildly). But for me, as someone who absolutely couldn't wait to leave small-town life for the big city when I turned 18, that urge to fly the nest couldn't be stronger.
Pentiment is probably one of the most accurate recreations of small-town life in gaming, right down to the likelihood that more adventurous people may eventually get bored with its endless cyclicality. I appreciate Obsidian exploring this, and building that boredom into the choices you make as the final protagonist, but it still feels like a bit of a design shortcoming when an exploration of a character's boredom leads to player boredom, which is what I'm now experiencing. Narratively, putting together the mural is an elegant conclusion, but at this point, both Magda and I are desperate to wrap it up and seek pastures new.
NEXT: The Success Of Single-Player Games In 2022 Buries A Longstanding Myth
Denial of responsibility!
Gamers Greade is an automatic aggregator of the all world's media. In each content, the hyperlink to the primary source is specified. All trademarks belong to their rightful owners, all materials to their authors. If you are the owner of the content and do not want us to publish your materials, please contact us by email –
[email protected]
. The content will be deleted within 24 hours.