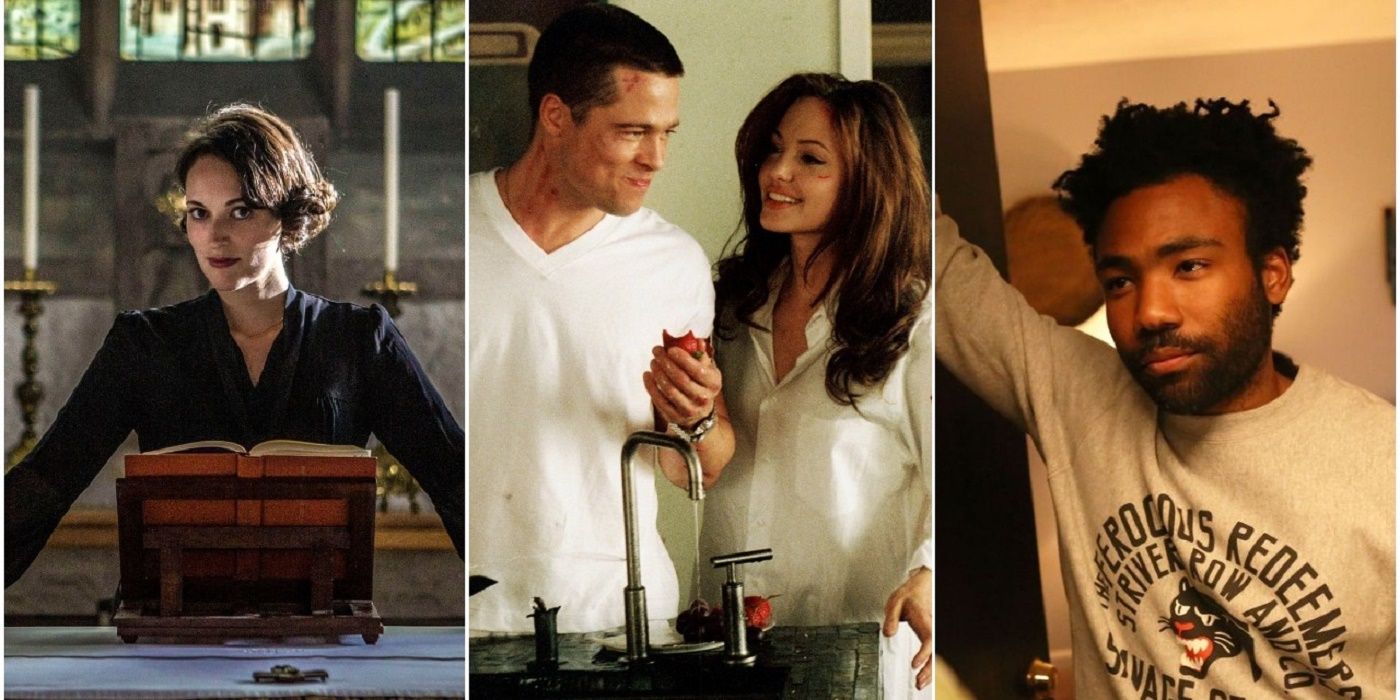 The announcement of the Mr. & Mrs. Smith reboot series created by and starring Donald Glover and Phoebe Waller-Bridge has everybody talking.
The announcement of the  Mr. & Mrs. Smith reboot series created by and starring Donald Glover and Phoebe Waller-Bridge has everybody talking. The series is set to be a reboot of the famous 2005 film of the same name where Brad Pitt and Angelina Jolie played married, rival spies who were unaware of each other's professional identities.
RELATED: 15 Best Quotes From Fleabag
The announcement comes on the heels of the news that Atlanta star Donald Glover has signed a massive, multi-year deal with Amazon. The reboot will be released on Amazon's streaming service and Phoebe and Donald just released a quirky Instagram video announcing the project. Here's everything there is to know about the reboot series.
7

Phoebe And Donald Will Play Brad and Angelina's Original Characters
There is currently a lot of fan speculation over whether Phoebe and Donald will actually play the married assassins that Brad and Angelina famously played in the 2005 action-comedy (Mr. & Mrs. Smith was also the film that cemented the iconic Brangelina romance, as everyone knows). Since the film is being rebooted as a series, it will have the same premise and the two actors have been cast to play the same roles as Brangelina, although they may have different first names and their backstories may be firmed up to make it more relevant. 
6

The Leading Pair Announced The News With A Dance/Motion Video
Was dancing a big part of the 2005 film? Brad and Angelina did have a waltz sequence in a restaurant (where they hilariously tried to hurt each other) but Phoebe and Glover chose to break the news of the reboot with a mini dance video.
RELATED: 10 TV Shows You Never Knew Had 100% On Rotten Tomatoes
Technically only Glover actually danced while a pajama-clad Phoebe simply got up from the bed to do the Mrs. Smith pose near her doorway.
5

Phoebe And Donald Are Executive Producers For The Show
Clearly, the two stars have a lot of faith in the project since they both chose to executive produce the series as well. This is not the first time Donald and Phoebe will be working together; they previously appeared on screen together in Solo: A Star Wars Story, in which Donald Glover played Lando Calrissian, and Waller-Bridge portrayed L3-37. In 2019 BAFTA's Donald awarded Phoebe with the British Artist of the Year award and also made an adorable speech, appreciating her body of work. 
4

Jennifer Salke, The Head Of Amazon Studios Was The One Who Broke The News
Neither Phoebe nor Donald are on Instagram. As a result, the onus of announcing the upcoming series fell on Jennifer Salke, the head of Amazon Studios who raved about the "dream team" in an interview. "Talk about the dream team! Donald and Phoebe are two of the most talented creators and performers in the world. It's truly a dream for us, as it will be for our global audience, to have these two forces of nature collaborating as a powerhouse creative team. Mr. and Mrs. Smith is an iconic property, and we can't wait to see how Donald, Phoebe, and [co-creator] Francesca [Sloane] make it their own. We're thrilled to be working with them, and with such great partners at New Regency," she said. Phoebe and Donald have worked with Amazon previously with Fleabag and the indie film Guava Island respectively.
3

Atlanta Writer/Producer Francesca Sloane Is One Of The Creators
Atlanta writer Francesca Sloane is one of the showrunners for the series. Sloane has also been a producer for Fargo Season 4 and has signed an overall deal with Amazon Studios to develop a series based on the works of Anaïs Nin.
RELATED: 10 TV Shows To Watch On Netflix If You Like Strong Female Leads
Titled A Spy in the House of Love, the half-hour series will be based on the trailblazing works of iconic erotica writer Nin, and will follow a young French immigrant named Sabina who comes to New York on a journey to self-discovery. 
2

The Series Will Release In 2022
The Mr. and Mrs. Smith Series is scheduled to release in 2022. Phoebe has been busy with finishing up the script for the upcoming Bond film No Time To Die and has also essayed the role of a daemon named Sayan Kotor on the HBO show His Dark Materials. Donald is reported to have signed a multi-year, eight-figure deal with Amazon where he will executive produce multiple projects. He recently brought in Malia Obama to join the writer's room of his upcoming Amazon project Hive, a series that is rumored to be about a Beyoncé-like personality.
1

This Is Not The First Attempt For A Mr. & Mrs. Smith
In 2007, a pilot for a spin-off series to the 2005 film was made for ABC, which was set six months after the end of Mr. & Mrs. Smith, and was written by Simon Kinberg and directed by Doug Liman. The roles of John and Jane Smith were played by Virgin River star Martin Henderson and Jordana Brewster but that pilot never really took off. In 2010, Angelina Jolie revealed that she was keen on developing something along these lines, but Mr. & Mrs. Smith 2 never really happened. "We did ask somebody to look into Mr. & Mrs. to see if they could crack a sequel, but there wasn't anything original. It was just, 'Well, they're going to get married, or they've got kids, or they get separated.' Never great," she said.
NEXT: 10 Action Movies To Watch If You Liked Bridge Of Spies

Next
Walt Disney World: Which Attraction Should You Ride, Based On Your Chinese Zodiac Sign

About The Author
Follow us on Google News
Read original article here