In Call of Duty Modern Warfare 2, every primary and secondary weapon has unique qualities that make each weapon stand out from its peers in the same category. For secondary weapons, the .50 GS stands out due to its higher damage output and average fire rate compared to the slower-firing Basilisk revolver and the lower-damage X12, X13 Auto, and P890.
Related: Modern Warfare 2 M16: How To Unlock & Best Attachments
With the right attachments and loadout, the .50 GS, unlocked at player level 13, is capable of becoming a genuine threat against enemies in online multiplayer matches.
Best Attachments For The .50 GS
Attachments
Pros
Cons
SA TYRANT FIFTY (BARREL)

Damage Range
Bullet Velocity
Hip Fire Accuracy
Recoil Control

Aim Down Sight Speed
Hip Recoil Control
Movement Speed

SA HARE TRIGGER (TRIGGER ACTION)

Sprint to Fire Speed
Aiming Idle Stability

.50 PISTOL OVERPRESSURED +P
GS .50 WOOD GRAIN

Pistol Fastdraw
Sprint to Fire Speed
Aim Down Sight Speed

10 ROUND MAG

Movement Speed
Aim Down Sight Speed
Reload Quickness
Sprint to Fire Speed
This attachment setup is designed to have the .50 GS operate less like a run-and-gun submachine gun, and instead operate like a methodical and precise Battle Rifle. Similar to weapons like the FTAC Recon or Lachmann-762, the .50 GS works best when fired slowly and accurately, as opposed to spray and pray secondary weapons like the X13 Auto. These attachments give players a weapon that is accurate, hard-hitting, and quick to swap to during gameplay. The SA TYRANT FIFTY barrel attachment offers extended damage range, reduced recoil, and faster bullet velocity, allowing players to more easily land devastating damage at further away enemies. Paired with the SA HARE TRIGGER increasing the fire rate and .50 PISTOL OVERPRESSURED +P ammo type inducing extra target flinch onto enemies, the .50 GS will be able to fire at a solid rate and disorient enemies' accuracy at longer ranges than most other secondary weapons in the game. The 10-ROUND MAG magazine extension has minor debuffs towards reloading and movement speed, but offers an additional 2 rounds per magazine, which can save a player during heated firefights where more than 8 rounds are needed.
To complement the methodical nature and slower-than-average fire rate of the .50 GS, the GS .50 WOOD GRAIN grip grants the Fastdraw ability for the weapon. Instead of an entire animation playing out where a player slings their primary weapon to the side and draws their secondary with both hands, the Fastdraw ability plays an alternate animation where the player character quickly drops their primary weapon into their elbow and draws their secondary weapon with one hand. This animation is much faster and allows on-the-spot weapon swapping should your primary weapon run dry, or you want to switch to your secondary exclusively and wish to do so as soon as possible.
RELATED: Modern Warfare 2 & Warzone 2 FSS Hurricane: How To Unlock & Best Loadout
Best Perk Package For The .50 GS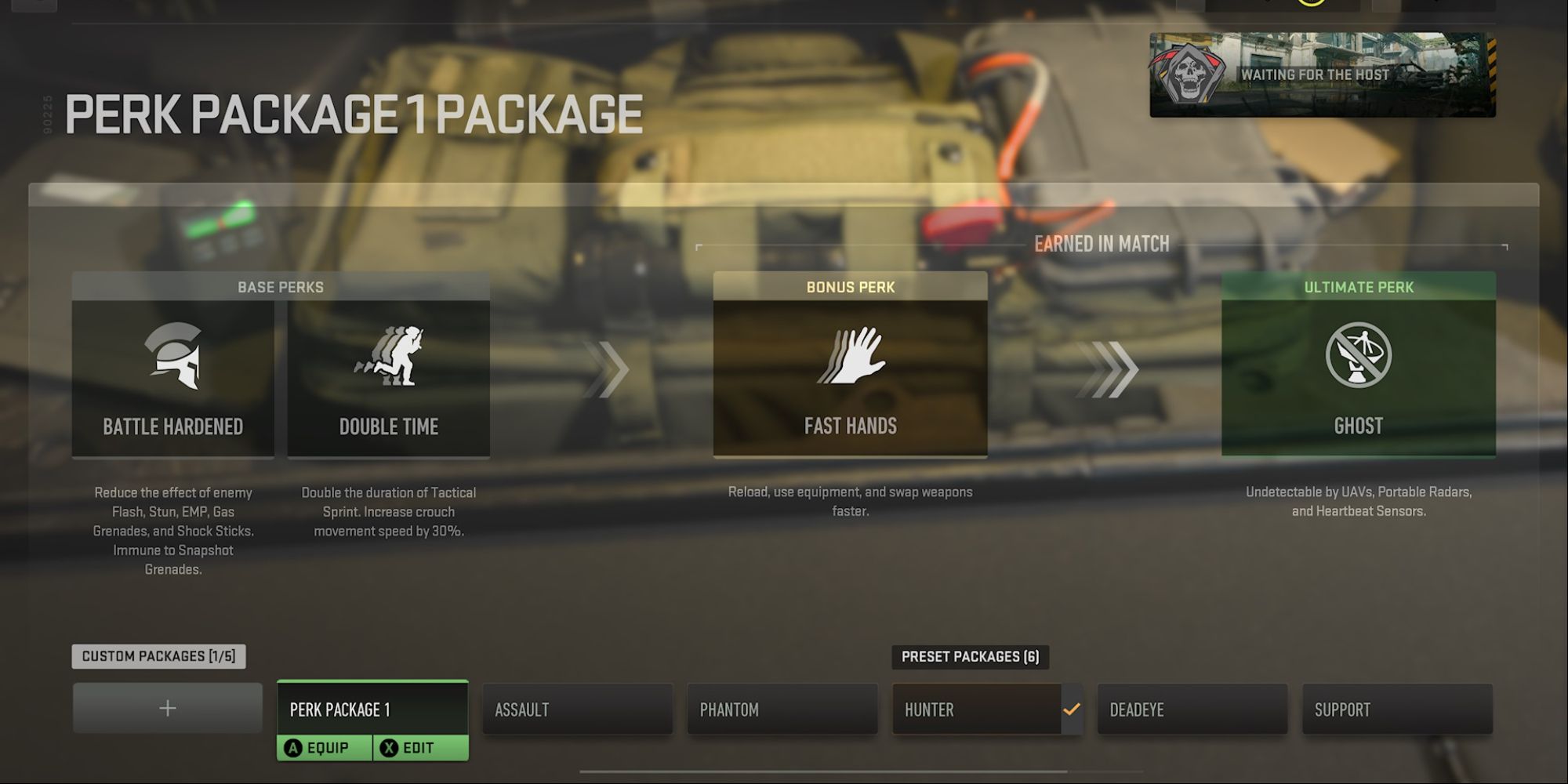 | | | |
| --- | --- | --- |
| Base Perks | Bonus Perk | Ultimate Perk |
| Battle Hardened & Double Time | Fast Hands | Ghost |
The .50 GS works best when players can rapidly move from enemy to enemy and keep one step ahead of the opposition. The Base Perks of Battle Hardened, reducing the effects of thrown enemy equipment and granting immunity to snapshot grenades, and Double Time, which doubles tactical sprint's duration and increases crouch movement by 30%, will allow players using a secondary-only play style to better outmaneuver enemy players and mitigate their equipment's effectiveness. The Bonus Perk, earned near the match's halfway point, Fast Hands, is essential for players using slower-firing and or low-capacity weapons in multiplayer.
The Perk increases reload speed, equipment use speed, and weapon swap speed, allowing players to continually load, swap to and fire the .50 GS more consistently. The Ultimate Perk, Ghost, is one of the most commonly used perks in its category and allows safer traversal of Modern Warfare 2's various multiplayer maps. It grants players immunity to UAVs, Portable Radars, and Heartbeat Sensors, keeping players off enemy radars and allowing players to effectively utilize hallways, corners, and map shortcuts without having their position repeatedly pinged on enemy mini-maps.
Primary Weapon Recommendations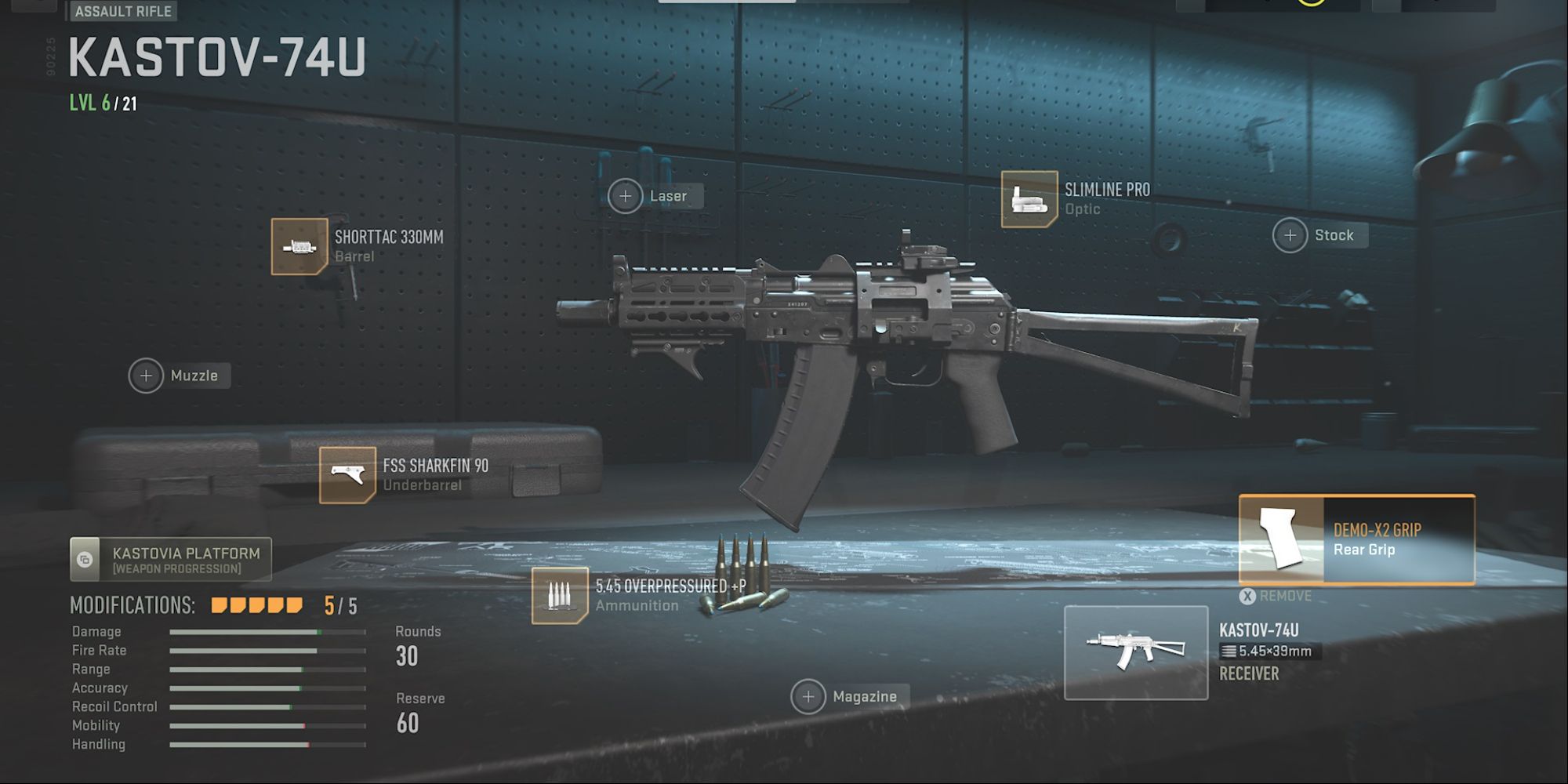 With the .50 GS being the player's primary weapon, the actual primary weapon slot is open to a variety of different weapons. Since the .50 GS is slower firing and requires more precise aiming, a middle-of-the-road primary weapon like the Kastov-74U assault rifle would best serve players that find themselves having to swap weapons and play styles at a moment's notice. The Kastov-74U offers solid damage and controllable recoil at most ranges, allowing it to operate as a jack-of-all-trades backup weapon for players. With the ability to remove the stock, increase the magazine capacity and change the barrel length, the Kastov can be modified to serve a variety of play styles for players wanting a reliable backup weapon to complement the .50 GS handgun.
Next: Modern Warfare 2 and Warzone 2 MCPR-300: Best Attachments & Best Loadout
Denial of responsibility!
Gamers Greade is an automatic aggregator of the all world's media. In each content, the hyperlink to the primary source is specified. All trademarks belong to their rightful owners, all materials to their authors. If you are the owner of the content and do not want us to publish your materials, please contact us by email –
[email protected]
. The content will be deleted within 24 hours.