Want to use the Scarlet Witch in Midnight Suns but don't know which cards are best? This guide can help.
With a huge cast of the most iconic Marvel characters around, Marvel's Midnight Suns also features explosive turn-based action and a unique story set in the Marvel Universe. Midnight Suns players can take over characters like Captain America, Spider-Man, and even the master of chaos magic herself, the Scarlet Witch.
RELATED: Midnight Suns: Best Magik Build
In the game, Scarlet Witch is a damage dealer that focuses on a unique mechanic where Wanda can affect enemies and allies within a radius around her. Her reality-changing powers show up in Midnight Suns as damage, explosions, buffs, debuffs, and even some minor heals. Getting the Scarlet Witch's build to where it works best isn't easy though, so here is a simple guide to the best card build and how to use it.
Best Scarlet Witch Build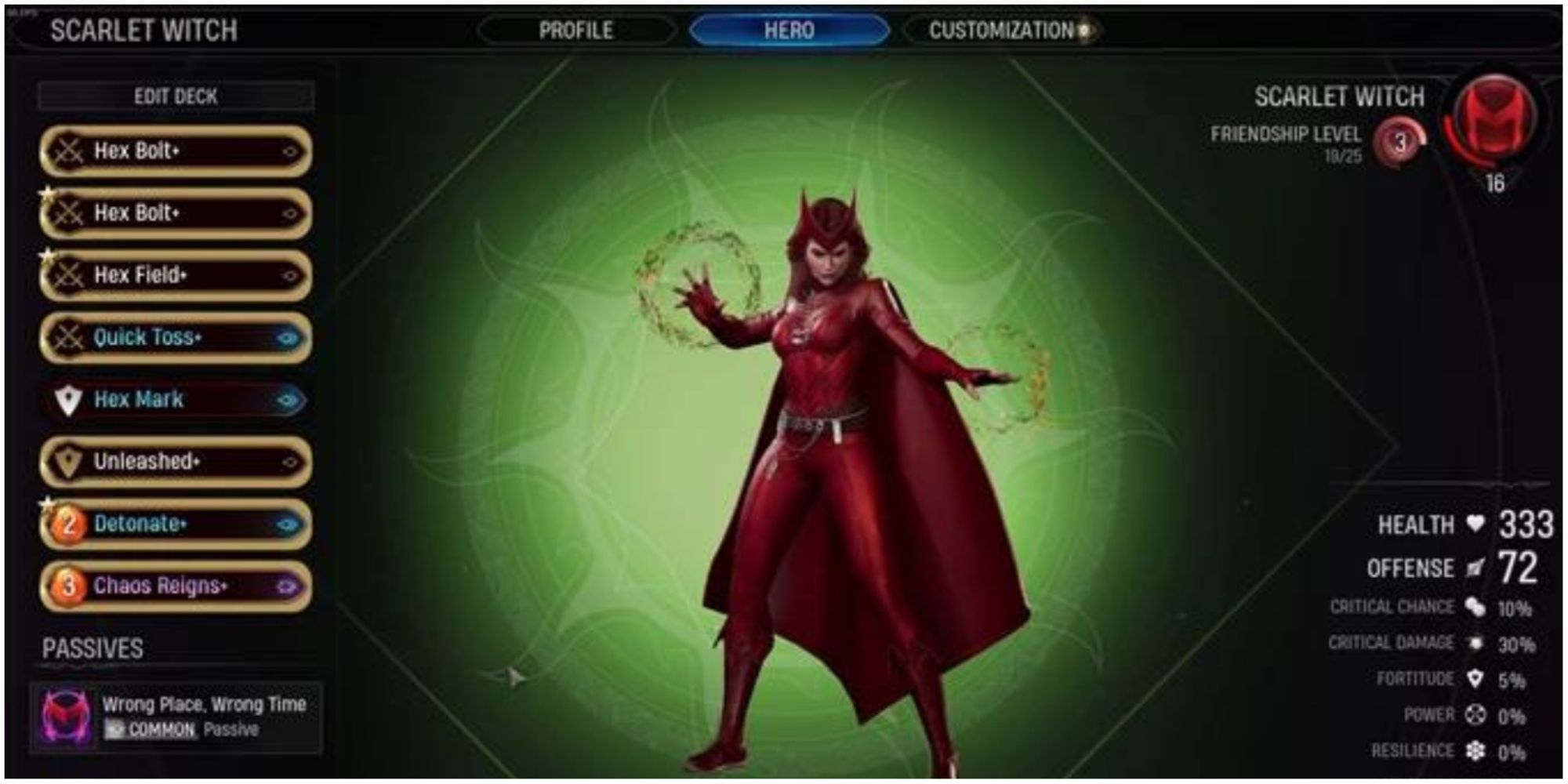 | Card | Description | Type | Heroism |
| --- | --- | --- | --- |
| Hex Field | Damage each enemy near Scarlet Witch. | Attack | +1 |
| Quick Toss | Knockback. Quick. | Attack | +1 |
| Chaos Field | For the next 2 turns, allies near Scarlet Witch gain 1 Resist at the end of the turn. | Skill | +2 |
| Hex Mark | Apply 2 Marked to each enemy in an area. | Skill | +2 |
| Chaos Reigns | Select an area. Enemies within the area attack each other. | Heroic | -3 |
| Hex Bolt | Chain 1. Give all Hex Bolt cards +1 Chain. | Attack | +1 |
| Hex Charge | Target an enemy to explode at start of their next turn for 58 damage. If KO'd, they explode for 58 damage. | Heroic | -3 |
| No More | Consume all Health to damage each enemy near Scarlet Witch. Exhaust. | Heroic | -6 |
RELATED: How Long Does It Take To Beat Marvel's Midnight Suns
How This Scarlet Witch Build Works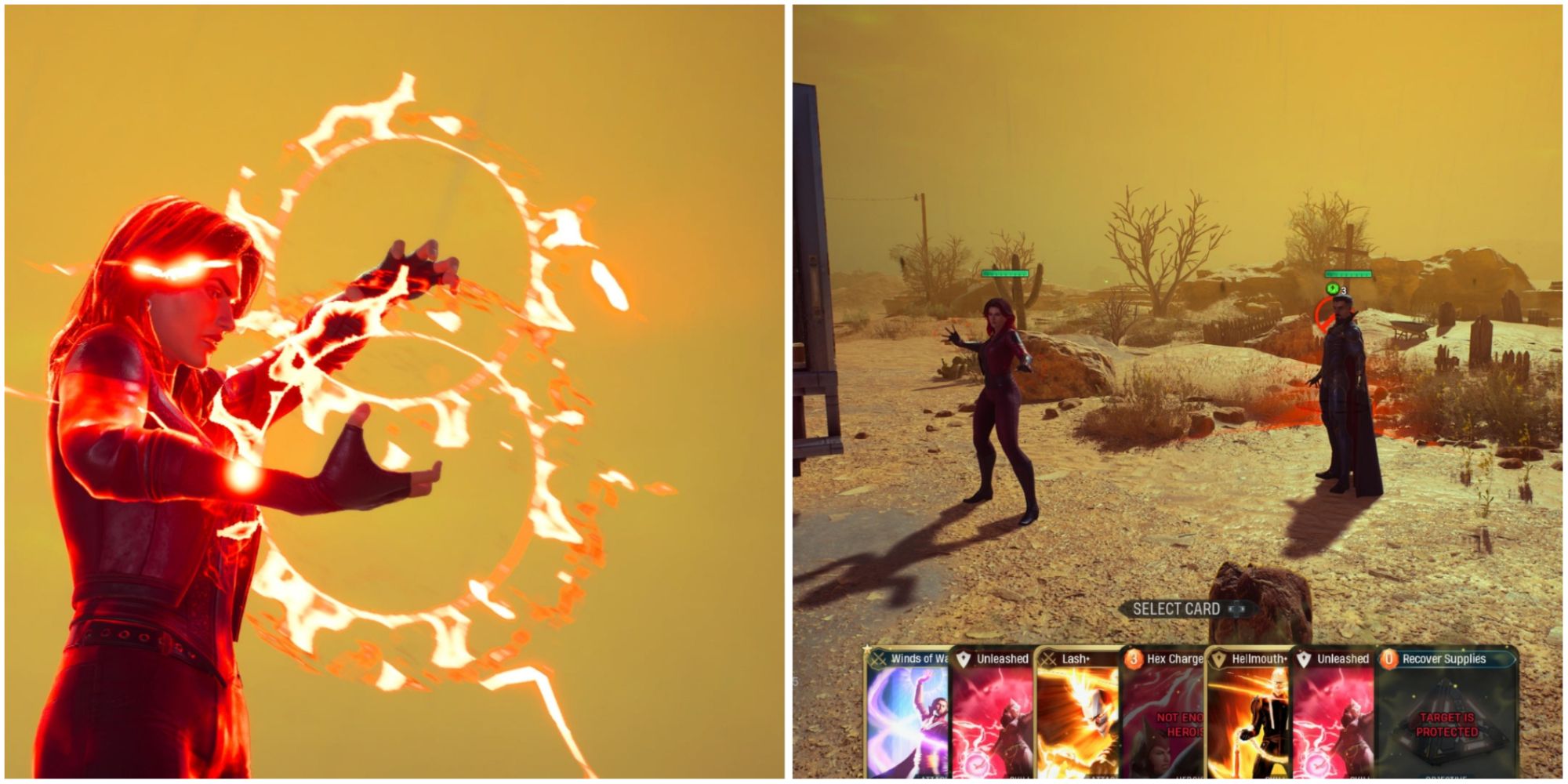 Scarlet Witch does large amounts of damage in the game and specializes in area-of-effect abilities. She has a completely unique mechanic in how most of her spells work within a certain distance around her. The red circle of the range of her basic spells can be seen anytime Wanda is highlighted and moving her around the battlefield is an activity that needs close attention. In order for Scarlet Witch to be at her best, she will often take up each turn's Movement, so players can help compensate with mods and Combat Items like Agility Serum. Some spells, like Choas Field, help Scarlet Witch support her teammates and the upgraded version has a handy heal added. Overall, Wanda's strategy is to get close to enemies and survive long enough to cast some of her more potent spells.
Abilities like Chaos Reigns, Hex Charge, Hex Field, and No More make her kit aimed at surviving long enough to take out some major threats. No More is Scarlet Witch's strongest ability and is a last-ditch effort to do an enormous amount of damage that will KO Scarlet Witch after using. So players should do their best to save up a Revive if Wanda's Legendary Card didn't grant a victory. Due to her main damage coming from her Heroic abilities, her Attack and Skill cards can be personalized and stacked according to players' preferences. For example, the Knockback from Quick Toss can be sacrificed for the bonus Chain from putting two Hex Fields in her deck, if Quick Toss doesn't seem as useful. Overall, Scarlet Witch is a great character to have on a strike team because her aoe damage and unique abilities make her an awesome tool to add to the kit of Midnight Suns.
Best Scarlet Witch Team-Ups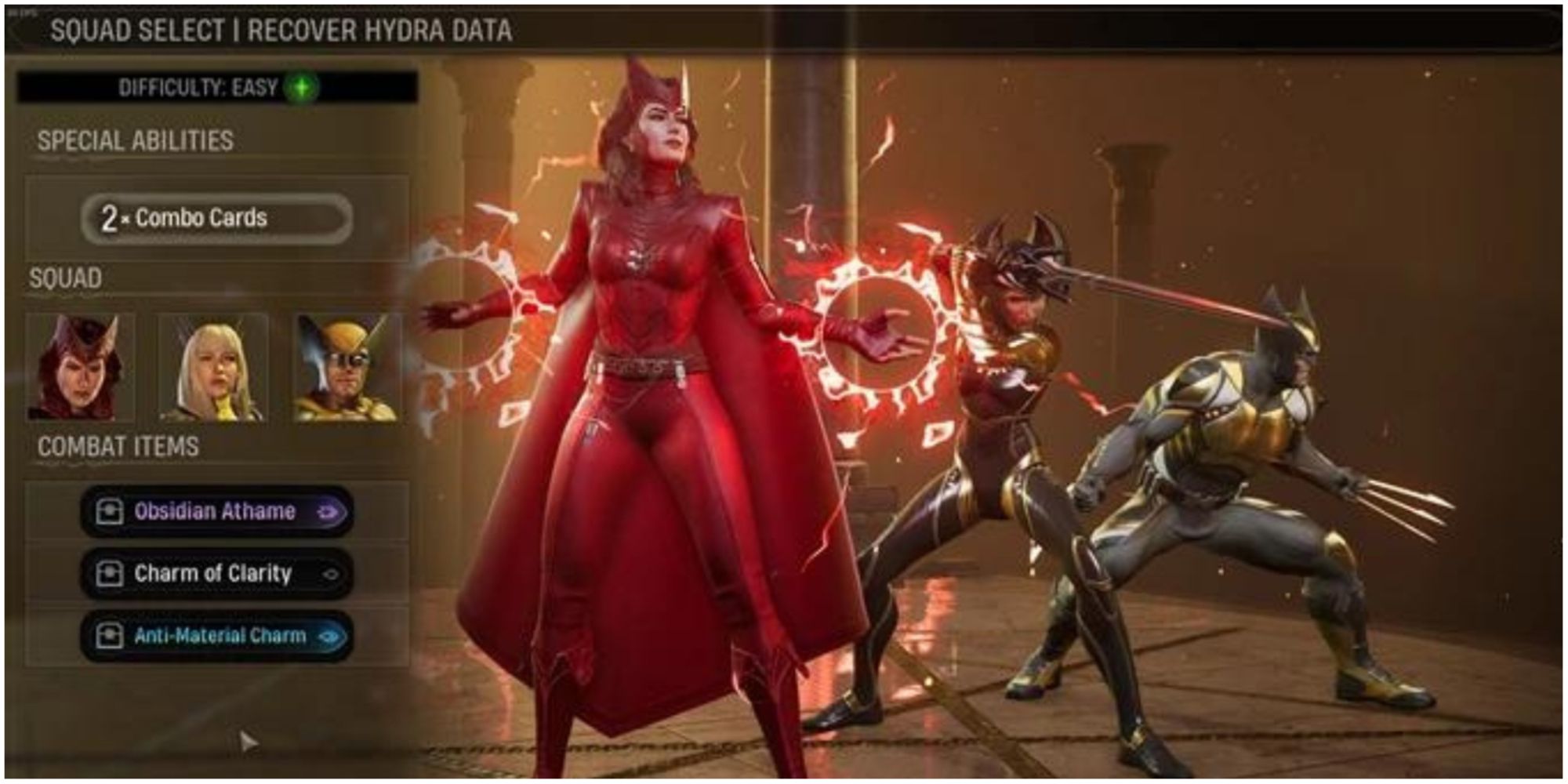 Factoring in her unique chaos magic mechanic, there is a case to be made for Scarlet Witch being one of the best damage characters in the game. Unlike other superheroes, Scarlet Witch presents a completely unique skill-set that gives players an incredible amount of options and utility in how they eliminate enemies on the battlefield. Between getting the strongest enemies to attack each other and using all of her own life to do insane damage via her Legendary Ability, Scarlet Witch presents huge amounts of damage and options of how to deal it. Due to her squishy HP bar, however, pairing her up in the classic combo of healer-damage-tank is generally the best approach.
The longer Scarlet Witch can stay alive, the more potent the use of her Legendary Ability can be. So players should try to pair her with healers like Hunter and Nico, with even Doctor Strange giving her a good amount of support with his Conceals. Tanks like Captain America, Wolverine, and Hulk go great with Scarlet Witch too. She can also make some interesting combos with other damage characters like Iron Man, Captain Marvel, and Magik, who can move enemies into Scarlet Witch's area for maximum chaos magic damage.
NEXT: Midnight Suns: Best Hunter Build
Denial of responsibility!
Gamers Greade is an automatic aggregator of the all world's media. In each content, the hyperlink to the primary source is specified. All trademarks belong to their rightful owners, all materials to their authors. If you are the owner of the content and do not want us to publish your materials, please contact us by email –
[email protected]
. The content will be deleted within 24 hours.