Entertainment
Kim Kardashians' Kids Play With Hot Stove in Cooking Video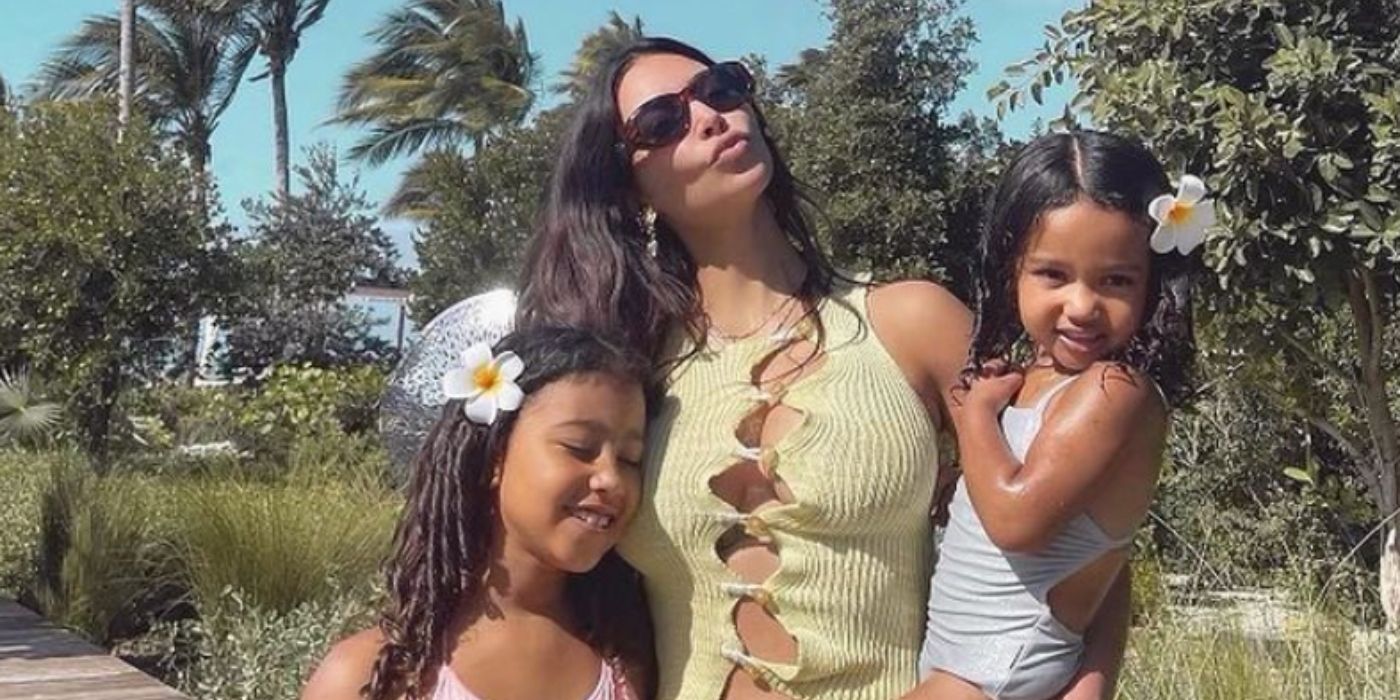 Fans are bashing Kim after she posted a video of North, Chicago and Dream cooking Ramen. The girls were seen getting dangerously close to the fire.
As if filing for divorce from Kanye West wasn't enough drama, Kim Kardashian is now being mom-shamed over a video she recently posted on her Instagram Story. The Keeping Up With the Kardashians star showed off her daughters and niece cooking in the kitchen, leaving fans outraged by all of the safety issues. She has been posting about her four kids quite often lately as she seems to be focusing much attention on them in the midst of her divorce drama.
After showing off her kids and their talents to such a large audience, there are plenty of opinions…and not all of them nice. This is not the first (and most certainly won't be the last) time Kim has been under fire for her parenting ways. Earlier this month, Kim was bashed after she posted a photo of North's impressive landscape painting. Fans were quick to assume that Kim was lying and North did not actually paint the photo herself. Kim later came to the defense of her daughter, as any good mom would, shutting down all of the haters.
Continue scrolling to keep reading
Click the button below to start this article in quick view.
Related:KUWTK: All the Reasons Why Fans Dislike Khloe Kardashian's IG Posts
First painting, now cooking. Late last week, Kim Kardashian posted a video on her Instagram Story while her oldest daughter North was cooking dinner. With the help of her younger sister Chicago, 3, and cousin Dream, 6 years, "Chef North" was seen cooking up some Ramen noodles. As North adjusted the fire on the stove, checking to see how her food was coming along, Chicago and Dream were sitting on the counter quite close to the open flames. Kim nonchalantly mentioned to the girls to not get too close to the stove, as they both got off the counter top. There was in fact an unknown teenager (potentially a babysitter) assisting the girls.
Fans were quick to bash Kim's parenting skills, as the video looked to be potentially dangerous for the young girls. Many agreed their "heart stopped" watching as the girls got closer and closer to the fire and boiling water. It was assumed that Kim only told the girls to not be near the fire for the sake of her Instagram Story, since she most likely knew she would get criticized. This was "not a good example" to set for others as having such young children near an open flame is quite "dangerous." Not only were the kids too close to the flame, the paper wrapper for the Ramen came awfully close as well. One hater joked that the "West kids are untouchable," as it seems standard safety rules don't apply to them.
Since Kim Kardashian has lived much of her live in the spotlight thanks to her family's hit show Keeping Up With the Kardashians, there is no doubt she is use to the constant critiques she receives. She is not alone. Her younger sister Kylie Jenner was recently mom-shamed for allegedly putting makeup on her 3-year-old daughter. While this comes with the fame, Kim, as well as the rest of her siblings, seems to be trying their best to balance their busy life with parenthood. Luckily enough, none of the kids got hurt during their cooking fun. Hopefully they all, Kim included, will learn a lesson for next time.
Next:KUWTK: Kourtney Kardashian Photoshops Self into Sister's SKIMS Shoot
Source: KimKardashianSnap/Instagram, Kim Kardashian/Instagram
Power Rangers: The New Green Ranger Is Angel Grove's Last Hope
About The Author
Follow us on Google News
Read original article here