Somerville is a cinematic platformer made by Jumpship, telling an atmospheric story about a man who sets out to reunite with his family following an alien invasion of planet Earth. Storywise, the game borrows from some great sci-fi like War of the Worlds and Arrival. The game is made by Jumpship, a studio founded by Dino Patti, who previously co-founded Playdead, the studio behind Limbo and Inside.
RELATED: Somerville Review
True to those games, Somerville is a game without words or writing, instead telling its story through powerful images and — as the case may be — colored lights. Unlike its spiritual predecessors, however, Somerville has several endings. While four of the five are fairly easy to attain, only one of them can be described as a 'Good' ending, which is actually quite hard to get. Here's how to achieve each one of Somerville's five different endings, including that elusive good one.
Resignation
The first ending to Somerville occurs quite late in the game — Chapter 13 — during the flashback sequence. After lifting the rubble off the starship trooper and absorbing his power, you walk to the right, and then you use a fuse to melt down a wall and walk towards the background. Eventually, you come across your partner and child sitting on a couch. They're not at home, however, and are surrounded by that abstract alien matter that you interact with through much of the game.
That couch looks so inviting and cozy, doesn't it? Well, if you sit down on the couch, then you get the first possible 'bad' ending of the game. You sit down with your family, the screen fades to black, then fades back in to show you alone on the couch, slumped and looking up at the sky.
You could be dead, but the achievement for this ending suggests you're simply resigned, and by settling for this vague simulacrum of your family, you've failed.
There's actually a 2nd way to 'achieve' this ending. Towards the end of Chapter 12, when you're first freeing people from the alien pods, you eventually fall through the floor into the sea, then swim up to find yourself in an area similar to one from earlier in the game. Keep going right, and eventually you'll see a couch where you can, again, sit down and stay there for the Resignation ending.
Resignation Reprise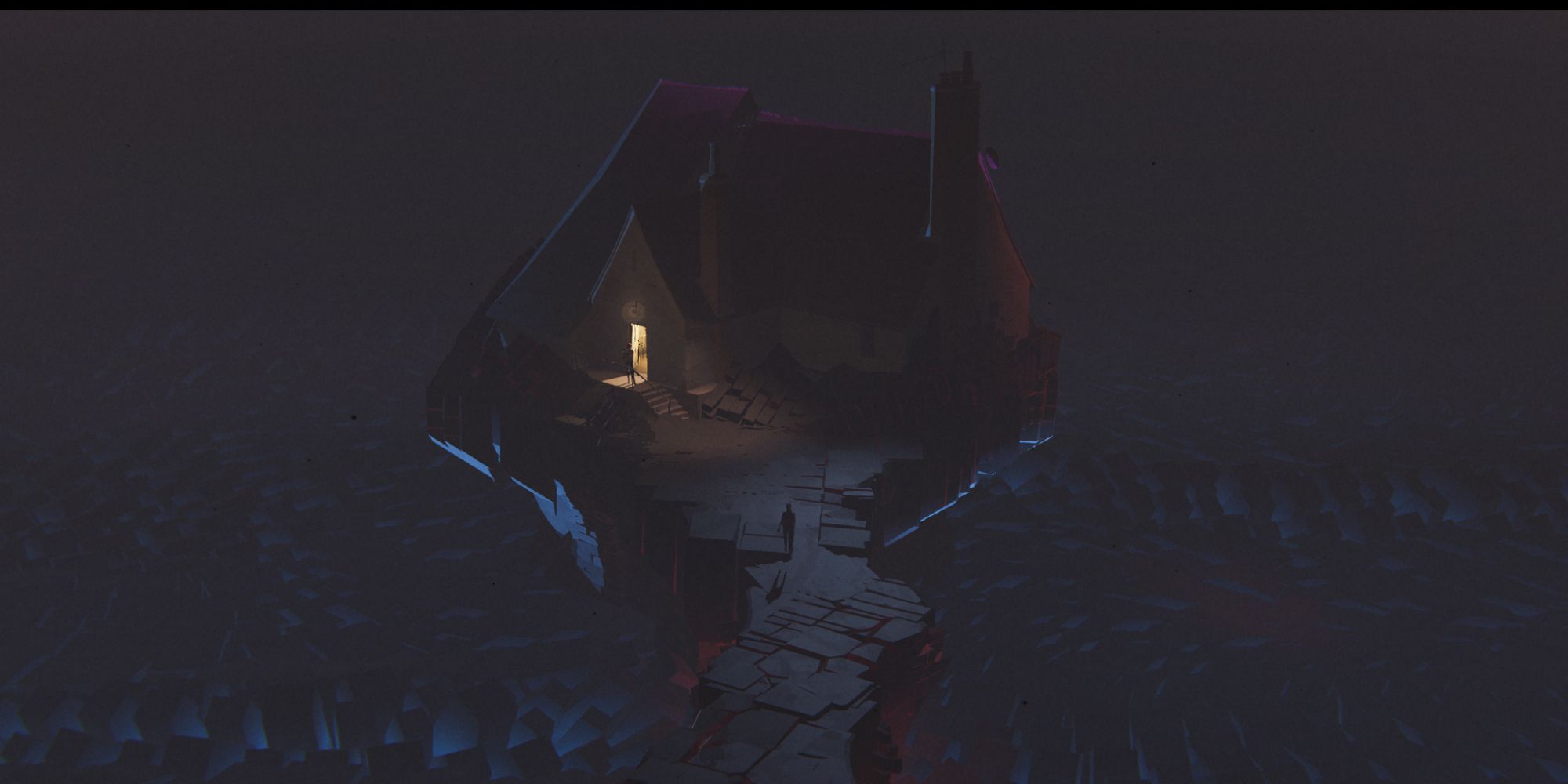 Thematically, this ending is pretty much a twist on the first 'bad' ending, hence the 'Reprise.' In the final scene of the game, where you're communicating with the three giant alien obelisks, there are several different 'signals' you can send back to them, and depending on what you do, they'll present you with different ending possibilities.
The easiest one occurs by simply repeating back the same colors they communicate to you. Below is the sequence used to get this ending.
We had to do the same sequence back and forth three times, which seemed a little buggy, but whether you need to do it one or three times, it should eventually work.
Remember to enter these sequences after the aliens communicate their sequences. Treat these as responses to the aliens' questions.
Blue, Red, Blue
Blue, Blue, Red
Blue, Blue, Red
Blue, Blue, Red
Eventually, your house from the start of the game will emerge from the ocean in front of you. Walk towards the house, and the door will open, with your partner and kid standing there to greet you. Go into the house, and you'll get this ending.
Again, the game suggests this is a fake reality you're walking into, and therefore not a 'good' ending.
RELATED: It's Been A Great Year For Weird Indie Games On Game Pass
War Of The Worlds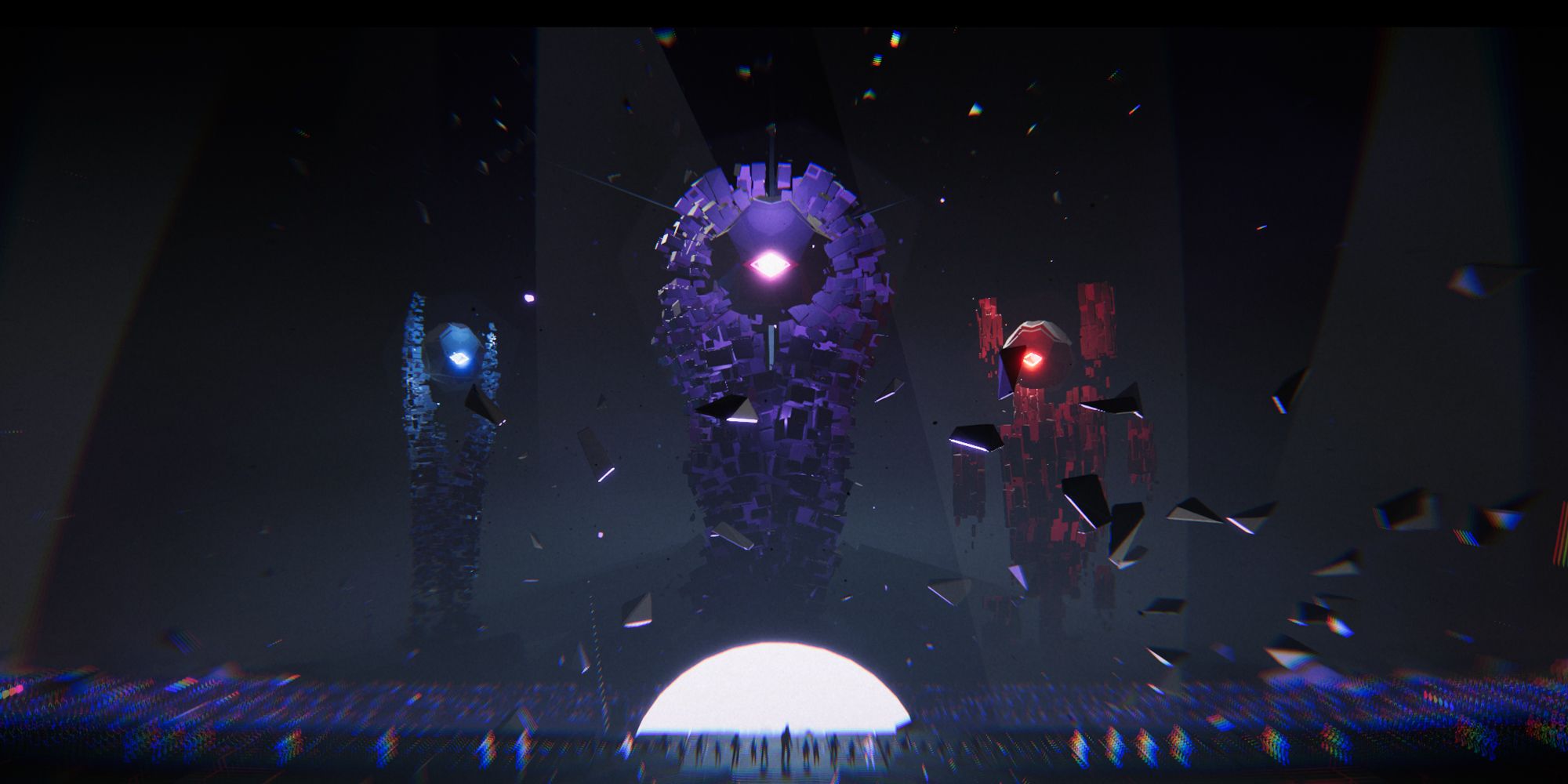 Had enough of the alien tyranny, your family, and the whole world? Well, why not just tear it all down then?
When communicating with the alien obelisks in that final scene, you simply need to do the following to bring about the destruction of both the obelisks and — it's implied — the whole planet:
When communing with them, at any time hold LT+RT for a good 10-15 seconds until everything blows up and fades to black. That's it. Everyone loses.
Family First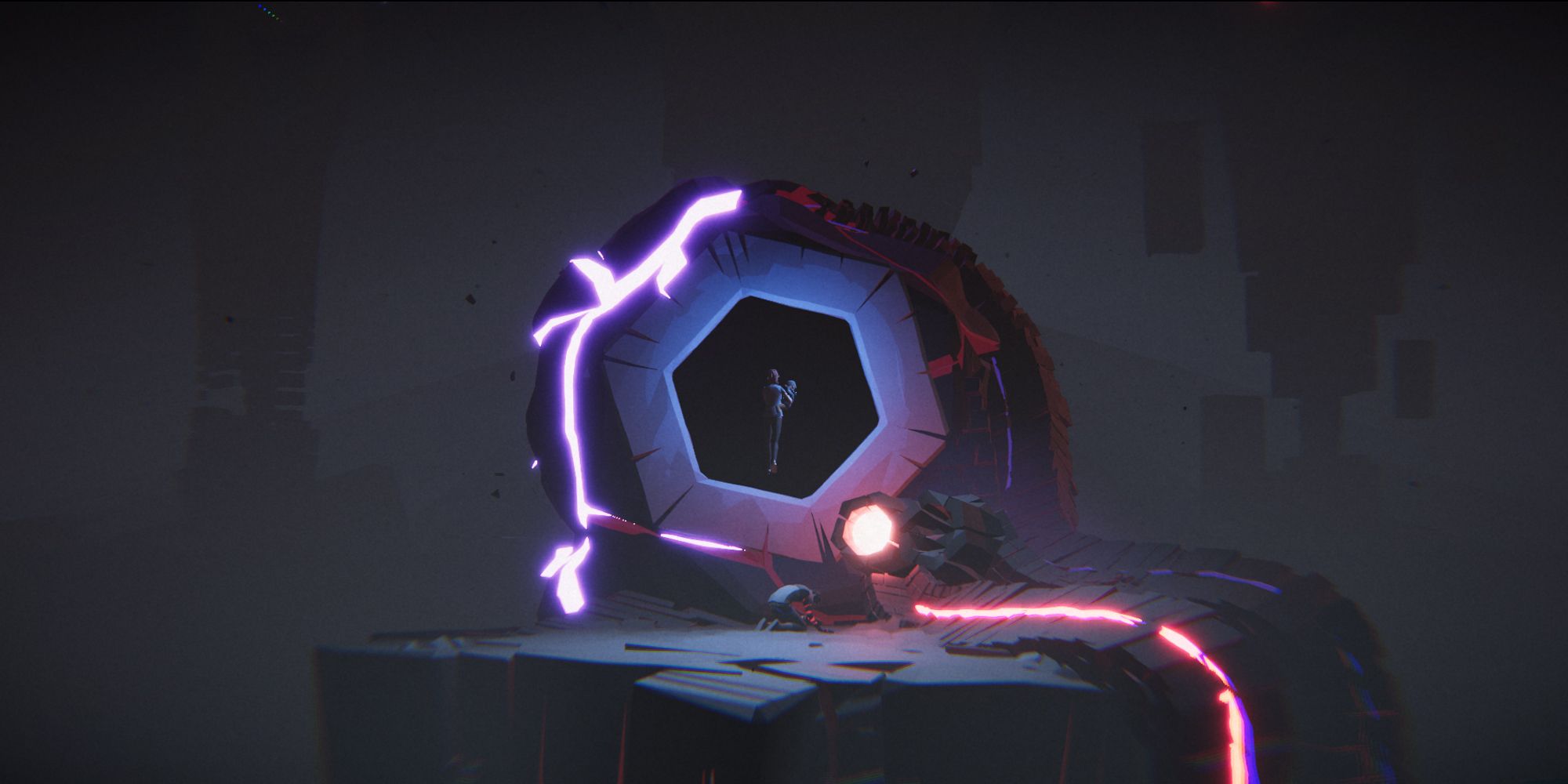 To get this ending, enter the following sequence in response to the aliens:
Blue, Red, Blue
Blue, Blue, Blue
Upon doing this, one of those pods holding people captive emerges from the ocean in front of you, this time containing your partner and child (but where's the dog?).
Walk up to the pod, then activate the blue switch using your blue power, then the red switch using your red power, and finally the purple switch by combining the powers.
Your wife and child will get released from the pod, but at great cost. Doing so has taken everything out of you, and it seems that you don't survive the process, leaving your wife and child all alone. Bleak.
Understanding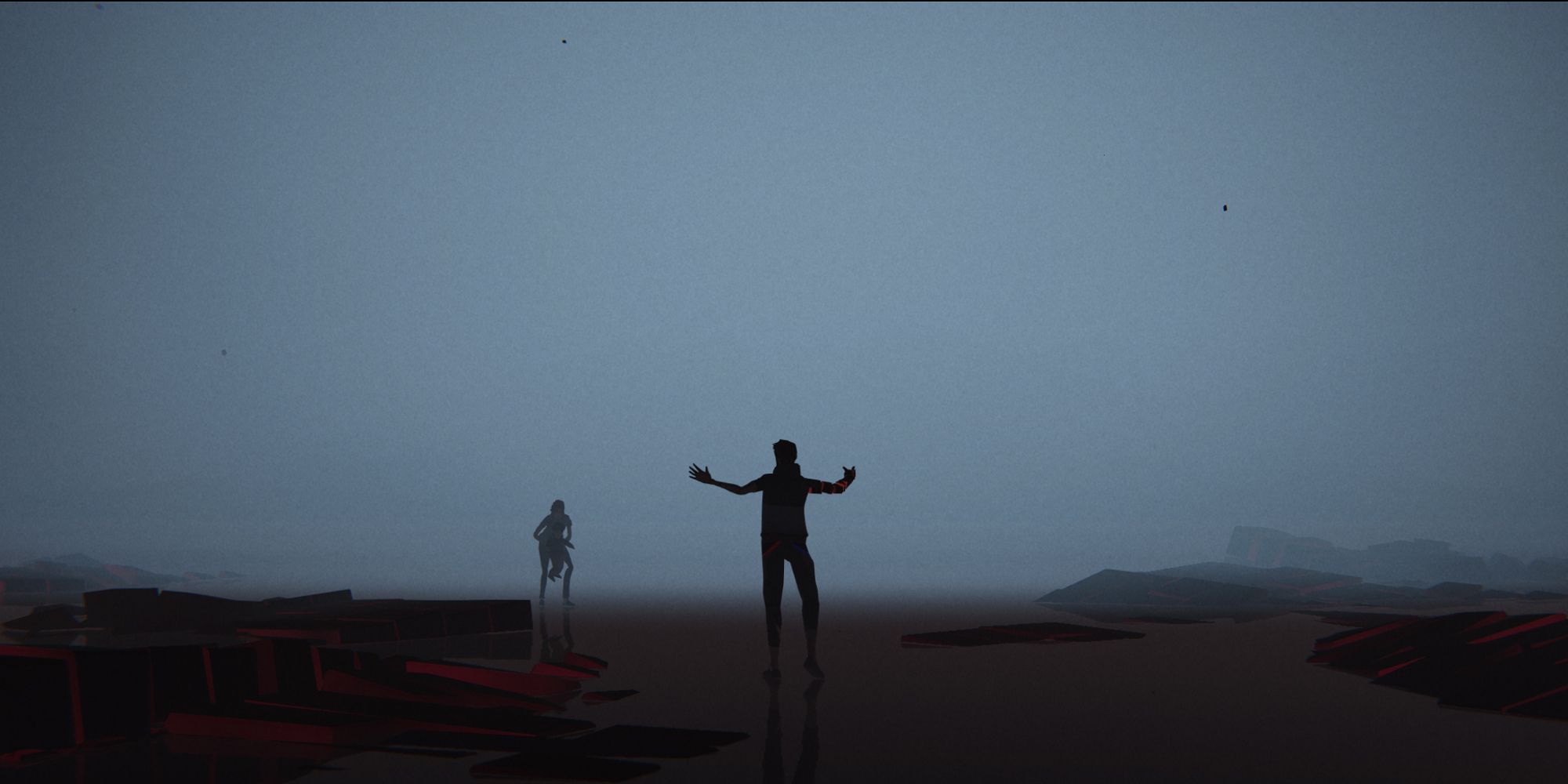 Finally, we come to the good ending of Somerville, which can technically be learned if you're really attentive and watch what those little metal balls early in the game communicate to you. You'll find that those sequences of lights they give off actually mean something, and you can then use that knowledge to get the good ending: Understanding.
It's very obscure to decipher, however, so to keep things simple, here are the color sequences you need to do in response to the aliens:
Blue, Red, Blue
Blue, Blue, Blue, Purple, Purple, Purple
Blue, Blue, Blue, Red, Purple, Purple
Purple, Purple, Purple, Blue, Purple, Purple
With this, the aliens disappear, and you're reunited with your wife and child. Again, you may be left wondering where the dog is. For that, you'll need to watch past the credits for the final shot of the game.
NEXT: 007: From Russia With Love Is Like A Cold War John Wick Game
Denial of responsibility!
Gamers Greade is an automatic aggregator of the all world's media. In each content, the hyperlink to the primary source is specified. All trademarks belong to their rightful owners, all materials to their authors. If you are the owner of the content and do not want us to publish your materials, please contact us by email –
[email protected]
. The content will be deleted within 24 hours.