Quick Links
Moder, Mother of Dragons, is one of the more terrifying bosses you'll face in Valheim. A bona fide dragon flying effortlessly above the snowcapped mountain peaks — how are you meant to kill that with nothing but an axe and some flimsy armor?
RELATED: Valheim: How To Find & Clear Frost Caves
No matter how terrifying this fight may seem, you can kill Moder as long as you come prepared, and if you haven't even found her yet, don't worry! She's also one of the hardest bosses to find and summon. Keep reading to learn everything there is to know about seeking out, summoning, and killing Moder.
How To Find Moder
Moder is easily the most elusive boss in the game. Not only is her Vegisvir rare, but she also tends to be located in the largest Mountain biomes on the map — unless you've explored everywhere, you won't know where you should look. On top of that, her altar is significantly smaller than most bosses and can be incredibly easy to miss.
As painful as it might sound, the best way to find Moder is to simply look for a Vegisvir. They spawn in Frost Caves and towers scattered through the Mountains that contain Skeletons.
If you want to look for her without a Vegisivir, your best bet is to climb to the highest peak in any given Mountain biome and look down the slopes. Her altar has a bright red rune that faces straight up, so if you see red, you may have found it.
How To Summon Moder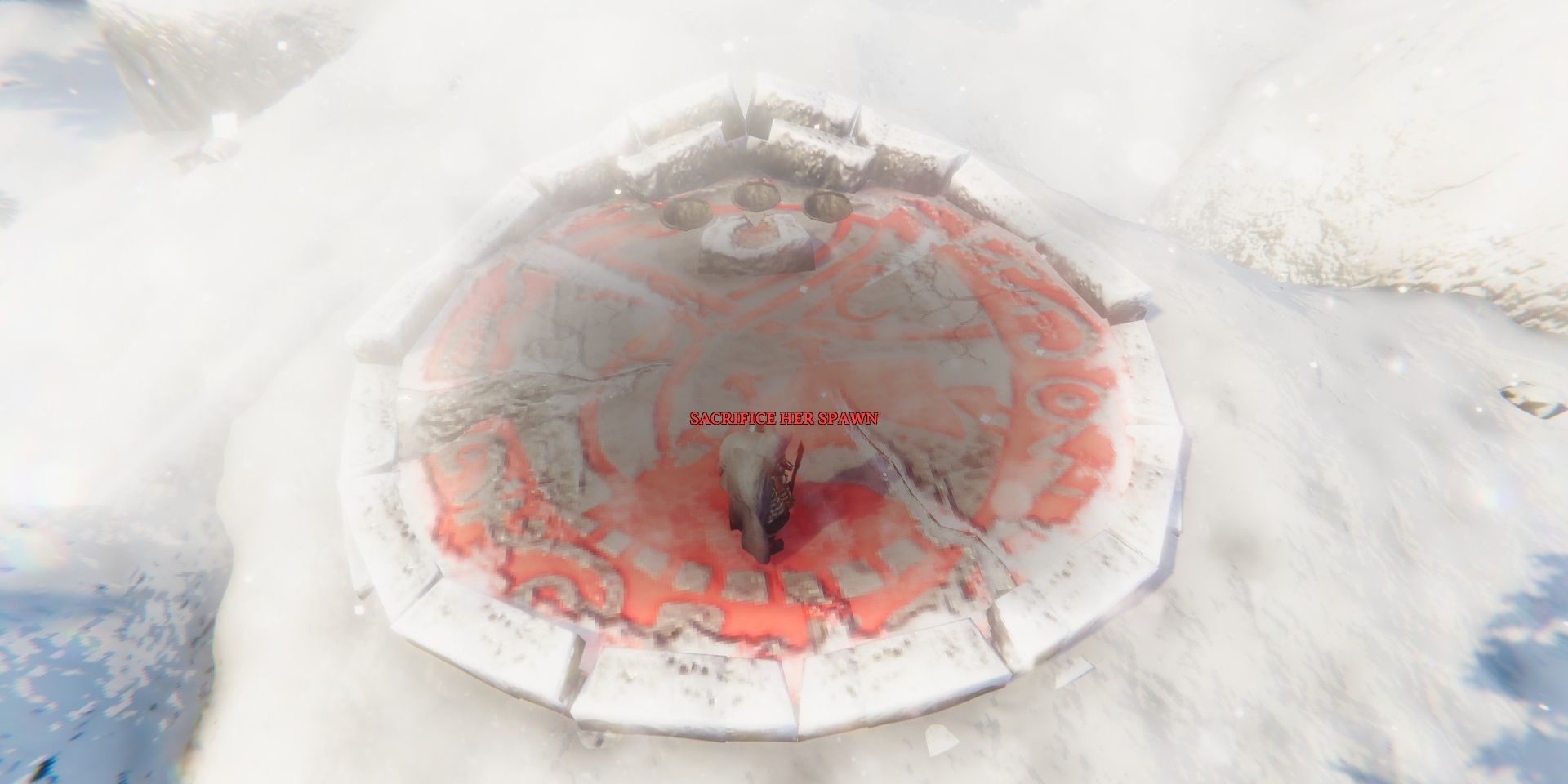 Summoning Moder is a lot more involved than other bosses in the game. Unlike Bonemass and the Elder, she doesn't need an item that drops from enemies or can be found easily in dungeons. Instead, you'll need to carry three Dragon Eggs to her altar before you'll be able to fight her.
Once you're there, you can put the eggs in slots at the front of the altar and interact with the small stone in front of the slots. The sky will turn red, and Moder will spawn nearby. But how do you get Dragon Eggs in the first place?
Getting Dragon Eggs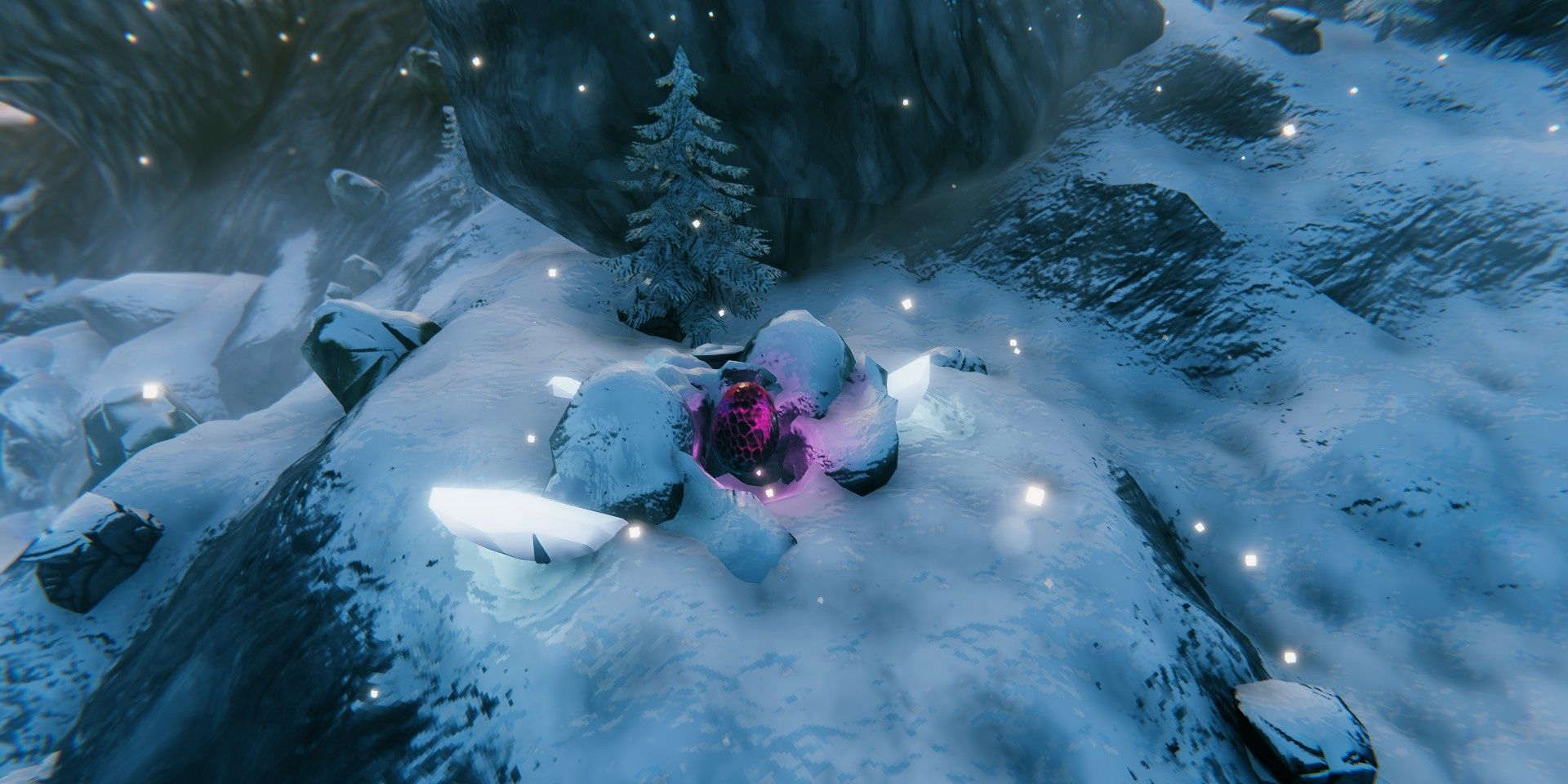 Dragon Eggs are probably the most annoying summoning item in the game. They only spawn in randomly placed nests, can't be teleported, and weigh a whopping 200 pounds each. These nests look like recessed pockets of rocks surrounded by crystals and an ominous purple glow.
You can interact with the egg to pick it up, but you'll have to deal with the Drakes that spawn around the nest first. Thankfully, Dragon Eggs can respawn, so even if you've only found one nest, you can still beat Moder — you'll just have to wait a bit longer to summon her.
The Long Journey
For most players, Moder will be located a decent way away from the rest of the bosses. This is because she has to spawn in a big Mountain biome, and those can be relatively rare. Be prepared to sail awhile before you reach her, and think about how you're going to handle Dragon Eggs.
You can take three with you when you sail over, but you'll have to lug them up the Mountain to her altar. Alternatively, you could try to find Dragon Eggs nearby, but you might be stuck with only one or two nests and be forced to wait. Both choices have downsides; you'll just have to pick whichever one works best for you.
RELATED: Valheim Lox Cape – How to Find and Craft This Useful Item
How To Kill Moder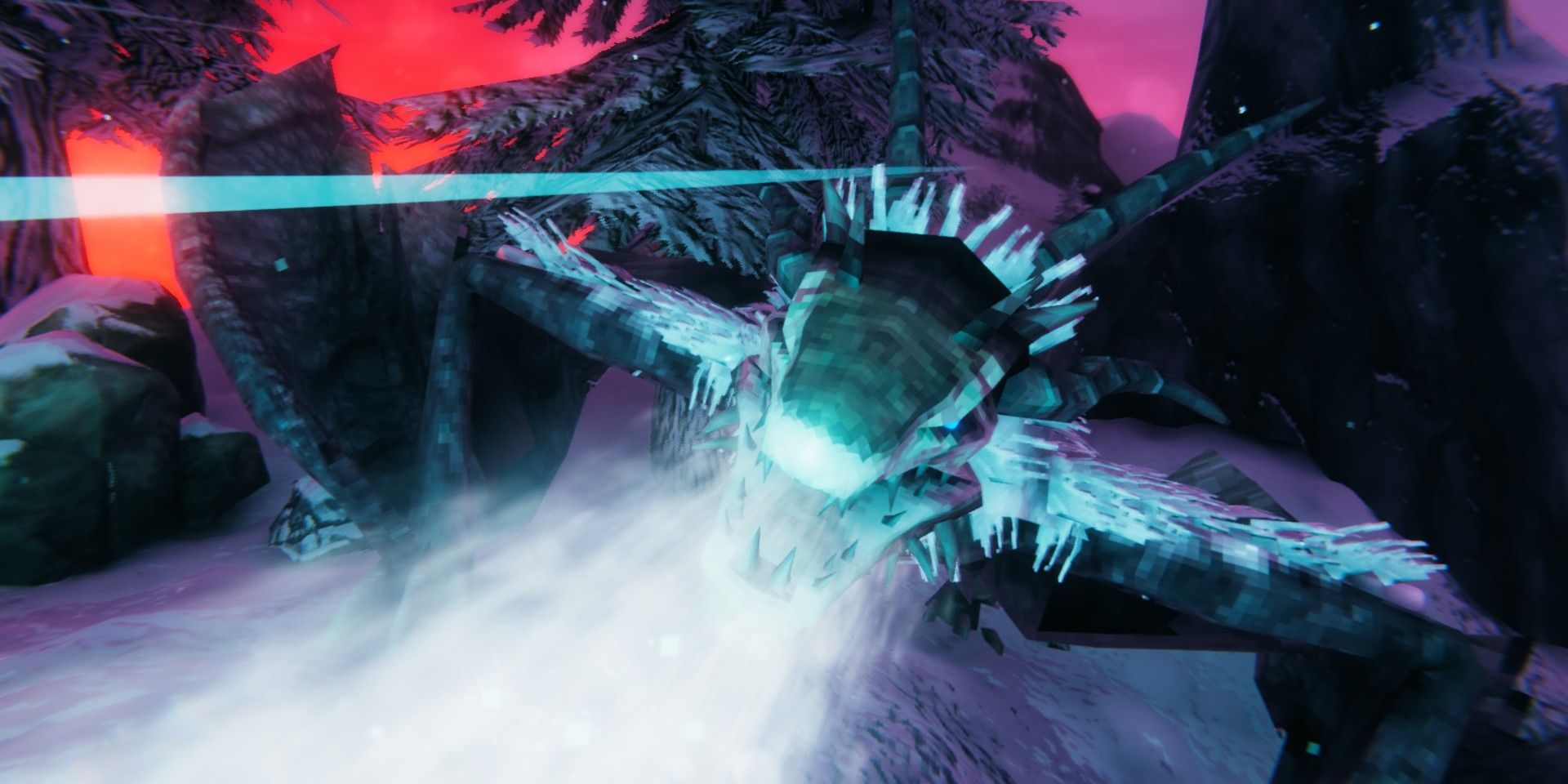 You found the altar, brought the eggs, and now it's time to channel your inner Skyrim and slay a dragon. Moder can be a hard fight because she can fly to evade melee attacks and dish out her own terrifying ranged attacks.
While in the air, Moder will circle the player before coming to a halt and spewing a barrage of ice at them. This attack does Piece damage and Frost damage, which inflicts a slowing effect on a hit, and spawns crystals on the ground that can hamper the player's movement.
On the ground, Moder will try to launch a stream of freezing breath at the player which can deal a ton of Frost damage in a wide arc. If you're hit by it, you'll also be slowed for a while, making it even harder to avoid the next attack. If the player is too close, Moder will instead opt for a swipe or bite attack that still packs a punch but lacks her usual Frost damage.
Bring The Right Gear
Beating Moder is all about having the right gear before the fight starts. Obviously, having a consistent ranged damage option is an absolute must. Moder will be in the air half of the time, and if you don't have a reliable method to attack her mid-flight, you'll have to dodge her attacks without any chance of striking back. The best option you have available is the Draugr Fang, a bow that deals innate Poison damage and can be made with Silver.
You'll also want to have the best armor possible and a consistent means of getting Frost resistance, but as long as you have a Lox Cape or Wolf Fur Cape equipped, you will be fine on that front. As always, keep plenty of healing mead in your inventory to regain your health if you make a major misstep.
For arrows, either use Fire Arrows or the best Obsidian Arrows you can find. Moder is weak to Fire damage, but even with that in mind, Fire arrows still do less damage than normal Obsidian Arrows. If you're having a lot of trouble with this boss, you can farm Deathsquitos in the Plains, using your Moutain-level gear to unlock an even higher damage arrow
Sources of Frost resistance don't stack.
Hone Your Strategy
The key to staying alive in the Moder fight is having a good strategy to evade the ranged attacks and create openings of your own. The natural way to do this is with the rocks or structures around the boss altar, but be careful. Moder's attacks can still break rocks and stone buildings, so a better option is to use higher or lower bits of the mountain terrain to block the attacks instead.
Food is a key part of the Moder fight, and your play style will have a huge impact on which food works best for you. If you're comfortable dodging attacks consistently, opt for two high-stamina foods, like Onion Soup and Eyescream, and one high-health food like Serpent Stew. This sort of food spread will let you string more attacks together and take more time aiming your bow. If you are getting hit a lot, go for Serpent Stew, Cooked Serpent Meat, and Eyescream to maximize your health pool without sacrificing too much stamina.
RELATED: Valheim: How To Hunt Serpents
Why You Need To Kill Moder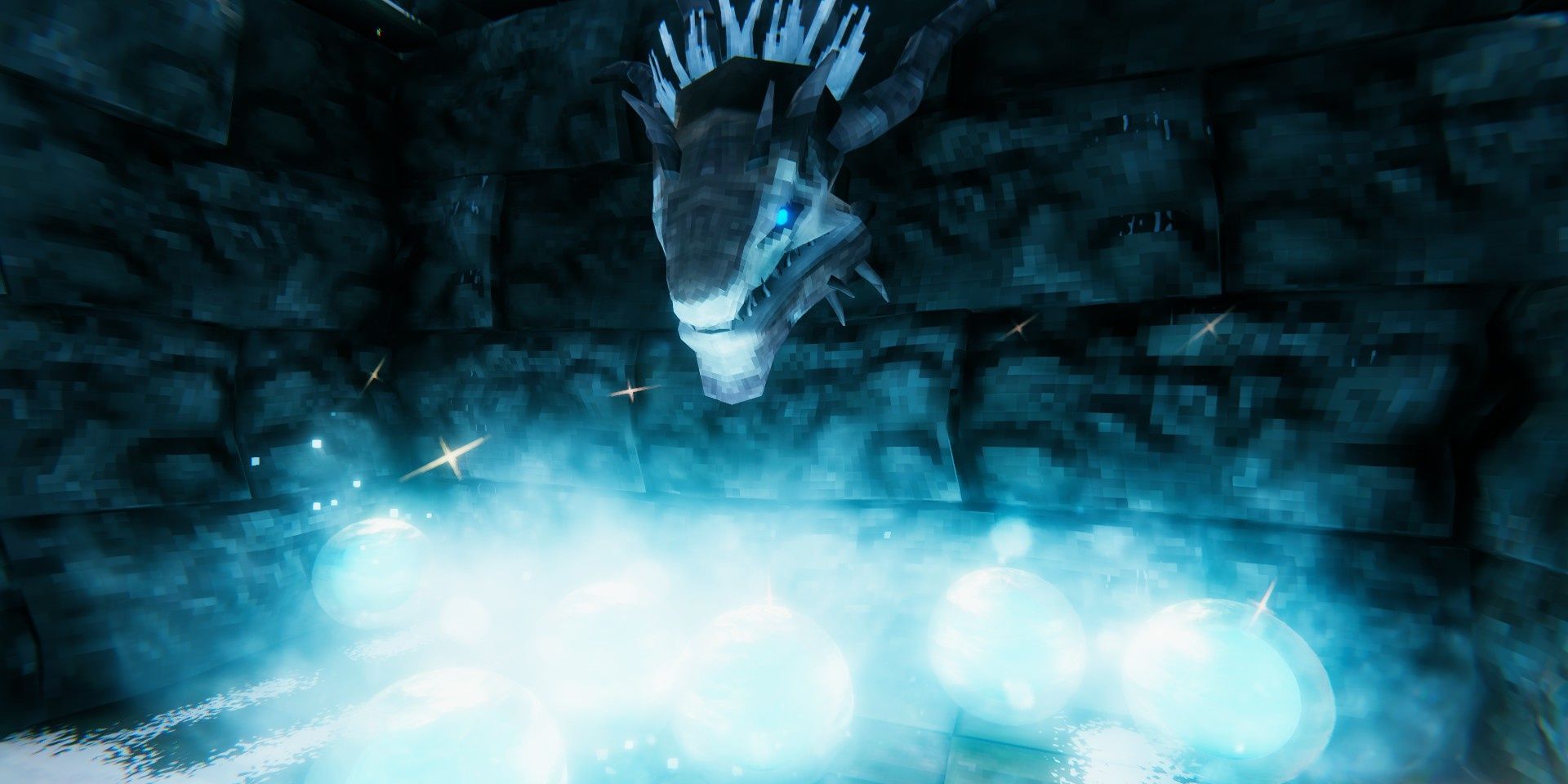 As with all the other bosses of Valheim, Moder's drops unlock the next tier of weapons, armor, and items. In this case, the Dragon Tears that Moder drops can be used to craft the Artisan Table, which allows you to create tons of different buildings which all have unique and extremely useful abilities.
The Moder Forsaken Power is arguably one of the most useful ones in the game. It allows you to determine the direction of the wind while sailing, so you can always sail with the wind directly at your back. This is great for exploring or ferrying metals between islands, but it can also be used to make fighting Serpents a tad bit easier and more consistent.
NEXT: Best Survival Games
Denial of responsibility!
Gamers Greade is an automatic aggregator of the all world's media. In each content, the hyperlink to the primary source is specified. All trademarks belong to their rightful owners, all materials to their authors. If you are the owner of the content and do not want us to publish your materials, please contact us by email –
[email protected]
. The content will be deleted within 24 hours.