Science is a broad term encompassing many schools of thought. Robotics, biology, and more fall under this large umbrella term. However, the new farmer in town may need to brush up on a different type of STEM-based learning when working on a farm in Stardew Valley – Chemistry.
Related: Stardew Valley: How To Romance & Marry Elliott
One of the brightest minds in the community of Pelican Town is Maru. Resident science buff extraordinaire and occasional nurse at Harvey's Clinic. She's incredibly smart, kind, and sweet to boot. Just know that her family can be a bit… quirky when everyone meshes together. It's ok though. They're all amazing in their own ways as is everyone in Stardew Valley.
Maru's Schedule
When it comes to finding Maru, the easiest time is to find her working as a nurse. She'll be in her nurse outfit on the menus to indicate she's in town and not somewhere else. The 2 days a week she works at Harvey's clinic in town from around 9am to 5pm are Tuesday and Thursday. She also never goes to the island on these days, and unless it's a festival or raining, will always be present in the shop at those times.
Rainy days see Maru staying at home in the Carpenter's Store all day. Depending on what part of the day it is, she'll be in her mom's shop, her dad's lab, the kitchen, or her bedroom. Rainy days take priority for her scheduling in Spring and Summer, but fall to the lowest setting in Fall.
Her days are pretty routine outside of work, an island trip, and events. Maru will get up and hang out in her room and then the lab until around 1:30pm – 2pm most days. From there she heads out to different locations across town depending on the day of the week and season. Around 6pm or so, she will start to head home from wherever she was for the day. Once she arrives home, Maru heads to her room and stays there until bedtime.
When it's Spring, Summer, or Fall, Maru heads to the bench outside the Saloon on Sundays and Mondays. Wednesday, Friday, and Saturday her wandering location changes to the bench next to the community center as you head for the Mountain area during the Spring, Fall, and Winter months. Maru's Wednesday, Friday, and Saturday locations do change during Summer. That time of year finds her near the lake by her home observing the local flora and fauna. If it is a Sunday or Monday during Winter and your farmer doesn't see Maru on the bench outside the Saloon, don't stress. Just head a little farther South to the Graveyard.
Maru also visits the Night Market on Winter 16. Her day is sticking around the home either in her room or the lab until about 3:30pm. Then she starts walking all the way down to the ocean from her mountaintop home. Like everyone else that isn't the farmer, Maru will head home from the night market around 11:30pm.
Related: Stardew Valley: How To Romance & Marry Harvey
Maru's Favorite Gifts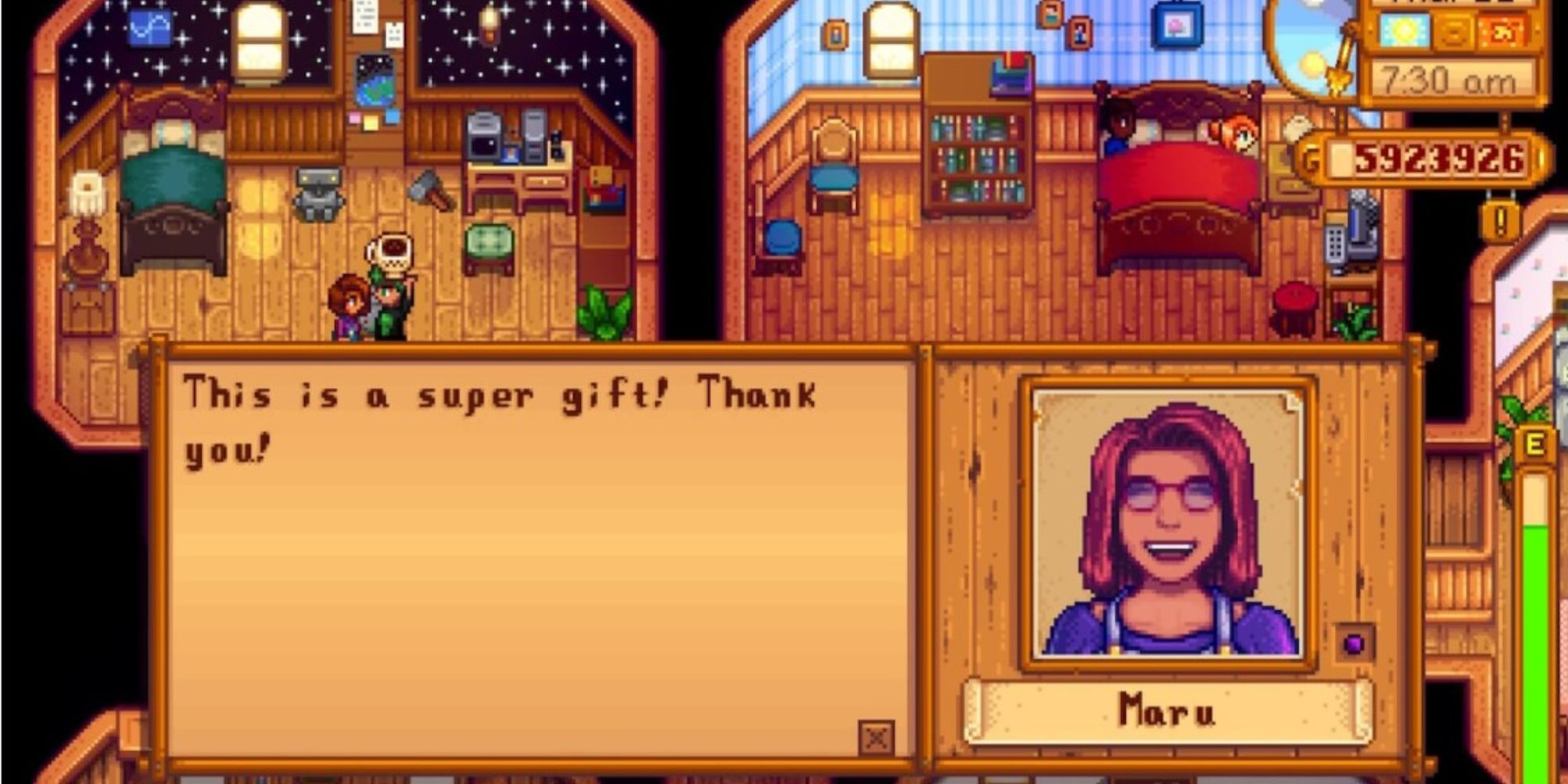 Getting in good with anyone in Stardew Valley starts with talking to them. Introductions are key, and a great way to build friendships. The faster way to a person's heart is through giving them a gift. Loved gifts will grant your farmer 80 points with someone, and when you need 250 points per heart, that is very helpful. Liked gifts will also help move things along with a grant of 40 points while also providing a larger pool to pull from for items. Only 2 gifts can be given in a week unless it is that character's Birthday. For Maru romancing, this means giving her a gift on Summer 10 for extra points.
Best Gifts For Maru
All Universal Loves

Rabbit's Foot
Golden Pumpkin
Pearl
Magic Rock Candy
Prismatic Shard

Cauliflower
Cheese Cauliflower
Strawberry
Miner's Treat
Pepper Popper
Rhubarb Pie
Battery Pack
Gold Bar
Iridium Bar
Radioactive Bar
Diamond
Heart Events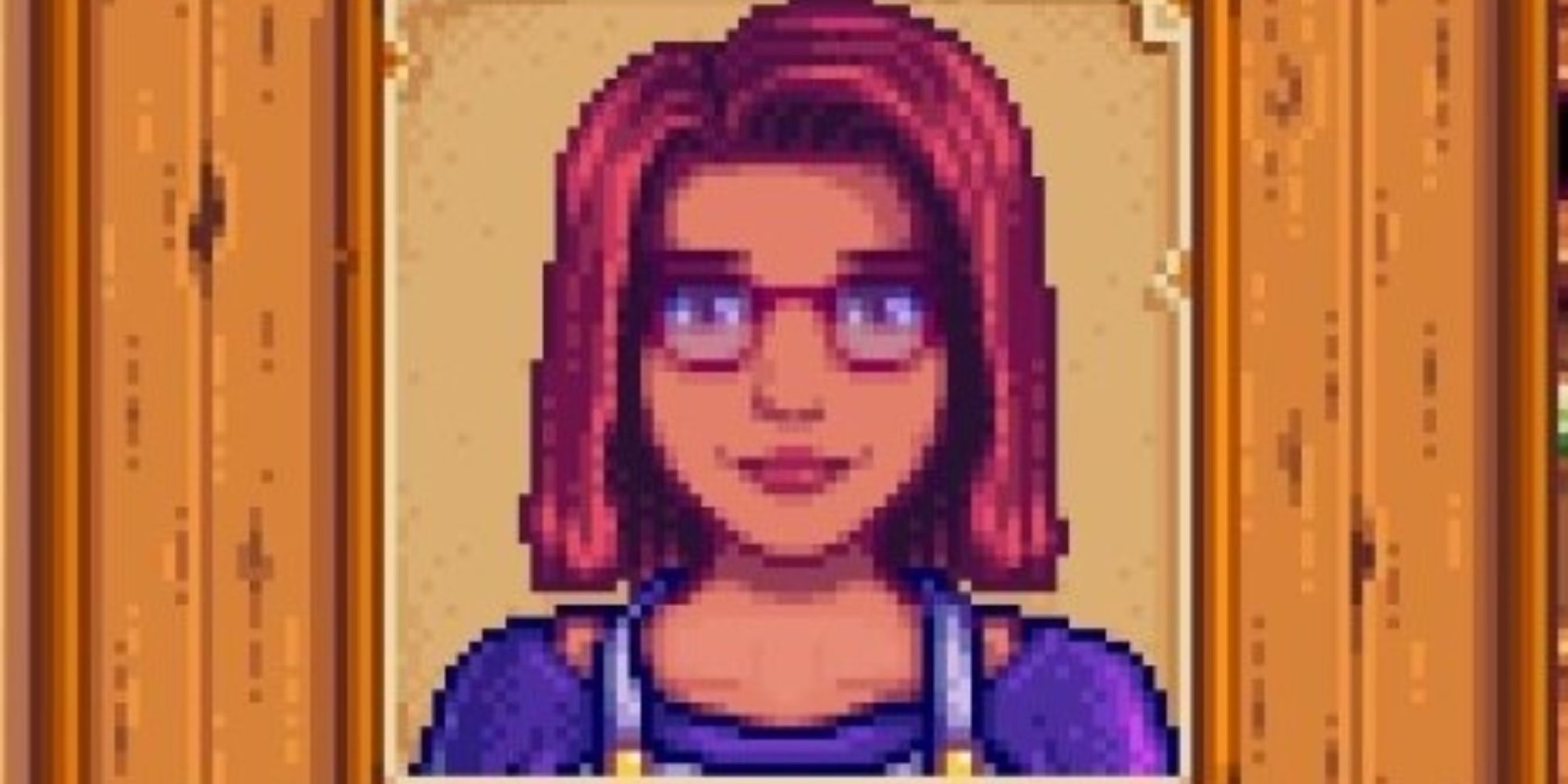 Heart events showcase where you stand in a relationship with a character from Pelican Town. When setting your sights on Maru for marriage, there are proper responses to heart events that will help boost your rating with her. At 8 hearts, farmers can present Maru with a Bouquet from Pierre's to ask her out. Upon achieving 10 hearts, a Mermaid Pendant can be obtained on a rainy day from the Old Mainer to propose to Maru.
Upon entering the Carpenter's Shop whenever Maru is around, a scene involving helping her father will play out for the 2 heart event. No choice here affects your standing with Maru, but it will with Demetrius. Saying nothing is a net positive and telling Maru he said something weird is negative.
Once at 4 hearts with Maru, head to the clinic on a day she is working. If you don't want to check her schedule, simply look at her icon in the menus as her outfit will change when she is at Harvey's Clinic. Telling her to tell the truth about it being an accident is the best solution for friendship points.
When the Sun is shining, head for the Mountain area in the morning after 9 am for this scene. As the conversation progresses about the world around you and other interests, talking about the planet will boost your friendship points with Maru.
Anytime Maru is home will let the 8 heart event play out. Some injuries may be sustained during this time, but make sure to reassure Maru that it doesn't hurt. That improves your heart rating with her, but if you yell at her, it will deduct points.
The best time to go for the 10-heart scene in the Carpenter Shop is between 9 am – 4 pm. There are a lot of options here depending on how you choose to let it play out. The best response, however, is to be impressed with her invention and get the friendship points from the get-go instead of playing the balancing act with the longer back and forth that can ensue.
Next: Stardew Valley: How To Romance Abigail
Denial of responsibility!
Gamers Greade is an automatic aggregator of the all world's media. In each content, the hyperlink to the primary source is specified. All trademarks belong to their rightful owners, all materials to their authors. If you are the owner of the content and do not want us to publish your materials, please contact us by email –
[email protected]
. The content will be deleted within 24 hours.