Structure and eclectic don't always mix, but Emily from Stardew Valley somehow has that balance down to a science. As one of the most reliable people in all Pelican Town, she still manages to march to the beat of her own drum without ever faltering a step.
Related: Stardew Valley: How To Romance & Marry Penny
If crystal obsessions, being a fabric-holic, and kindness are things that attract you to a person, then Emily is the spouse for you. She seems to have patience for days while being more upfront about how she feels than her sister Haley. Both girls live together in their parents' home in Stardew Valley.
Emily's Schedule
For the most part, Emily sticks to a schedule anyone can memorize in a few short days. While there are a few deviations overall, her schedule remains the same throughout the seasons and years as players progress through Stardew Valley. Emily is one of the few villagers that can be found easily daily without a lot of forethought into their schedules.
Every day Emily wakes up at 9am and hangs out in her bedroom. When it is raining out, Emily will remain at home in her living room sewing away until about 3:30pm. This is when she makes her way to work at the Stardrop Saloon. She works until 1am on rainy days. On Tuesdays, she walks to Pierre's at 10am to attend an aerobics class until 4pm. At 4pm, she breaks from her chatting with other villagers and makes her way to her job. Then she goes home for the night around 12:30am on Tuesdays.
However, a normal day for Emily is waking up at 9am and getting ready in her room for the day. She will then come out of her room around 12pm and work on sewing or chores in the living room of her house. Once 3:30pm rolls around, Emily heads to work and will normally make it to the Stardrop Saloon around 4pm – 4:20pm. She will work until 12:30am. By 1am, she will be back home for the night.
If the farmer has completed the community center, Emily will head there on Fridays around 10am. She stays until 3:30pm before heading to work her normal shift. On Fall 15, Emily doesn't work. Instead, she leaves home at 10:30am to take the bus to the Calico Desert. This is when she goes to visit her best friend that runs the shop here – Sandy. When Winter 11 comes up, Emily goes to Harvey's clinic in her morning free time to get her yearly checkup before her shift at 4pm. Every villager loves the Night Markey, and Emily is no exception. She will attend it on Winter 15. She'll be at home until she leaves for it at 2:30pm only to return home around 12:30pm.
Related: Stardew Valley: How To Romance & Marry Elliott
Emily's Favorite Gifts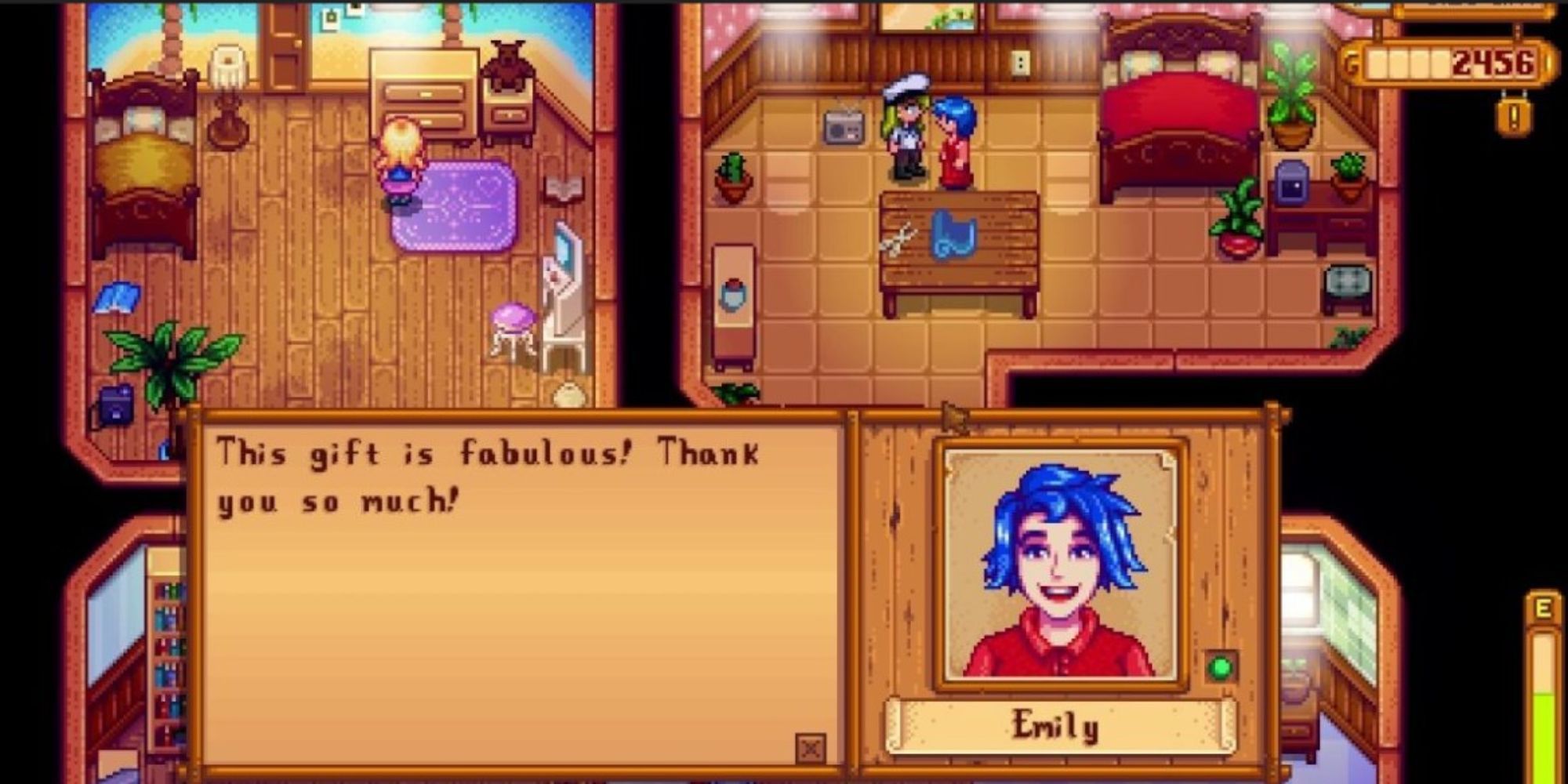 Giving gifts is a fast way to level your standing with anyone in Stardew Valley. Players get 80 points of friendship for every loved gift they give out, and that is multiplied by 8 for Emily on her birthday – Spring 27. It is also the only time you can give her more than 2 gifts in a week.
All Universal Loves

Golden Pumpkin
Pearl
Magic Rock Candy
Prismatic Shard
Rabbits Foot

Amethyst
Aquamarine
Emerald
Jade
Ruby
Topaz
Wool
Cloth
Survival Burger
Emily's Heart Events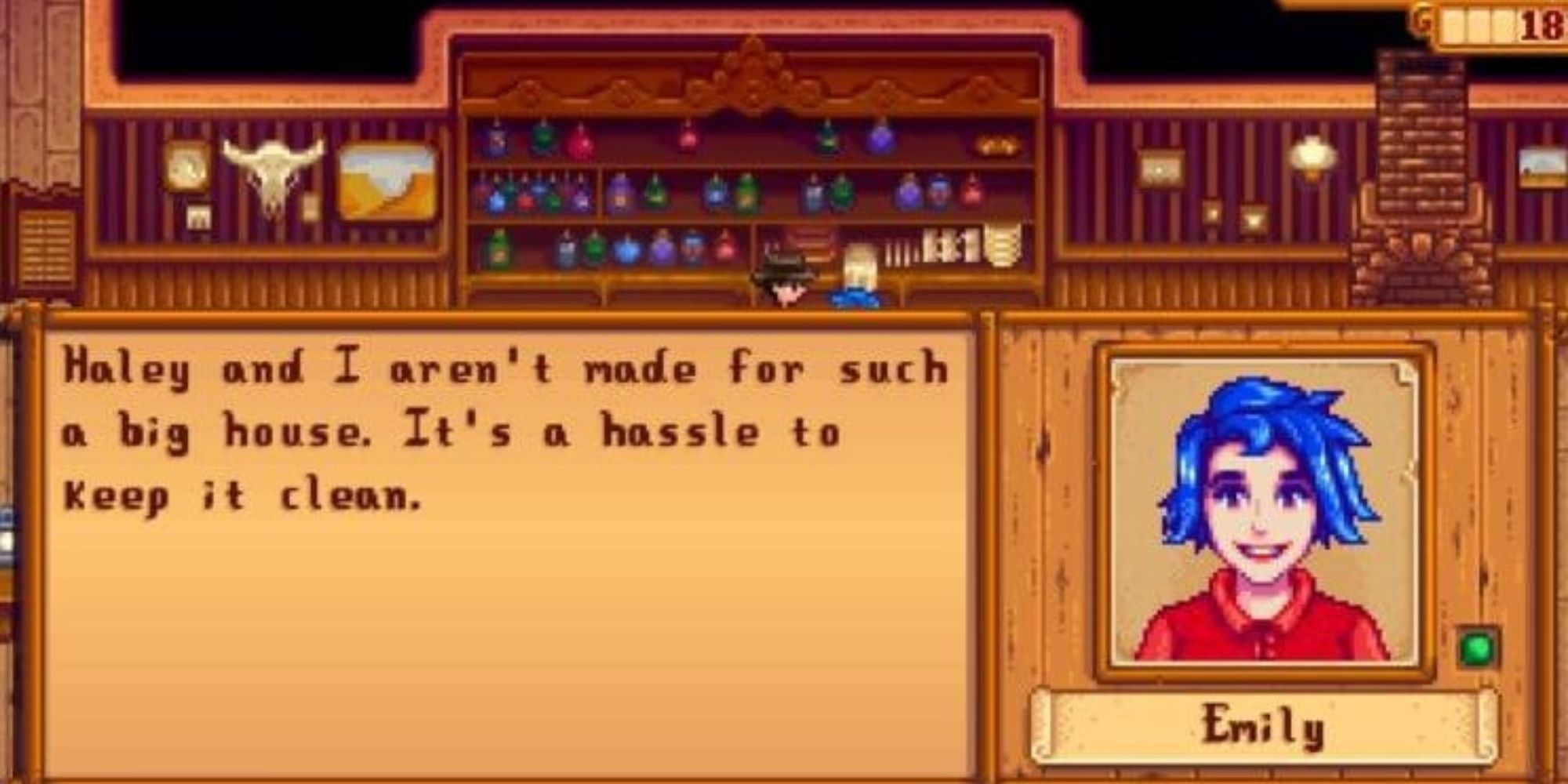 Each heart event is unique to a character in Pelican Town, but Emily probably has the most interesting start to her heart events. At 2 hearts, enter her house when she is home. There is no option to make in this scene to improve or worsen your relationship with her. Still, it is a very trippy moment that catches many farmers off guard.
At 3 hearts, Emily will mail you a recipe. A recipe for a salad to make you feel energized. Not the tastiest treat in the game, but a thoughtful one.
When you have achieved 4 hearts with Emily, head into town on a sunny day that isn't in Winter. There is no choice to make here either, but those that marry Emily will see their future pet that can no longer return to the wild be saved by her.
Finally, at 6 hearts there is a choice to be made. Here there are 2 correct answers that net you 25 points of friendship either way. The wrong one will lose you 50 points of friendship, so don't tell her that the performance was embarrassing if you want a gain and not a loss.
7 hearts has another recipe being delivered to you in the mail. It's another salad recipe, but this one is called Red Plate. Emily may be a vegetarian or simply into very healthy foods. She may also think that someone working out on the farm every day doesn't have a lot of variety to choose from. Whatever the case maybe you now have a new recipe.
One morning a letter will arrive stating that an event will be happening at the Mayor's Manor the next day but don't worry. This scene for the 8 hearts mark will hold until any day after that when you head in to see the scene. No choice must be made during this gathering, so just sit back and enjoy the show.
Time to head into Cindersnap Forest for the 10 hearts escapade. When Emily sends you a letter, enter the Secret Woods on any evening after at 10 pm for a fun camping trip that has a small jump scare.
Running errands for your spouse is just part of married life, and that is included in Emily's 14 heart event. Head outside the farmhouse between 6 – 8:30 am to be met with a request from your wife. Once you have gathered what she asks for and given it to her, return to the farmhouse between 8 pm – 12 am to receive several gifts.
Next: Stardew Valley: How To Romance & Marry Sam
Denial of responsibility!
Gamers Greade is an automatic aggregator of the all world's media. In each content, the hyperlink to the primary source is specified. All trademarks belong to their rightful owners, all materials to their authors. If you are the owner of the content and do not want us to publish your materials, please contact us by email –
[email protected]
. The content will be deleted within 24 hours.