Lindl is a unique recruitable character in Tactics Ogre: Reborn. Recruiting him is the only way to unlock crafting of the Fusil weapons and also the only way to gain Fusilier marks to let other characters switch to the class.
Related: Tactics Ogre: Reborn – How To Unlock The Palace Of The Dead Dungeon
If you are looking to open up the world of guns and gunpowder in Tactics Ogre: Reborn, this guide will tell you everything you need to know.
Unlocking The Grimsby Battle
To open the areas needed to reach Lindl, you must have completed the Barnicia grand Staircase battle in Chapter 4 of the game and seen the following cutscene at Phidoch Castle. Once you have completed these steps, you will have a Talk Topic appear called "Rhamsen Wreck Raised." Once you have read this, two new areas will open to the East of Barnicia Castle: Leupha Coast and Grimsby. The second of these is the location of the battle at which you can recruit Lindl.
Saving Lindl From Templars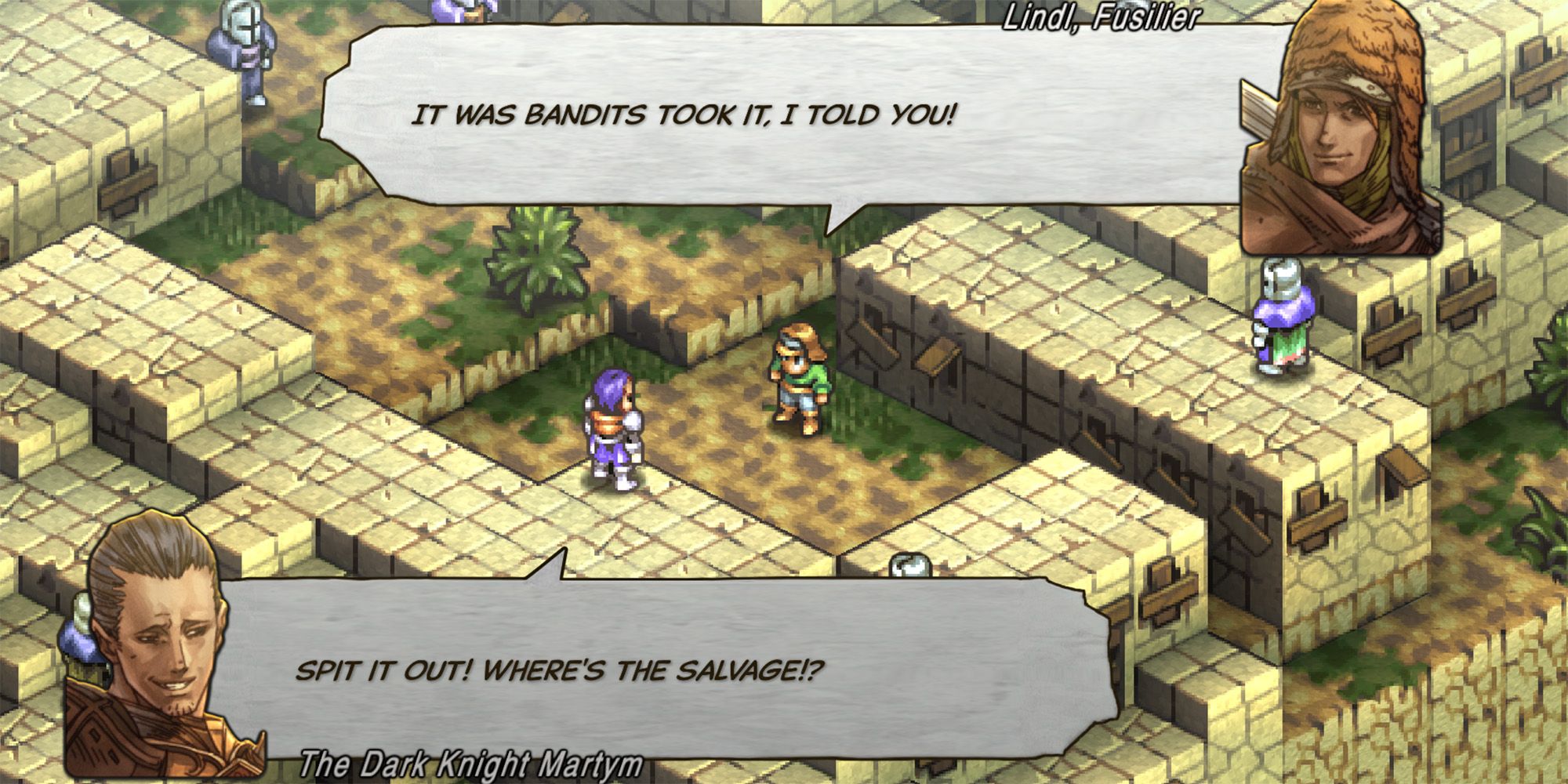 To recruit Lindl, receive the Fusilier items, and open further areas of the map, you must keep him alive in the battle against Martym. The two best ways to do that are to ensure you have characters who can heal any damage Lindl suffers, either with spells or items, and to burn down Martym and his Templars quickly.
The enemy team does feature a couple of archers, so you should try and occupy or remove them as quickly as possible to ensure none of them snipe Lindl from long range. Martym also has a devastating short-range attack, so you should try to keep him away from Lindl when he has enough MP to use it.
Once the battle is complete, assuming Lindl survived, you will get a short cutscene and can recruit him immediately.
Related: Tactics Ogre: Reborn: How To Recruit Catiua
Understanding The Fusilier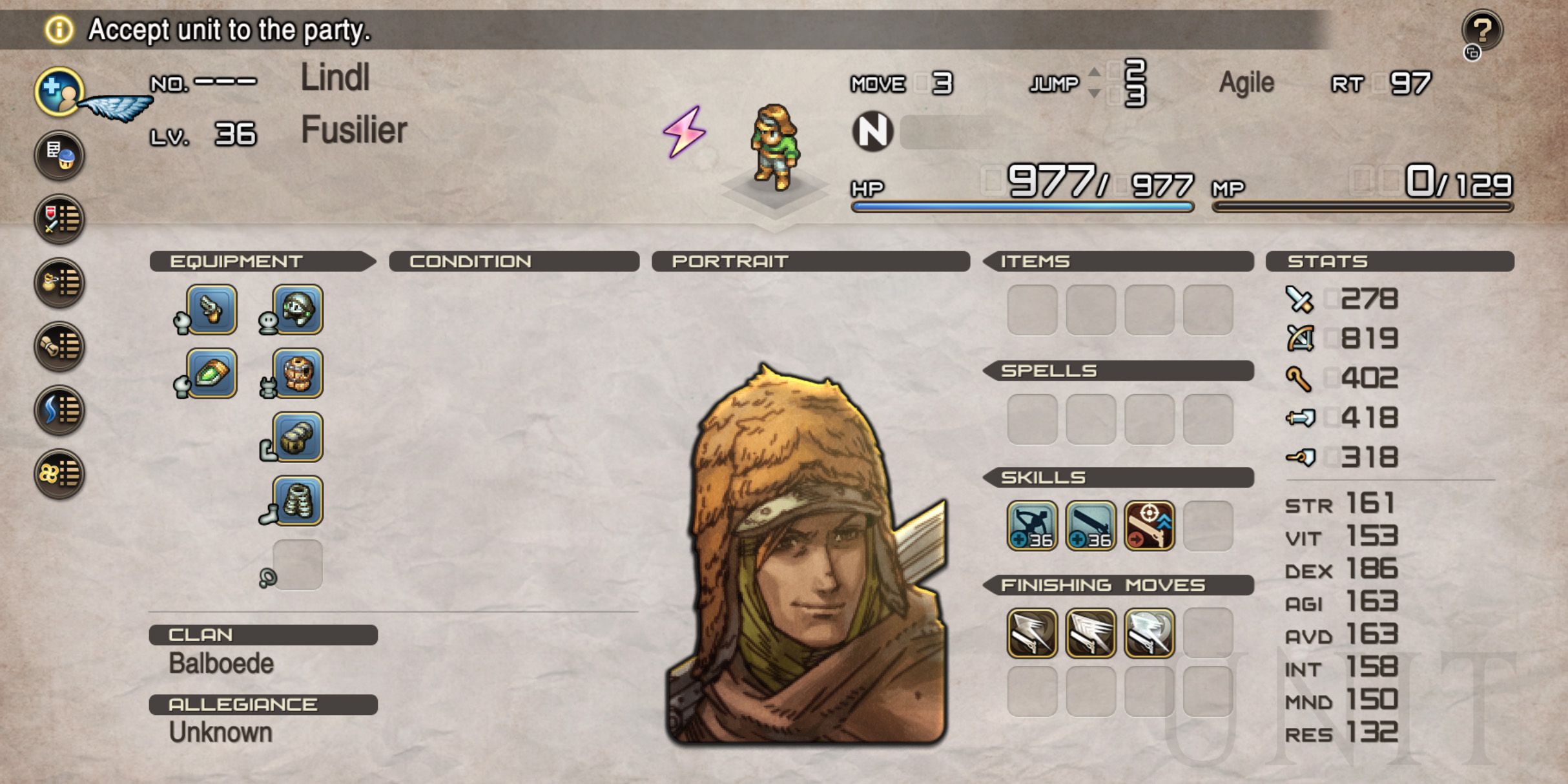 Lindl joins with Rank 36 in both Crossbows and Fusils. He has very high DEX and can be excellent as any Ranged Class, but because of the scarcity of Fusilier Class Marks and his high Skill Ranks, it is probably best to keep him as Fusilier. When Lindl joins the party, you will gain 3 Fusilier Marks. These marks will never drop from enemy fusiliers until you have recruited him, so this is the only way to let other characters change to this class.
The Fusilier is a strong single-target ranged class. It deals excellent physical damage at range and has some neat tricks to let it shoot through terrain obstacles and ensure it hits its target. Fusiliers also received a new ability in Reborn that lets them preempt melee attacks, like from a Swordmaster, and respond with a shot.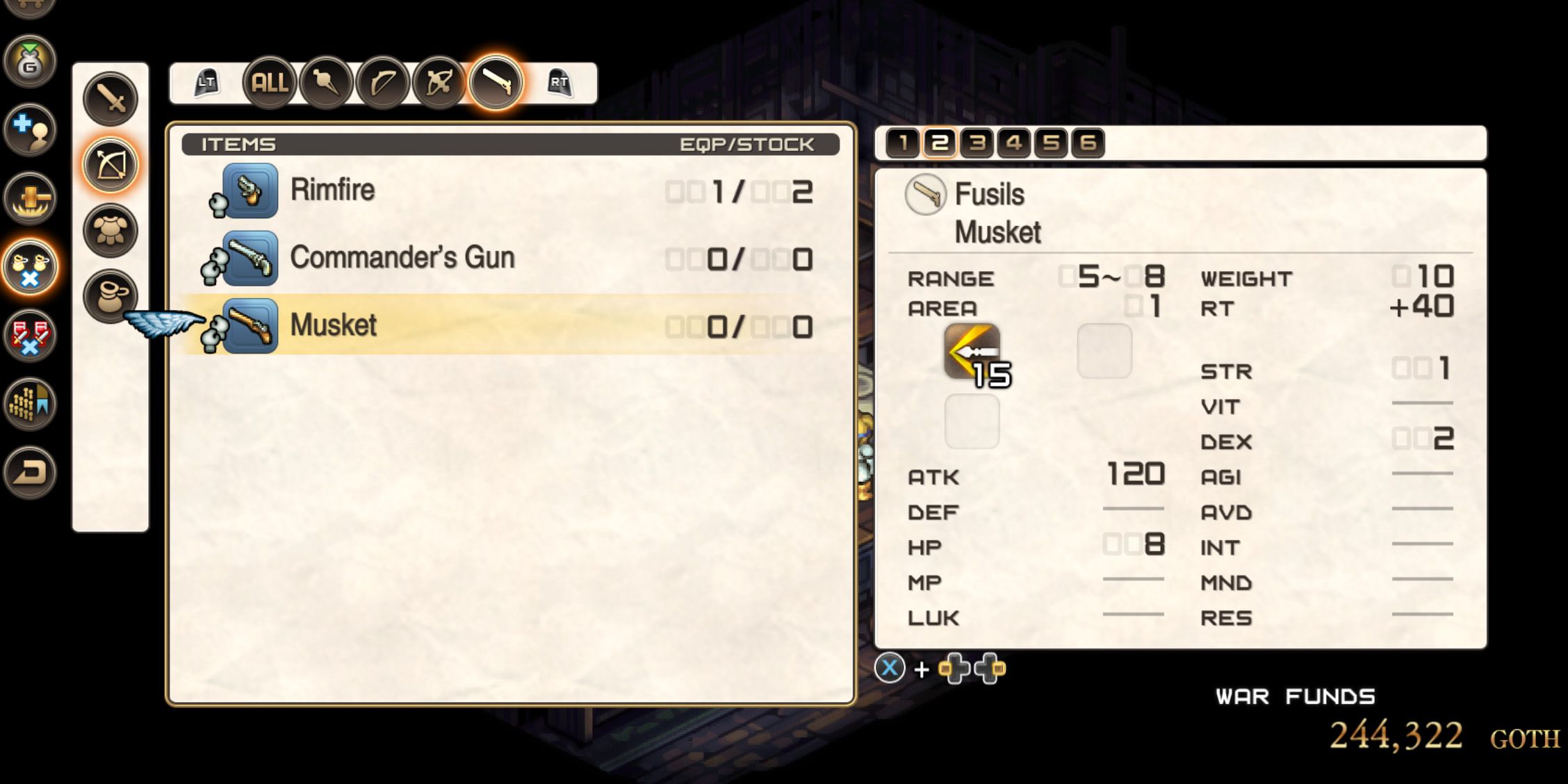 Lindl comes equipped with the Rimfire Fusil, which you will already have after defeating Barbas at Barnicia. These are the shortest-range Fusils, but with the recipe book from Lindl, you can craft the much more powerful and longer-range guns that will really play to the Class' strengths.
Next: Tactics Ogre: Reborn – Best Craftable Weapons
Denial of responsibility!
Gamers Greade is an automatic aggregator of the all world's media. In each content, the hyperlink to the primary source is specified. All trademarks belong to their rightful owners, all materials to their authors. If you are the owner of the content and do not want us to publish your materials, please contact us by email –
[email protected]
. The content will be deleted within 24 hours.