Quick Links
You've beaten quite a few bosses, explored nearly every biome you've found, and maybe you've even found Helllstone ore, but how do you get to the next tier of equipment? How do you make Hellstone Bars?
RELATED: Best-Selling Video Games Of All Time
Hellstone Bars are the final major tier of equipment before you enter Terraria's Hardmode, but if you've never gotten this far before, you might be stumped on how to make this fiery metal. The recipe is far from intuitive, but with a few pointers, you'll be making molten gear in no time. Keep reading to learn exactly how to find Hellstone Ore, secure a Hellforge, and make all the Hellstone Bars you could want.
How To Find Hellstone Ore
Hellstone Ore is the metal of the flaming Underworld of Terraria. Getting there is quite simple; you just dig down until you hit a large open expanse filled with pools of lava. The real test is surviving down here long enough to find what you need and climb back up your mine shaft. Navigating the Underworld and dodging all the patches of lava will push your platforming skills to the limit.
RELATED: Games You Should Play If You Love Minecraft
To get Hellstone Ore, you'll have to dig into the rock of the Underworld, but your best bet is to carve into the ashy stone beneath the pools of lava. Hellstone Ore will show up as a deep red brick with red particle effects. You'll need at least a Gold Pickaxe to mine this ore, but it's probably better to have a Deathbringer or a Nightmare Pickaxe because of the next step in the process.
Surviving The Underworld
Living long enough to get to the ore is a challenge in of itself. The Underworld is full of flying creatures who will harass you above the lava, fire snakes that will burrow around you below it, and plenty more unique horrors. If you love the combat style of Terraria, that all might sound exciting, but those monsters aren't even the biggest threat. The lava is often all that's needed to kill a player, and that prized Hellstone Ore releases a bit every time you mine it.
It's a long drop into the Underworld, and there might not be solid ground to land on. Be ready with platforms, Featherfall Potions, and water.
The best countermeasure to this is the Obsidian Skin Potion, which gives you temporary immunity to lava. Be sure to bring plenty of these with you, or else you might find yourself unable to keep mining or even return home.
Securing A Hellforge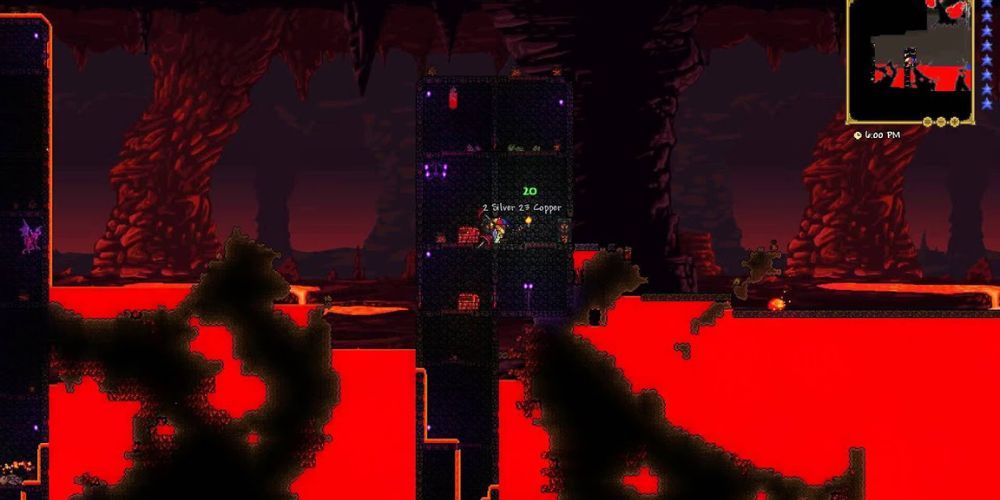 You've got plenty of Hellstone Ore, but you return home only to find that your trusty forge isn't giving you a recipe, and there's no recipe for a new forge either. That's not a bug — Hellstone Bars require the unique and un-craftable Hellforge. To get your hands on this crucial building, you'll need to risk another foray into the Underworld.
You can find Hellforges in the small dungeons that litter the Underworld. They look like towers built out of orange or purple brick, and they come with all sorts of loot. Along with the various chests and furniture, they also have a chance to contain a Hellforge. You'll need a Deathbringer or a Nightmare Pickaxe to mine these structures, but if you came prepared, you can also just craft your Hellstone Bars while you're down in the Underworld.
A good way to find these buildings is by building a platform bridge a dozen or so blocks above the lava. Simply run along this bridge in one direction, extending it as you go, and watch the side of your screen. You may not catch every Underworld dungeon this way, but you will find a fair few and with a lot less hassle than you would have swimming through the lava.
RELATED: Hollow Knight: How To Beat The False Knight
Crafting Hellstone Bars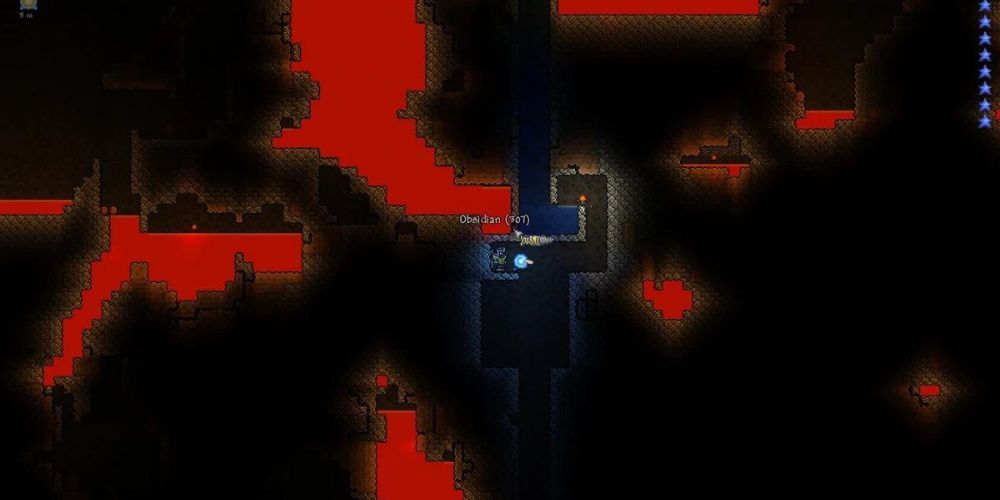 Even after you've gotten the ore and the forge, there's one final piece to making Hellstone bars: Obsidian. Hellstone Bars need Hellstone Ore and Obsidian in a three-to-one ratio, so if you're trying to get all Molten Gear, you'll have to mine a decent bit of Obsidian too. Mixed crafting recipes like these bring a lot of variety to the game!
Making And Mining Obsidian
Obsidian is created by mixing lava and water, and once again, the Underworld is a perfect place to create tons of it. If you haven't run into a big patch of Obsidian yet, you can easily make your own using the lava from the Underworld, and it's easy to do so. Simply find a pool of water near your mineshaft and open a path, so it flows into the Underworld. This will create a layer of Obsidian on the top layer of the lava, but you'll need a lot of water to make it work properly.
Once you've mixed water and lava, you can mine the Obsidian with a Gold Pickaxe or better. The remaining water will automatically turn the next layer of lava into water, but be careful; you can get burned while doing this. Always keep an eye on how much water is still sitting on top of the Obsidian. Some of it will disappear whenever it touches the lava, meaning if you don't have enough to make the next block of Obsidian, you might suddenly be standing next to flowing lava.
NEXT: Best Adventure Games
Denial of responsibility!
Gamers Greade is an automatic aggregator of the all world's media. In each content, the hyperlink to the primary source is specified. All trademarks belong to their rightful owners, all materials to their authors. If you are the owner of the content and do not want us to publish your materials, please contact us by email –
[email protected]
. The content will be deleted within 24 hours.