In a remarkable turn of events, despite obviously not being able to fix all the many, many things that went wrong with their first game, Striking Distance have surprised everyone with a patch that updates The Callisto Protocol's combat. A bunch of actions don't take an eternity anymore! You can heal, reload, and swap weapons like you're actually in danger and not on a leisurely stroll. Sure, the game still can't get Jacob to carry his baton consistently, but, y'know… baby steps and all that.
Does this make up for the narrative foibles and other poor aspects? No, but it does make The Callisto Protocol somewhat more consumable, which got me thinking.
If, like me, you're a die hard sci-fi horror fan and want to get something out of this game, there's a way. Believe it or not, there are actually options to make The Callisto Protocol… well, not good, but at least less like an uncomfortable bowel movement full of broken glass. Like I said, baby steps.
The first thing you need to do is go to the game's wonderfully extensive Accessibility settings. Here, disable all the quick-time events. Yes, really, all of them. Grabbers and worms will no longer be anything more than an annoying cutscene interrupting your gameplay. Personally I've found that the option that replaces button mashing with a single button press can save a bit more health, but if you want to remove the interaction entirely, by all means feel free to do so.
Before we're done in Accessibility settings, you'll also want to turn on Auto-Dodge. It's not nearly as consistent in execution – sometimes the closest enemy will still land a hit on you even with this enabled – but I've found that with it turned on, there were still significantly fewer cheap shots landed by an enemy you didn't see because of The Callisto Protocol's narrow field of view.
Finally, as far as customizing your settings – if aiming is proving too inconsistent or sluggish, there is a Call of Duty-style snap-to aim function. I personally didn't use it because most enemies get so close to you so quickly that it's kind of redundant, but on the off chance you need it? It's there. Beyond that, if this is your first time playing, even if you're like me and have played the likes of Dead Space 2 on Hardcore? Start on Minimum Security difficulty.
Even on this setting, boss fights are a chore and a half of bullet-sponge nonsense, but the rest of the game actually works quite well. Paired with the faster animations for healing and weapon swapping, the overall difficulty will feel like a fairly rough Medium from most other games. I know it may sound lame to some players but really, this game expects you to know everything before it happens, and I'm saving you several checkpoint restarts. Save the higher difficulties for achievement hunting later.
RELATED: The Best Difficulty Settings Are Those In-Between Ones
Now – and this is a weird one – don't buy any of the optional guns. I'm serious. The loot distribution pools are a mess, and you'll have zero control over Jacob's inventory size – it's doubled at the midpoint in the campaign outside your control. Coincidentally, you only just start receiving optional weapons around this point. Yes, it takes half the game before you even get your first optional weapon, because this is The Callisto Protocol and sensible design philosophy doesn't exist here.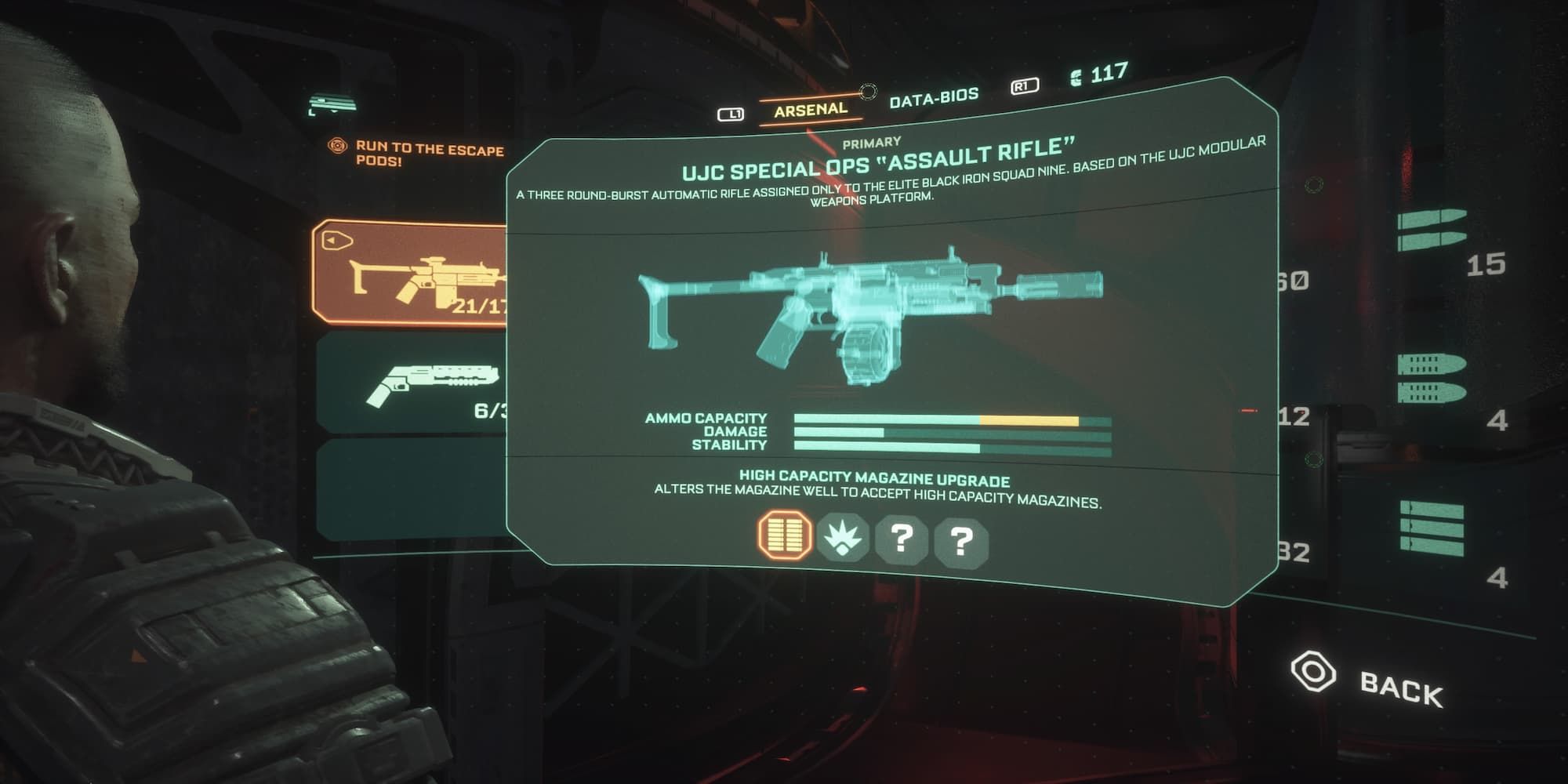 You see, the fewer guns you own, the more ammo you'll actually have on hand. You will always get a pistol and shotgun, and the free shotgun has more ammo capacity and arguably higher damage output than the Skunk Gun. The other upside of not buying the optional guns? You can invest in some serious upgrades and carry all the valuable sellable items from each level super easily to the storefronts because your ammo will neatly stack together.
Remember those high-end perks that seem made for a New Game Plus mode that's yet to launch? You can actually buy some of those now! It's possible to make your GRP gravity glove actually useful now, or really amp up your shotgun or pistol to wreck any fools in front of you. Of the melee weapons, just get the first tier of upgrades for your baton. That's really all I needed in my entire review playthrough. The block function is easily the most useful upgrade, and from there, it's primarily stat boosts.
Once you've done all this, congratulations! You are now set for the most optimal time you could possibly have with The Callisto Protocol. I'm not promising a fun ride, but you might at least be able to come out of it the other side shrugging, saying "that was fine, I guess" which is infinitely more preferable to my first time with it. I tested out these specific parameters myself, and they made for significantly smoother experience. It might not make your money feel well spent, but you have a chance of getting something out of the exchange.
NEXT: 12 Best Games To Play If You Love Dead Space
Denial of responsibility!
Gamers Greade is an automatic aggregator of the all world's media. In each content, the hyperlink to the primary source is specified. All trademarks belong to their rightful owners, all materials to their authors. If you are the owner of the content and do not want us to publish your materials, please contact us by email –
[email protected]
. The content will be deleted within 24 hours.