By leveling up your rank, new weapons and accessories are unlocked in Modern Warfare 3.
Having access to more options of equipment and making new loadouts for every possible situation are core aspects of Modern Warfare 3. Doing so requires some dedication from players who need not only to reach the max level of 55 but also level up as many guns as possible.
To maximize the process and try to earn the highest amount of experience in a period, we've prepared this guide explaining how leveling up works and how to level up fast in Modern Warfare 3.
On this page:

To see this content please enable targeting cookies.


How leveling up works in Modern Warfare 3
Following a similar structure to the previous titles, Modern Warfare 3 ties leveling up with accessing equipment and features. By playing the different modes in the game, players can earn three types of experience: Rank XP, Weapon XP, and Battle Pass XP. Each of these different experience points raises specific ranks.
The Rank XP raises the account rank up to the maximum of 55. Leveling up the account is the only method to unlock certain weapons, tactical and lethal equipment, field upgrades, killstreaks, and systems, such as loadouts and armory.
The amount of experience players earn depends on the mode they are playing, in general, players receive 100 XP per kill. It varies depending on whether the player did something specific, such as jumping or shooting through the wall too. Other interactions, such as killstreaks, also give players extra experience points.
In case the gun, piece of equipment or any other feature that players are looking for isn't listed as one of the rewards for raising rank, then they are probably unlocked through the armory system.
To level up guns, players need to earn the Weapon XP which is obtainable by using as well as killing enemies with them. Simply having a gun as part of a loadout gives a trivial amount of experience, so players should focus on using them as much as possible during a match. Leveling a gun up unlocks attachments, such as optics and grips, as well as camos.
Lastly, we have the Battle Pass XP. Modern Warfare 3 has a battle pass that offers some prizes for free while others are only accessible to players who bought it.
Differently from the other two types, instead of increasing their rank, Battle Pass XP actually gives access to tokens which are used to unlock cosmetics, operators, and weapons that are part of the Battle Pass.
Fastest ways of level up in Modern Warfare 3
While there isn't any method to power level your rank, guns, or battle pass, there are some good strategies that players can apply as they jump into multiplayer matches.
As mentioned before, players' main source of experience are the kills during matches. The strategies listed here work around this interaction trying to maximize the experience points per match.
Use XP Tokens
Maybe the most effective method to level up fast in Modern Warfare 3 is using XP Tokens. Maintaining an already known system, Modern Warfare 3 allows players to use these items to boost the experience gained for some time.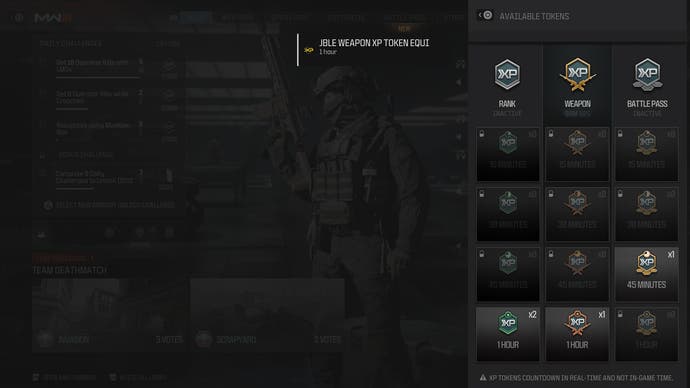 In the game, players will find tokens for Rank XP, Weapon XP, and Battle Pass XP and for each of these, there are tokens that last 15, 30, 45 minutes, and one hour. Before using any of these tokens, it's important to keep in mind that their countdown is based on real-time. So, players should avoid using tokens when their gaming sessions might get interrupted.
To activate these tokens, players need to be in the Modern Warfare 3 Multiplayer screen, the same place where they can see all the playlists and queue for a match. On the left side of the screen, below the list of daily challenges, they can see the command necessary to open the XP token window. From there, they just need to select which one they want to activate. Players can have Rank XP, Weapon XP, and Battle Pass XP tokens running at the same time.
Complete daily and weekly challenges
Although winning matches may be the goal of most players, as they run one match after the other, they can try to complete the daily and weekly challenges to earn more experience points.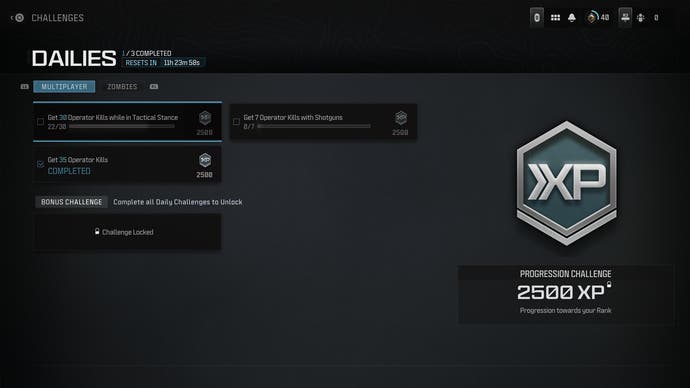 There are challenges for the multiplayer mode as well as for the Zombies mode. Each of them has three different daily challenges and seven weekly challenges. The conditions to complete these challenges change, but most of them involve killing a certain number of enemies using a specific type of weapon or performing specific actions, such as sliding kills. After completing the three daily challenges, a bonus one becomes available.
When it comes to experience, challenges are a great source. The daily challenges reward players with 2500 XP each. The weekly ones go from 2500 XP to 10000 XP. So, players should always check what are the challenges available and look for ways to complete them during matches.
Go for the best Multiplayer modes
While players earn experience points by playing every mode in Multiplayer and Zombies, some of the Multiplayer ones are better suited for a session of farming experience.
Two factors determine which modes players should focus on: duration of each match and potential for kill. As of the time of writing this guide, some of the best modes are Kill Confirmed, Hardpoint, and Ground War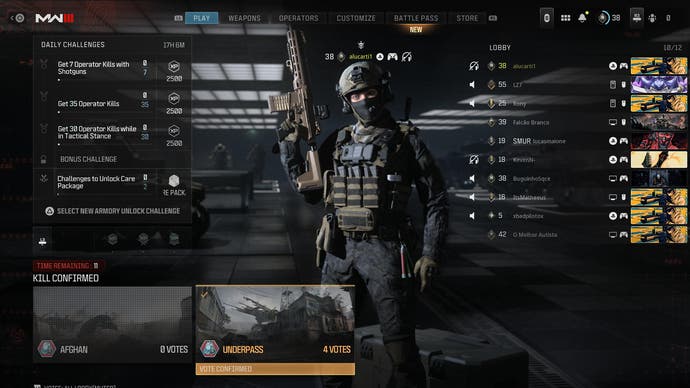 Kill Confirmed is a great mode not only because players earn more experience when grabbing the tags left by killed enemies and allies, but because the matches end pretty fast. But because players need to hunt enemies all over the place, getting a high kill count is not easy.
Hardpoint is a great mode because players earn experience points for killing enemies, as well as taking and protecting objectives. At the same time, because of how Hardpoint matches are designed, players find enemies more constantly, making getting multiple kills an easier task.
While Ground War sounds the opposite of Hardpoint since this mode puts players in very large areas, it is great to farm kills. In Ground War matches, there are a lot of participants but many of them are bots which are easier to kill than actual players. All it takes from players is to find a good spot and wait for the groups of bots to appear in their sight.
Now, focusing on any of these modes while having an XP token running is the best combination players should look for in order to maximize the experience gained.
For more on MW3, be sure to check our guides on the best guns in MW3 and some weapons, such as the AMR9.

To see this content please enable targeting cookies.



Denial of responsibility!
Gamers Greade is an automatic aggregator of the all world's media. In each content, the hyperlink to the primary source is specified. All trademarks belong to their rightful owners, all materials to their authors. If you are the owner of the content and do not want us to publish your materials, please contact us by email –
[email protected]
. The content will be deleted within 24 hours.