Want the trusty canine companion, Boomer, in Far Cry 5? This guide can help.
Quick Links
There are some great dog characters in the world of video games, and Far Cry 5 has one of the goodest boys available as a companion. There are actually three animal companions you can get in the game, including Cheeseburger the bear and Peaches the cougar. Here, we're going to focus on one of the first animal companions you can get, depending on which direction you go in at the start of the game: Boomer the dog.
Related: Underrated FPS Titles Every Gamer Needs To Play
Boomer belongs to Rae-Rae, who owns the pumpkin farm in Holland Valley. Once you liberate Dutch's island, you'll be able to receive distress calls from around Hope County. Rae-Rae's is one of them. She puts out a call claiming Boomer is going crazy and requests help. Heading to the pumpkin farm will kickstart the Man's Best Friend quest, which allows you to add Boomer to your roster of companions. Here's how to get started.
Heading To Rae-Rae's Pumpkin Farm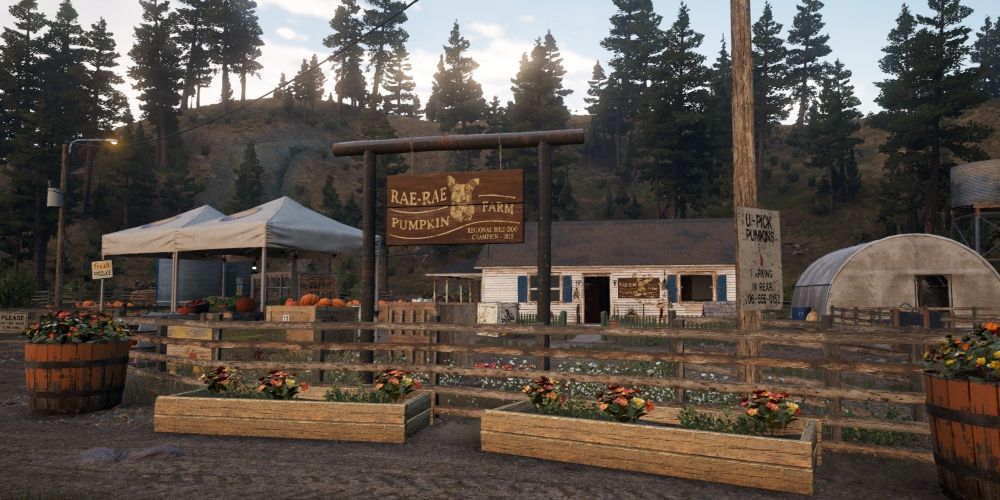 After liberating Dutch's island, there are a few places you can go to start your overall liberation of Hope County. Rae-Rae's Pumpkin Farm is south of the island, across a bridge and past the Gardenview Orchards, which has also been overrun by cult members.
Head west across the bridge, following the road. Here, you can learn how to operate vehicles, as there are many cars, quads, and trucks sitting around for you to take at your leisure. It'll be a trek if you choose not to take a vehicle, but you have better control over the element of surprise if you walk there.
Head west past the orchards on the left and past Silver Lake Trailer Park on the right. The road turns south to the pumpkin farm, with the Gardenview Packing Facility on the right, which has been turned into a cult outpost (a good place to hit next for plenty of resistance points).
Related: Best Levels In Single-Player FPS Games
Rescuing Boomer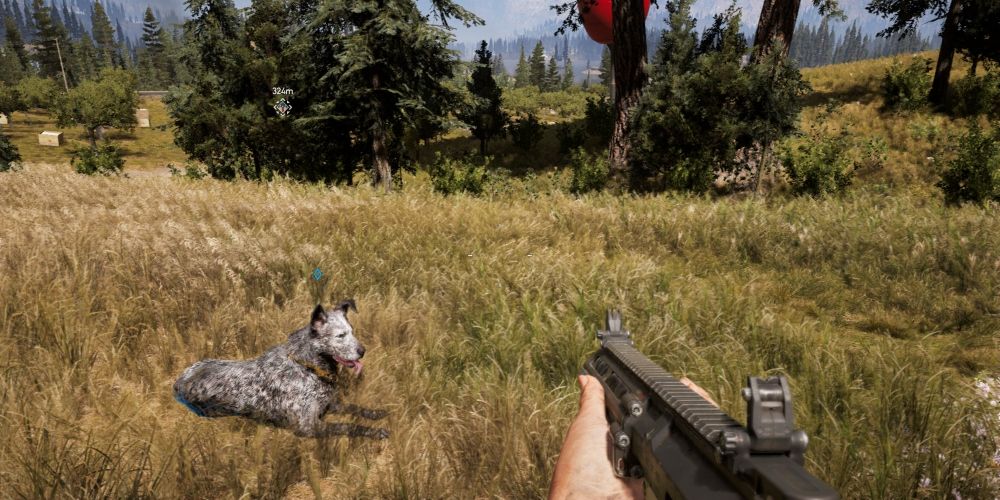 Coming upon Rae-Rae's Pumpkin Farm, you will find Boomer locked in a cage on the back of a truck with several cult members surrounding it. Take care of the cult members, then release Boomer from the cage. Once Boomer is out, he'll rush to find his owner, Rae-Rae, who has unfortunately been killed. Poor Boomer will mourn his former owner (probably the saddest thing ever), but if you interact with him and pet him he'll become loyal to you.
Dutch will come back on the radio and also mourn the loss of his friend Rae-Rae. He'll suggest taking Boomer on as a companion. This will place Boomer on the companion roster. More cult members show up to retake the farm, but you and Boomer can make quick work of them.
Related: Best First-Person Shooter Maps
What Can Boomer Do?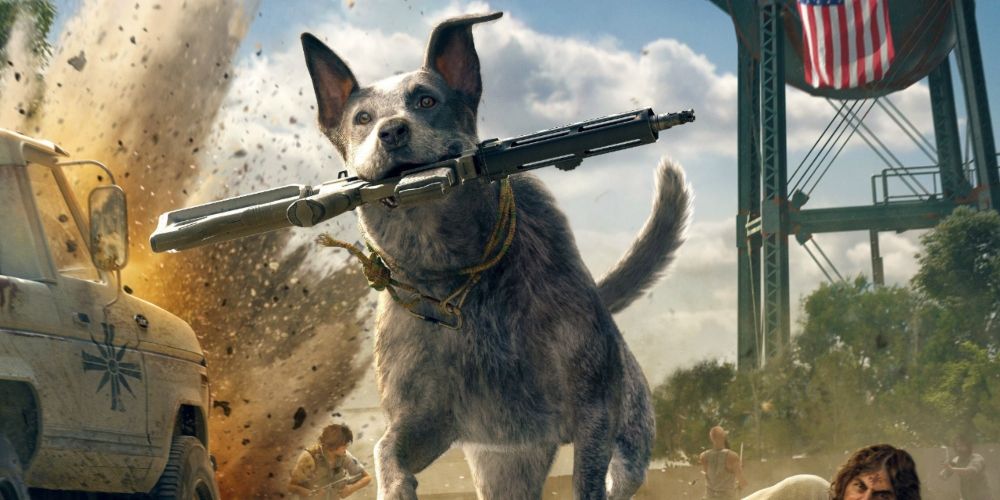 Boomer has an interesting skill called Pointer. With this skill, he will automatically sense cultists or wildlife nearby. When he spots enemies and hostile or non-hostile wildlife, he will make a low growl and sniff the ground in front of him facing the direction of the entity. Additionally, when he stops sniffing and stands up, whatever he was tracking will be tagged with either a hostile red triangle or a non-hostile white triangle.
He can also be sent into cult outposts undetected. Cultists will not attack Boomer unless he attacks them. He has an additional perk as well, called Retriever. This skill allows Boomer to search bodies for extra supplies even if the player has looted them already. Lastly, Boomer will also rush at cultists, steal their guns, and bring them back to you like the good boy he is. Wherever you decide to go first after liberating Dutch's island, rescuing and recruiting Boomer is definitely worth it, if for nothing else than just having a dog companion to hang out with.
Next: How Long Does It Take To Beat Far Cry 5?
Denial of responsibility!
Gamers Greade is an automatic aggregator of the all world's media. In each content, the hyperlink to the primary source is specified. All trademarks belong to their rightful owners, all materials to their authors. If you are the owner of the content and do not want us to publish your materials, please contact us by email –
[email protected]
. The content will be deleted within 24 hours.