Atlus games have always had surprisingly difficult boss fights that don't mind requiring borderline impossible strategies to beat, and Persona 3 Portable takes this to the next level. This secret boss will need players to first beat the Reaper and climb the secret dungeon that is unlocked after it. This secret boss is also widely regarded as one of the most difficult Megami Tensei bosses of all time.
Related: Persona 3 Portable: All Party Members, Ranked
If the player's character is male, they will battle Elizabeth; if the character is female, they will battle Theodore. Both of these fights require the same steps to unlock, and while each attendant uses different Personas, their attacks and strategies to beat them are identical. These fights also have strict rules from the attendant to keep things fair, and should the player break the rules, it will result in the attendant spamming the most powerful move in the game.
How To Unlock And Prepare For The Secret Boss Battle
This boss fight is located on the 10th floor of the bonus dungeon, Monad. To unlock access to Monad, players must first accept and complete request #53. Request #53 will require players to find and beat the Reaper to obtain a bloody button and return the item to their velvet room attendant. The Reaper appears whenever a player spends too long on a floor in Tartarus, appearing more often when there are "more shadows on this floor than usual." It is recommended that your party be at least level 75 to fight the Reaper.
After completing this request, players will complete it, and then they must reach the top floor of Tartarus. After both of these conditions are met, you will unlock access to Monad on the first floor of Tartarus. This is a bonus dungeon with ten floors, with the 10th floor being the secret boss. Players must also begin Request #55 for the secret boss to appear on the 10th floor. To fight this secret boss, the players will have to fight alone, and it is recommended that you be at level 99, with multiple of the best personas that cover all skills, and follow the very important rules below.
Related: Persona 3 Portable: What Day Is Each Social Link Unlocked
The Rules And Strategy Of The Secret Boss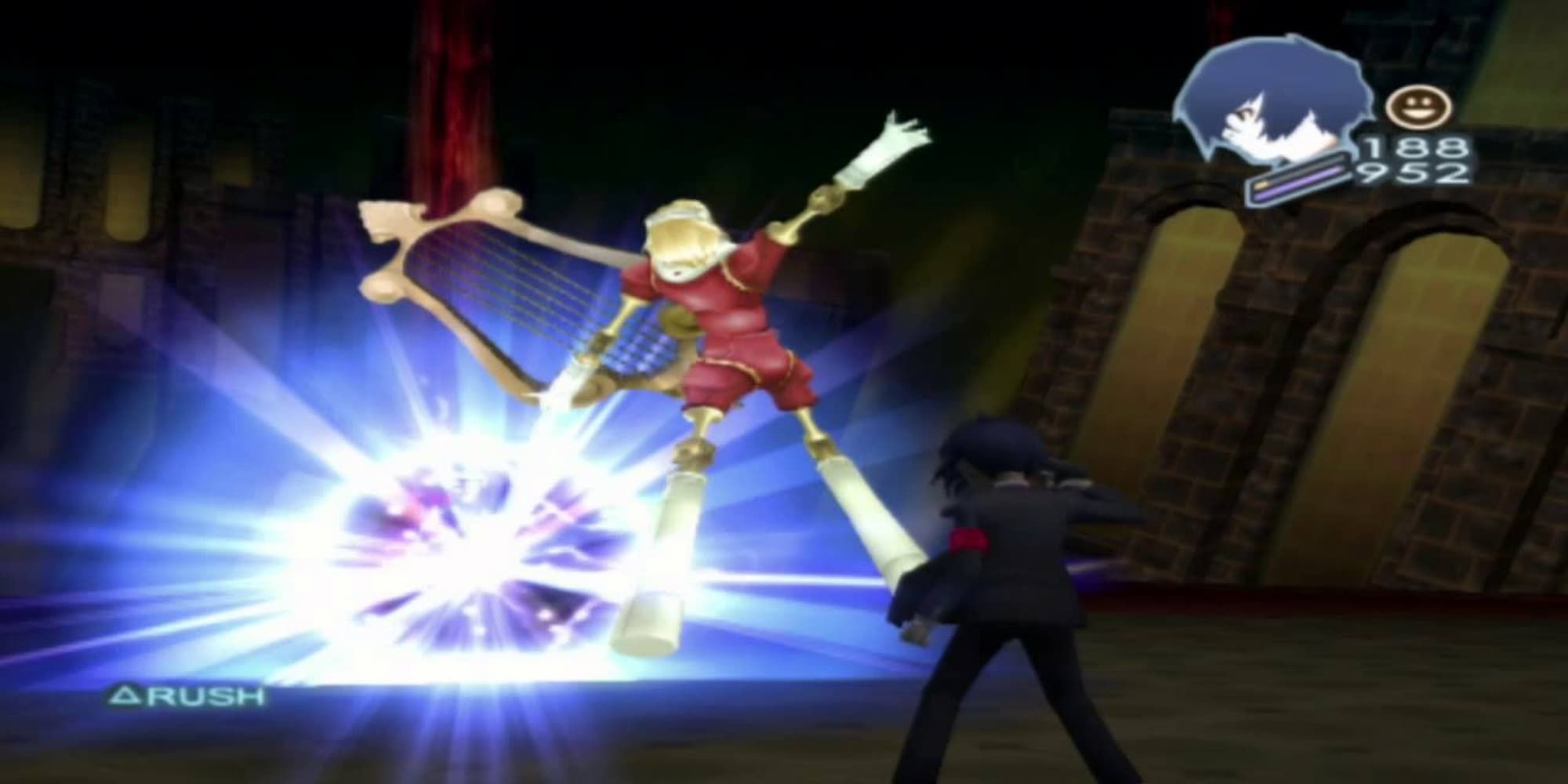 The velvet room attendant you're fighting requires the player to make it a fair fight and have rules to ensure it's not too easy. Should a player break the rules, the attendant will continuously heal themselves while dealing 9,999 damage each turn, which should instantly kill even a max-level character.
The unstated rules are that: You are not allowed to block, repel, null, or absorb any damage type or element. This goes for items, buffs, or persona abilities. You are able to resist different damage types, but should you have anything that stops you from taking damage, you'll be breaking the rules, and the attendant will spam a powerful attack that will one-shot the player. The one exception to this rule is the counter abilities, which keep you from taking damage and has it hitting your opponent back. You can also not use the fusion spell Armageddon unless it's to finish off the boss. You must also fight without any teammates — bringing allies will result in the attendant spamming a one-shot move.
To beat this boss, you'll need to constantly monitor their health using a calculator and keep the number as close to exact as possible. This boss has 20,000 HP in total, and after their health falls below 10,000 the first time, they will fully heal themselves. Each time after that, they will fully heal themselves whenever their HP drops below 9,000. After their first full heal, you'll need to weaken them to be below 10,000 and above 9,000, then deal an attack that reaches 9,999 damage, like Armageddon. Armageddon is a fusion spell that deals 9,999 damage and is the easiest way to beat this boss. This spell will require players to bring both the Helel and Satan personas. You will also need a persona that knows High Counter, ideally with a wide array of elemental spells to hit any weakness. Your only hope is for the boss to be hit with High Counter to put them in the desired health range to use Armageddon on your next turn.
Both attendants use a constant cycle of personas each turn, using two attacks each turn before going to the next persona in their list. While the attendants use different personas, they have the same elemental affinities and will have the same strategy. With each turn, the attendant will switch to the next persona in their list and use two attacks before going down the list at the start of their next turn. None of their personas have a weakness and can only be hit by regular damage. Knowing this order will also ensure you don't use one of the resistant elements to that persona.
This list of personas and their affinities are:
| | | |
| --- | --- | --- |
| Elizabeth/Theodore's Personas | Elements Used | Elements Affected By: |
| Surt/Uriel | Fire and Physical | Slash/Pierce/Ice/Electric/Wind/Almighty |
| Jack Frost/Gabriel | Ice and Physical | Slash/Strike/Fire/Electric/Wind/Almighty |
| Thor/Michael | Electric and Physical | Pierce/Strike/Fire/Wind/Ice/Almighty |
| Cu Chulainn/Raphael | Wind and Physical | Slash/Strike/Fire/Electric/Ice/Almighty |
| Metatron/Sandalphon | Light and Physical | Slash/Strike/Pierce/Almighty |
| Alice/Lilith | Dark and Physical | Slash/Strike/Pierce/Almighty |
| Nebiros/Abaddon | Status Effects and Physical | Resistant to all Attacks |
| Masakado/Beelzebub | Almighty and Physical | Null to all except Almighty |
After making it through a cycle, the attendant will return to the top and start again. The fusion spell Infinity can be used to survive the almighty attacks at the end of the cycle, and Armageddon should be saved for when the attendants' health is below 10,000 but before they hit 9,000.
Next: Persona 3 Portable: Best Ways To Spend Free Time
Denial of responsibility!
Gamers Greade is an automatic aggregator of the all world's media. In each content, the hyperlink to the primary source is specified. All trademarks belong to their rightful owners, all materials to their authors. If you are the owner of the content and do not want us to publish your materials, please contact us by email –
[email protected]
. The content will be deleted within 24 hours.