The majestic Hippogriff is one of the rarest magical beasts you can capture and tame in Hogwarts Legacy. These beautiful creatures gift players with valuable feathers that can be used to upgrade gear at an Enchanted Loom. In addition, there's one special Hippogriff in the game that can even serve as your mount.
Related: Hogwarts Legacy: How To Catch A Fwooper
Needless to say, Hippogriffs are very useful companions, and you should make it your priority to befriend one as soon as you can. Luckily, you'll get the opportunity to do exactly that about halfway through the game when you'll be introduced to a Hippogriff as part of a main quest.
Meeting And Rescuing Highwing
While you can encounter Hippogriffs in the wild early on you won't be able to catch one until you progress the story up to the point where you have to attend your first Beasts Class. You'll learn about tending to magical beasts during class while also meeting Poppy Sweeting if you haven't already. Once the class is over, speak to Poppy and she will introduce you to a very special friend of hers – Highwing the Hippogriff. Highwing will end up being captured by poachers shortly after but don't worry because you'll get to save her.
After completing a couple of other quests, you will be directed to speak to Deek in the Room of Requirement in order to start The Elf, The Nab-Sack, and the Loom. During this quest, you'll need to use the Nab-Sack to capture three different types of magical beasts and then set them free in your first Vivarium. From this point onward, you can go out into the wild and capture more beats for your Vivariums.
Continue the main questline, and you'll eventually receive a message from Natsai Onai telling you to meet her near Falbarton Castle. This starts The High Keep quest where you get to rescue Highwing along with another Hippogriff. As a sign of gratitude, Highwing will agree to serve as your mount afterward, and you can also find her in the Vivarium.
Related: Hogwarts Legacy: How To Upgrade Vivarium
Where To Find Hippogriffs In The Wild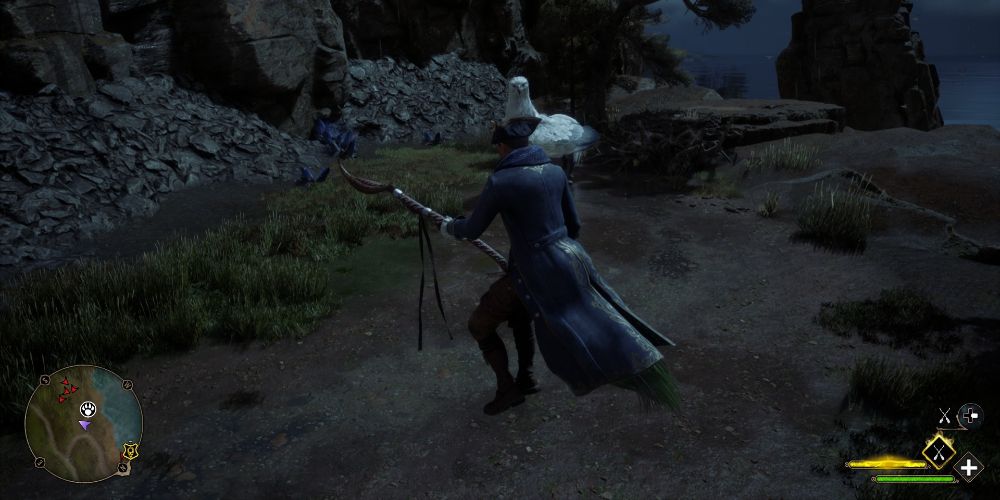 Even though you get Highwing as part of a quest, you'll need more than one Hippogriff if you plan to breed these magical beasts. Besides, having multiple of them will speed up the rate at which you can gather Hippogriff feathers. There are five Hippogriff Dens spread across the world of Hogwarts Legacy, each of which contains at least two specimens.
Forbidden Forest Hippogriff Den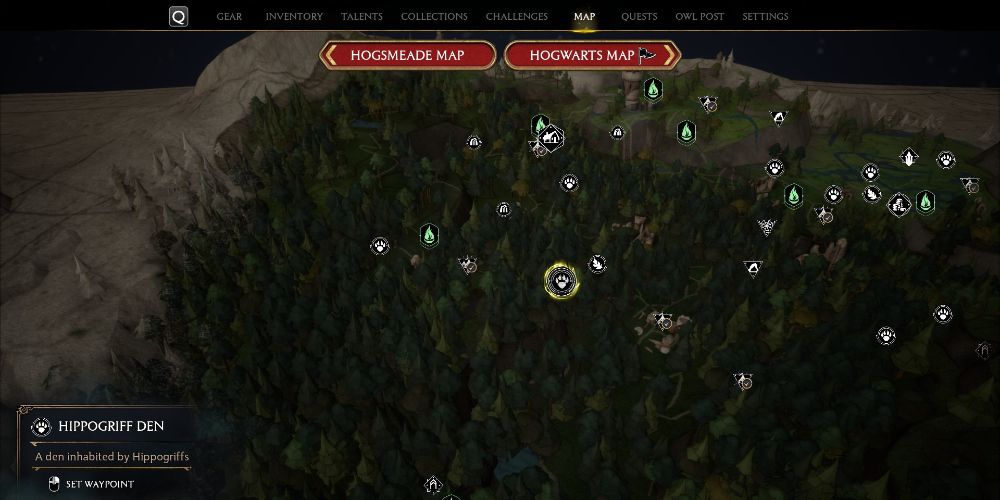 The closest den from Hogwarts can be found in the center of the Forbidden Forest. You can quickly get to it if you travel northeast from the Jackdaw's Tomb Floo Flame, which you will unlock as part of one of the main quests.
Hogwarts Valley Hippogriff Den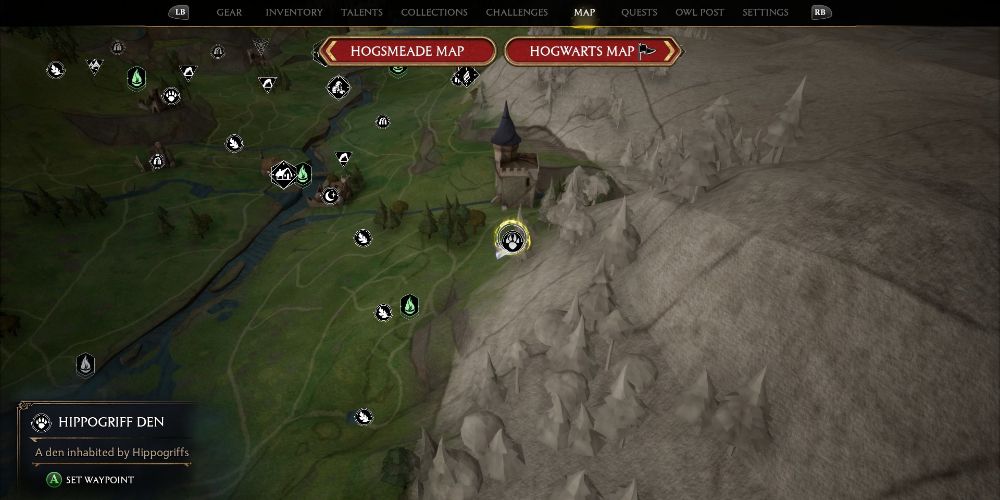 Another den can be found in the southeastern part of the Hogwarts Valley region. From the Keenbridge Floo Flame, travel east until you reach a ruined castle, and then head south to find the Hippogriff Den. Alternatively, you can start at the Mine's Eye Floo Flame and travel northeast up the hill.
Feldcroft Hippogriff Den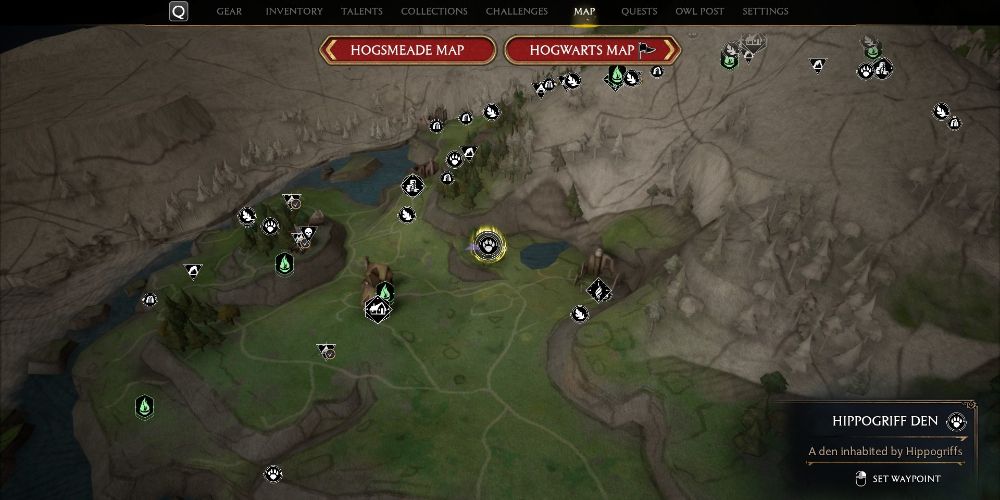 You can find the third den a stone's throw away from the hamlet of Feldcroft. Simply teleport to the hamlet's Floo Flame and travel northeast to find the den at the base of a large tree.
Poidsear Coast Hippogriff Den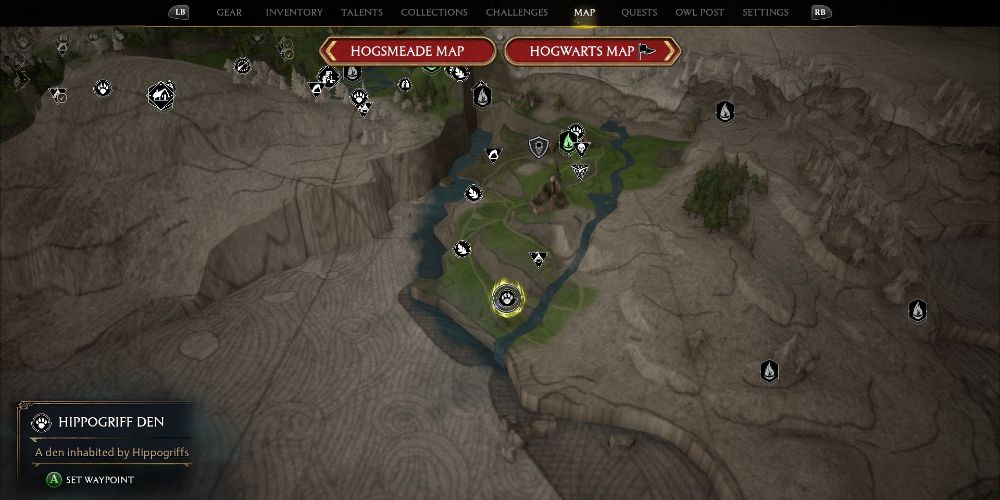 This next one can be found in the western part of the Poidsear Coast region. Start at the Poidsear Castle Floo Flame and travel southwest past the bandit camp to reach the Hippogriff Den sitting at the base of a cliff facing the sea.
Manor Cape Hippogriff Den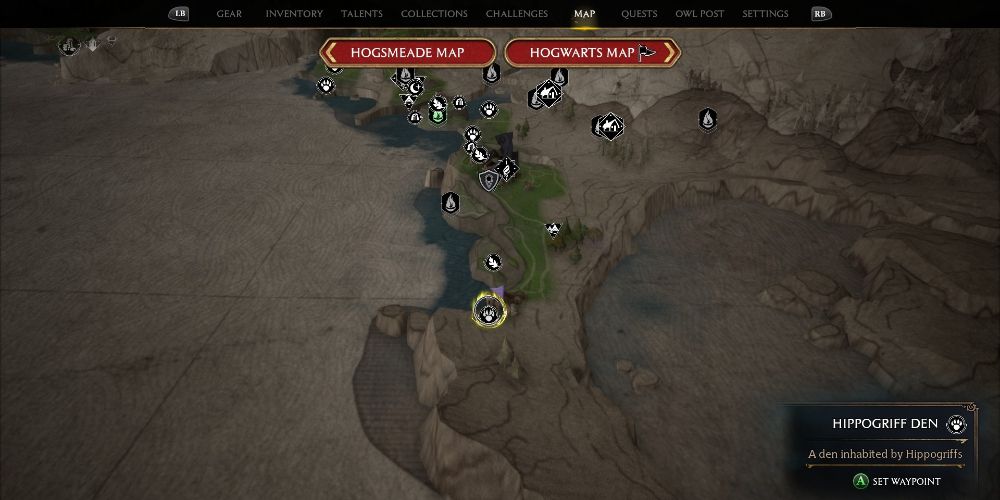 To reach the last Hippogriff Den you'll need to travel all the way to the Manor Cape region. From the West Manor Cape Floo Flame make your way south along the coast and you'll eventually spot the den sitting just beneath a bandit camp.
How To Catch A Hippogriff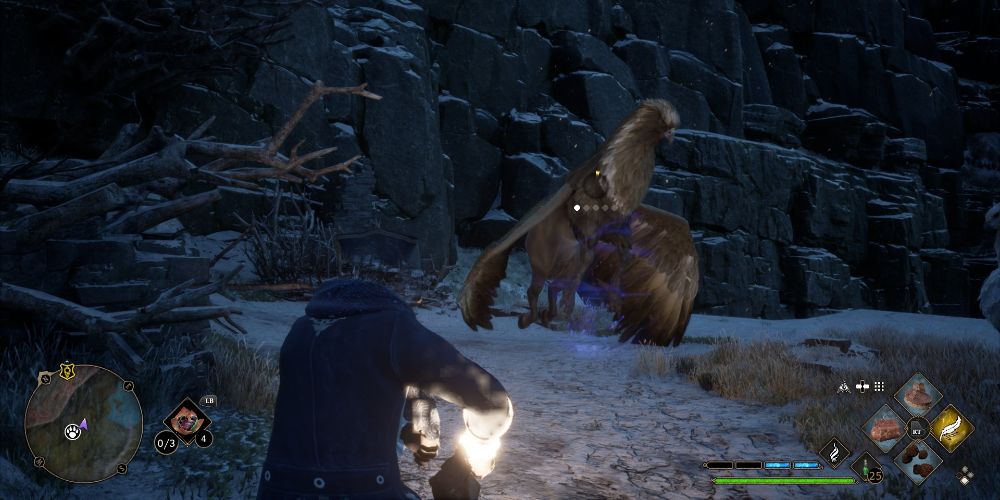 Catching a Hippogriff works similarly to catching any other magical beast in Hogwarts Legacy. However, certain creatures take more effort to capture than others and the Hippogriffs are among the most elusive beasts in the game. First off, forget about rushing in with your Nab-Sack open because Hippogriffs can fly and will take off as soon as they spot you. Instead, you'll want to use Disillusionment, so you can sneak up on them undetected.
Once you're in range, it's imperative to cast Levioso on the Hippogriff before you attempt to capture it. You'll need to play the QTE no less than five times to calm the creature and then press the prompt a sixth to capture it. The effect of Levioso won't last for the entire process, so it's important to cast it again after pressing the prompts two or three times. Don't worry, you won't have to start from scratch if you interrupt the process.
Next: Hogwarts Legacy: How To Catch A Graphorn
Denial of responsibility!
Gamers Greade is an automatic aggregator of the all world's media. In each content, the hyperlink to the primary source is specified. All trademarks belong to their rightful owners, all materials to their authors. If you are the owner of the content and do not want us to publish your materials, please contact us by email –
[email protected]
. The content will be deleted within 24 hours.