Scale Glaseado Mountain is in the Paldeo Region, and near the top, you'll find the Glaseado Gym. This is an ice-type gym run by Gym Leader Grusha, a former snowboarder who was the victim of an accident. Grusha has a simple test for the player to pass if they'd like to challenge his gym in Pokémon Scarlet & Violet.
RELATED: Pokémon Scarlet & Violet: How To Beat Lurking Steel Titan Guide
The test will prove itself very straightforward. If there's a shiver on this snowy mountain, it's when you go against Grusha's team. Ice-types have very exploitable weaknesses, but it's a well-rounded team and meant for players with higher-level Pokémon parties. Go in prepared, and do not lower your guard.
Sledding Down The Slopes
A receptionist at the Glaseado Gym will sign you up as a challenger, informing you that the test is a sled ride. The sled, in this case, will be whichever Legendary Pokémon is exclusive to your version of the game; Koraidon for Scarlet or Miraidon for Violet.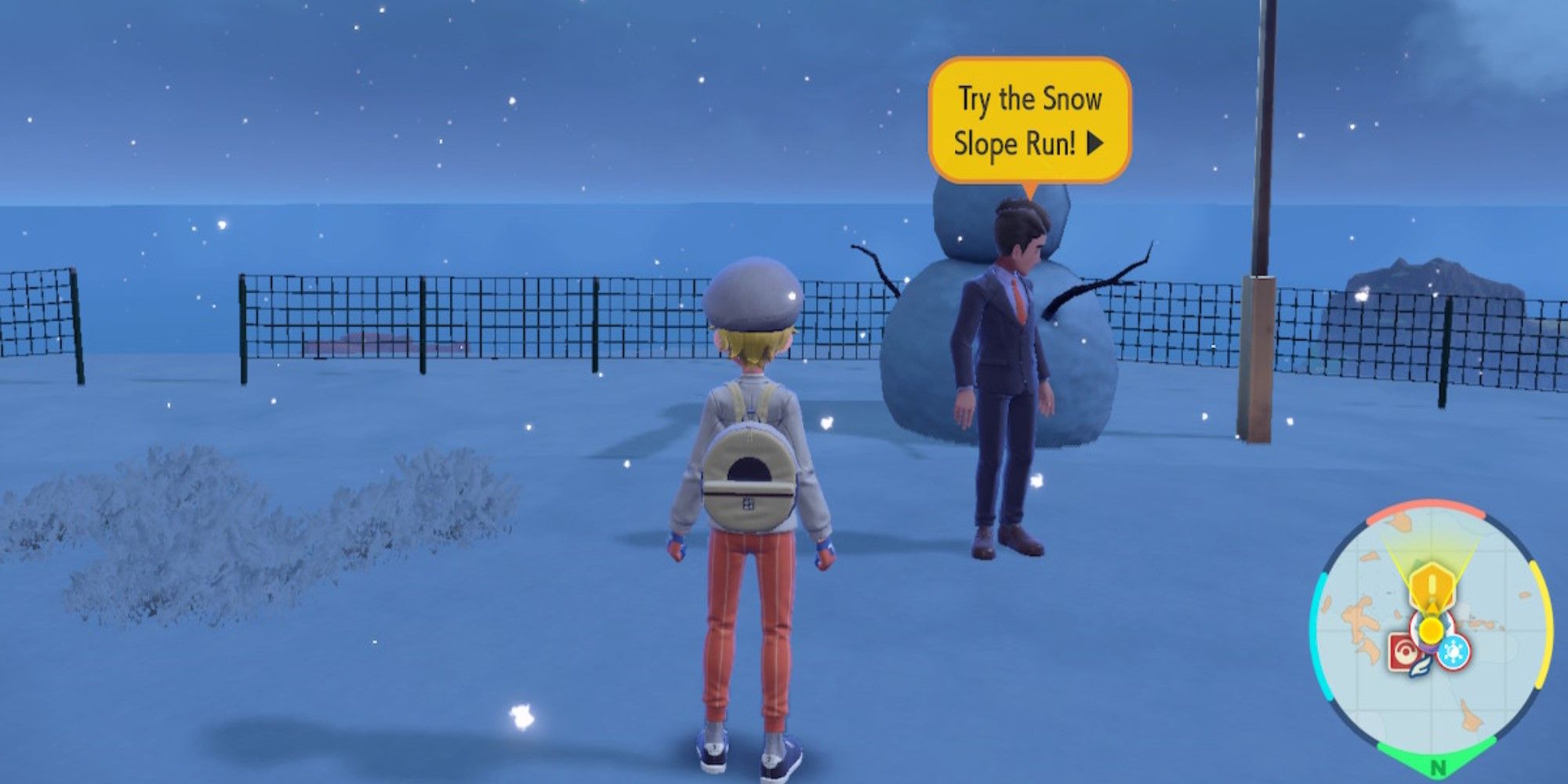 Leave the gym and walk up the hill just to the left. Talk to the Gym Trainer standing next to the snowman, and you'll start sledding.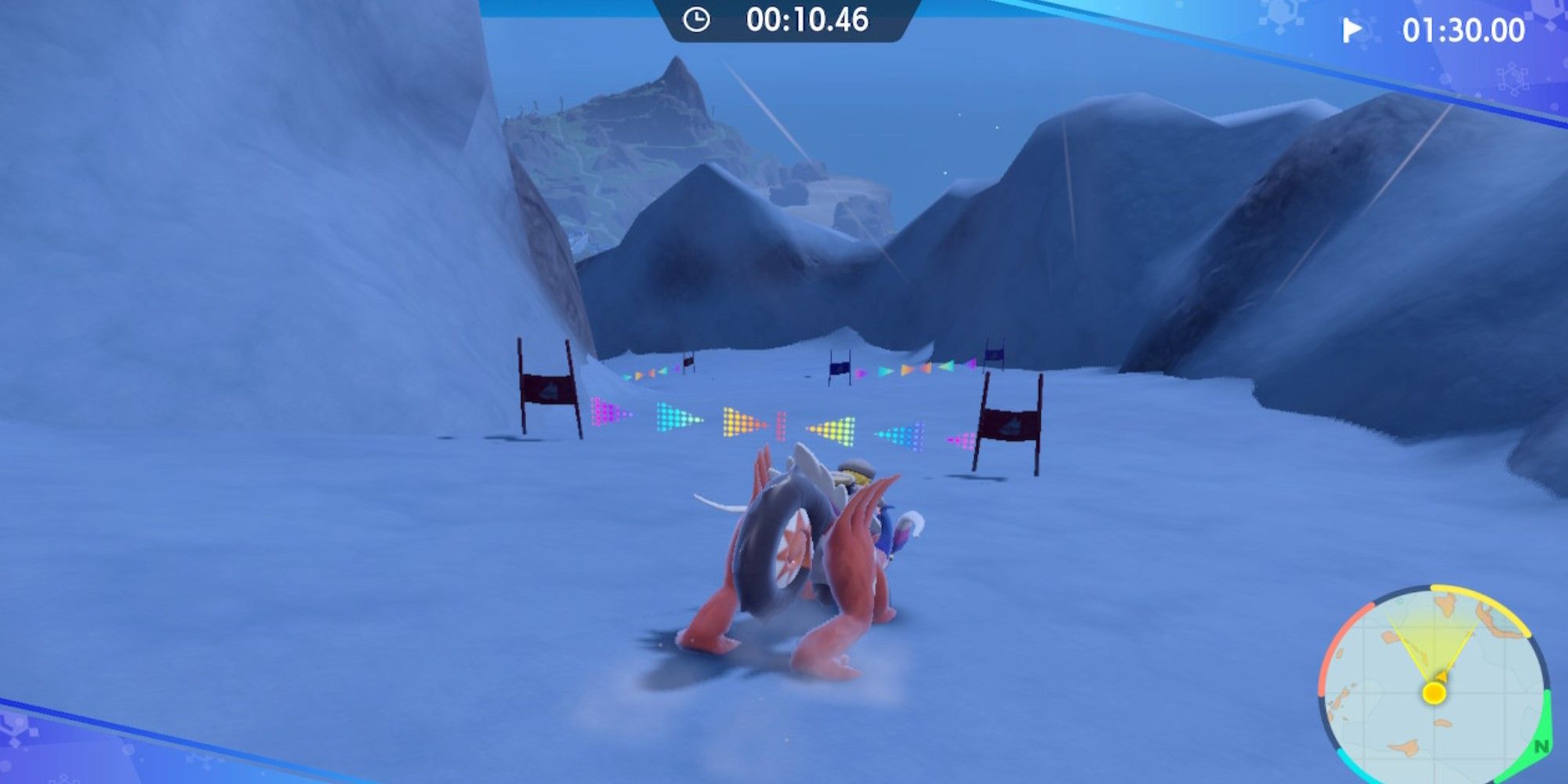 Koraidon and Miraidon aren't exactly graceful on their slide down. All you can do is move them to the right or left, they'll be slipping down the entire time, and your goal is to slide through the goalposts littered through the path. It might feel a bit awkward at first, but the goalposts are far enough apart that you should be able to go through the first few while getting a grip on them.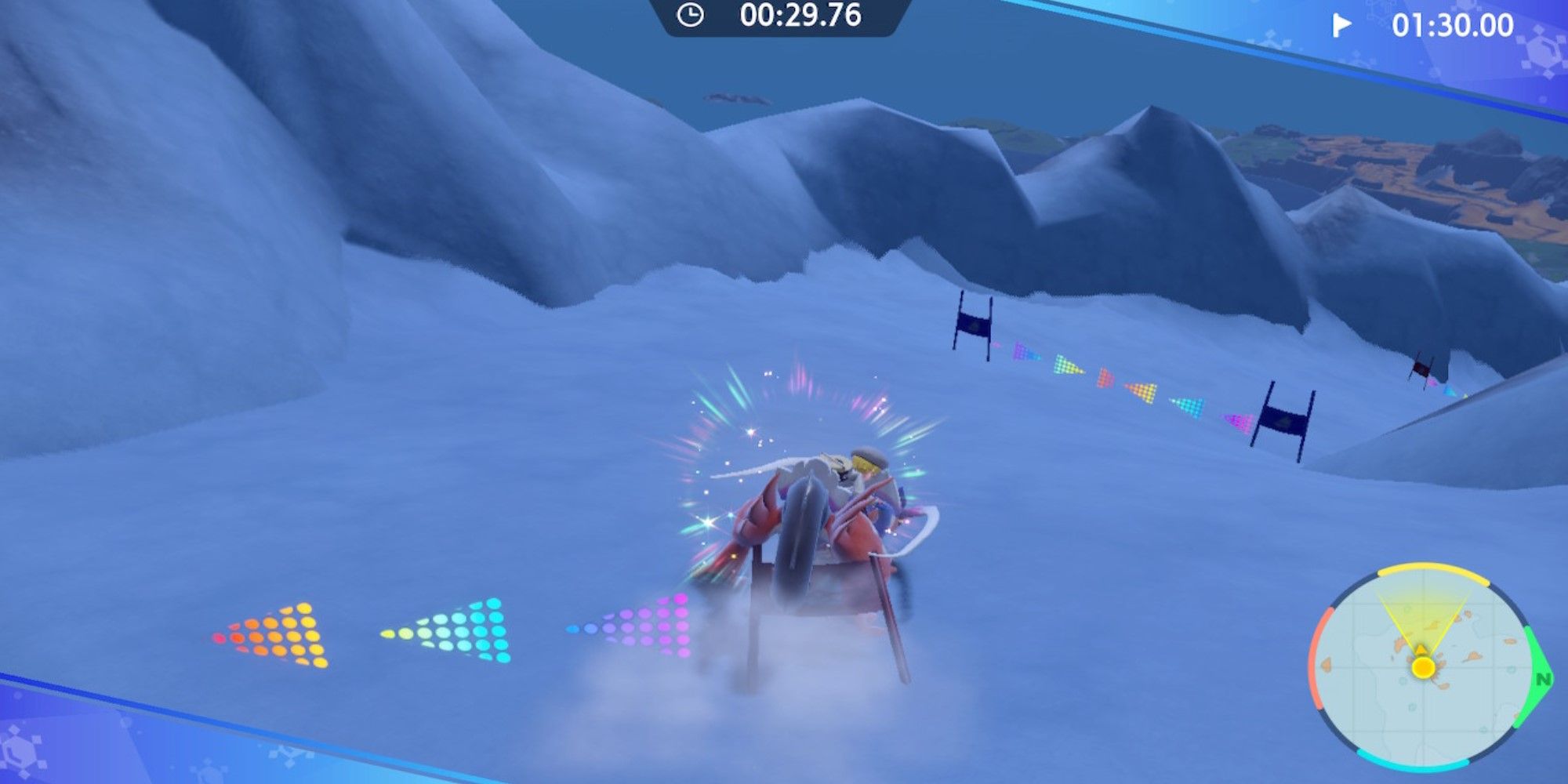 You'll need to go through every single goalpost and reach the bottom within a time limit of a minute and a half. While you're supposed to go between the flags, if you smack directly into a goal flag, it will still count. As long as you keep an eye on where you're heading, you will finish just fine.
This is the only section of the test. Once you finish the slide within the time limit, you will be given a passing grade and the opportunity to challenge Grusha whenever you are ready. It's okay to level grind as long as you want, or just go right in and see if you are ready. Grusha will have four Pokémon, all just shy of level 50.
RELATED: Pokémon: Best Songs In The Series, Ranked
Frosmoth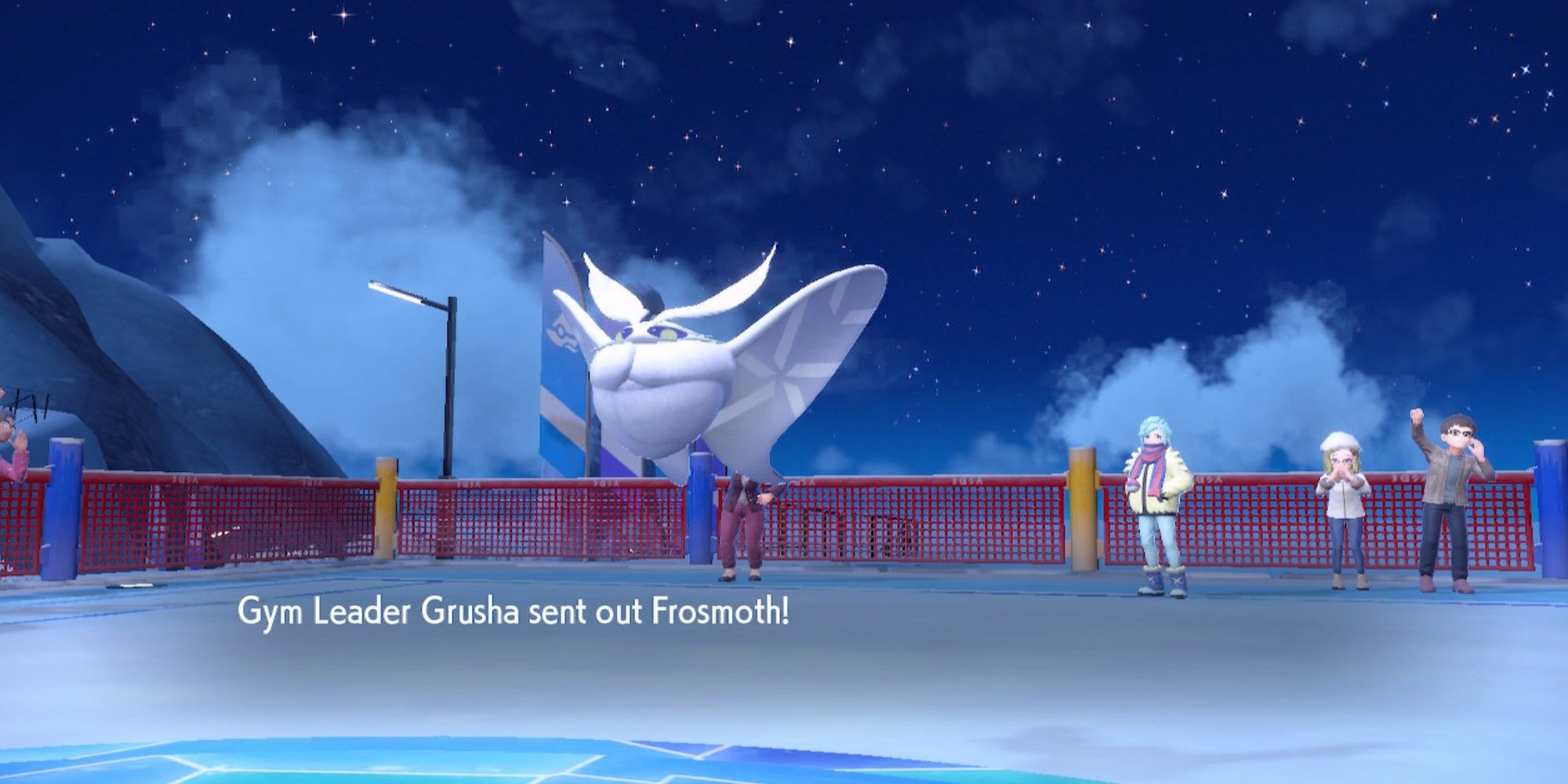 Starting Grusha's team is a level 47 Frosmoth. Frosmoth is, in many ways, a breeze, but also exactly the leading Pokémon to trick a player into thinking this will be easy. This is because of Frosmoth's type weaknesses:
Do not use a flying type, as they are weak to ice-type attacks, and Frosmoth will be the only Pokémon on Grusha's team with a flying weakness anyway. It shares the fire and rock weaknesses between both its typings, meaning Frosmoth takes four times the damage from rock and fire type moves. A hard hit from a Rock Slide or Fire Blast can likely wipe out Frosmoth in one hit, but if you're too slow to go first or cannot do this in one hit, Frosmoth knows Blizzard. Blizzard is one of the most powerful ice-type moves in the series, and you'll have a hard time dealing with it even when it's launched with low accuracy.
Beartic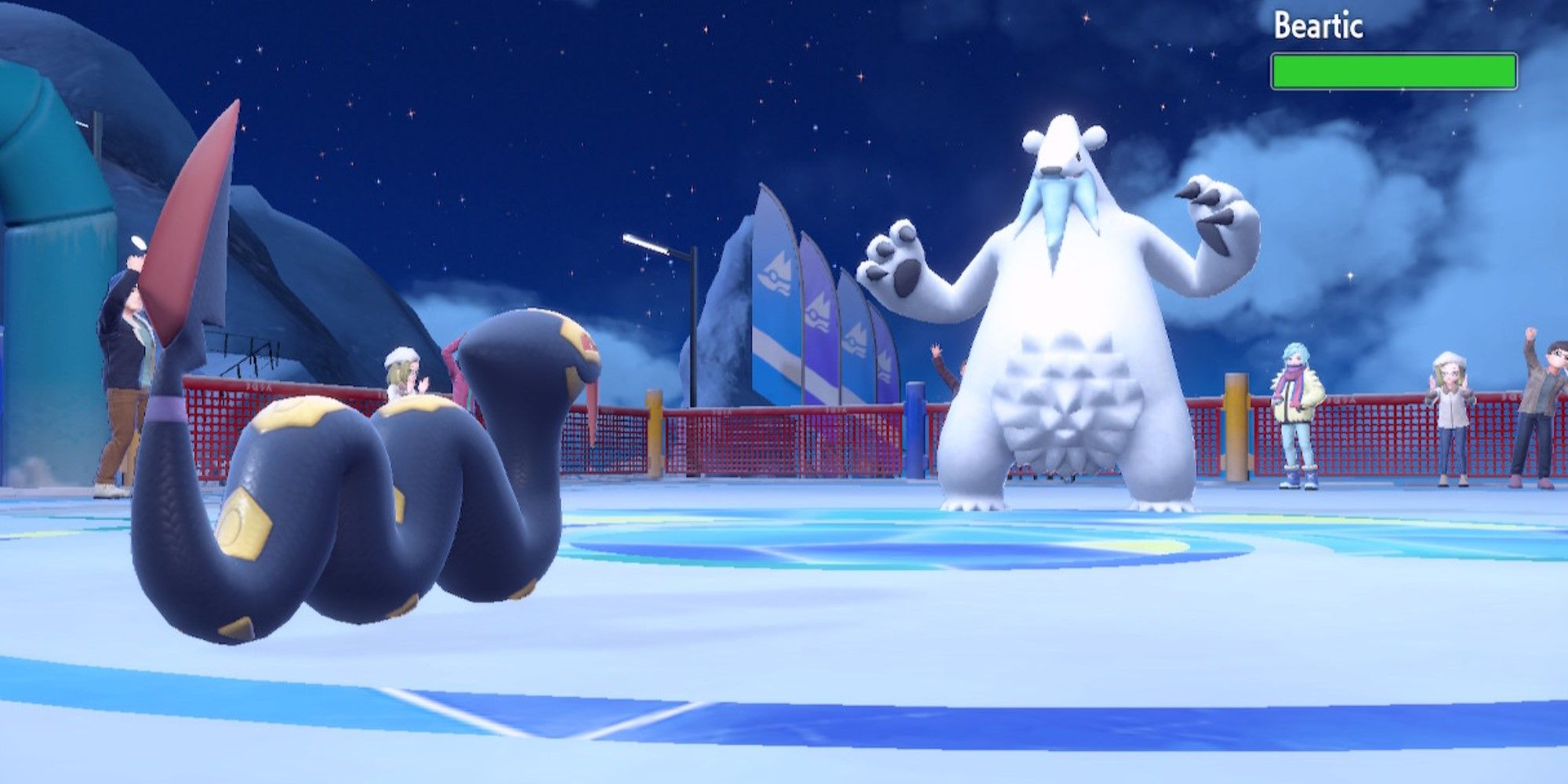 Beartic is also level 47, but it's strictly an ice-type with no secondary typing. Beartic has all the type weaknesses of the ice-type:
Beartic is mostly a well-rounded Pokémon with one stat notably higher than others — Physical attack. This could be devastating if you were using a rock or fire-type, as Beartic knows both Aqua Jet and Earthquake. Earthquake is also strong against steel-type. It comes prepared to deal with most of its type weaknesses, fighting being the odd one out.
Cetitan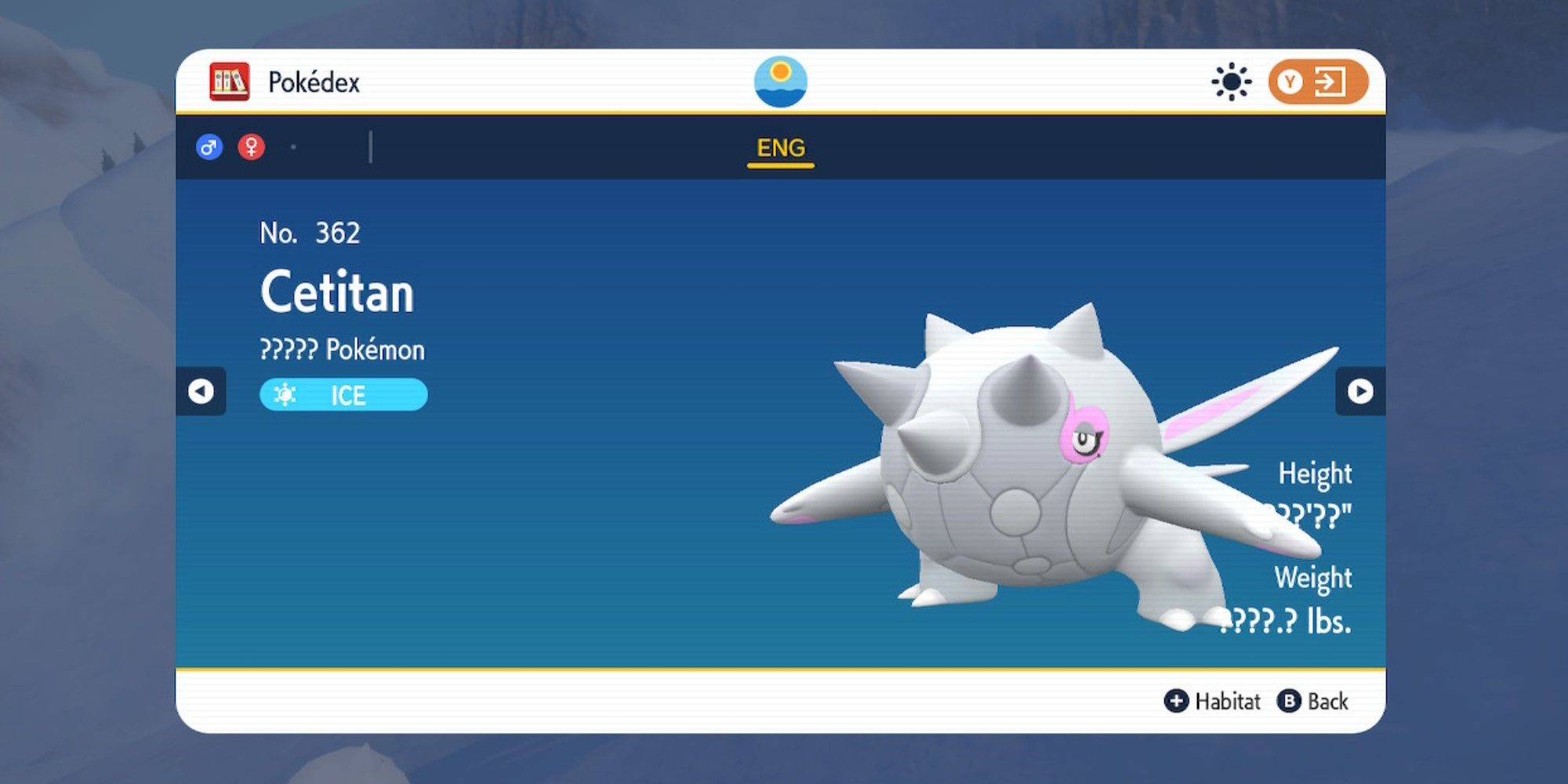 Cetitan, on the surface, is like Beartic. It's at level 47 and a pure ice-type. The shared typing means that Cetitan is weak in the same type-chart as Beartic. It also has its own answer to fire attacks as it has the Thick Fat ability, which lowers damage from fire-type attacks.
It doesn't have as much variety in terms of attacks as Beartic had, however. Cetitan will be the Pokémon used to showcase the move Grusha gives you the TM for at the end of your match – Ice Spinner.
Ice Spinner is a hard-hitting physical attack that removes any terrain placed on the field. This should prove only devastating for players who use terrains, as Cetitan will have no problem spamming this attack, shutting this tactic down. Other than that, it's not a much different threat than the previous two.
After defeating these three, Grusha will show his star player.
Ice Tera Form Altaria
Altaria is quite the opposite of an ice-type under normal circumstances. Being a dragon-flying type, it takes four times the damage from ice-type moves. Grusha chooses it for his Terastal Pokémon, turning it a pure ice-type.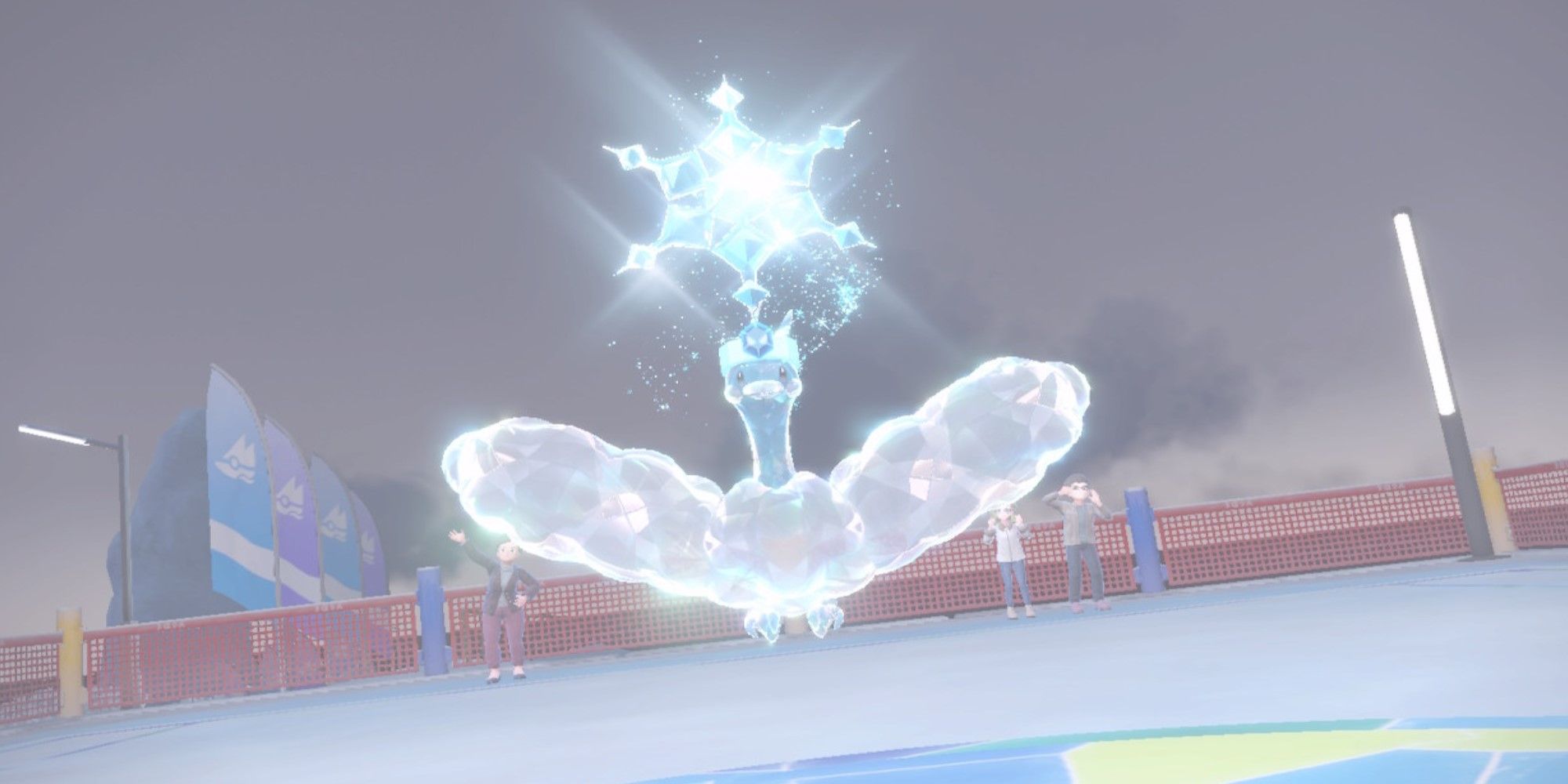 It will share the same weaknesses as Beartic and Cetitan as long as it's Terastalized, but if this form ends before the fight is over, you will need to try these moves instead:
It's unlikely you'll want a dragon-type during this gym challenge, as they are weak to ice. Altaria also knows Hurricane, a powerful flying-type move that will gain the same type-attack bonus if Altaria reverts to dragon-flying. If you can't be sure you'll beat Altaria in time, here's a tip — Altaria does not have an answer against rock-type in either form, making them a decent enough type to consider relying on. With Altaria down, you'll get Grusha's gym badge, getting one step closer to finishing your Treasure Hunt down Victory Road.
NEXT: Pokémon Scarlet & Violet: How To Use Let's Go
Denial of responsibility!
Gamers Greade is an automatic aggregator of the all world's media. In each content, the hyperlink to the primary source is specified. All trademarks belong to their rightful owners, all materials to their authors. If you are the owner of the content and do not want us to publish your materials, please contact us by email –
[email protected]
. The content will be deleted within 24 hours.