Editor's Note: The following contains spoilers for Season 1 of Poker Face.
The entirety of Poker Face's debut season followed Nathasha Lyonne's Charlie Cale as she fled certain doom, always finding herself one lucky step ahead of Cliff (Benjamin Bratt) and his boss, Sterling Frost, Sr. (Ron Perlman), who promised Charlie a slow death for her role in his son's impulsive suicide. As viewers of the series know, "lucky" is probably not the exact word Charlie would associate with her transient life on the road as she tries to keep a low profile. For a lady just looking to avoid her own troubles, she sure finds herself immersed in the life and death problems of many people whose paths she crosses. And, despite her best efforts, road living will continue to be her only path forward for the foreseeable future.
After spending over a year of her life running from place to place meeting all kinds of large and in charge people, never quite sure if her stopover would be measured in hours, days, or weeks, everyone's favorite human lie detector's chase came to an end rather casually outside a hospital. Right when she was ready to live again, following nearly dying a couple of times on Shit Mountain, then mistakenly being declared dead on TV and thinking herself home free, Charlie finally had her inevitable face to face meeting with Cliff. In the year she'd been on the run, though, things changed a bit. While she spent her time accumulating several first-hand experiences of the many kinds of murderers across America, Frost, Sr. and Cliff were on opposite journeys of their own. Frost, Sr.'s being a slow road to forgiving Charlie and actually welcoming her back, whereas Cliff's seemingly endless months on the road living in crappy hotels and sleeping in the car just calcified his hatred of Frost, Sr. Cliff apparently used his plenty of time to hone the art of telling deceptive truths when in Charlie's presence and practice his spoken word take on Blues Traveler, two things he completely mastered, which led to Charlie's current predicament of yet another never ending road trip. Her loss is definitely the TV viewer's gain, because more Lyonne is always a good thing.
RELATED: 'Poker Face': Natasha Lyonne's 10 Best Movie & TV Roles, Ranked According to Rotten Tomatoes
'Poker Face' Keeps Playing the Game
Before things fell apart again, they were kind of working out all right for Charlie. Instead of that painful death she was promised — the one that inspired her disappearance into the heartland of the US in the first place — Charlie was offered a job. Not some standard casino gig slinging booze for 4 a.m. drunks hoping to hit it big, either, but the kind of work that'd instantly launch her bank account into the six-figure range with lots more to come. It wouldn't exactly be the kind of thing she could easily declare on taxes, but surely Frost, Sr. had dealings with a shady accountant or two who could lend their expertise. Plus, Charlie could actually settle down again and do things like open a bank account without fear, or simply come across fewer murderers while forever looking over her shoulder. She happily accepted the offer, Cliff apologized for killing Natalie, everyone's working together well, and life's looking up for Charlie in Season 2.
Bullshit. Cliff and the newest heard-yet-unseen Big Bad, Beatrix Hasp (Rhea Perlman, who still doesn't have the best luck with Cliffs, be they mailmen or hitmen) conspired to frame Charlie for Frost, Sr.'s murder and now, even though their plan largely fell apart and Cliff is making deals with cops, Charlie is directly in the crosshairs of the Five Families, thanks to her ruinous tendencies coming to fore once again. Only this time, with a whole organized crime family after her, there won't be any mutual understanding or a change of heart should Charlie be caught. "Ruinous," as she was called by both her sister, Emily (Clea DuVall enjoying a little But I'm A Cheerleader reunion with Lyonne) and Beatrix, while certainly not a nice sounding way to be described, isn't always a bad thing. Some things need to be ruined. All those murders, attempted murders, bombings, and various other crimes Charlie comes across on her travels are exactly the kind of things that need someone like her around to ruin. Schemers and Charlie just don't mix, because eventually she sees right through their facade and the deadly jig is up.
A 'Poker Face' Doesn't Help at the Dinner Table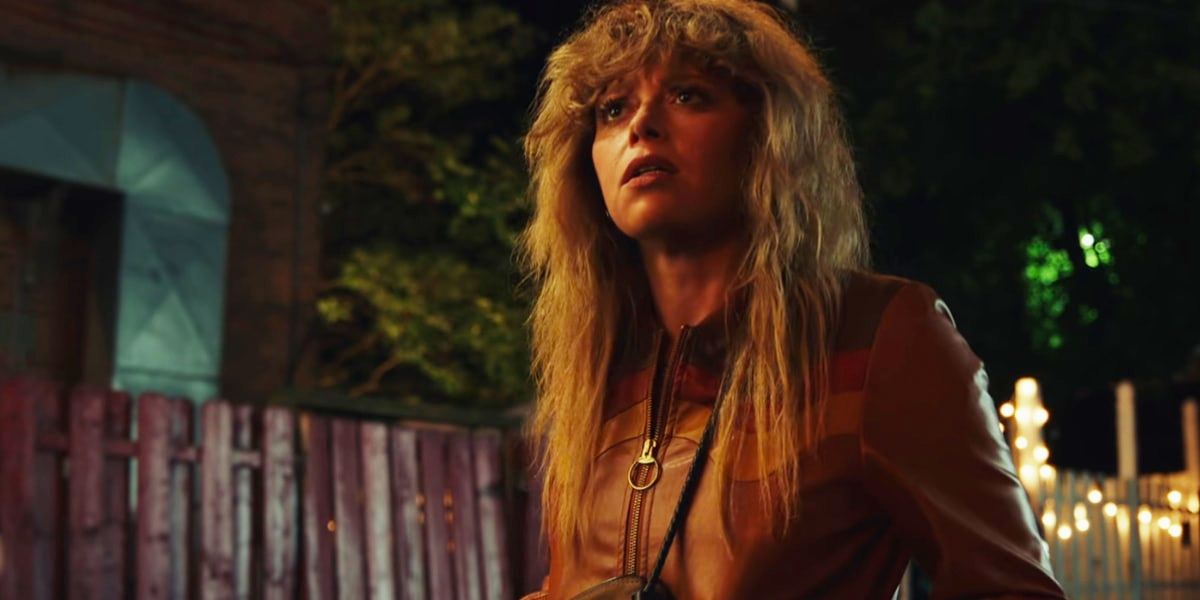 Calling out all the bullshit in daily life might not be ideal for domestic living, on the other hand, or at least it seems to have thrown a few wrenches in the life she had with her sister growing up. The specifics are left for another time, if ever (as they don't exactly leave things at, "See you for Thanksgiving!"), but it's clear there are still a lot of raw feelings being worked through. Balancing her knack for sniffing out the truth and having lasting relationships with immediate family just seems to be a life skill that Charlie has never mastered, for whatever reason. It's understandable how a child knowing all the lies being spoken on a constant basis by everyone she knows for as far as she could remember, from closest family to random strangers, would permanently shape how they view all the people they deal with and not be interpreted as a gift. Considering all that, Charlie seems pretty well-adjusted, easy to get along with, and accepting of everyone — as long as they aren't murderers, anyway.
Charlie's got an FBI friend now, too, in Simon Helberg's Luca Clark, for whatever that's worth, so at least her forced wanderings and random acts of do-goodery weren't completely in the service of others while her own life imploded. She also probably got a little vacation from her troubles while recuperating in the hospital and thinking she was homefree thanks to the mistaken identity, at least. The season finale deals with it via a quick two-month time jump, so the specifics of her visit are unknown, but it appears from her fairly good spirits that she didn't have to accidentally solve any murders while on the mend from her own attempted murder. Perhaps some hospital-based killings will be an episode one day, as the USA is a pretty big place and Charlie's still got plenty of running to do.
Poker Face Season 2 will be different as much as it's the same, really, because Rian Johnson and Lyonne know that's exactly what viewers of this kind of casual murder mystery and fans of Charlie Cale, in particular, are looking for. Johnson and the showrunners say it doesn't always necessarily have to be a murder, but so far that's how it's trending, and why meddle with what works? Dead body or no dead body, Charlie will continue to roam free from town to town doing what she does best — ruining things in the best way possible.
Denial of responsibility!
Gamers Greade is an automatic aggregator of the all world's media. In each content, the hyperlink to the primary source is specified. All trademarks belong to their rightful owners, all materials to their authors. If you are the owner of the content and do not want us to publish your materials, please contact us by email –
[email protected]
. The content will be deleted within 24 hours.