Entertainment
How Godzilla vs. Kong Director Avoided A Batman v Superman Mistake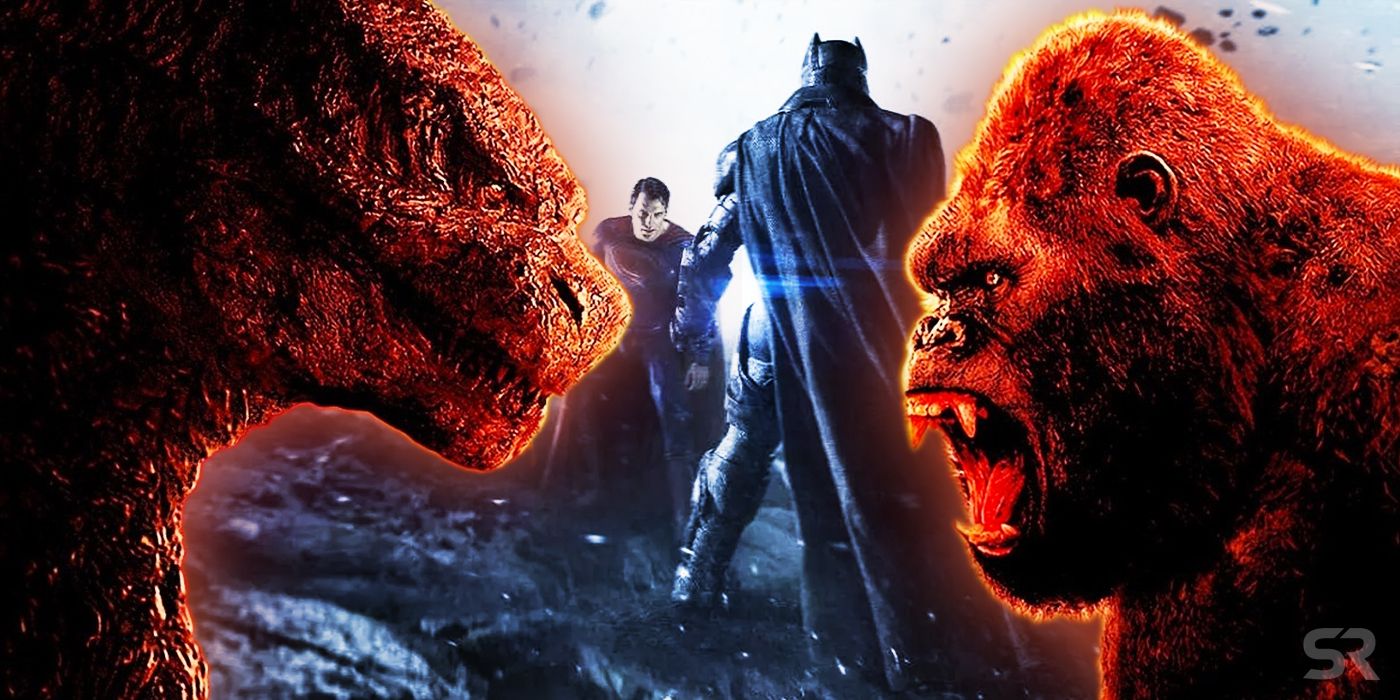 Director Adam Wingard doesn't want the aged Kong in Godzilla vs. Kong to be so different that it feels like Ben Affleck's debut in Batman v Superman.
Director Adam Wingard says Godzilla vs. Kong is trying to avoid a mistake Batman v Superman: Dawn of Justice made. Arriving March 31 in theaters and on HBO Max, Godzilla vs. Kong is the fourth installment in Legendary's MonsterVerse. It follows the ending of 2019's Godzilla: King of the Monsters, which set up a battle between the two during its closing credits.
Although both characters have been around for decades, they've only previously clashed onscreen once before, in Toho's King Kong vs. Godzilla in 1962. Kong was last seen onscreen in 2017's Kong: Skull Island, which took place in 1973, and Godzilla: King of the Monsters marks Gojira's latest onscreen appearance. Godzilla vs. Kong was originally scheduled for a March 2020 release but due to the coronavirus pandemic was first delayed to November 2020 and then again to May 21, before finally being set for a March 31 release. Due to the nearly 50 years that have passed between the events of Kong: Skull Island and Godzilla vs. Kong, the King of Skull Island will have a slightly different physical appearance. He has grown from a height of 104 feet to nearly Godzilla's height of 393 feet, his fur has taken on a darker shade and he'll also have a beard of fur on his chin.
Continue scrolling to keep reading
Click the button below to start this article in quick view.
Related: Why Godzilla Could Beat Kong Twice In GvK
Despite Kong: Skull Island and Godzilla vs. Kong taking place decades apart from each other, Wingard had a specific approach to making sure Kong still looked like the same character. In an interview with Collider, Wingard explained how he avoided a mistake Batman v Superman made, saying:
When it came to my approach to this film coming directly after King of Monsters, I guess there's like a couple of ways I can approach that question. I mean, one is that this film is directly taking place after King of Monsters, but it's also like about, you know, like it's way in the future from Skull Island, which took place in the seventies.

And so for me, like one of the most important things was, is that this feels like a legitimate sequel to those movies, that this feels like a legitimate match up between Godzilla vs Kong, that even though Kong is a little bit different in this film, it's only because he's aged from the time of the last movie. So he's a little more grizzled and all those kinds of things, but I guess what I'm trying to get at is that part of the problem with King Kong versus Godzilla, the original movie, is that we'd already established Godzilla, he looks basically like he did in the earlier films, but this was sort of a new King Kong. This was the first Toho version of King Kong. He looks a little weird, and if I have to be honest, and he's not stop motion either, you know?

So he feels like a totally new character. It's a totally new interpretation. And so in a weird way, you don't feel like this is really King Kong versus Godzilla. You're like, "It's Godzilla, but this other guy is a different version of King Kong. So it's the best we got," You know? And you flash forward in time, and I look at, for instance Batman versus Superman to use it as an example, and this is just my opinion, but my issue with that movie is really that it's a new Batman. It's Ben Affleck is Batman, and it's… And up until then Christian Bale was the definitive Batman, and so it felt like, okay, now that we're doing Batman versus Superman, we're also restarting Batman. So this feels like a different universe, which it is, and so this is a different Batman.
Batman v Superman marked Affleck's DCEU debut, following Bale's turn as the Caped Crusader in Christopher Nolan's successful Dark Knight trilogy. Affleck also starred in Justice League and is set to appear in The Flash in 2022, but he has otherwise retired from the role, with Robert Pattinson replacing him in The Batman next year. Other actors to appear on the big screen as Batman include Michael Keaton, Val Kilmer, and George Clooney.
If the trailers and stills are anything to go by, Kong really doesn't look that different in Godzilla vs. Kong than he did in Kong: Skull Island. He still looks like a giant ape, just taller and with darker fur. It's quite likely that many casual fans who haven't rewatched the 2017 movie since its release won't even notice the differences. Also, the CGI effects team that worked on Godzilla vs. Kong probably used the 2017 version of Kong as its template, so the 2017 and 2021 versions would closely resemble each other. It's also worth noting that human roles like Batman and James Bond have been played by multiple actors over the years. Audiences are used to seeing new faces in the part every so often, so differences might not be quite as jarring as Wingard thinks. It's admirable that the director is worried, but hopefully, audiences won't be thrown off by the differences.
Next: Kong Could Replace A Classic Monster's Story In Godzilla vs Kong
Source: Collider
Godzilla vs. Kong (2021)Release date: Mar 31, 2021
Every Armored Character MCU Phase 4 Can Introduce (& Which Are Confirmed)
Follow us on Google News
Read original article here