The signature weapons of Horizon Forbidden West are going to be the three kinds of bows: Hunter, Sharpshot, and Warrior. Hunter Bows are best at medium range, Warrior Bows are best at close range, and Sharpshot Bows are best at long range. You should really carry one of each to maximize the efficiency and elemental damage base of your weapon wheel.
RELATED: How Long Does It Take To Beat Horizon Forbidden West
These weapons are also separated into four rarity types: Uncommon, Rare, Very Rare, and Legendary. This list will include any bows that are acquirable in the main game. No weapons that are pre-order bonuses or gained after starting New Game Plus will be included.
10/10

Pyre Hunter Bow

The Pyre Hunter Bow is a solid choice for fighting both man and machine. It does decent Impact and Tear Damage, as well as good Fire damage and Fire buildup. With the right Coils to improve its Fire buildup and Impact damage, it can be made even more deadly. This is also a great bow for people new to the Horizon games.

This bow is perfect against humans, Burrowers, Lancehorns, Corruptors, and Snapmaws. You can purchase the Pyre Hunter Bow from the Hunter merchant in The Bulwark for 549 Metal Shards and a Fanghorn Circulator.
9/10

Cleaving Sharpshot Bow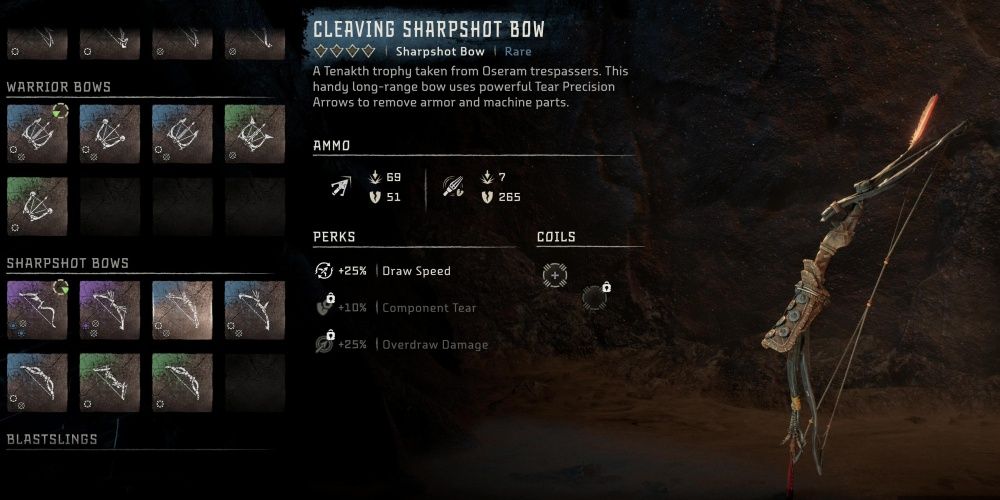 This rare bow is best for stripping armor or desired parts off of machines without killing them right away. The Cleaving Sharpshot Bow does great Impact Damage as well as having the ability to fire Tear Precision Arrows, which create a mini air explosion that tears armor and parts right off of machines – especially heavily armored bosses and Apex Machines. Coils that increase concentration as well as Tear damage are recommended.
This bow is also useful for tearing armor off of human enemies as well, so you can get in close with your spear and finish them. This bow is acquired after completing the main quest "The Broken Sky" and is awarded by Dekka.
8/10

Acid Warrior Bow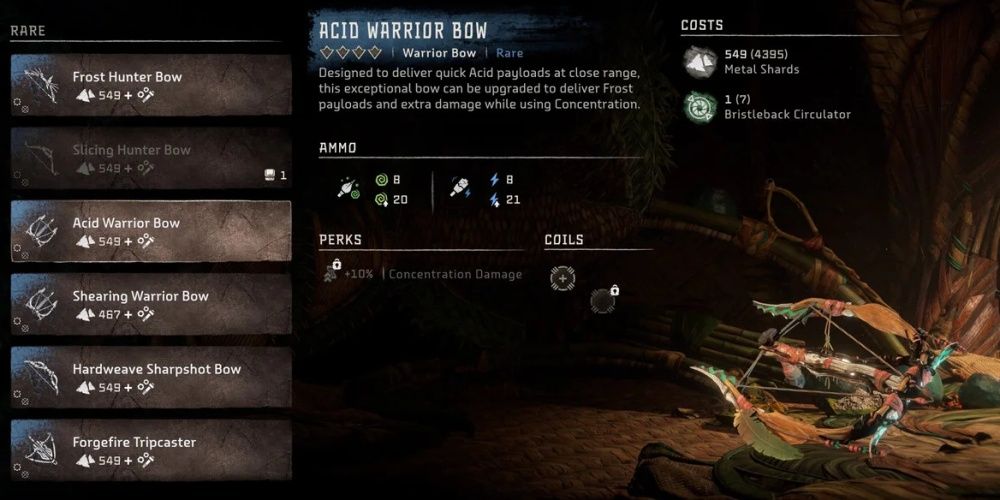 This rare bow is perfect for spraying Light, Acid, and Shock arrows at whatever you're trying to kill, be it man or machine. It has good Acid Damage and Buildup, as well as Shock Damage and Buildup. The Acid Warrior Bow is great for taking down Plowhorns, Scrappers, Longlegs, and Grazers.
RELATED: How To Start New Game Plus In Horizon Forbidden West
You should also add Coils that increase its reload speed, as well as any that increase Acid or Shock damage buildup. This bow can be purchased from the Hunter merchants in Plainsong and the Carja Camp for 549 Metal Shards and one Bristleback Circulator.
7/10

Purgewater Hunter Bow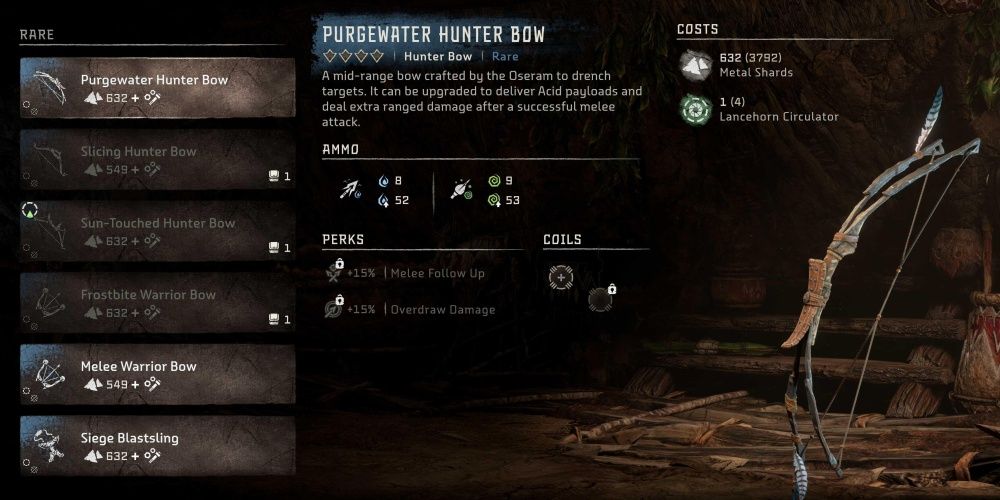 This rare bow is good for opening up machines and humans to be more vulnerable to other elemental attacks. The Purgewater Bow applies the Purgewater status effect, which decreases enemy resistances, and also grants the ability to fire Acid arrows. This bow is great when used in tandem with any other weapon that does elemental-based damage.
Leaplashers, Spikesnouts, Widemaws, and Grimhorns are naturally weak to Purgewater and won't be required to be hit by any other elements. It's highly recommended that you use Coils that enhance Acid and Purgewater damage. This bow can be purchased for 632 Metal Shards and one Lancehorn Circulator from the Hunter merchant at Scalding Spear.
6/10

Piercing Sharpshot Bow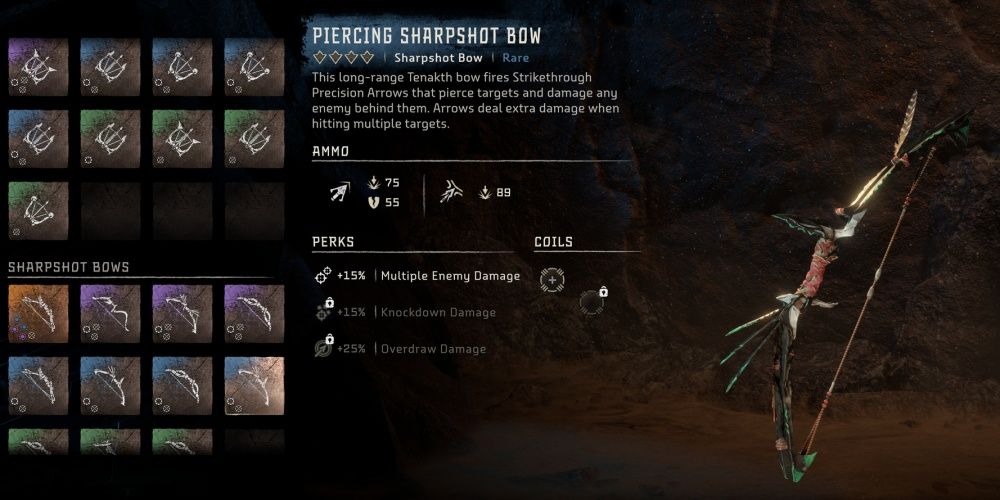 This rare bow is amazing at hitting multiple enemies in a line. It also does more damage based on how many enemies the arrow goes through. When upgraded to level three, it also gets a decent overdraw damage boost.
RELATED: Horizon Forbidden West DLC Burning Shores Confirmed
The Piercing Sharpshot bow is best when you have Coils that boost reload speed and concentration damage. You can find this bow in Rebel Camp: The Hive in the Dry Yearn area.
5/10

Adhesive Warrior Bow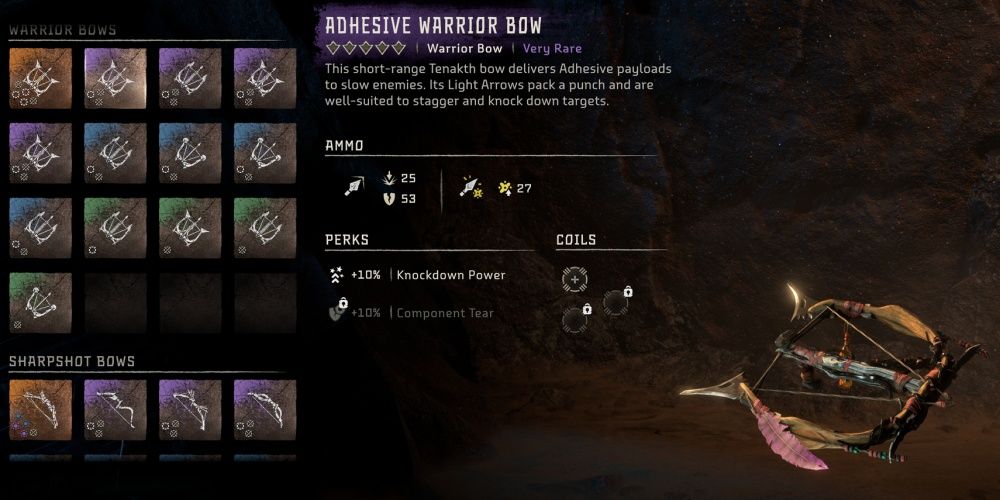 The Adhesive Warrior Bow is a very rare bow that can fire very helpful Adhesive Arrows. These arrows stick to machines and prevent them from moving fast and jumping around. This is great if you're struggling to line up shots normally or need to knock specific parts off of the machine without killing it first. It really helps against flying machines as well because it will knock them out of the air.
This bow also fires normal arrows that do Impact and Tear damage. You should add any Coils to it that improve the reload speed as well as increasing the adhesion rate. The Adhesive Warrior Bow can be purchased for the hefty price of 1,062 Metal Shards, one Large Machine Core, and one Rockbreaker Circulator from the Hunter merchant at Lowland's Path as well as Hidden Ember.
4/10

Lightning Hunter Bow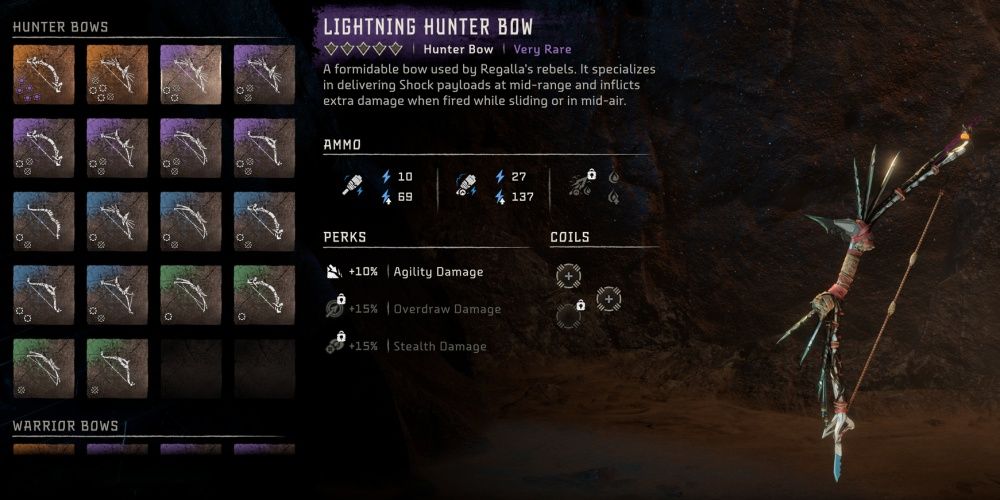 The Lightning Hunter Bow is very powerful against enemies weak to Shock damage. Unlike the previous bows, this one has the ability to fire Advanced Shock Arrows. Advanced arrows of any type do more damage and have a faster buildup time than their normal counterparts. It also fires Advanced Purgewater Arrows when upgraded.
This bow will help you defeat Clawstriders, Watchers, Chargers, and Bristlebacks, and it will clear out any Cauldron with ease. You should use any Coils that majorly increase it's Shock damage, Concentration, and Shock buildup. The Lightning Hunter Bow can be acquired after completing the "Need to Know" side quest.
3/10

Glowblast Sharpshot Bow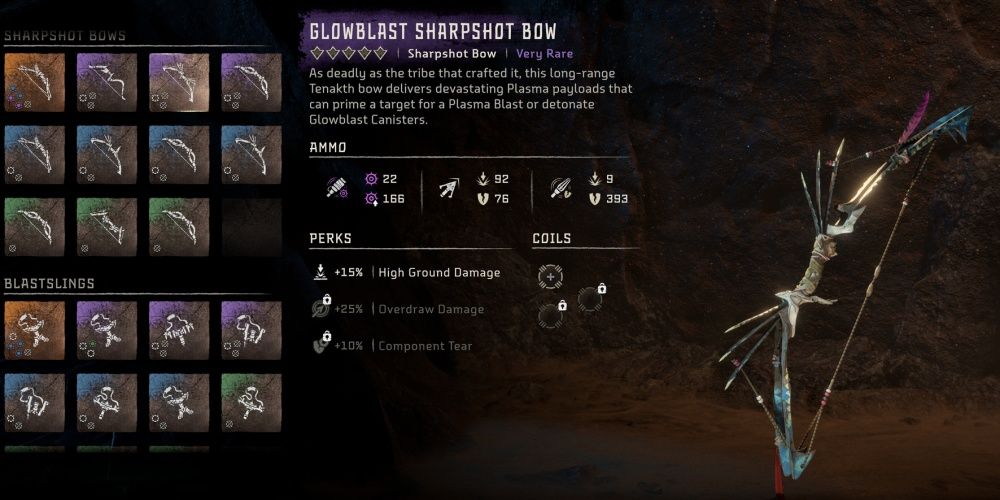 This very rare bow is one of the best bows to do Plasma damage. Its Plasma Arrows do amazing damage, and it also has the ability to do huge amounts of both Tear and Precision damage. When fully upgraded, it also gains the ability to do even more Tear damage!
You should use any Coils that increase its Tear damage even more to make this bow into even more of a beast. You can purchase the Glowblast Sharpshot Bow from the Hunter merchant at Thornmarsh for 1,035 Metal Shards, one Thunderjaw Circulator, and one Large Machine Core.
2/10

Carja's Bane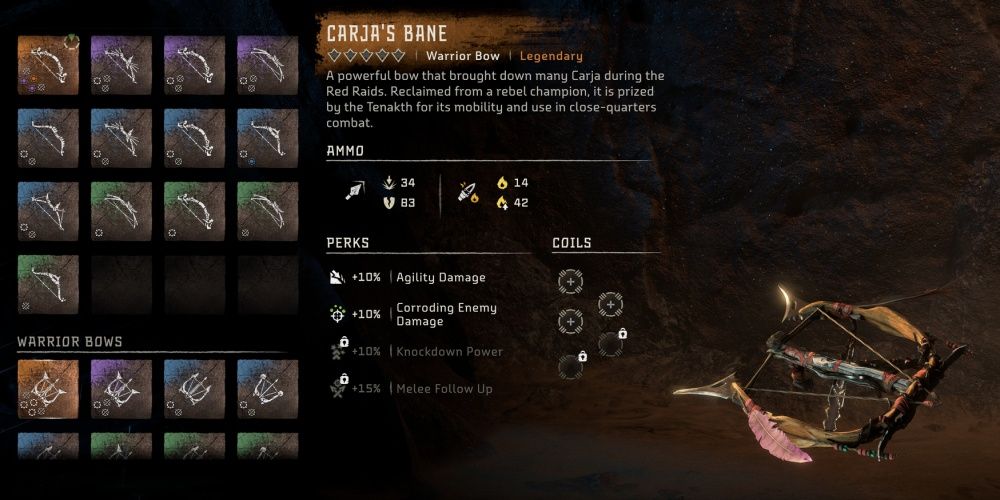 This is the best Warrior Bow you can get. This legendary bow is already a beast with its ability to fire light arrows and Fire Arrows, but when it's upgraded to level four, it gets even more buffs like Knockdown Power and Melee Follow Up Power. Carja's Bane will really help with Corruptors, Behemoths, Dreadwings, and Shellsnappers.
You should add any Coils that increase its Fire damage to make it even more powerful. You can add this weapon to your collection by completing all four Gauntlet Runsacross the Forbidden West.
1/10

The Sun Scourge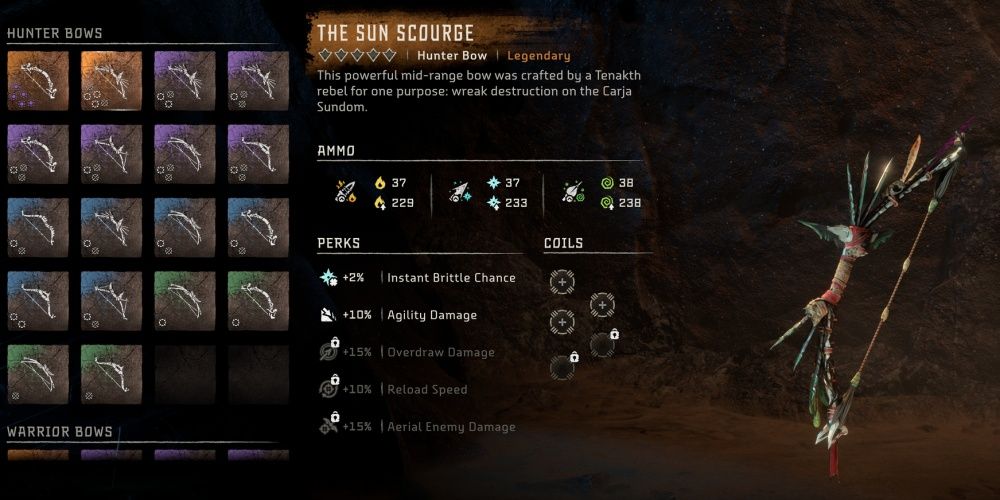 The Sun Scourge is the absolute best bow in the game. It has the ability to fire three elemental arrows from one bow and do amazing damage from all of them. This bow will really give you an edge against any enemy you face, man or machine. When upgraded twice, it becomes unstoppable with it's increased reload speed and damage while moving or sliding.
You should use any Coils that increase its damage further or increase your concentration time. This bow can only be acquired by clearing all six Rebel Camps throughout the Forbidden West.
NEXT: How to Get Flying Mounts in Horizon Forbidden West
Denial of responsibility!
Gamers Greade is an automatic aggregator of the all world's media. In each content, the hyperlink to the primary source is specified. All trademarks belong to their rightful owners, all materials to their authors. If you are the owner of the content and do not want us to publish your materials, please contact us by email –
[email protected]
. The content will be deleted within 24 hours.