The first Track in Hi-Fi RUSH will build up the first of Vandelay's heads, the HR boss Rekka, but you don't fight Rekka until the end of Track 2. In the meantime, you'll end the first track taking on her massive Quality Assurance robot.
RELATED: Hi-Fi Rush: How To Beat Korsica
As your starting boss, QA-1MILLION will be your showcase into how boss's health bars function and how often they will change up their tactics when they start losing. While the later bosses will prove more frantic and challenging, QA-1MIL has size on his side and won't be a breeze without knowing his weaponry.
Phase 1: Hit His Hands
QA is not going to take the first phase of your fight seriously. He'll almost lazily sweep his arms across the arena, which you can easily jump over, and then slam his fists down, which can be avoided by moving out of the way.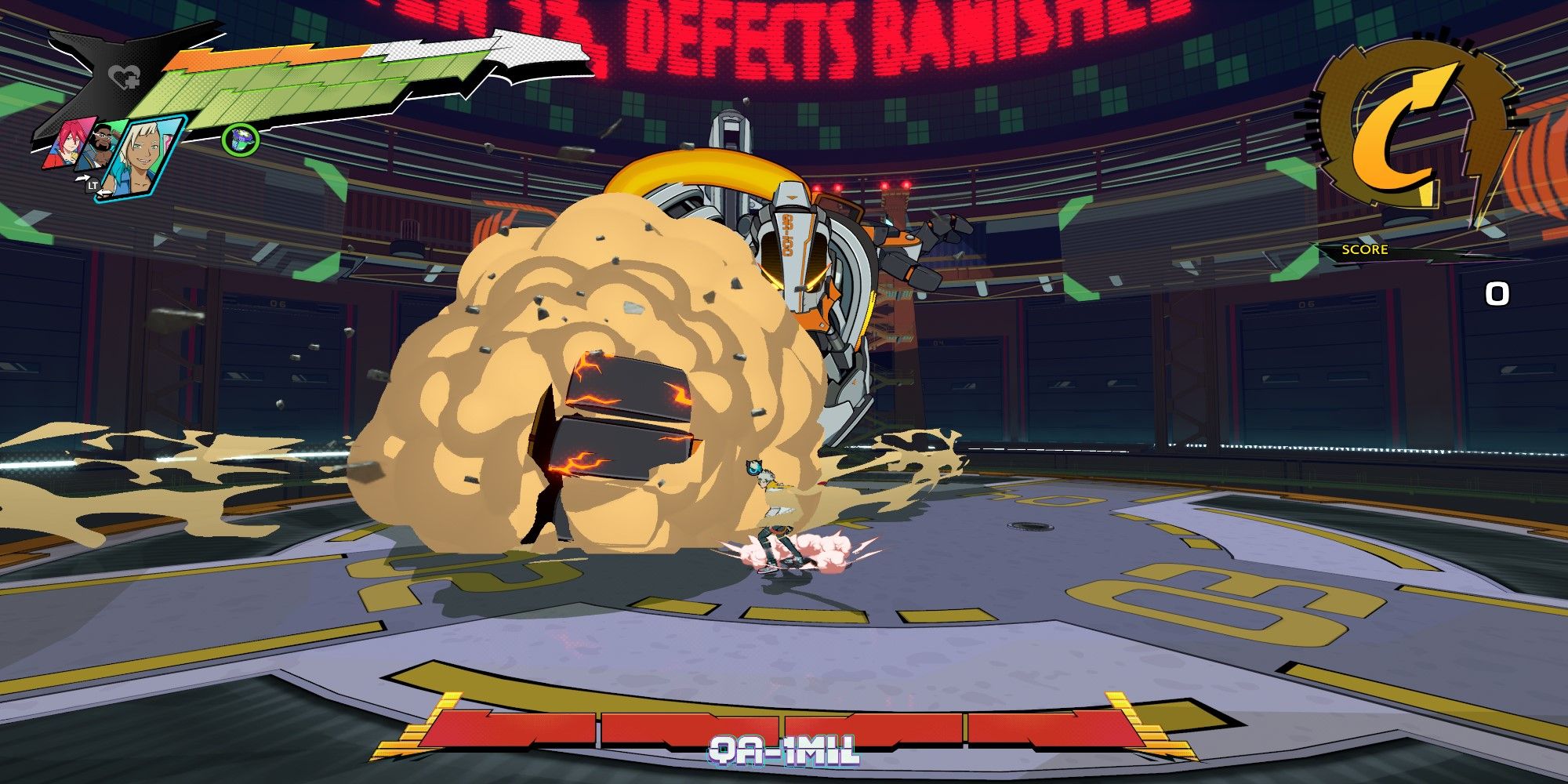 It's when he slams his fist that you have an opening, as his hand just stays on the arena as if it's stuck. Peppermint will give you a notification that this is one of QA's weak points, so start attacking it with your guitar. This phase is deliberately easy, so this will not cause you much difficulty, even regarding one of the bonus challenges of this fight.
There are two bonus challenges for the Wall Of Fame in your hideout, the first of which is completing this fight while never taking damage. Just pay attention to the hands, and you won't get hit, but that will be harder after QA decides to get serious.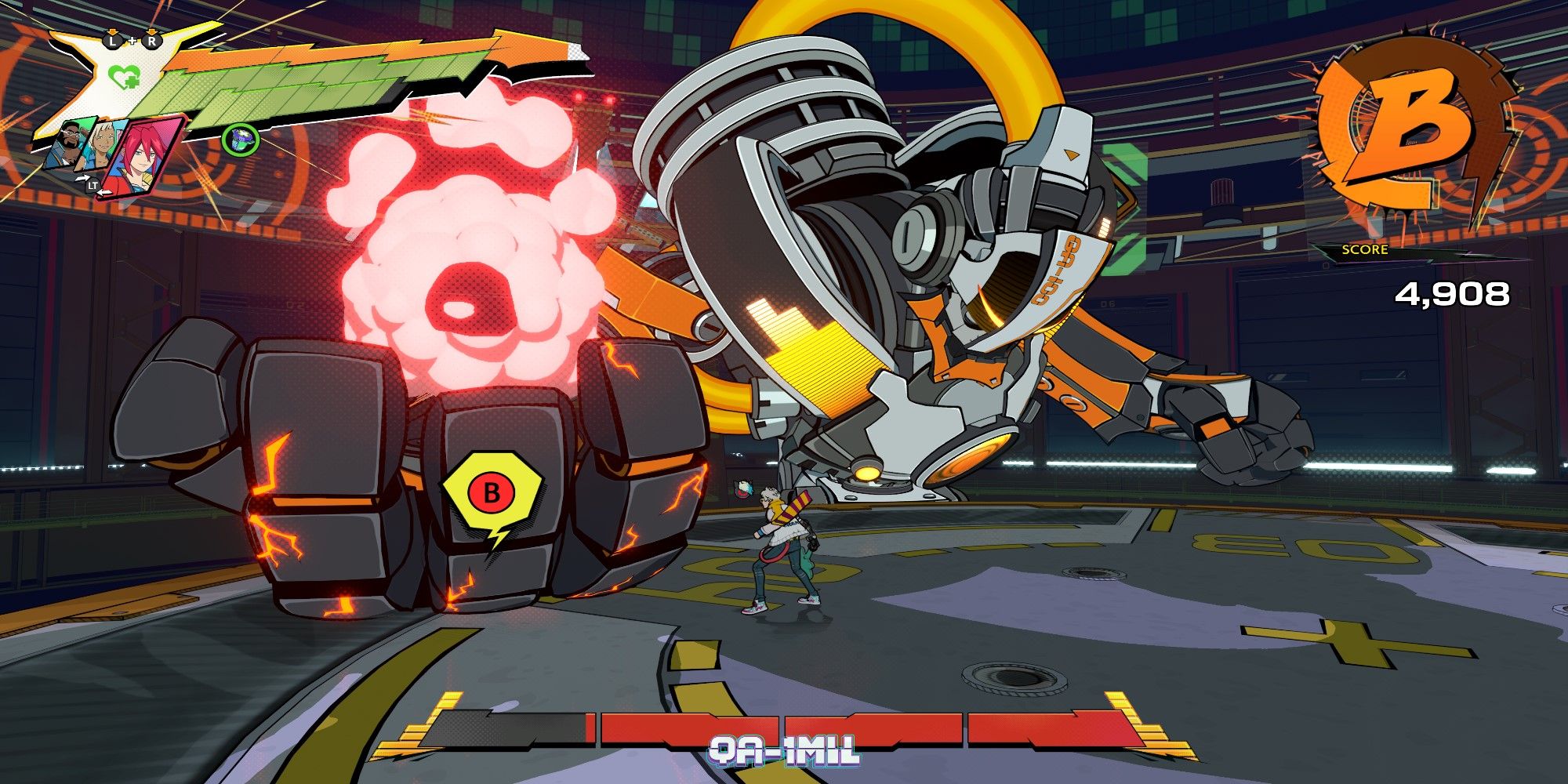 The other challenge simply states breaking QA's face and revealing his shame, which is also an achievement. To do this, wait until one of his hands takes enough damage that a prompt appears. This prompt will result in a quick time event, and if you succeed, Chai will slam QA-1MIL's fist into the side of his face.
You have to do this twice, but with the restriction that it has to be once with each hand. Make sure you do this prompt at least once during the first phase; you'll only get so many chances.
Phase 2: Dodge The Missiles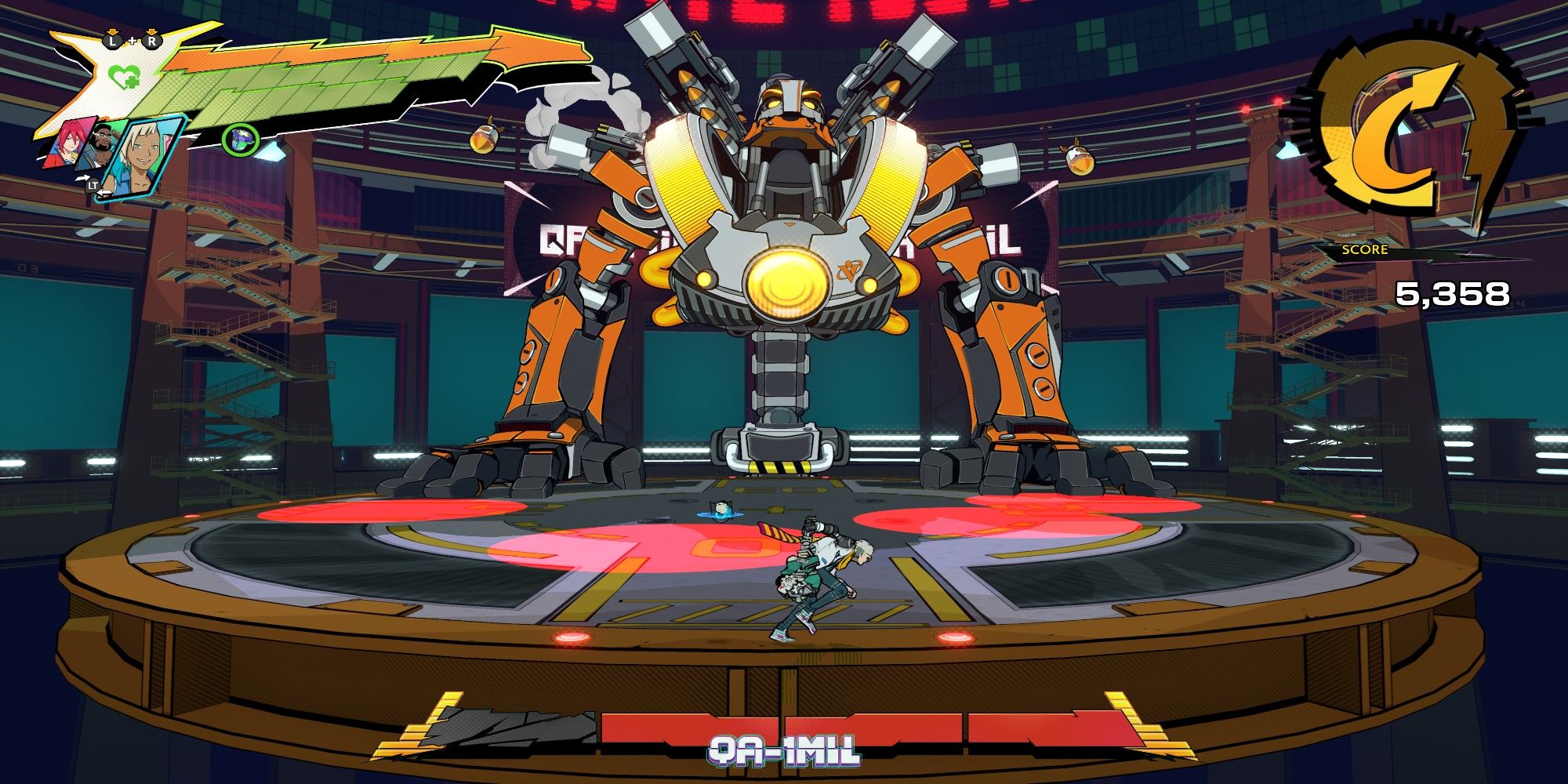 In phase two, QA will decide to take you seriously. Cannons will sprout from his back, and he'll fire missiles at you. The missiles will have big red spotlights, meaning you'll see where they'll land and how quickly they'll track you. After the missiles, QA will return to his old tactics.
Phase two is the last time you'll get the chance to break QA's face, so try to correctly hit the prompts the moment you trigger them as they eventually will stop appearing.
The missiles are the only new attack for this phase, so be ready, because once you enter phase three, all gloves will come off.
RELATED: Hi-Fi Rush: All Life Gauge Pieces In Track 2
Phase 3: Lightning & Explosions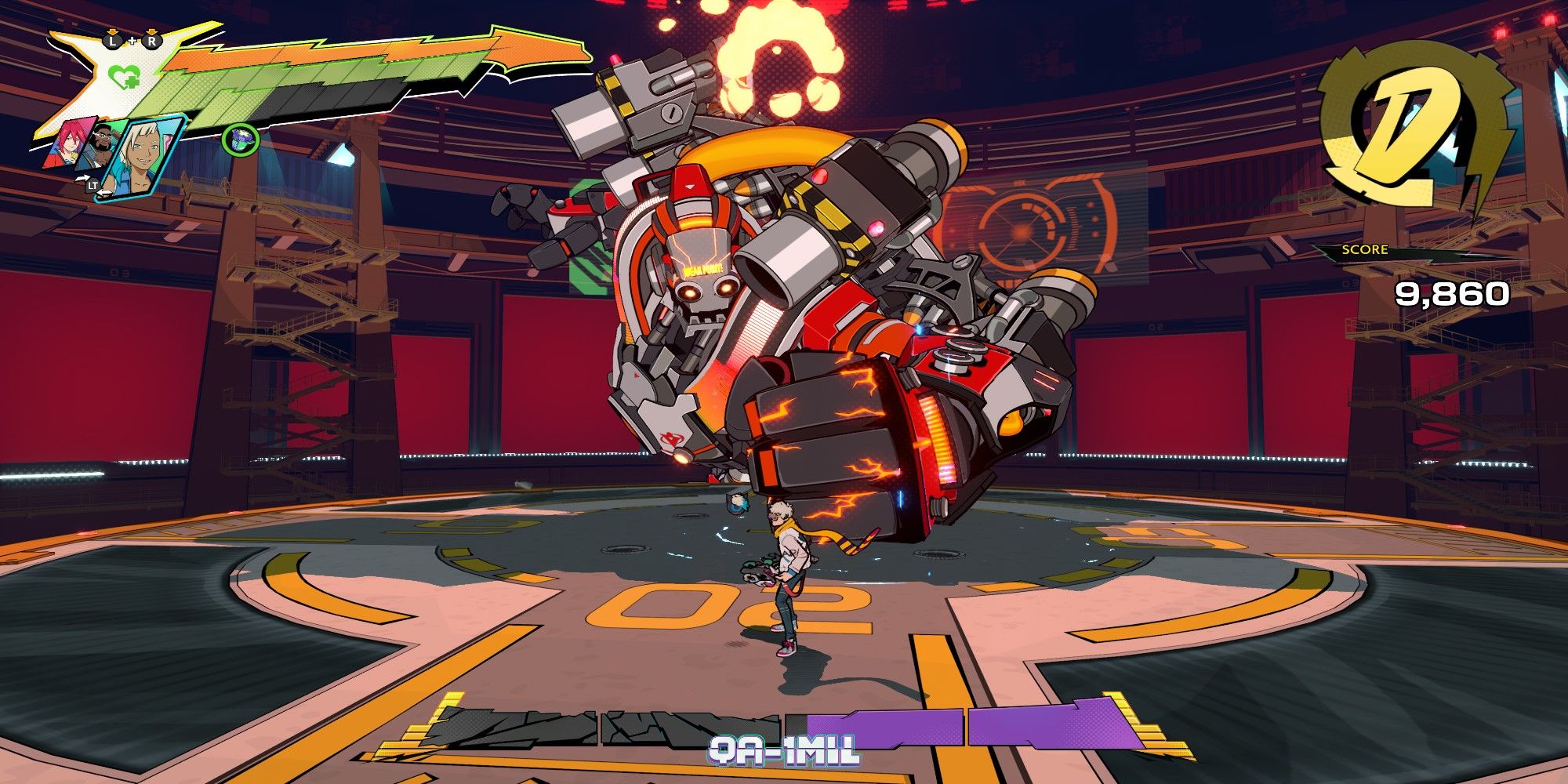 From now on, when QA-1MIL slams his fist into the ground, it will be followed by a strike of lightning. Thankfully, you can just wait this out, as just after the fist slams down there will be flashing red as an extra warning. After the lightning strikes, QA's hand will stay stuck to the arena, and you can attack it just the same as you were before.
Be careful about attacking too close to QA-1MIL though; starting in this phase, he will start to charge extra lightning and smoke around him. He's building up to an explosion, but will only detonate if Chai gets close enough.
If you were getting impatient before and deliberately jumping into the air to strike his hands, you're now in danger of taking high damage. Just consider him always volatile, and you'll be fine. Do not attack his hands until it's safe too.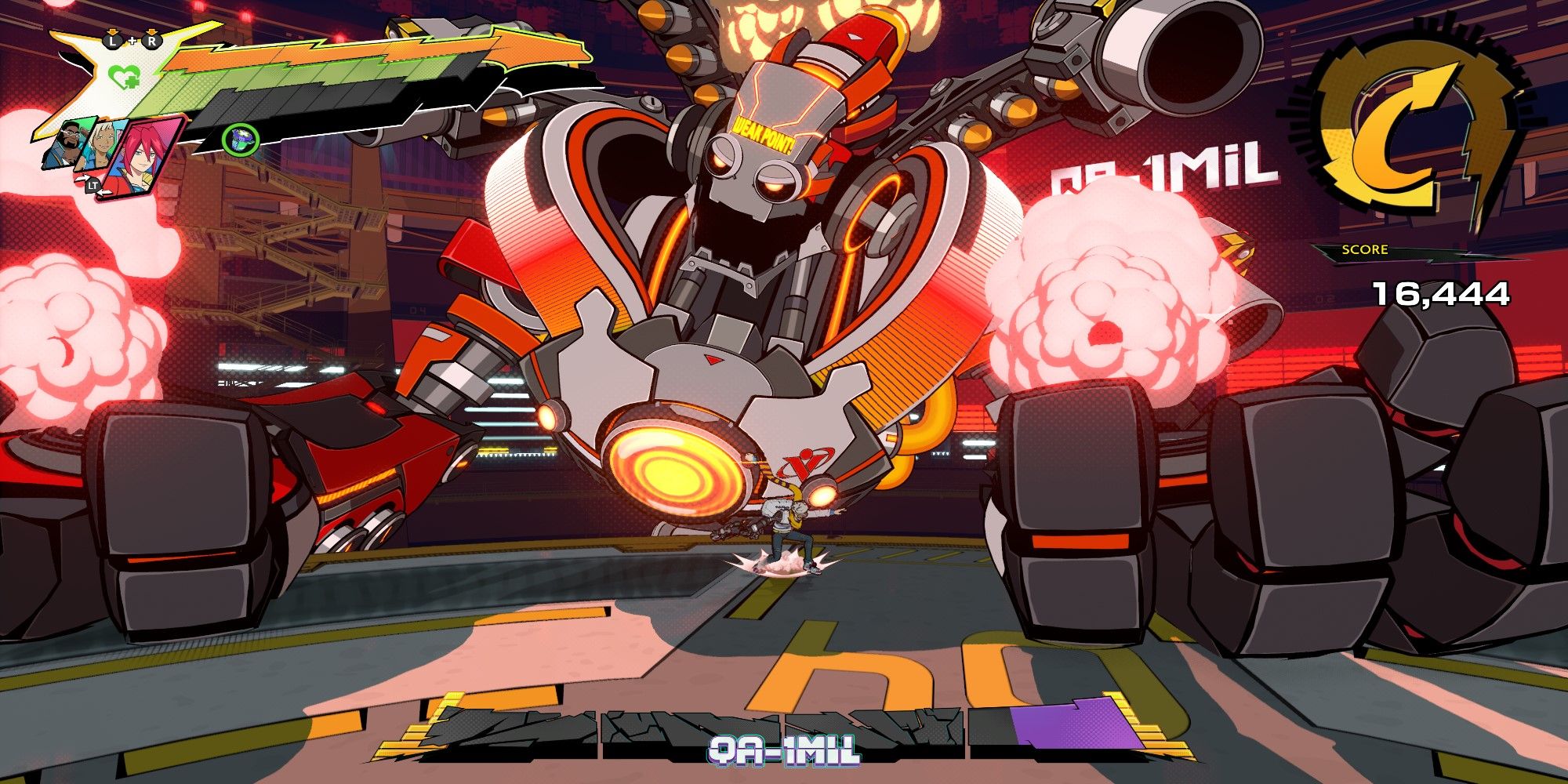 Because QA is using a lot more of his power, he'll eventually cause both of his hands to get tired. Remember, it's still too late to slam his hands into his face if you missed the challenge, but now you'll have an even bigger opening.
Either hand will work just as well as the other as a place to strike, and he cannot attack you until he recovers. It's a good chunk of time, so being patient until he tires himself is a great strategy.
Phase 4: Rinse & Repeat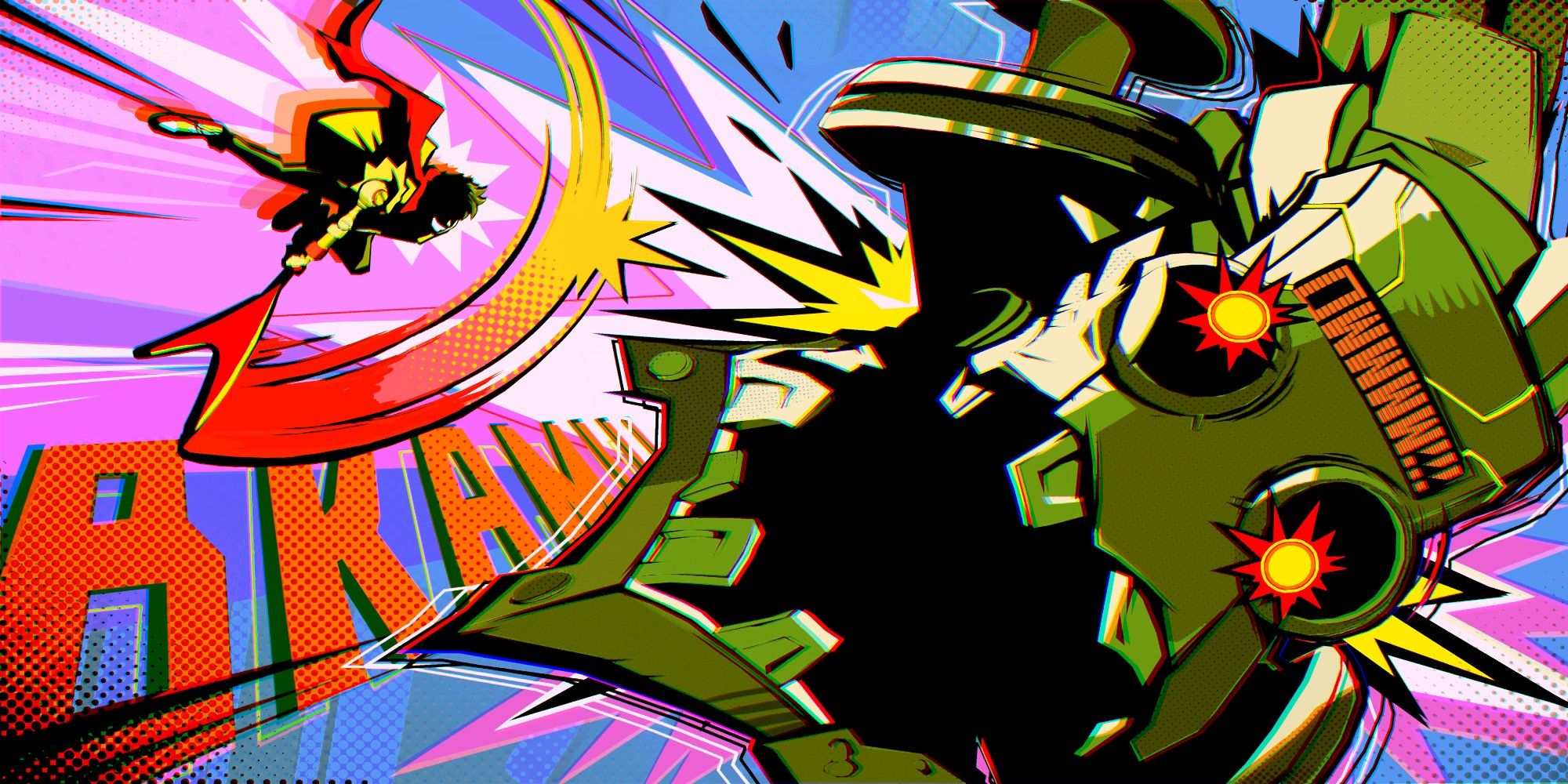 Like most of the other bosses, QA has four health bars, but unlike those bosses, he doesn't have a true fourth phase. You will still get a cutscene once you break his third health bar section, but nothing new will be added to his arsenal.
He will get angrier and will get faster, but all of the attacks from phase 3 carry over with nothing new to show for it. Just do what you were already doing; waiting out the lightning to strike his single fists, and waiting until his missiles and explosions run him tired enough that both hands come crashing down.
If you missed either or both challenges, don't worry; the important bit for now was just beating him. You can just wait until you replay the track later.
NEXT: Hi-Fi Rush: All Life Gauge Pieces In Track 3
Denial of responsibility!
Gamers Greade is an automatic aggregator of the all world's media. In each content, the hyperlink to the primary source is specified. All trademarks belong to their rightful owners, all materials to their authors. If you are the owner of the content and do not want us to publish your materials, please contact us by email –
[email protected]
. The content will be deleted within 24 hours.