Having jumped in for a nostalgic session of Goldeneye 007 following its launch on Xbox Game Pass and Nintendo Switch (I've been playing it on PC via that Game Pass backdoor of cloud gaming), so much of the game is just how I remember: the satisfaction of plipping an unaware guard with a silencer, the overpowered but delightful auto-aim, those strange cuboid faces, and the eternally satisfying way in which enemies get dynamically stained with little crimson blood splatters wherever you shoot them.
Oh yes, oh yes. It's good to be back.
But something that I managed to block out of my memory for the best part of 25 years is the game's sniper rifle–a cumbersome, bland-looking fire hydrant of a weapon that's probably the worst sniper rifle I've ever used in a game. Jumping into the story's opening level, Dam, for the first time in decades, I've now been reminded of just how bad a weapon this thing is.
ALSO READ: Persona 5 Is All About That Rhythm
First up, in case you didn't catch my earlier dig, it looks like a fire hydrant. I think its big old red barrel is actually meant to look like varnished wood, but someone clearly went in too hard on the 'cherry' part of 'cherry oak' and it ends up looking 'use only in emergencies' red. In fairness, this means that when you switch it into melee mode, you can pretend that you're whacking enemies with a great big bionic metal arm–which is probably the weapon's only saving grace.
But I could forgive the sniper rifle's appearance if it wasn't such an abject failure of weapon handling. For a start, it's silenced, and I think we can all agree that sniper rifles are at their best when they're loud; when I fire off a sniper, I want the sound of the shot to reverberate off the surrounding hills, I want it to cause a flock of birds 300 ft. away o take flight in fear, maybe cause a car alarm goes off in a nearby town… the point is, sniper rifles are about that sense of singular impact, whereas Goldeneye's sniper rifle sounds more or less the same as your silenced pistol, which in turn sounds like a hollowed-out pen firing spittle-soaked balls of paper.
Then there's the weapon sway. Now, this isn't just any old weapon sway that tries to mimic the fact that little things like breathing and hand tremors can cause a slightly shaky scope. No, the weapon sway here behaves like Mr. Bond is suffering a stroke, and should probably hit one of those big red alarm buttons so that someone whisks him off to the nearest Russian prison hospital. That volatility of that jerky, unpredictable weapon sway seriously makes it feel like your gun is not only sentient but with a strong sense of morality, as it constantly pulls you away from your desired target. The thing's a damn pacifist.
Once you've managed to out-wrestle that sniper rifle much wrestle to somehow land a shot on your target, you'd think that the game would be just that little bit charitable and maybe make it a one-shot kill jobbie? At least when you shoot someone through the scoped view? Nope, quite the opposite. On the default 'Secret Agent' difficulty you need to land two headshots on an enemy to kill them. I didn't even bother to keep count of how many body shots it took, but it didn't feel meaningfully more impactful than the silencer.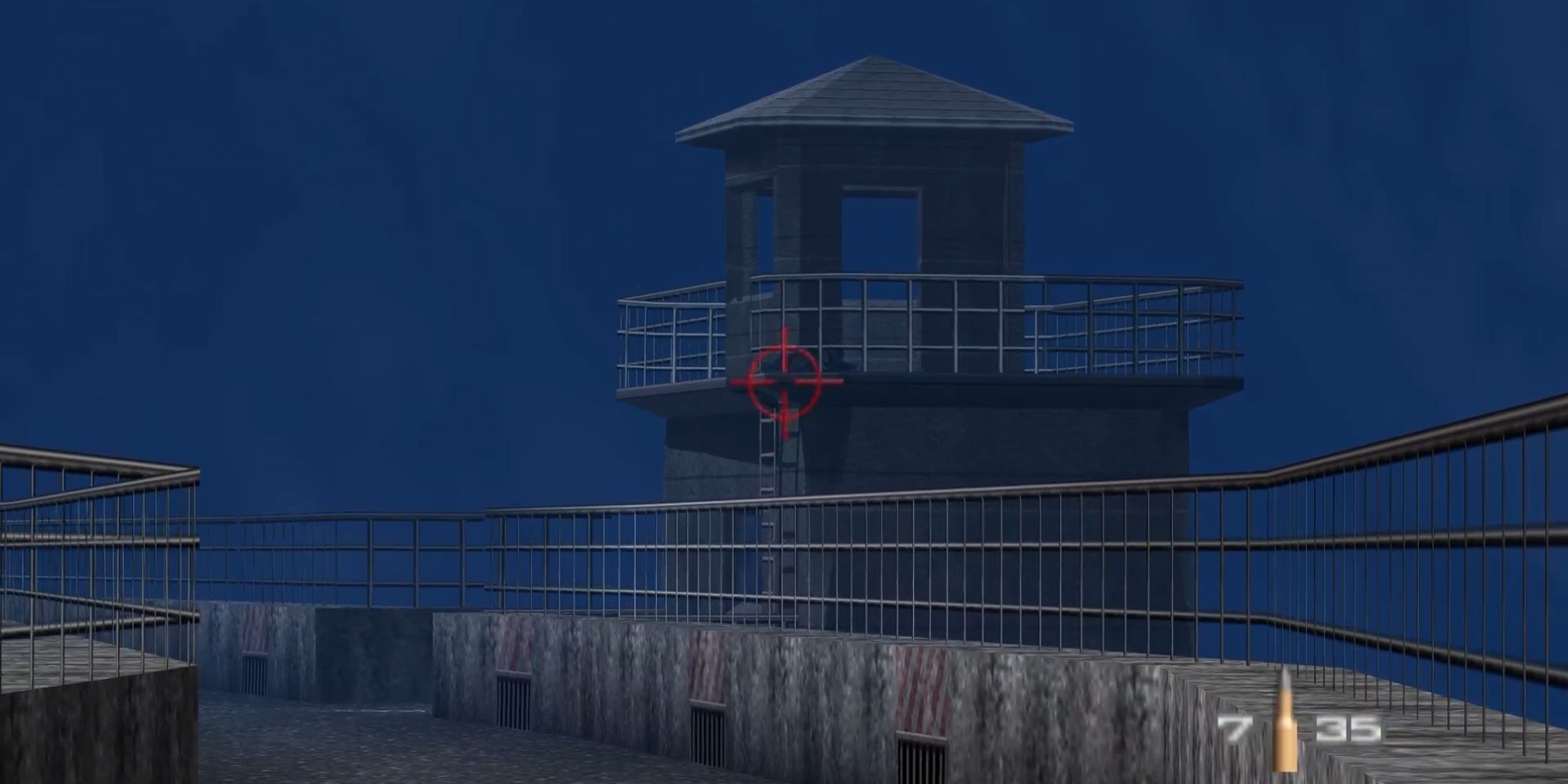 The funny thing is that the sniper rifle's actually much better to use on Xbox than it was back on the N64. First up, modern analog sticks are way smoother and more precise than the pioneering but extremely stiff analog of the N64 controller. Secondly, the N64 days were the heyday of the 'inverse y-axis' control method, which for some reason applied helicopter joystick logic to aiming with a gun.
Also, as I recall, the original aiming method had this horrible auto-spring that kept pulling your reticule back to the centre of the screen, so you were not only wrestling with the ridiculous weapon sway but also with the springiness of the aiming reticule and the stiffness of the N64 analog stick. Both the inverse look and look-spring are now gone, and yet it's still not a weapon I'd wish on my worst enemy… or would I wish it on my worst enemy because they'd be incapable of killing me with it? Hmmm, food for thought.
Ok, maybe I should cut it some slack, given that the Goldeneye sniper rifle is among the very first implementations of a scoped weapon in first-person shooter history, but it just felt like it didn't have a place in a game that thrived in relatively fast-paced close quarters shootouts. Perhaps an Achievement would be in order for people who somehow managed to get 'x' amount of headshots in online multiplayer with this thing. That way, 25-odd years since it first appeared, the Goldeneye sniper rifle would somewhat justify its strange, unhelpful existence.
NEXT: Before Hogwarts Legacy, There Was Actually A Good Harry Potter Game
Denial of responsibility!
Gamers Greade is an automatic aggregator of the all world's media. In each content, the hyperlink to the primary source is specified. All trademarks belong to their rightful owners, all materials to their authors. If you are the owner of the content and do not want us to publish your materials, please contact us by email –
[email protected]
. The content will be deleted within 24 hours.