Quick Links
Each Fire Emblem game tends to have some mechanics that are unique to that entry. Fire Emblem Engage sets itself apart from the rest of the series with the introduction of Emblem Rings.
Related: Fire Emblem Engage – How To Get New Companions
These Emblem Rings all you to summon the heroes of past Fire Emblem games and borrow their strength and abilities in your mission to defeat the Fell Dragon and bring peace to all of Elyos. While you can swap out which rings you are using on the go, you'll need the help of the Ring Chamber for just about everything else you do with them. Here's how to unlock the Ring Chamber, and use the many features it offers.
How To Unlock The Ring Chamber
When you first start your playthrough of the game, you'll initially be thrust into a couple of battles followed by a big story event. After making it through the initial tutorial, you'll eventually be able to return to your home base, The Somniel. Here you'll be able to interact with your Emblem Heroes and fellow companions, buy items, upgrade weapons, and participate in activities.
Initially, most of these features are locked since the game is busy introducing the mechanics through back-to-back tutorials. After you have cleared a couple of story chapters, you'll be able to start unlocking the extra activities in Somniel. To unlock the Ring Chamber, you'll need to play through the end of Chapter 4. Upon returning to Somniel, the Ring Chamber will be open. There are quite a few things you can do in the chamber, and we'll walk you through each of them below.
Inherit Skills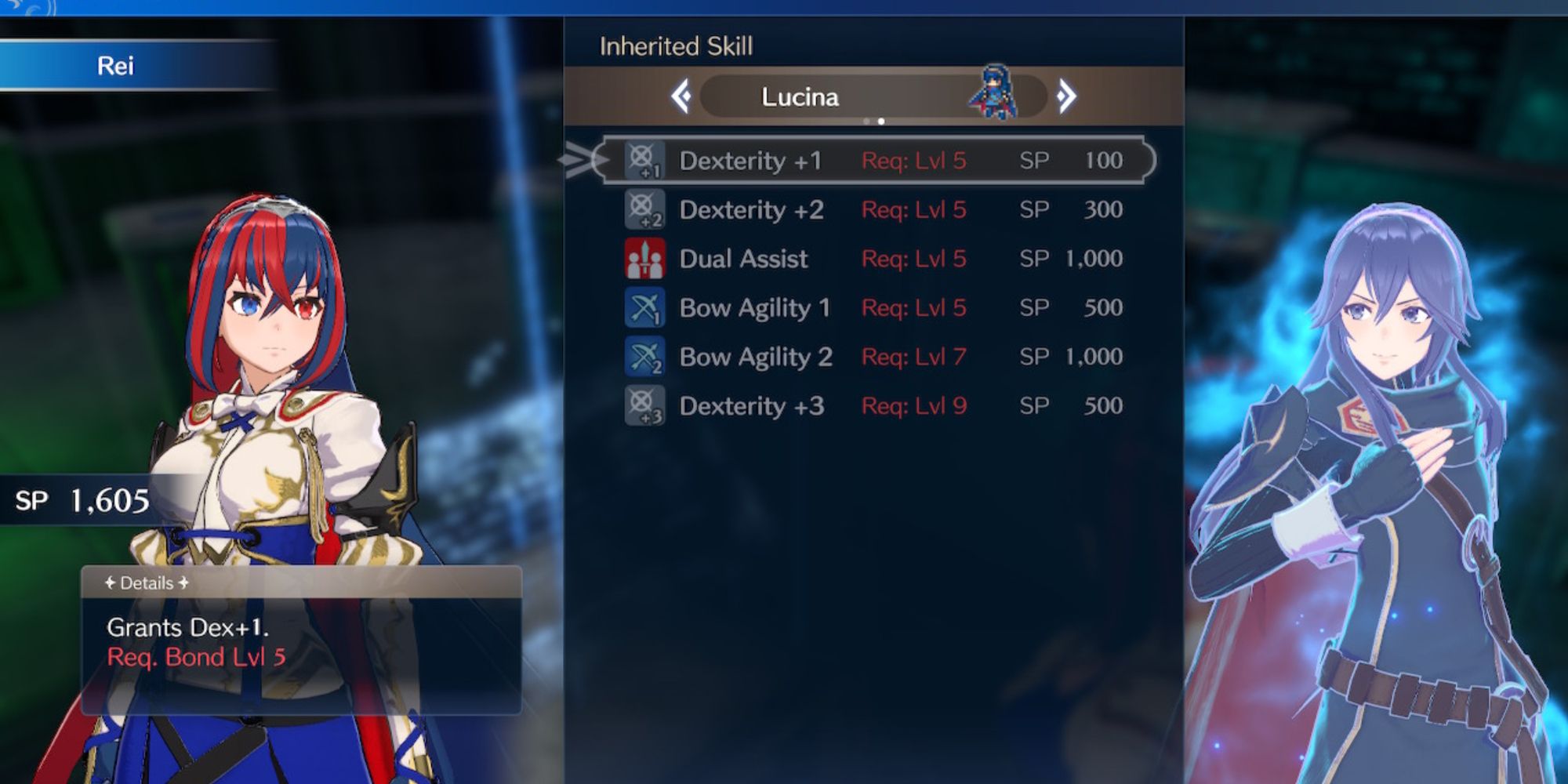 As the name suggests, this feature will allow you to inherit some of the skills your Emblems possess. While this feature is available upon your first visit to the Ring Chamber, you likely won't be able to use it right away. This is because you'll first need to raise your Emblem's bond level to at least level 5 in order to be eligible to inherit skills. Additionally, you'll need some SP in order to complete the transaction, and it will take some time for you to build some with each character.
Once you have met the requirements, you can inherit the skill by choosing it on the list and paying the necessary SP. You aren't able to inherit their Engage Abilities, but you can inherit their skills that affect weapon proficiencies, base stats, and passive battle skills. More skills will also become available at higher bond levels.
Related: Fire Emblem Engage: Every Base Game Emblem, Ranked
Create Bond Rings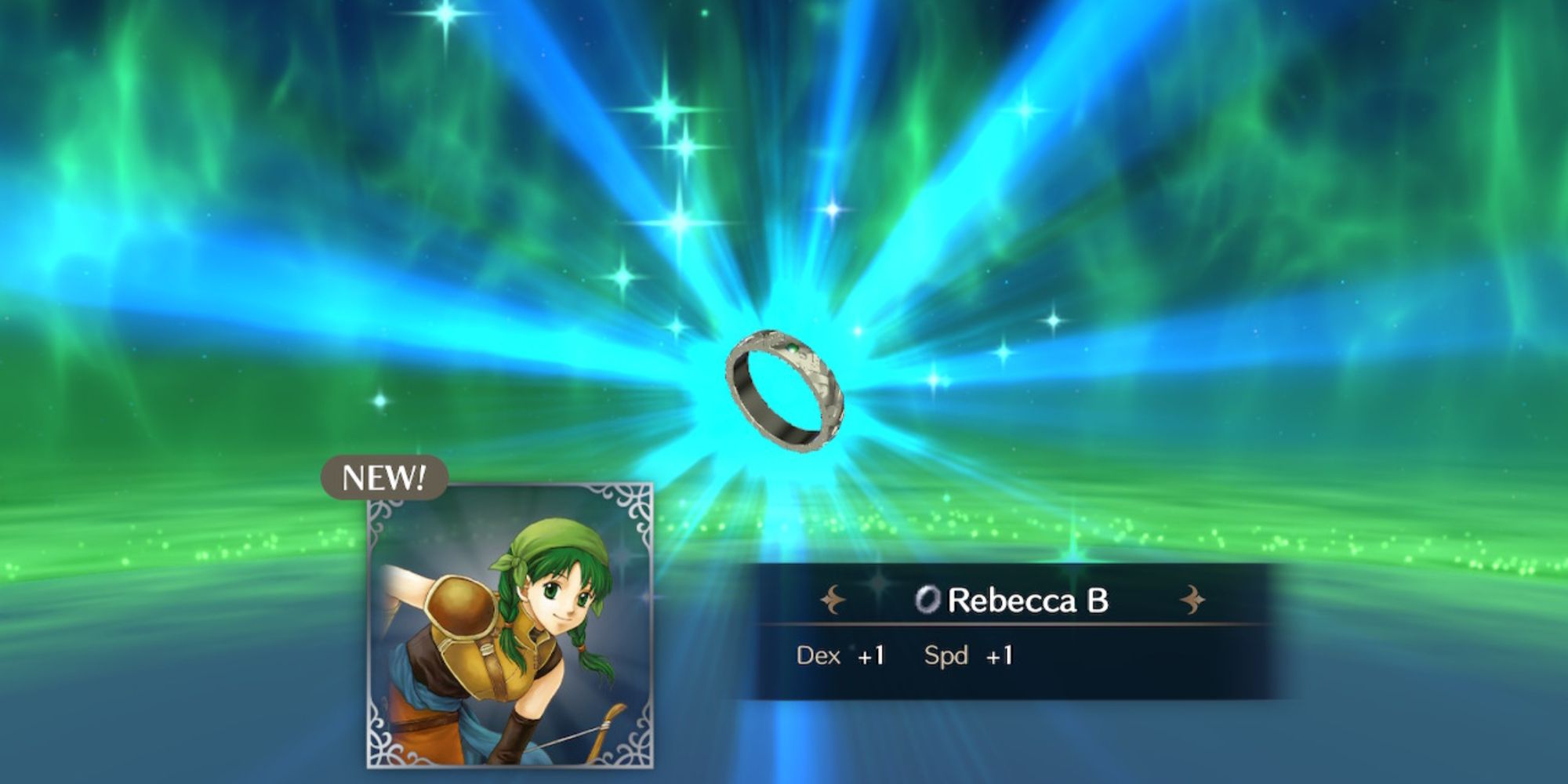 Similar to Emblem Rings, Bond Rings summon heroes from the past that served under each Emblem Hero. These rings primarily function as a way to increase certain base stats for each Emblem, but can also be equipped by characters who are not already using an Emblem Ring.
You'll pay 100 Bond Fragments for each Bond Ring you create, and the outcome will completely random. You can do one at a time or ten at once, similar to Genshin Impact's gacha system. Each Bond Ring affects different stats and will be ranked from C to S, with the higher-tiered rings giving a bigger boost to each base stat.
Meld Bond Rings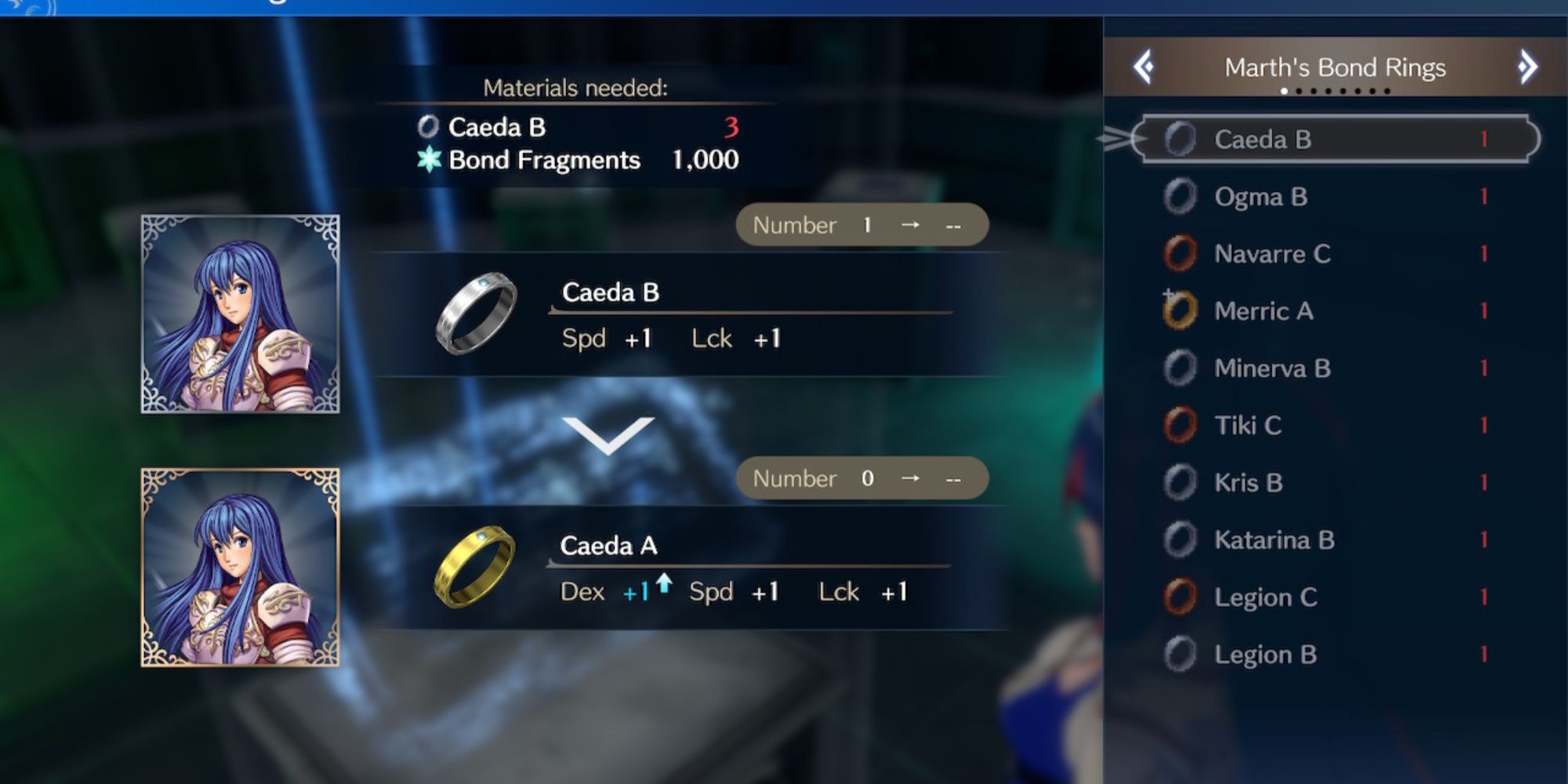 After you have created a couple of dozen Bond Rings, you'll likely have made a few duplicates. Using the Meld Bond Rings menu, you can combine the duplicates of the same rank to create one of a higher rank. For example, you could combine two Lewyn C class rings to make one Lewyn B class ring.
As you combine higher-class rings, the number of duplicates and Bond Fragments required will increase. Keep creating Bond Rings and melding them, and you'll have a plethora of S class rings in no time.
Related: Fire Emblem Engage – How To Increase A Bond Level
Polish Rings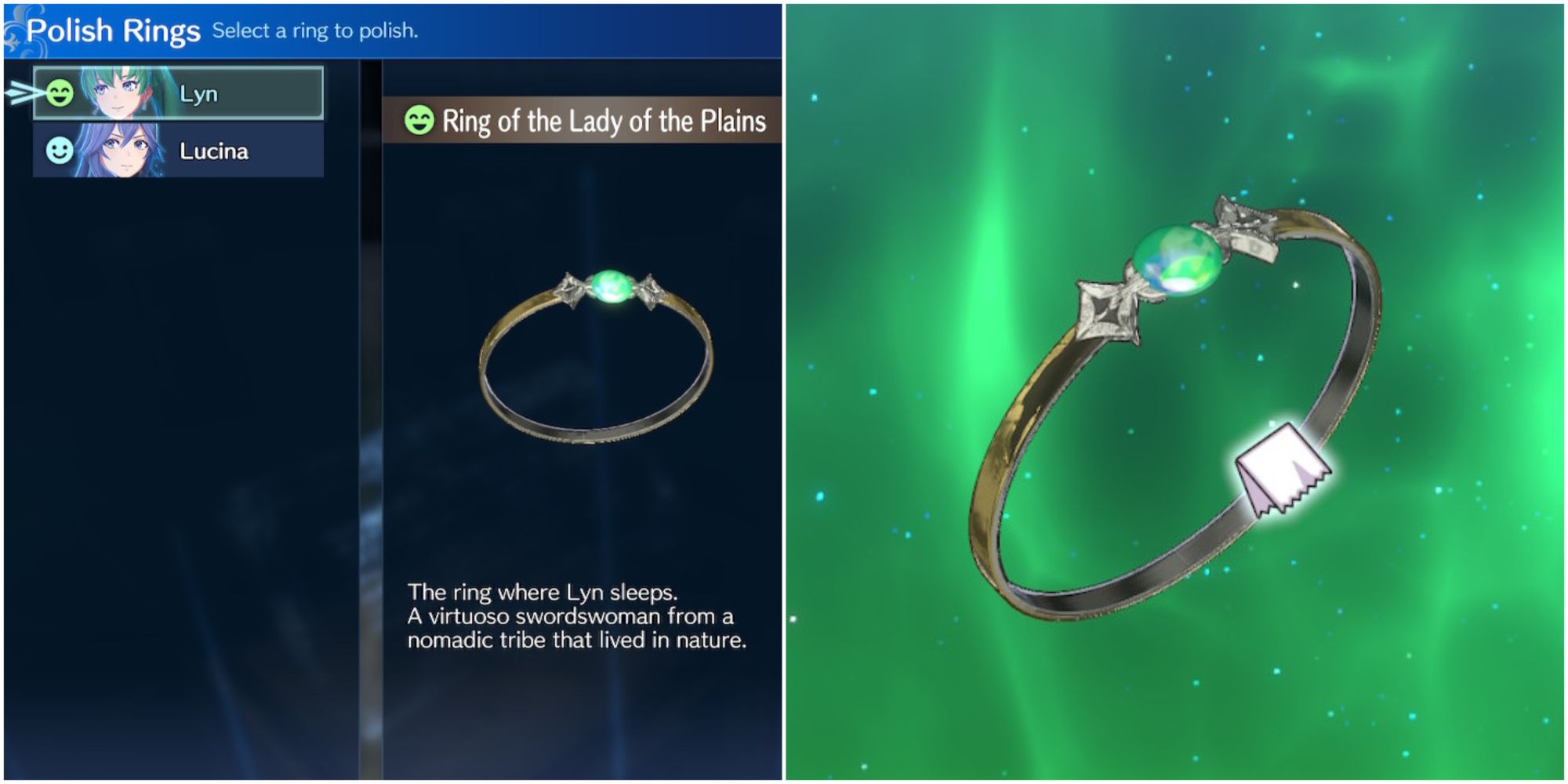 One of the most bizarre features in Fire Emblem Engage is the Polish Rings feature. As the name implies, you are able to polish the dirt and grime that accumulated during each battle off of the rings and get them sparkling again. To do so, you'll use a cloth to scrub the dirt by pressing A, and will simultaneously be praised by your Emblem for doing so.
Although this task is a tad bit awkward, polishing the rings will affect your Emblem's mood. The rings are their home in a sense, so it makes sense why they'd want it to stay clean. After finishing up, they'll be happy again, and you'll gain a slight increase in your bond level with that Emblem.
Engage Weapons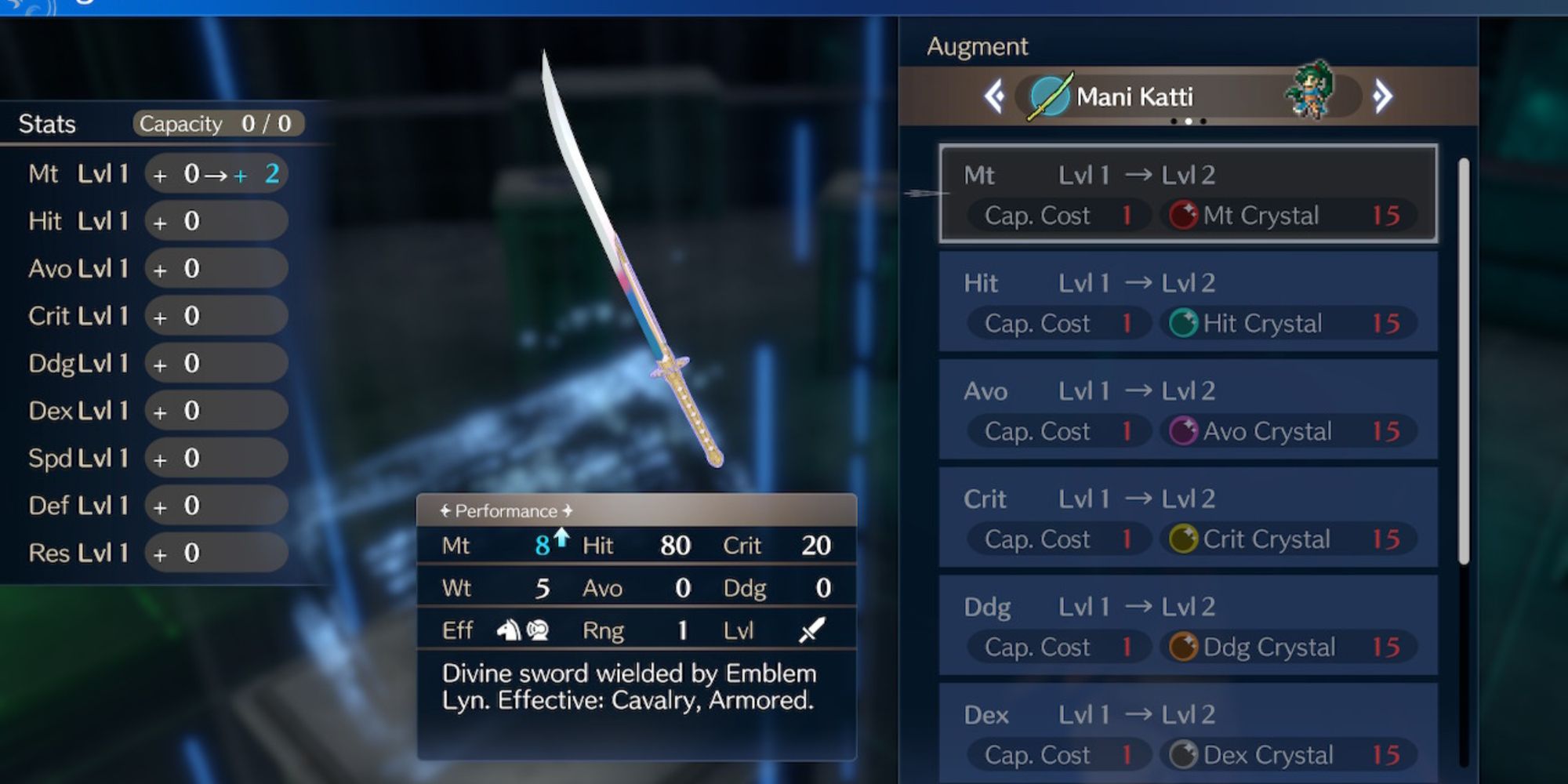 Last but not least is the Engage Weapons feature. Here you can augment your Emblem's weapons that you use when engaged in battle. These augmentations effectively let you boost one individual stat on that weapon, like its critical rate or range. You can also strip the weapon of any augmentations you already have done, allowing you to focus on a different stat to boost that better fits your play style.
While this feature is available once you gain access to the Ring Chamber, you likely won't be able to use it right away. This is because each time you augment a weapon, you'll need a special crystal to do so. You can only get these crystals by completing battles in the Tower of Trials, which you will unlock later in the story.
Next: Fire Emblem Engage – How To Unlock Tower Of Trials
Denial of responsibility!
Gamers Greade is an automatic aggregator of the all world's media. In each content, the hyperlink to the primary source is specified. All trademarks belong to their rightful owners, all materials to their authors. If you are the owner of the content and do not want us to publish your materials, please contact us by email –
[email protected]
. The content will be deleted within 24 hours.