Final Fantasy 7 Remake gives Cloud multiple options to switch out his classic Buster Sword with. Each of the swords offers different stats and accompanies different play styles or builds. Each sword also comes with its own ability that can be leveled up to be more effective. Each weapon will have its proficiency increased in a different way, with the Buster Sword simply increasing with general use.
Related:Final Fantasy 7 Remake: Who Is The Cat At The End Of Chapter 12
Maxed-out abilities can then be permanently learned and can be used when wielding other swords, offering an incentive to use each sword even just temporarily. As a weapon is used more, it can be upgraded to help them deal more damage and stay relevant throughout the game. While it may be fun to continue to use the Buster Sword for your whole playthrough, another weapon will quickly begin to outpace its damage potential and make fights much more difficult.
6

Nail Bat

The Nail Bat doesn't exactly fit to look that Cloud has and may seem a little goofy being strapped to his back. While the weapon does offer 30 attack power and 30 magic attack, it cannot be upgraded and quickly falls off compared to other weapons.

This weapon's ability, Disorder, can be useful to deliver a powerful attack and switch modes fluidly in a combo. This weapon also cannot be equipped with Materia, further limiting its uses.
5

Mythril Saber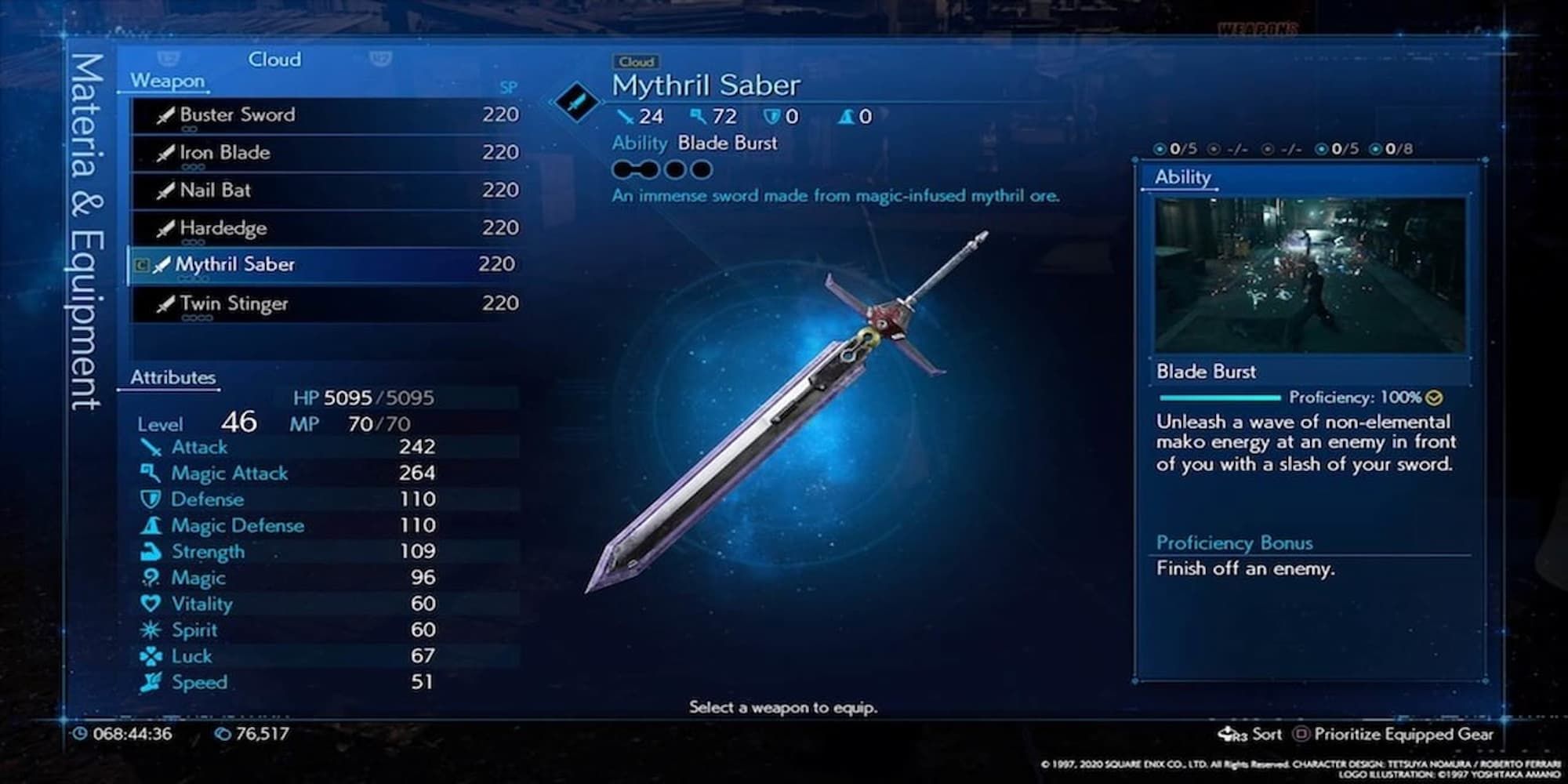 The Mythirl Saber excels in its magic damage and at both base level and fully upgraded, deals the highest amount of magic attack out of any sword. It does suffer heavily from its lower attack power. It initially comes with four Materia slots, but this weapon is received later in the game when other swords may also have four Materia slots.
This weapon's skill, Blade Burst is a decent ranged attack option. It doesn't fall under a single elemental category and can be used in just about any situation to give Cloud more ranged attacks. Should you play a magic-heavy play style, this weapon is excellent, but getting your ATB bar up to cast a spell will be a constant hindrance.
4

Iron Blade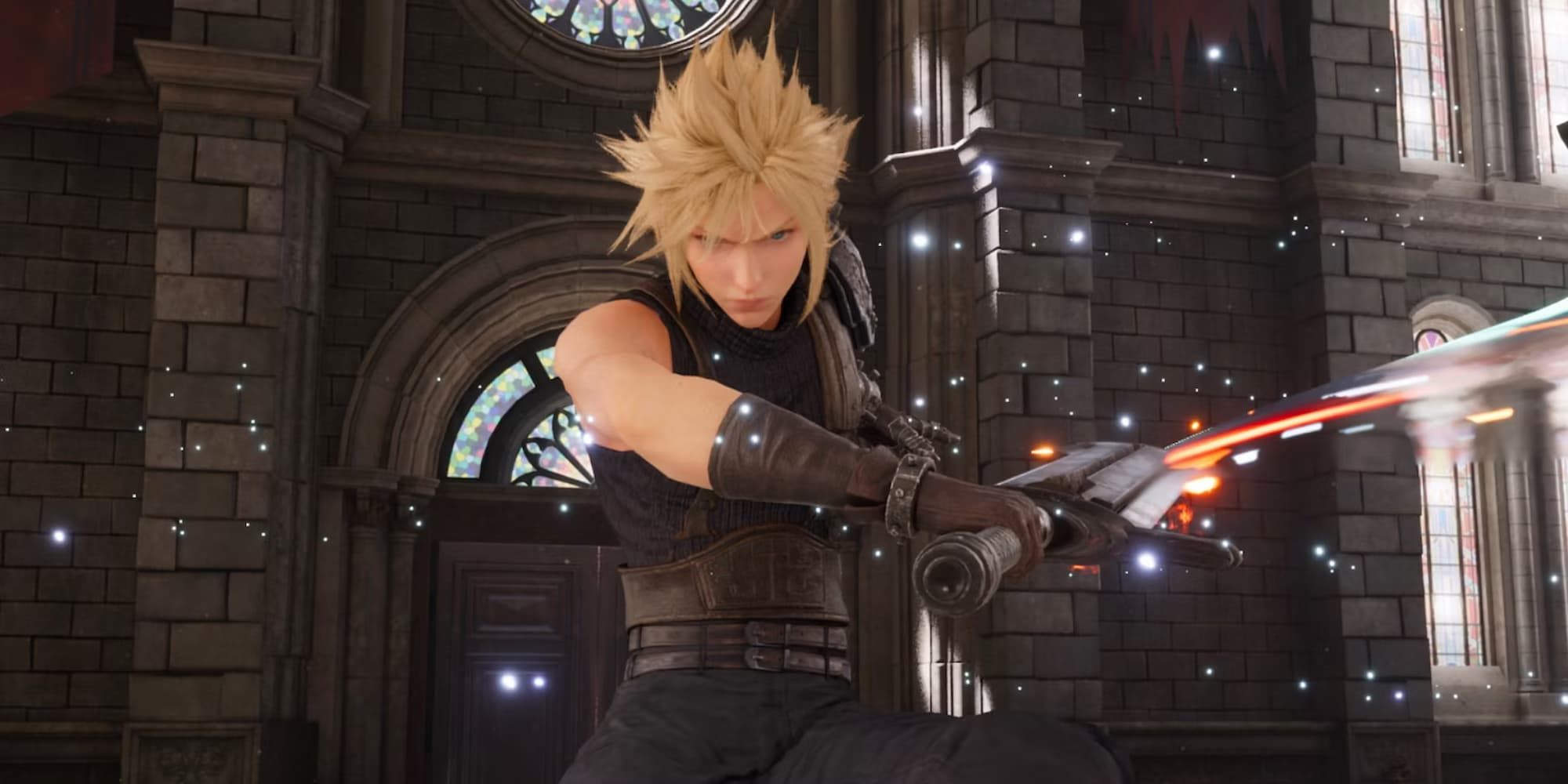 At its base stats, the Iron Blade is a slight upgrade from the Buster Sword in attack power and a more significant increase to magic attack. This emphasis on magic attack does continue, as this weapon can be upgraded to having the second-highest magic attack.
Related:Final Fantasy 7 Remake: What Are The Whisperers
This weapon does have a high attack power stat when fully upgraded, making it a surprisingly powerful option throughout the game despite being received so early on. Its ability, Triple Slash is a great attack for either small groups of enemies or a single boss, and it also just looks awesome to use.
3

Buster Sword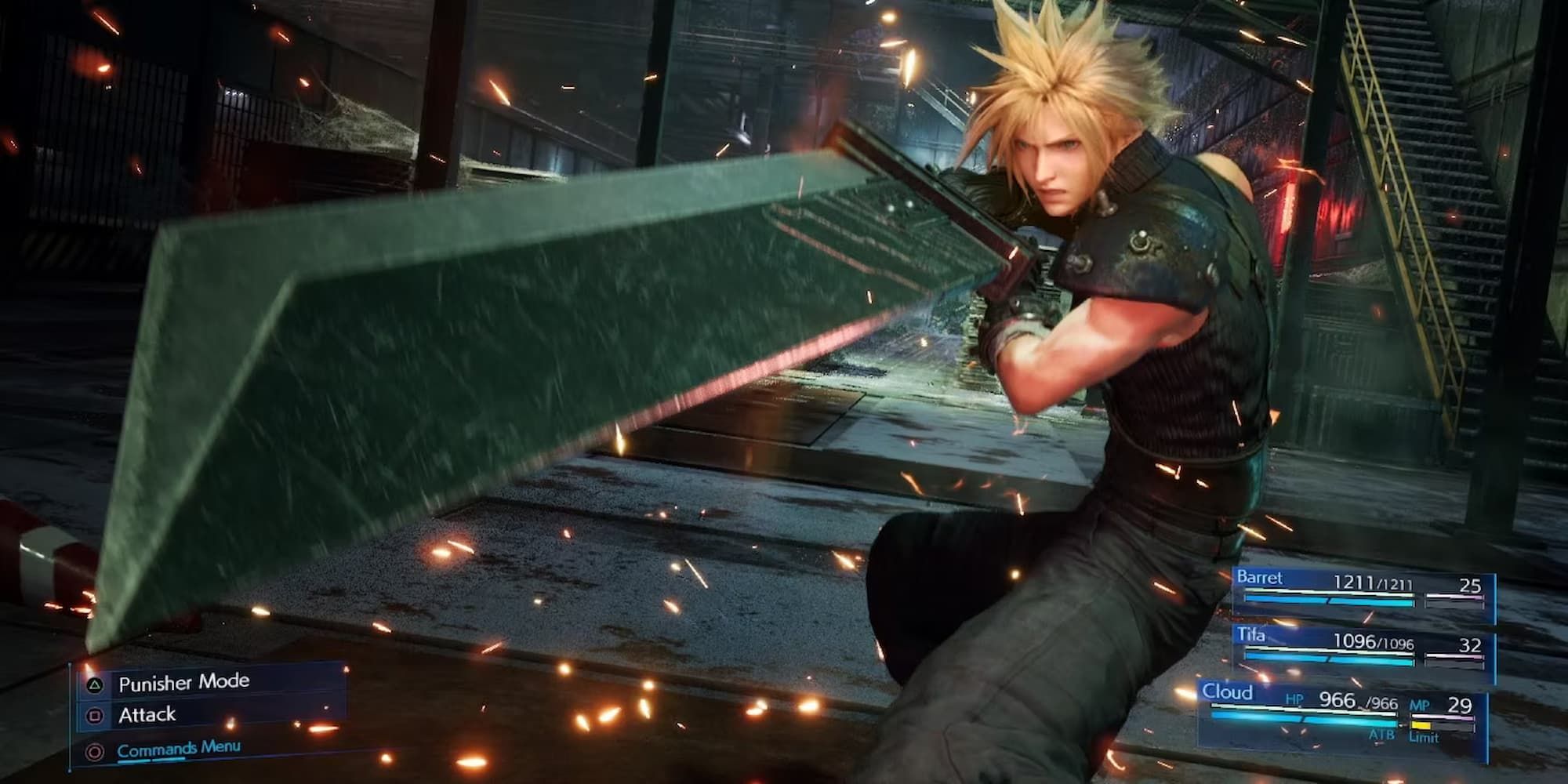 The Buster Sword is one of the most iconic weapons in gaming and is the weapon Cloud starts this game with. This sword allows for two Materia slots at the beginning and has equal attack power and magic attack stats.
This makes this weapon an excellent starting weapon, allowing you to play with physical attacks and magic equally to see which one you prefer to focus on later in the game. This weapon can then be upgraded to deal significantly more attack power and magic attack and offers the second-highest attack power and third-highest magic attack.
2

Hardedge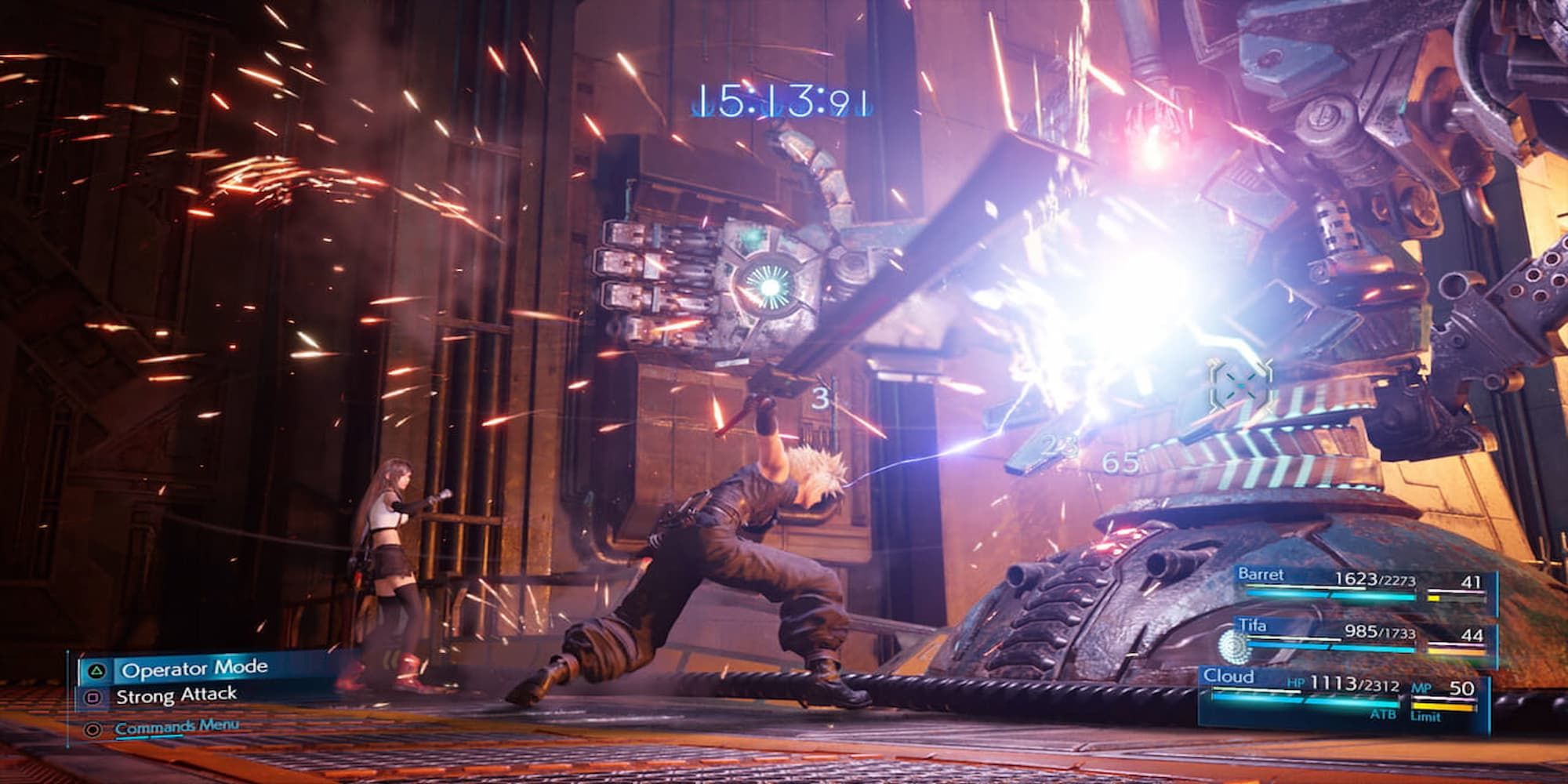 For those looking to maximize their damage and build the strongest Cloud, look no further. The Hardege is a straightforward sword that offers an incredible amount of attack power but only a decent amount of magic damage. While other characters beat Cloud in magic capabilities, he can quickly dominate a fight by focusing all of his damage on melee attacks scaling from his attack power.
This weapon can be upgraded to have the highest attack power at a shocking 137. Its base value of attack power is already great at 57, and outclasses most other upgraded swords without any of its own. This weapon also comes with the skill Infinity's Edge, which does cost two ATB but does excellent damage and even more on staggered enemies.
1

Twin Stinger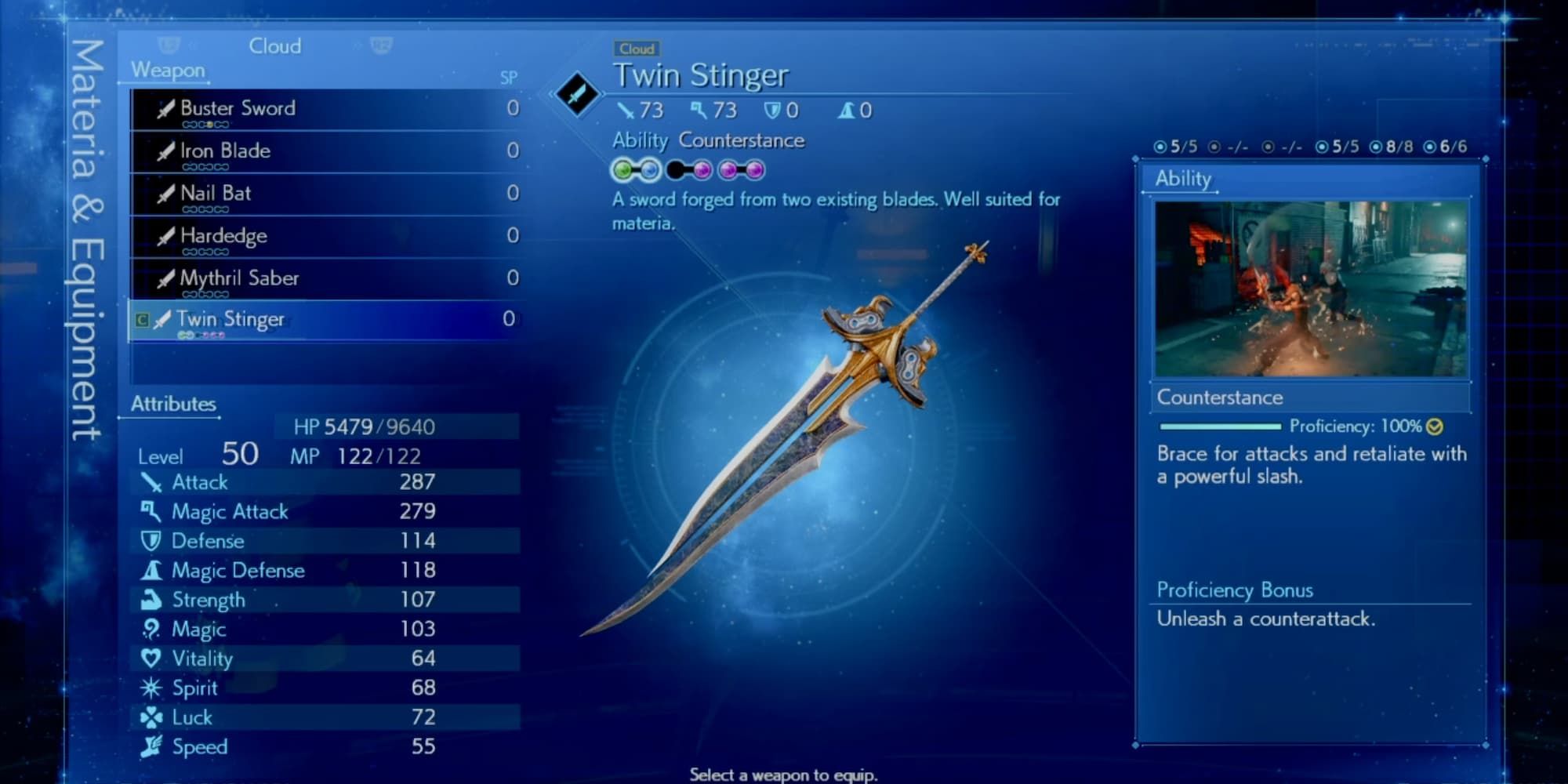 While the Twin Stinger may not have the highest attack power or magic attack, it does come with a decently high middle ground of both stats. This weapon is best for those looking to play with a healthy mix of physical attacks and abilities, along with magic. Magic is needed to stagger enemies, and high attack power can capitalize on that stagger.
This weapon can be upgraded to deal 73 attack power and magic attack and comes with the ability Counterstance. This ability is an excellent option for those playing more reactive, which further fits the play style of using magic to stagger and physical attacks to finish. While this weapon is obtained incredibly late in the game, it is worthwhile to use and upgrade, especially in a New Game Plus playthrough.
Next:Final Fantasy 7 Remake's New Twist Was Just What The Story Needed
Denial of responsibility!
Gamers Greade is an automatic aggregator of the all world's media. In each content, the hyperlink to the primary source is specified. All trademarks belong to their rightful owners, all materials to their authors. If you are the owner of the content and do not want us to publish your materials, please contact us by email –
[email protected]
. The content will be deleted within 24 hours.