When Elden Ring first launched, it took the world by storm with its seemingly endless customization options. The freedom FromSoftware gave to their players was previously a commodity rarely found in games today! Now, with the release of Elden Ring's first DLC "The Colosseum," PVP builds are the star of the show.
RELATED: The Best Intelligence Builds In Elden Ring
Before the Colosseum, PVP combat was uncommon. In the base game, being invaded is infrequent, and going after other players is both risky and expensive! This meant that building a PVP-focused build was kind of overkill, and the amount of practice you got to optimize the build was minimal. Now, things are different. Here are the Best PVP builds in Elden Ring.
Rivers Of Blood Build
Great For: The current meta, rapid attacks
Weapons: River Of Blood
Armor: White Mask
Talismans: Lord of Blood's Exultation, Dragon Communion Seal, Shard Of Alexander
Spells/Skills: Flame, Grant Me Strength, Seppuku
Stats: Arcane, Dexterity, Vigor
Yes, bleed builds remain meta even outside of PVE, and things don't look like they will be changing anytime soon! The Rivers Of Blood Katana is wildly effective, rapidly stacking up the bleeding effect for some insane damage. Granted, it is definitely a late-game weapon, but it is absolutely worth it. For those New Game + players, consider getting a second katana for further damage potential.
The Lord Of Blood's Exultation is going to give the user a higher damage output as soon as their opponent starts bleeding, while the Shard Of Alexander boosts skill attacks all on its own. The Seppuku skill is included for players who live on the edge, but it pairs wonderfully with Lord of Blood's Exultation. The White Mask is absolutely vital to this build, boosting bleed damage by a fantastic 10%. When it comes to spells/incantations, it is mostly player choice. However, it is highly recommended to utilize spells with a rapid cast time to keep enemies at bay.
Glintstone Witch Build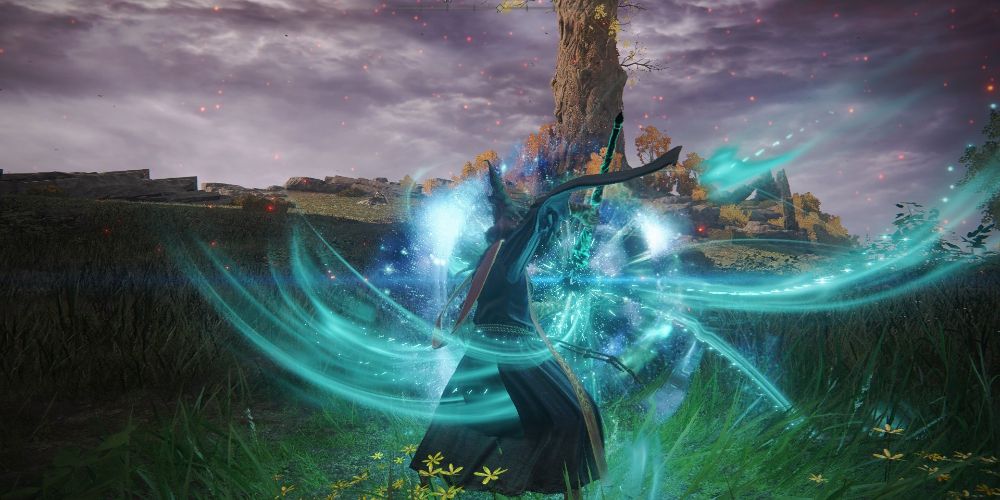 Great For: Sorcery mains, high versatility, defensive players
Weapons: Clayman's Magic Harpoon + Glintstone Pebble (Ash of War), Carian Regal Scepter
Armor: Spellblade's Pointed Hat
Talismans: Erdtree's Favor, Graven Mass Talisman
Spells/Skills: Swift Glintstone Shard, Carian Slicer, Carian Piercer, Comet
Stats: Intelligence, Vigor
Utilize the Glintstone Witch build if you want to be the most obnoxious player in the Colosseum! Although rather spammy, the Glintstone Witch build actually does require some skill to most effectively utilize. This build is played from a distance with high-stagger spells, meaning that enemy players will have a very tough time closing the distance. Just be sure that you learn how and when to use the abundance of spells that are optimal with this build, because there are a lot.
The Clayman's Magic Harpoon is truly the star of the show here, with absolutely insane damage potential and range when paired with the Glinstone Pebble Ash of War. The Spellblade's pointed hat is going to work nicely with sorcery builds, making it a must-pick here. As far as the actual spells go, the choice is mostly up to you, but we highly recommend taking the ones listed above. Having a set of spells that can cover a wide range of areas and powers is much more important in PVP fights than it is when it comes to standard enemies.
RELATED: The Best Strength Builds In Elden Ring
Heavy Greatsword Build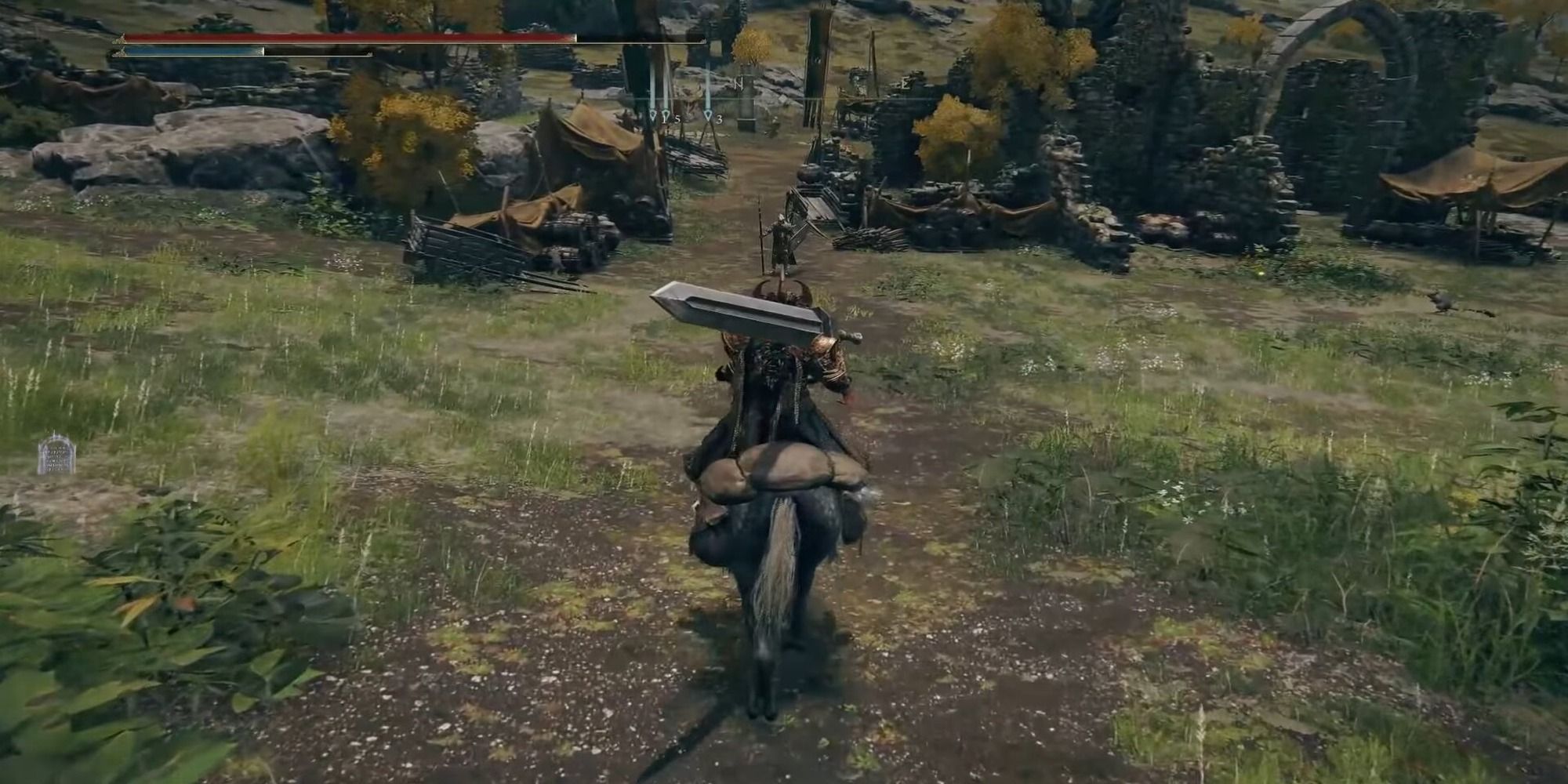 Great For: Massive damage, classic melee combat
Weapons: Greatsword (2) + Royal Knight's Resolve, Clawmark Seal
Armor: Lionel's Set, Any High-Poise Set
Talismans: Radagon's Soreseal, Bull-Goat's Talisman
Spells/Skills: Flame, Grant Me Strength, Flame Sling
Stats: Strength, Vigor, Endurance
For those who prefer the classic "Dark Souls Tank" style of PVP, the Heavy Greatsword build is perfect. A Godly amount of Strength will be required to wield this build, as it utilizes two of the heaviest weapons in the game. Don't expect to be as maneuverable here as you would be in the previously mentioned builds, but the damage output and defense will more than make up for it. If the Strength requirement is simply too high, taking only a single sword isn't a terrible idea. Don't be afraid to take a few hits with this build.
The Royal Knight's Resolve Ash of War is extremely important to this build, as it will stack with each weapon. When properly utilized, you can deal up to 160% extra damage with the Ash of War! As for the armor, we recommend the Lionel's Set, although any high-poise armor set will work just fine. Truth be told, the spells here are not too necessary, but they help to round out this build that would otherwise be a bit helpless at further ranges. The same goes for Radagon's Soreseal, which, although not necessary, will go a long way in helping players reach the required Strength and Endurance levels.
Death Blight Build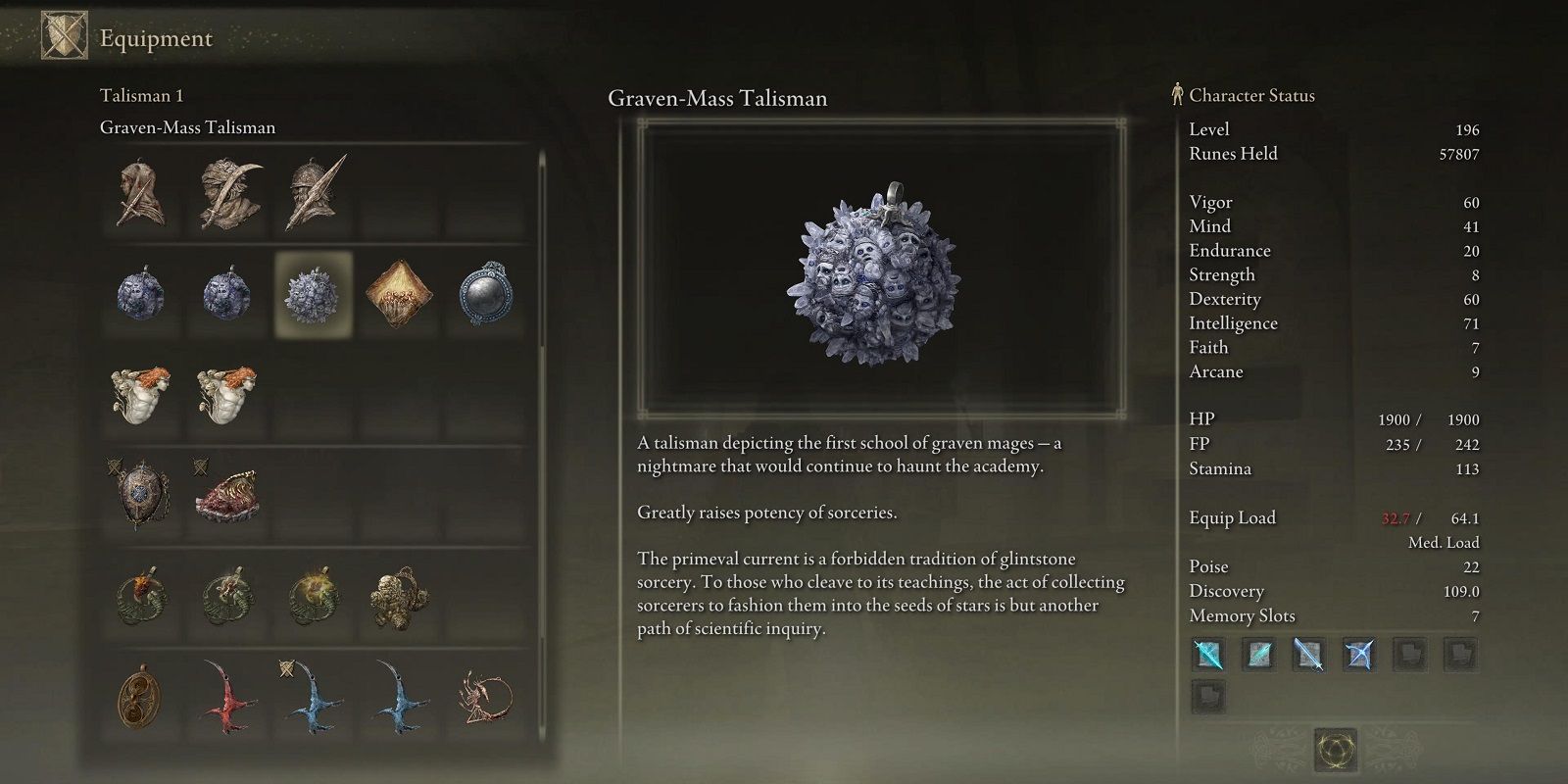 Great For: Experienced players, driving your opponents insane
Weapon: Eclipse Shotel, Prince of Death's Staff, Golden Order Seal
Armor: Royal Remains Set
Talismans: Graven Mass Talisman, Scorpion Charm
Spells/Skills: Death Lightning, Fia's Mist, Ancient Death Rancor
Stats: Faith, Dexterity
The Death Blight meter, when completely filled up, will immediately kill any opponent. Sounds overpowered, right? It absolutely can be, although opponents with extremely high Vitality will be a bit more resilient to the effect. This build aims to mitigate that as much as possible by taking all precautions necessary to rapidly stack the effect. Similarly to the Greatsword build, we've left the choice of Armor mostly up to the player. A fantastically strong choice, however, is the Royal Remains set, which both looks awesome and has some fantastic protection.
Obviously, the Eclipse Shotel is the primary tool here. It is going to be the main source of Death Blight damage, and the buff it comes with (Death Flare) will be rather helpful as well. Of course, on its own, Eclipse Shotel is nothing too special. This is where Fia's Mist and Death Lightning come in, which are both extremely efficient at Death Blight damage. Sure, Death Lightning is rather expensive, but the buildup it causes is like none other. The Scorpion Charm here is included to compliment Fia's mist by prolonging how long the deadly mist lingers.
NEXT: The Best Faith Builds In Elden Ring
Denial of responsibility!
Gamers Greade is an automatic aggregator of the all world's media. In each content, the hyperlink to the primary source is specified. All trademarks belong to their rightful owners, all materials to their authors. If you are the owner of the content and do not want us to publish your materials, please contact us by email –
[email protected]
. The content will be deleted within 24 hours.