Elden Ring's shields come in many shapes and sizes, with some looking much more practical than others. For every sensible-looking shield found in the game, there's a big slab of stone, an old church door, a giant insect head, or a myriad of other defensive implements that can only loosely be described as shields. But practicality aside, shields are awesome and can be incorporated into any number of builds.
Related: Elden Ring: Best Straight Swords, Ranked
Shields in Elden Ring come in three different flavors. You've got your Light Shields, your Medium Shields, and your Greatshields. Medium Shields tend to be the most popular type thanks to their versatility, but Light Shields and Greatshields shouldn't be ignored either since they also have a lot to offer. In an attempt to keep things interesting, this list will include a mix of all three types of shields available in Elden Ring.
10

Spiralhorn Shield
| | Strength | Dexterity |
| --- | --- | --- |
| Stat Requirement | 8 | 10 |
| Base Scaling | E | – |
The Spiralhorn Shield is among the most hideous-looking shields found in Elden Ring, but that shouldn't dissuade you from giving it a chance. What it lacks in beauty, this Small Shield more than makes up for in utility thanks to its passive effect that raises the player's Immunity, Robustness, and Focus by 50. As it's usually the case with passive effects like this, the buffs apply even when the shield is worn on the back, allowing you to take advantage of the extra stats while two-handing a weapon.
Another neat feature of the Spiralhorn Shield is that it causes Blood Loss build-up with every hit. While this second passive effect can come in handy from time to time, it's generally a good idea to wear the shield on your back instead of actively trying to use it since its stats are pretty bad. If you do want to use it as an actual shield instead of a back ornament, stick to parrying rather than blocking. The Spiralhorn Shield comes with the Parry skill by default and can be infused with Ashes of War.
9

Banished Knight's Shield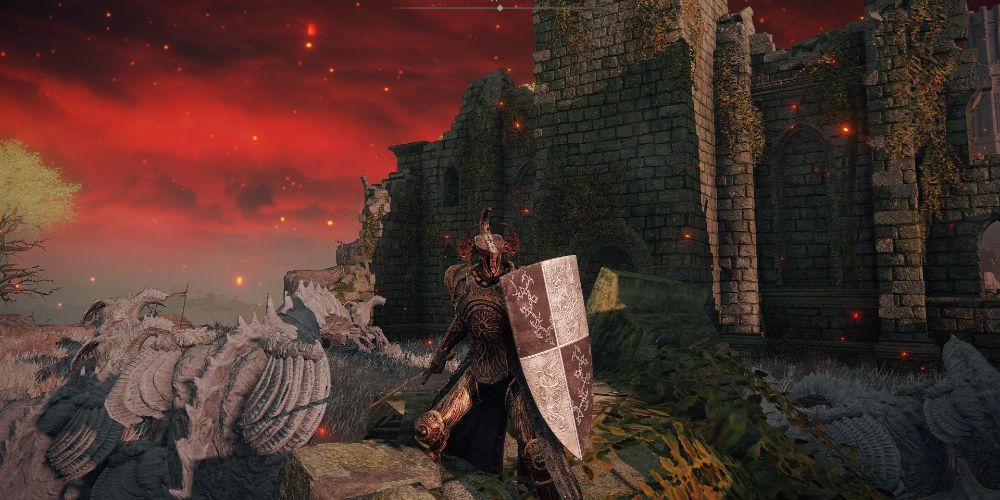 | | Strength |
| --- | --- |
| Stat Requirement | 14 |
| Base Scaling | D |
The Banished Knight's Shield is one of the better-looking Medium Shields in Elden Ring, and its stats aren't too shabby either. In fact, this is one of the few Medium Shields that can block 100% of physical damage and comes with a Guard Boost value higher than 50. The shield also does a pretty good job of blocking most other types of damage, especially Fire. Lightning protection, on the other hand, leaves a lot to be desired.
The main drawback of the Banished Knight's Shield is its weight, which is considerably higher than those of most other Medium Shields. The Banished Knight's Shield doesn't come with any passive effects or unique skills, but it can be infused with Ashes of War. For most players, Carian Retaliation and Barricade Shield will probably be the best choices here.
8

Coil Shield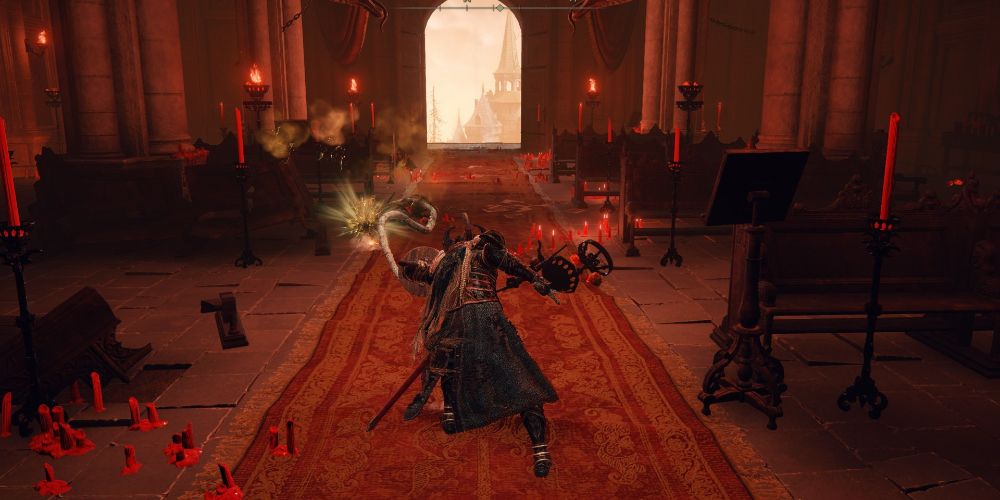 | | Strength | Dexterity |
| --- | --- | --- |
| Stat Requirement | 10 | 10 |
| Base Scaling | E | – |
The Coil Shield is quite an interesting piece of equipment that acts more as a weapon than a shield. Upon using its unique skill, Viper Bite, the stone snake sitting on the shield uncoils and lounges forward, striking at enemies and inflicting Physical damage and Deadly Poison build-up. Viper Strike has a surprisingly long reach, and its damage is quite considerable as well, provided you have a good amount of Strength.
Related: Elden Ring: Best Bows, Ranked
The Coil Shield requires some points in Dexterity to wield but doesn't actually scale with the stat. Perhaps even stranger is the fact that using the shield as a blunt instrument will also apply Poison, albeit of the normal variety. In addition to Viper Strike, the shield also comes with a passive effect that increases the player's Immunity by 40 points. Not as good as the Spiralhorn Shield's passive, but this is still an overall better shield thanks to Viper Strike, and it is almost mandatory for any lightly armored builds that focus heavily on Poison.
7

Jellyfish Shield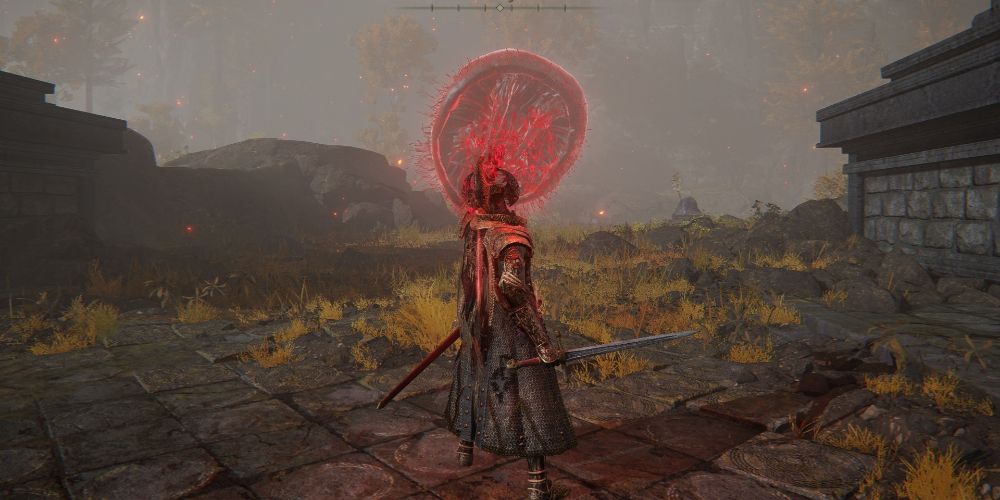 | | Strength | Dexterity |
| --- | --- | --- |
| Stat Requirement | 20 | 14 |
| Base Scaling | D | – |
The Jellyfish Shield is an extremely light Greatshield that comes with a powerful unique skill known as Contagious Fury. Upon activation, the shield boosts the player's damage by 20% for 30 seconds. Contagious Fury increases damage from all sources, including magic. Given its relatively lightweight and low stat requirements (for a Greatshield), the Jellyfish Shield can be very useful to spellcasters looking to buff their Sorceries and Incantations.
Interestingly enough, Contagious Fury stacks with itself, meaning you can get a massive 40% damage boost with two of them equipped. The bad news is that the buff goes away upon unequipping the shield, so you would need to use one of them as a weapon in order to take full advantage of the damage boost. While closer to a Medium Shield in terms of defensive stats, the Jellyfish Shield inflicts considerably more damage and could indeed work as a weapon, albeit a very slow and cumbersome one.
6

Visage Shield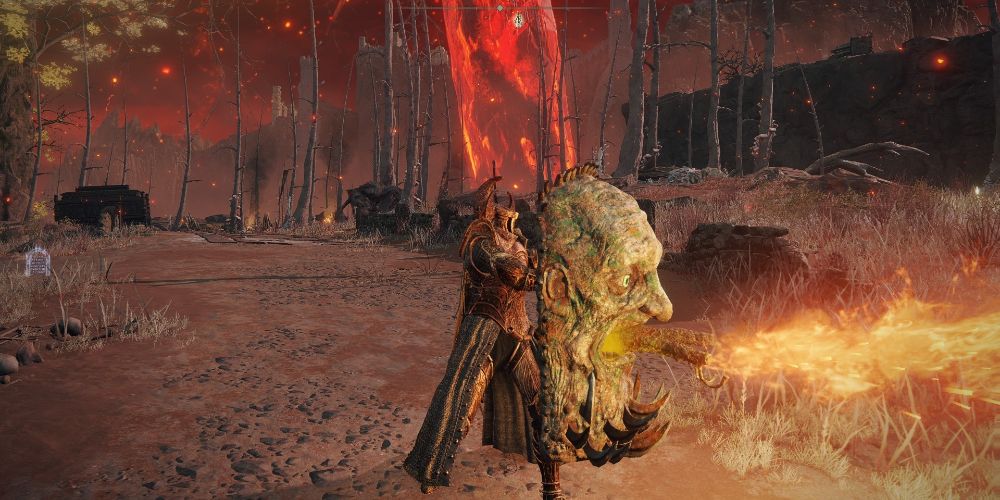 | | Strength |
| --- | --- |
| Stat Requirement | 44 |
| Base Scaling | D |
Speaking of shields that can be used as weapons, the Visage Shield excels at both defense and offense. Upon activating its unique skill, Tongues of Fire, the Visage Shield sprays flames that deal a substantial amount of damage and can make short work of groups of enemies. Even more importantly, this is a charged skill with low FP cost, meaning you can keep spewing fire for quite a while before needing to replenish your Focus Points. Tongues of Fire can be used while on the move, but the shield's guard gets easily broken while the skill is active.
The Visage Shield is the second-heaviest shield in Elden Ring and requires a ton of Strength just to wield, but the high requirements are justified. In addition to being able to block 100% of Physical damage, the Visage Shield offers increased protection against every other type of damage in the game while also sporting an impressive 75 Guard Boost stat. Unsurprisingly, the shield is particularly adept at protecting against Fire damage.
5

Eclipse Crest Greatshield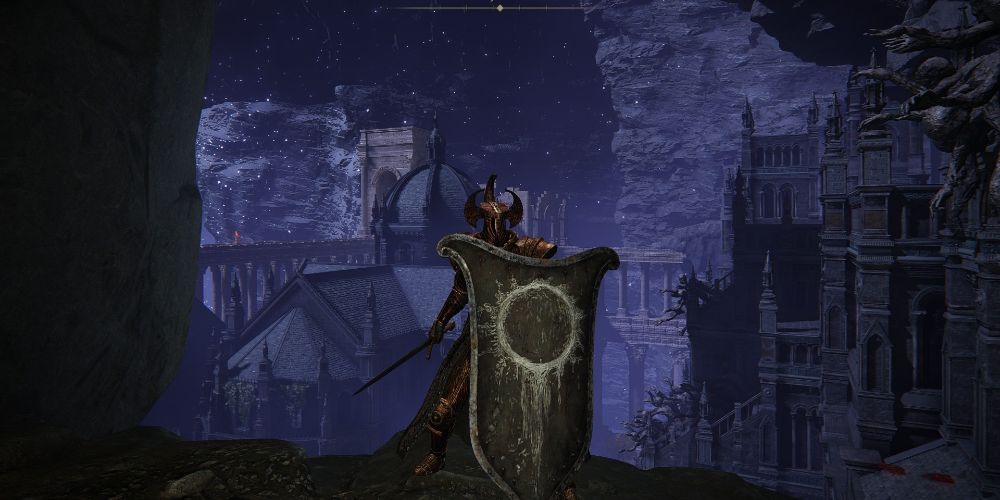 | | Strength |
| --- | --- |
| Stat Requirement | 32 |
| Base Scaling | D |
The Eclipse Crest Greatshield has the same passive effect as the Spiralhorn Shield. Namely, it raises the player's Immunity, Robustness, and Focus by 50 points. But unlike the Small Shield, this bad boy provides plenty of protection and can reliably defend its owner against even the toughest of bosses, being especially effective against Magic damage. The shield can also block 100% of Physical damage and comes with a 67 Guard Boost, lower than that of the Visage Shield but still very respectable.
Related: Elden Ring: Best Staffs, Ranked
The Eclipse Crest Greatshield doesn't get any special skills, but it can be infused with a variety of Ashes of War. Among other things, the shield is noteworthy for featuring the Darksign symbol found throughout the Dark Souls series or something very similar to it. The Eclipse Crest Heater Shield, a smaller version sporting an almost identical design, can also be found in the game and is a great alternative for players who are interested in a good-looking and well-rounded Medium Shield.
4

Brass Shield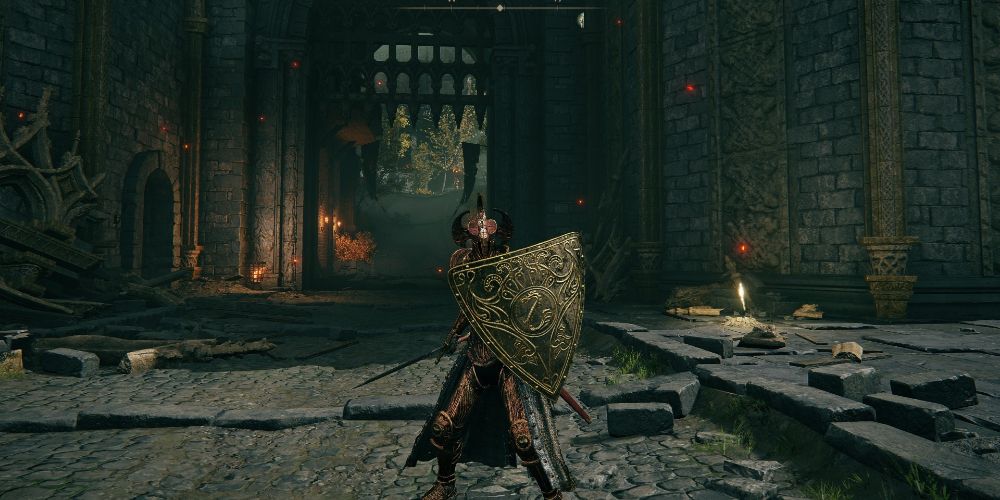 | | Strength |
| --- | --- |
| Stat Requirement | 16 |
| Base Scaling | D |
The Brass Shield is unquestionably the best Medium Shield in Elden Ring despite its lack of unique skills or passive effects. Thanks to its 56 Guard Boost stat and its ability to block 100% of Physical Damage, the Brass Shield surpasses most other Medium Shields in terms of defensive capabilities. Additionally, the Brass Shield blocks more than 50% of all other damage types except for Lightning. It's a good thing that enemies that use Lightning attacks are typically only encountered toward the late game. Meanwhile, the Brass Shield can be acquired very early on and can serve you faithfully for most of your playthrough.
For all intents and purposes, the Brass Shield is a slightly better version of the Banished Knight's Shield and comes with the same pros and cons. While it offers slightly better protection, it also weighs a bit more and requires more Strength to wield. Since both of them can be infused with Ashes of War, choosing one over the other mostly boils down to personal preference. But, technically speaking, the Brass Shield is the best shield in its category and can give even certain Greatshields a run for their money.
3

Haligtree Crest Shield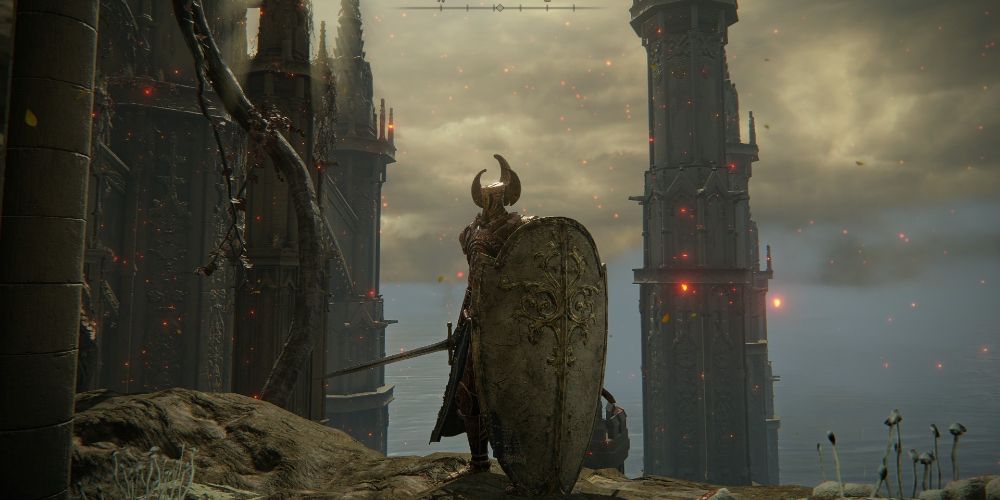 | | Strength |
| --- | --- |
| Stat Requirement | 36 |
| Base Scaling | D |
If you're into Fashion Ring, this one is a must-have. The Haligtree Crest Shield is one of the most beautiful shields in Elden Ring and automatically gives its owner a 100% drip bonus. Okay, maybe that's not an actual stat, but its real stats are certainly very impressive in their own right. The Haligtree Crest Shield is similar to the Eclipse Crest Greatshield in terms of Physical damage mitigation and Guard Boost while being better at protecting against Fire, Lightning, and especially Holy damage. Magic damage protection is a bit lower but still respectable at 61.
The downsides of the Haligtree Crest Shield are its Strength requirement and its lack of any unique skills or effects, although it can be infused with Ashes of War. The weight is something to consider as well since it's above average compared to other Greatshields. That said, the biggest problem you're likely to encounter with this one is actually getting your hands on it. The shield has a small chance of dropping from a specific Haligtree Knight found in Elphael, Brace of the Haligtree, and these guys are notoriously difficult to farm. The hassle is well worth it, though.
2

Erdtree Greatshield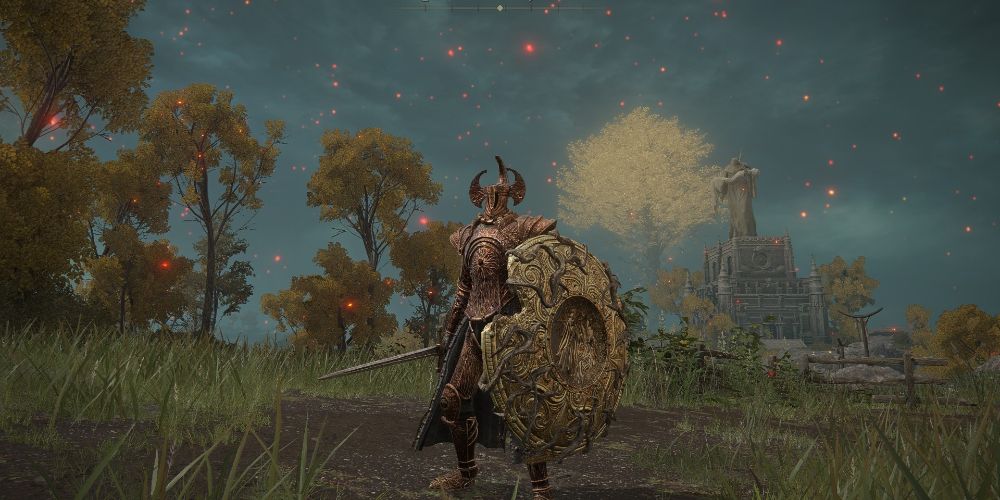 | | Strength | Faith |
| --- | --- | --- |
| Stat Requirement | 30 | 12 |
| Base Scaling | D | D |
Players can get a glimpse of this powerful shield early on in Elden Ring when encountering the impressive golden-clad Tree Sentinel shortly after starting the game. Of course, most players give the massive knight a wide berth upon first laying their eyes on him, which is the correct decision. But when you do eventually decide to challenge him, you'll learn that Tree Sentinels use a special shield that can block magic projectiles and then retaliates with beams of Holy damage, thanks to an ability called Golden Retaliation.
Related: Elden Ring: Best Colossal Weapons, Ranked
Golden Retaliation is a unique skill of the Erdtree Greatshield, which can be acquired by slaying the two Tree Sentinels found in the Altus Plateau. Reflecting magical projectiles with Golden Retaliation is a bit difficult due to the shield's short parry window, but extremely satisfying when you do manage to pull it off. Golden Retaliation aside, the Erdtree Greatshield also has pretty good defensive stats and can inflict Holy damage when used offensively. It's worth noting that while the Erdtree Greatshield requires some points in Faith to wield, the attribute has little impact on Golden Retaliation's damage.
1

Fingerprint Stone Shield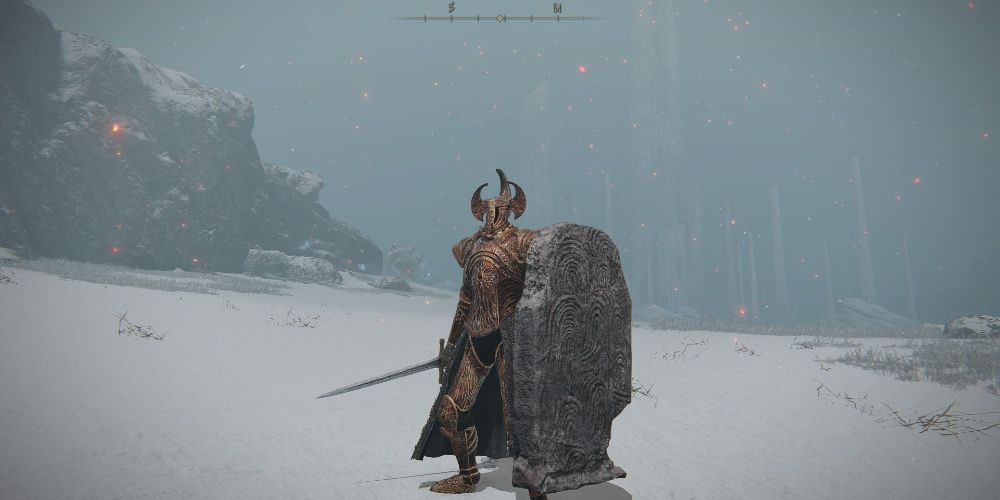 | | Strength |
| --- | --- |
| Stat Requirement | 48 |
| Base Scaling | D |
The Fingerprint Stone Shield is hands-down the best shield in Elden Ring if we're talking raw stats. The shield has the highest Guard Boost stat in the game while also having the best protection against Magic and Lightning damage. The shield is tied with the Visage Shield in terms of Fire damage mitigation and surpassed ever so slightly by the Haligtree Crest Greatshield when it comes to Holy damage mitigation. However, with great defense comes great Strength requirements. The Fingerprint Stone Shield requires no less than 48 Strength just to wield and is by far the heaviest shield in the game.
Perhaps unsurprisingly, the Fingerprint Stone Shield is fairly effective when used as a weapon. In addition to dealing a good chunk of Physical damage, the shield also inflicts Madness build-up with every hit. The passive effect pairs well with the Shield Bash skill, which comes equipped by default, and can be complemented by Bleed, Poison, or Frostbite build-up should the player decide to invest in an Arcane affinity. Alternatively, the Fingerprint Stone Shield can be infused with things like Magic or Fire to increase its already impressive protections against those elements even more.
Next: Elden Ring: Every Katana, Ranked
Denial of responsibility!
Gamers Greade is an automatic aggregator of the all world's media. In each content, the hyperlink to the primary source is specified. All trademarks belong to their rightful owners, all materials to their authors. If you are the owner of the content and do not want us to publish your materials, please contact us by email –
[email protected]
. The content will be deleted within 24 hours.