As you trek through the Flayer Dungeon and make your way to the Arreat Summit, upgrading your weapons in Diablo 2 will give you the power spike you need. From wands and bows to shields and spears, this list contains the best items to equip in your weapon slots.
Related: Diablo 2 Resurrected: All Classes, Ranked
The items on this list are all Uniques, forgoing the powerful Runeword options that you can make (they are part of this list instead). These items are also a mix of broad-use and class-specific, some are for a range of classes and others are only useable for one. Whether they are good for your main class or not, hang on to all of these items if you see them drop.
10
The Oculus
If you happen to get a Unique Swirling Crystal, you are the proud new owner of The Oculus. While it may not be the best-in-slot item for any Sorceress, it's still excellent for all Sorcs. With +3 to All Skills, +30% Faster Cast Rate, and +20 to All Resistances, The Oculus is an amazing 1-handed weapon.
In addition to the main stats, The Oculus also grants Mana After Kill, Vitality & Energy, and Magic Find. A well-rounded main-hand weapon with nearly perfect stats, The Oculus is worthy of this Top 10 List but is below 2 other Sorceress items.
9
Windforce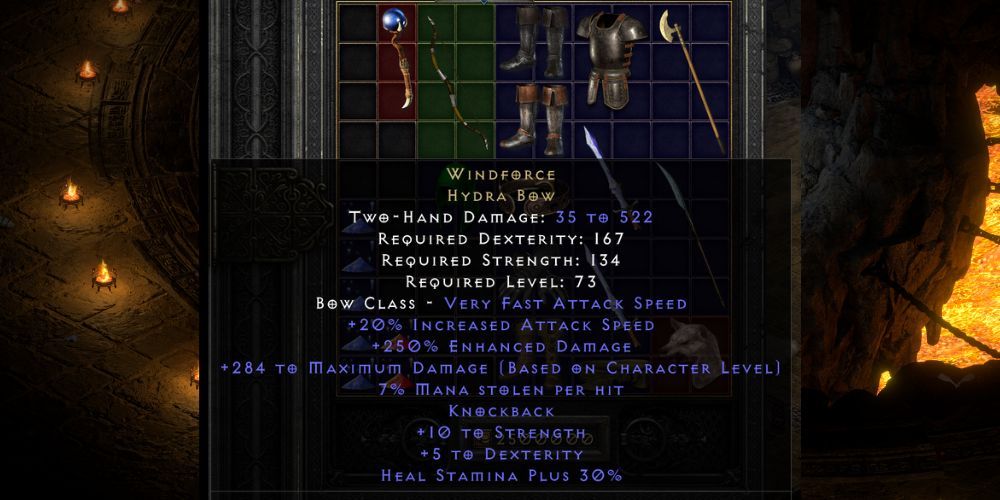 The Amazon has several strong bow options to use, but very few of them compare to the Windforce. With the highest damage on any bow, 20% Increased Attack Speed, Mana Leech, and Knockback, this bow is a physical damage juggernaut.
If you're playing an Ice or Fire Bowzon, Windforce lacks some stats that can make your build stronger. But if you're building for Multi-shot & Guided Arrow, the Windforce is amazing. The key ingredients are the high-damage range and Knockback, but Mana Leech and Increased Attack Speed secure the Windforce in the top tier.
8
Death's Fathom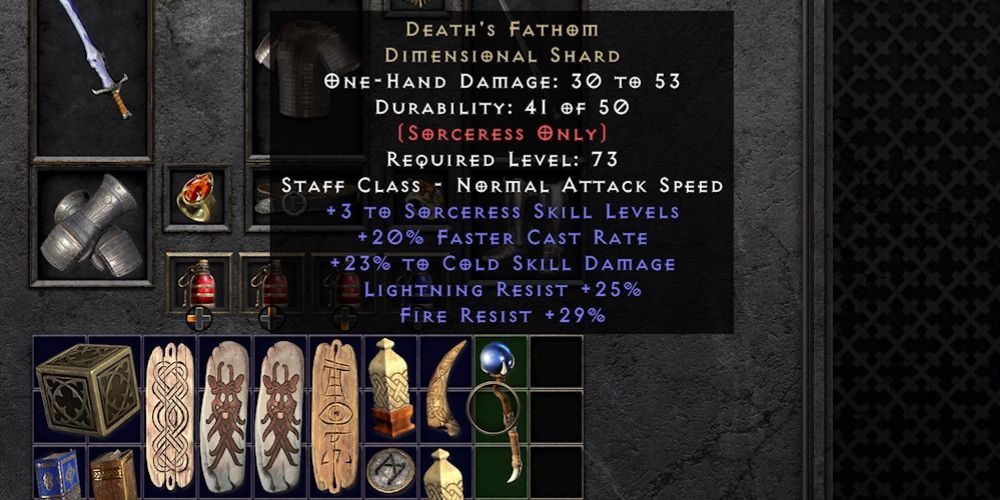 The main stat that The Oculus is missing is the same stat that makes Death's Fathom powerful – enhanced elemental Skill Damage. When you Identify a Unique Dimensional Shard, you'll get a Death's Fathom that comes with +15-30% To Cold Skill Damage. If you get a perfect roll, the +30% Cold Skill Damage turns a Cold Sorc into a walking terror.
Death's Fathom also comes with +3 To Sorceress Skill Levels, +20% Faster Cast Rate, and Fire & Lightning Resist. While Death's Fathom's secondary stats aren't as powerful as the ones on The Oculus, the enhanced Cold Skill Damage more than makes up for it.
7
Herald Of Zakarum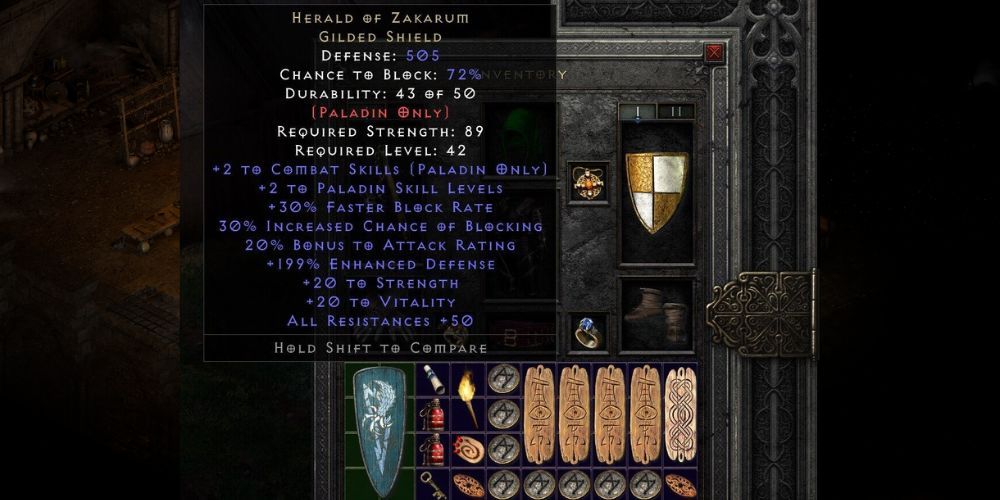 The Paladin has access to all the best shields in the game. They can make a Spirit Runeword in an early-game Paladin-only shield, and they can also use a Herald of Zakarum. The HoZ stats speak for themselves, +2 To Paladin Skill Levels, +2 To Paladin Combat Skills, and +50 To All Resistances.
Related: Diablo 2 Resurrected: Tips & Tricks For Beginners
Herald of Zakarum also has enormous defensive power: 422-507 Defense, 30% Increased Chance of Blocking, 30% Faster Block Rate, and +20 to Strength & Vitality. The cherry on top is the very low requirements to equip HoZ – you only need to be Level 42 with 89 Strength.
6
Eschuta's Temper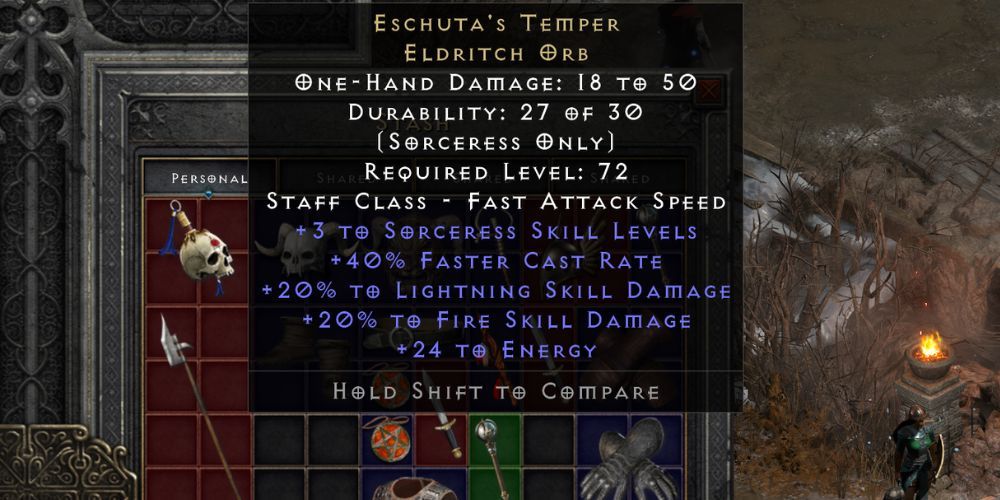 Like Death's Fathom, Eschuta's Temper provides enhanced elemental Skill Damage. With a perfect roll of stats, the Unique Eldritch Orb grants +3 To Sorceress Skill Levels and +20% To Fire and Lightning Skill Damage. Even though Death's Fathom offers higher elemental Skill Damage, Eschuta's Temper is more versatile.
Along with Skill Levels and elemental Skill Damage, Eschuta's Temper also boosts Energy and adds a +40% Faster Cast Rate. Although there aren't any Resistances and there is a high potential for bad stat rolls, Eschuta's Temper has the potential to be best-in-slot for many Sorc builds.
5
Death's Web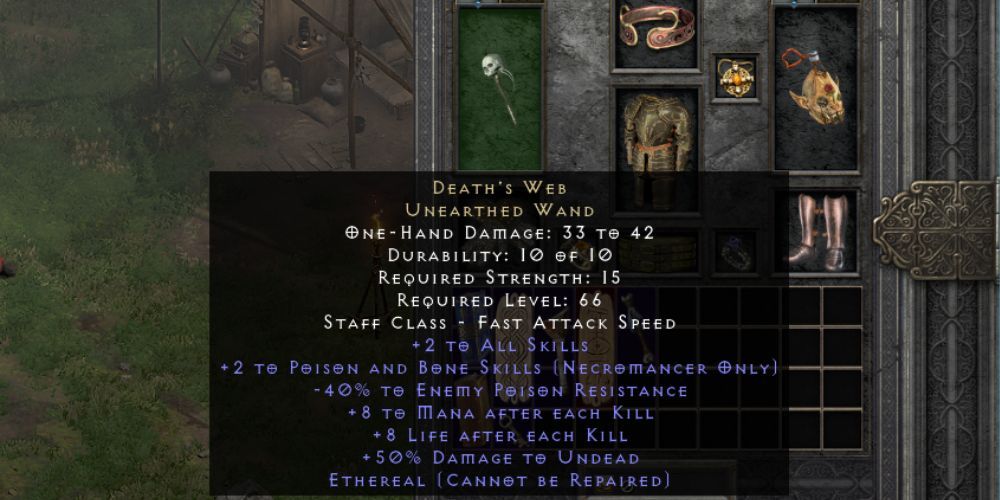 Poison Necromancers can heavily benefit from having a Death's Web. This 1-handed wand gives +2 To All Skills, +1-2 To Poison And Bone Skills, and -40-50% To Enemy Poison Resistance. The bonus Skills are great, but the Enemy Resistance debuff is incredible.
On top of the main benefits of Death's Web, it can also roll with up to +12 To Mana and Life After Kill. When mowing down a mob of enemies, Mana and Life After Kill can easily keep your resources topped off. For any Poison Necro, the benefits of a Death's Web are unparalleled.
4
Stormshield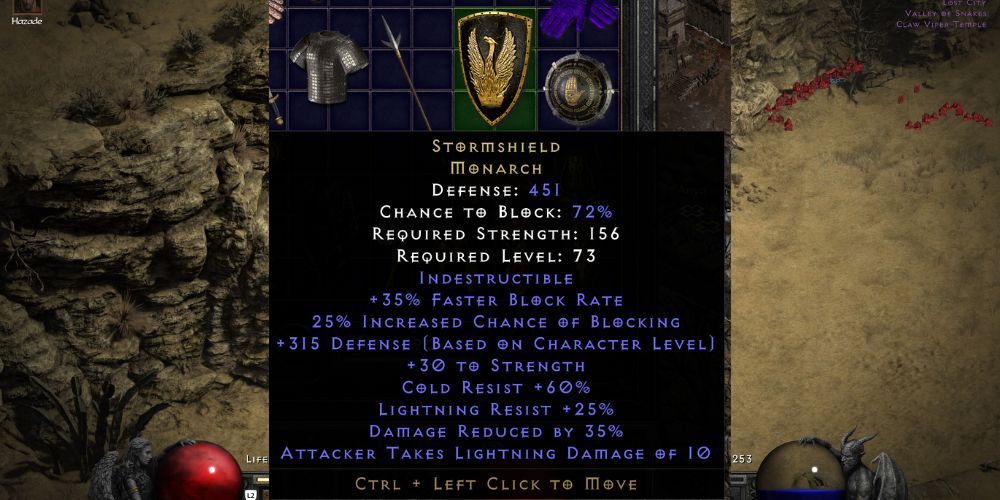 If you're having trouble staying alive, check your Resistances and consider running with a Stormshield. With super high Defense, a +25% Increased Chance Of Blocking, a 35% Faster Block Rate, and Damage Reduced By 35%, the Stormshield is the beefiest shield in the game.
If you have enough Strength to use a Monarch Shield and don't need or have access to a Spirit Runeword, the Stormshield is the best option. It will increase your survivability as no other shield can. The Damage Reduction alone makes the Stormshield worth considering for your build.
3
Titan's Revenge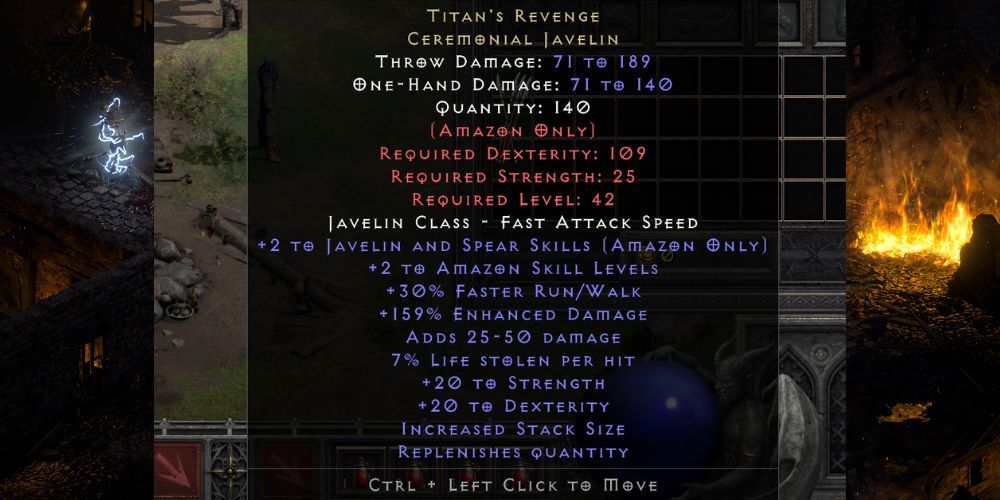 When playing a Lightning Fury Javazon, you need a Titan's Revenge. This 1-handed Ceremonial Javelin has tremendous damage, +2 to Amazon Skills, +2 To Javelin & Spear Skills, and it Replenishes Quantity. These stats alone would make Titan's Revenge top tier, but the secondary stats are also amazing.
Related: Heroes Of The Storm: Tips & Tricks For Beginners
Titan's Revenge also grants Life Leech, +30% Faster Run/Walk, and +20 Strength & Dexterity. When you're looking for one to drop or trade for, an Ethereal Titan's Revenge is preferred (unable to be repaired but has higher base stats) and the varying of its Enhanced Damage & Life Stolen Per Hit can alter its value.
2
Lidless Wall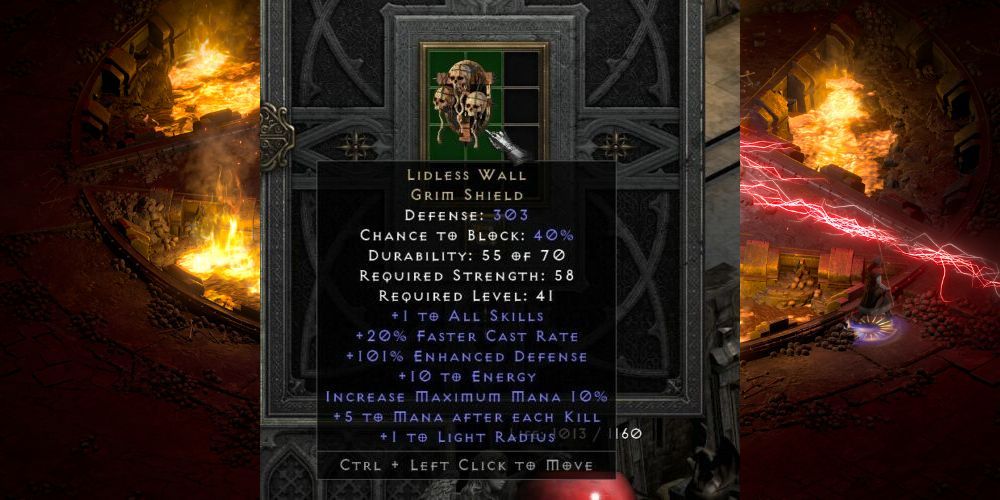 As you level up, finding a Lidless Wall would be a welcomed gift. The Unique Grim Shield requires Level 41 and 58 Strength, a low bar for a high-end item. The shield gives +1 To All Skills, Increase Maximum Mana by 10%, and has a 20% Faster Cast Rate, making it a perfect shield for all casters.
Lidless Wall also grants plenty of Defense, +3-5 Mana After Kill, and +10 Energy to help keep you alive and in good mana. Although it's great for casters, the Lidless Wall can be a perfect shield for nearly all classes, as they are still searching for their best-in-slot weapons.
1
Wizardspike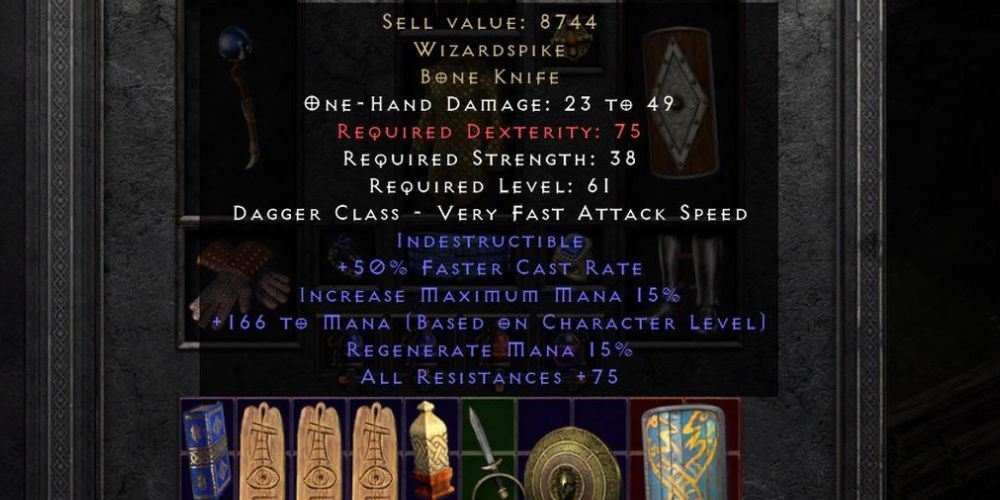 The most useful Unique weapon is the Wizardspike. This Indestructible dagger gives you a load of Mana, 50% Faster Cast Rate, Regenerate Mana 15%, and +75 All Resistances. If you don't need a weapon with + To All Skills, or can't find any, the Wizardspike is the perfect backup.
Resistances can be the biggest issue when moving from Nightmare to Hell. Managing your Resistance is a multi-pronged solution for many characters, but if you have a Wizardspike those problems are over. With the addition of several mana benefits, this Unique Bone Knife should be a consideration for all caster classes.
Next: Heroes Of The Storm: Top Heroes, Ranked
Denial of responsibility!
Gamers Greade is an automatic aggregator of the all world's media. In each content, the hyperlink to the primary source is specified. All trademarks belong to their rightful owners, all materials to their authors. If you are the owner of the content and do not want us to publish your materials, please contact us by email –
[email protected]
. The content will be deleted within 24 hours.